Abstract
Objective
To compare the outcomes of combined endoscopic dacryocystorhinostomy (endoDCR) with nasal septoplasty for deviation of the nasal septum to endoDCR alone in cases of nasolacrimal duct obstruction (NLDO).
Methods
A retrospective cohort study that included 107 consecutive patients with NLDO, who underwent endoDCR with or without concomitant nasal septoplasty in our institution between October 2009 and October 2017.
Results
A total of 117 operations were performed (107 patients, 80.4% females; mean age ± SD 51.1 ± 19.5 years). Twenty-five (21.4%) endoscopic surgeries were combined with septoplasty (the endoDCR + septoplasty group), and 92 (78.6%) comprised endoDCR alone (the endoDCR group). There was no difference in anatomical success and functional success rates between the two groups (P = 0.76 and P = 0.18, respectively). There were no complications attributed to the septoplasty component of the surgical procedure.
Conclusion
Considerable numbers of patients undergoing endoDCR also require a septoplasty. Combining an additional procedure (septoplasty), that was not performed for its original indication but rather for facilitating the main surgical intervention (endoDCR), yields surgical success and associated complications equivalent to those of endoDCR alone.
Access options
Subscribe to Journal
Get full journal access for 1 year
$499.00
only $41.58 per issue
All prices are NET prices.
VAT will be added later in the checkout.
Rent or Buy article
Get time limited or full article access on ReadCube.
from$8.99
All prices are NET prices.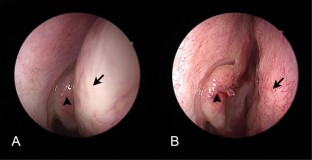 References
1.

Marcet MM, Kuk AK, Phelps PO. Evidence-based review of surgical practices in endoscopic endonasal dacryocystorhinostomy for primary acquired nasolacrimal duct obstruction and other new indications. Curr Opin Ophthalmol. 2014;25:443–8.

2.

Figueira E, Al Abbadi Z, Malhotra R, Wilcsek G, Selva D. Frequency of simultaneous nasal procedures in endoscopic dacryocystorhinostomy. Ophthalmic Plast Reconstr Surg. 2014;30:40–3.

3.

Fayet B, Katowitz WR, Racy E, Ruban JM, Katowitz JA. Endoscopic dacryocystorhinostomy: the keys to surgical success. Ophthalmic Plast Reconstr Surg. 2014;30:69–71.

4.

Elmorsy SM, Fayk HM. Nasal endoscopic assessment of failure after external dacryocystorhinostomy. Orbit. 2010;29:197–201.

5.

Demarco R, Strose A, Araújo M, Valera FC, Moribe I, Anselmo-Lima WT. Endoscopic revision of external dacryocystorhinostomy. Otolaryngol Head Neck Surg. 2007;137:497–9.

6.

Paik JS, Cho WK, Yang SW. Comparison of endoscopic revision for failed primary external versus endoscopic dacryocystorhinostomy. Clin Exp Ophthalmol. 2013;41:116–21.

7.

Ali MJ, Psaltis AJ, Wormald PJ. The frequency of concomitant adjunctive nasal procedures in powered endoscopic dacryocystorhinostomy. Orbit. 2015;34:142–5.

8.

Aaronson NL, Vining EM. Correction of the deviated septum: from ancient Egypt to the endoscopic era. Int Forum Allergy Rhinol. 2014;4:931–6.

9.

Andrades P, Cuevas P, Danilla S, Bernales J, Longton C, Borel C, et al. The accuracy of different methods for diagnosing septal deviation in patients undergoing septorhinoplasty: a prospective study. J Plast Reconstr Aesthet Surg. 2016;69:848–55.

10.

Bhattacharyya N. Ambulatory sinus and nasal surgery in the United States: demographics and perioperative outcomes. Laryngoscope. 2010;120:635–8.

11.

Singh S, Alam MS, Ali MJ, Naik MN. Endoscopic intranasal findings in unilateral primary acquired nasolacrimal duct obstruction. Saudi J Ophthalmol. 2017;31:128–30.

12.

Taban M, Jarullazada I, Mancini R, Hwang C, Goldberg RA. Facial asymmetry and nasal septal deviation in acquired nasolacrimal duct obstruction. Orbit. 2011;30:226–9.

13.

Ali MJ, Psaltis AJ, Bassiouni A, Wormald PJ. Long-term outcomes in primary powered endoscopic dacryocystorhinostomy. Br J Ophthalmol. 2014;98:1678–80.

14.

Nussbaumer M, Schreiber S, Yung MW. Concomitant nasal procedures in endoscopic dacryocystorhinostomy. J Laryngol Otol. 2004;118:267–9.

15.

Tsirbas A, Wormald PJ. Mechanical endonasal dacryocystorhinostomy with mucosal flaps. Br J Ophthalmol. 2003;87:43–7.

16.

Bayraktar C, Simsek A. Increased concomitant nasal procedure frequency in bilateral endoscopic dacryocystorhinostomy. J Craniofac Surg. 2017;28:980–2.

17.

Chan DM, Golubev I, Shipchandler TZ, Nunery WR, Lee HB. Improving outcomes by combining septoplasty with primary external dacryocystorhinostomy. Am J Otolaryngol. 2014;35:309–12.

18.

Ari S, Kürşat CA, Sahin A, Gün R, Kiniş V, Caça I. Outcomes of revision external dacryocystorhinostomy and nasal intubation by bicanalicular silicone tubing under endonasal endoscopic guidance. Int J Ophthalmol. 2012;5:238–41.

19.

Liang J, Hur K, Merbs SL, Lane AP. Surgical and anatomic considerations in endoscopic revision of failed external dacryocystorhinostomy. Otolaryngol Head Neck Surg. 2014;150:901–5.

20.

Yarmohammadi ME, Ghasemi H, Jafari F, Izadi P, Nadoushan MJ, Chin NS. Teamwork endoscopic endonasal surgery in failed external dacryocystorhinostomy. J Ophthalmic Vis Res. 2016;11:282–6.

21.

El-Guindy A, Dorgham A, Ghoraba M. Endoscopic revision surgery for recurrent epiphora occurring after external dacryocystorhinostomy. Ann Otol Rhinol Laryngol. 2000;109:425–30.

22.

Knisely A, Harvey R, Sacks R. Long-term outcomes in endoscopic dacryocystorhinostomy. Curr Opin Otolaryngol Head Neck Surg. 2015;23:53–8.

23.

Korkut AY, Teker AM, Yazici MZ, Kahya V, Gedikli O, Kayhan FT. Surgical outcomes of primary and revision endoscopic dacryocystorhinostomy. J Craniofac Surg. 2010;21:1706–8.
Ethics declarations
Conflict of interest
The authors declare that they have no conflict of interest.
Additional information
Publisher's note Springer Nature remains neutral with regard to jurisdictional claims in published maps and institutional affiliations.
About this article
Cite this article
Koval, T., Zloto, O., Yakirevitch, A. et al. No impact of nasal septoplasty on the outcome of endoscopic dacryocystorhinostomy. Eye 34, 1454–1458 (2020). https://doi.org/10.1038/s41433-019-0696-4
Received:

Revised:

Accepted:

Published:

Issue Date:
Further reading
Sercan Cikrikci

,

Erol Erkan

&

Fatih Agdas

Orbit (2020)

Michael Yim

,

Peter‐John Wormald

,

Manon Doucet

,

Amarbir Gill

,

Todd Kingdom

,

Richard Orlandi

,

Alison Crum

,

Douglas Marx

&

Jeremiah Alt

International Forum of Allergy & Rhinology (2020)