Abstract
Aim
To review the outcome for primary or revisional external dacryocystorhinostomy in patients with granulomatous polyangiitis.
Patients and methods
Retrospective case-note review to include age at presentation, duration of prior GPA, immunosuppression at time of surgery, nature of first lacrimal surgery, and symptomatic control.
Results
Forty-eight patients (25 female; 52%) presented at an average age of 50.5 years and 7 (15%) had prior lacrimal surgery on one (5/7; 71%) or both sides. The duration of systemic GPA varied, with 40% having disease for up to 3 years prior to lacrimal referral, and 41/48 (85%) being on systemic immunosuppression. Forty-eight patients had 71 affected drainage pathways—having symptoms for an average of 22 months (range <1 month to 7 years). Surgery was undertaken on 70/71 systems—62/70 primary DCRs (20 unilateral; 8 simultaneous bilateral; 13 sequential bilateral). Of nine systems with persistent symptoms after prior surgery, eight underwent revisional surgery (six unilateral; one sequential bilateral). With a follow-up of 2.5 years (range 3 months to 14 years), volume symptoms were cured in all 70 cases. Flow symptoms were controlled in 58/62 (94%) systems after primary DCR, and all eight after revisional surgery. Of four sides with persistent epiphora, one was cured with revisional DCR and three with placement of Jones' canalicular bypass tubes.
Conclusion
Mucoid discharge, dacryocystitis and recurrent conjunctivitis were cured in all patients with GPA after either primary and revisional surgery. Continued epiphora was controlled in most patients with additional closed procedures.
Access options
Subscribe to Journal
Get full journal access for 1 year
$411.00
only $34.25 per issue
All prices are NET prices.
VAT will be added later in the checkout.
Rent or Buy article
Get time limited or full article access on ReadCube.
from$8.99
All prices are NET prices.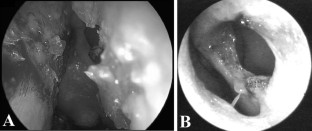 References
1.

Hardwig PW, Bartley GB, Garrity JA. Surgical management of nasolacrimal duct obstruction in patients with Wegener's granulomatosis. Ophthalmology. 1992;99:133–9.

2.

Kwan AS, Rose GE. Lacrimal drainage surgery in Wegener's granulomatosis. Br J Ophthalmol. 2000;84:329–31.

3.

Morris DS, Selva D, Dolman PJ. Endonasal dacryocystorhinostomy in Wegener granulomatosis. Arch Ophthalmol. 2010;128:1212–4.

4.

Lee BJ, Nelson CC, Lewis CD, Perry JD. External dacryocystorhinostomy surgery in patients with Wegener granulomatosis. Ophthalmic Plast Reconstr Surg. 2012;28:389–92.

5.

Naeser E, Friis P, Hansen IT, Naeser K. External dacryocystorhinostomy in Wegener's granulomatosis. Acta Ophthalmol. 2013;91:776–8.

6.

Verity DH, Rose GE. External dacryocystorhinostomy. In: Albert DM, Lucarelli MJ. Clinical atlas of procedures in ophthalmic and oculofacial surgery. Oxford: Oxford University Press, 2012:1021–32.

7.

Kwan AS, Rose GE. Orbital Wegener's granuloma resulting from direct extension of nasal disease through a surgical rhinostomy. Br J Ophthalmol. 1998;82:198.

8.

Rose GE. The lacrimal paradox: toward a greater understanding of success in lacrimal surgery. Ophthalmic Plast Reconstr Surg. 2004;20:262–5.
Acknowledgements
Professor Geoffrey Rose receives some funding from the National Institute of Health Research (NIHR) Biomedical Research Centre at Moorfields Eye Hospital NHS Foundation Trust and UCL Institute of Ophthalmology.
Ethics declarations
Conflict of interest
The authors declare that they have no conflict of interest.
Additional information
Publisher's note Springer Nature remains neutral with regard to jurisdictional claims in published maps and institutional affiliations.
About this article
Cite this article
Stewart, C.M., Rose, G.E. External dacryocystorhinostomy in patients with granulomatous polyangiitis. Eye 34, 1382–1385 (2020). https://doi.org/10.1038/s41433-019-0662-1
Received:

Revised:

Accepted:

Published:

Issue Date: