Abstract
Alexander disease (AxD) is a neurodegenerative astrogliopathy caused by mutation in the glial fibrillary acidic protein (GFAP) gene. A 42-year-old Korean man presented with temporary gait disturbance and psychiatric regression after a minor head trauma in the absence of bulbar symptoms and signs. Magnetic resonance images of the brain and spinal cord showed significant atrophy of the medulla oblongata and the entire spinal cord as well as contrast-enhanced T2 hypointensity in the basal ganglia. DNA sequencing revealed a novel 33-bp in-frame deletion mutation (p.Glu138_Leu148del) within the 1B rod domain of GFAP, which was predicted to be deleterious by PROVEAN analysis. To test whether the deletion mutant is disease-causing, we performed in vitro GFAP assembly and sedimentation assays, and GFAP aggregation assays in human adrenal carcinoma SW13 (Vim−) cells and rat primary astrocytes. All the assays revealed that GFAP p.Glu138_Leu148del is aggregation prone. Based on these findings, we diagnosed the patient with Type II AxD. This is a report that demonstrates the pathogenicity of InDel mutation of GFAP through functional studies. This patient's atypical presentation as well as the discrepancy between clinical symptoms and radiologic findings may extend the scope of AxD.
Access options
Subscribe to this journal
Receive 12 print issues and online access
$259.00 per year
only $21.58 per issue
Rent or buy this article
Get just this article for as long as you need it
$39.95
Prices may be subject to local taxes which are calculated during checkout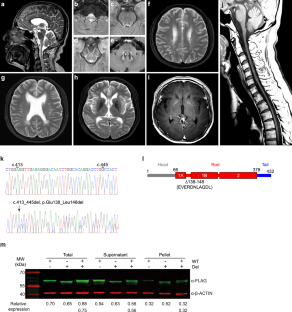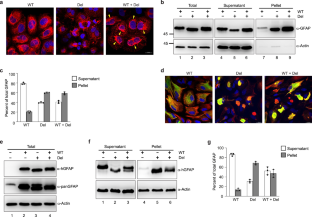 Data availability
The datasets generated and/or analysed during the current study are available from the corresponding author on reasonable request.
References
Brenner M, Johnson AB, Boespflug-Tanguy O, Rodriguez D, Goldman JE, Messing A. Mutations in GFAP, encoding glial fibrillary acidic protein, are associated with Alexander disease. Nat Genet. 2001;27:117–20.

Zang L, Wang J, Jiang Y, Gu Q, Gao Z, Yang Y, et al. Follow-up study of 22 Chinese children with Alexander disease and analysis of parental origin of de novo GFAP mutations. J Hum Genet. 2013;58:183–8.

Messing A, Brenner M, Feany MB, Nedergaard M, Goldman JE. Alexander disease. J Neurosci. 2012;32:5017–23.

Brenner M, Lampel K, Nakatani Y, Mill J, Banner C, Mearow K, et al. Characterization of human cDNA and genomic clones for glial fibrillary acidic protein. Brain Res Mol Brain Res. 1990;7:277–86.

Chernyatina AA, Guzenko D, Strelkov SV. Intermediate filament structure: the bottom-up approach. Curr Opin Cell Biol. 2015;32:65–72.

Messing A, Brenner M. GFAP at 50. ASN Neuro. 2020;12:1759091420949680.

Srivastava S, Waldman A, Naidu S. Alexander Disease; In: Adam MP, Ardinger HH, Pagon RA, et al. editors: GeneReviews(®). University of Washington, Seattle. 1993.

Russo LS Jr, Aron A, Anderson PJ. Alexander's disease: a report and reappraisal. Neurology. 1976;26:607–14.

van der Knaap MS, Naidu S, Breiter SN, Blaser S, Stroink H, Springer S, et al. Alexander disease: diagnosis with MR imaging. AJNR Am J Neuroradiol. 2001;22:541–52.

Prust M, Wang J, Morizono H, Messing A, Brenner M, Gordon E, et al. GFAP mutations, age at onset, and clinical subtypes in Alexander disease. Neurology. 2011;77:1287–94.

Rodriguez D, Gauthier F, Bertini E, Bugiani M, Brenner M, N'Guyen S, et al. Infantile Alexander disease: spectrum of GFAP mutations and genotype-phenotype correlation. Am J Hum Genet. 2001;69:1134–40.

Li R, Johnson AB, Salomons G, Goldman JE, Naidu S, Quinlan R, et al. Glial fibrillary acidic protein mutations in infantile, juvenile, and adult forms of Alexander disease. Ann Neurol. 2005;57:310–26.

Pedroso JL, Raskin S, Barsottini OG, Oliveira AS. Adult onset Alexander disease presenting with progressive spastic paraplegia. Parkinsonism Relat Disord. 2014;20:241–2.

Sawaishi Y. Review of Alexander disease: beyond the classical concept of leukodystrophy. Brain Dev. 2009;31:493–8.

Tonduti D, Ardissone A, Ceccherini I, Giaccone G, Farina L, Moroni I. Unusual presentations and intrafamilial phenotypic variability in infantile onset Alexander disease. Neurol Sci. 2016;37:973–7.

Yoshida T, Yasuda R, Mizuta I, Nakagawa M, Mizuno T. Quantitative evaluation of brain stem atrophy using magnetic resonance imaging in adult patients with Alexander disease. Eur Neurol. 2017;77:296–302.

Shribman S, Reid E, Crosby AH, Houlden H, Warner TT. Hereditary spastic paraplegia: from diagnosis to emerging therapeutic approaches. Lancet Neurol. 2019;18:1136–46.

Choi Y, Chan AP. PROVEAN web server: a tool to predict the functional effect of amino acid substitutions and indels. Bioinformatics. 2015;31:2745–7.

Der Perng M, Su M, Wen SF, Li R, Gibbon T, Prescott AR, et al. The Alexander disease-causing glial fibrillary acidic protein mutant, R416W, accumulates into Rosenthal fibers by a pathway that involves filament aggregation and the association of alpha B-crystallin and HSP27. Am J Hum Genet. 2006;79:197–213.

Nam TS, Kim JH, Chang CH, Yoon W, Jung YS, Kang SY, et al. Identification of a novel nonsense mutation in the rod domain of GFAP that is associated with Alexander disease. Eur J Hum Genet. 2015;23:72–8.

Namekawa M, Takiyama Y, Aoki Y, Takayashiki N, Sakoe K, Shimazaki H, et al. Identification of GFAP gene mutation in hereditary adult-onset Alexander's disease. Ann Neurol. 2002;52:779–85.

Benzoni C, Aquino D, Di Bella D, Sarto E, Moscatelli M, Pareyson D, et al. Severe worsening of adult-onset Alexander disease after minor head trauma: Report of two patients and review of the literature. J Clin Neurosci. 2020;75:221–3.

Liu Y, Zhou H, Wang H, Gong X, Zhou A, Zhao L, et al. Atypical MRI features in familial adult onset Alexander disease: case report. BMC Neurol. 2016;16:211.

Sun Y, Wang Z, Li F, Wei L, Sun W, Jin H, et al. A case of adult onset of Alexander disease with nocturnal painless burns, autonomic dysfunction, and peripheral nerve impairment. Clin Neurol Neurosurg. 2021;200:106350.

Park J, Park ST, Kim J, Kwon KY. A case report of adult-onset Alexander disease clinically presenting as Parkinson's disease: is the comorbidity associated with genetic susceptibility? BMC Neurol. 2020;20:27.

Yasuda R, Nakano M, Yoshida T, Sato R, Adachi H, Tokuda Y, et al. Towards genomic database of Alexander disease to identify variations modifying disease phenotype. Sci Rep. 2019;9:14763.

Nishri D, Edvardson S, Lev D, Leshinsky-Silver E, Ben-Sira L, Henneke M, et al. Diagnosis by whole exome sequencing of atypical infantile onset Alexander disease masquerading as a mitochondrial disorder. Eur J Paediatr Neurol. 2014;18:495–501.

Lek M, Karczewski KJ, Minikel EV, Samocha KE, Banks E, Fennell T, et al. Analysis of protein-coding genetic variation in 60,706 humans. Nature. 2016;536:285–91.

Schmidt H, Kretzschmar B, Lingor P, Pauli S, Schramm P, Otto M, et al. Acute onset of adult Alexander disease. J Neurol Sci. 2013;331:152–4.

van der Knaap MS, Ramesh V, Schiffmann R, Blaser S, Kyllerman M, Gholkar A, et al. Alexander disease: ventricular garlands and abnormalities of the medulla and spinal cord. Neurology. 2006;66:494–8.

Varanda S, Santos AF, Oliveira TG, Goncalves-Rocha M, Pereira J, Fernandes J, et al. Adult onset leukodystrophy-a possible Alexander's disease. Eur J Neurol. 2015;22:522.
Acknowledgements
We thank Michael Brenner for providing SW13 (Vim−) cells.
Funding
This work was supported in part by grants from the Basic Science Research Program through the Chonnam National University Hospital Biomedical Research Institute (CRI15022, BCRI 19049 and BCRI 19050), and the Ministry of Science and Technology in Taiwan (109-2320-B-007-002 and 110-2320-B-007-002).
Ethics declarations
Competing interests
The authors declare no competing interests.
Ethics approval
This study was approved by the Institutional Review Board at Chonnam National University Hospital (CNUH-2020-018).
Consent for publication
The patient provided written informed consent for the publication.
Additional information
Publisher's note Springer Nature remains neutral with regard to jurisdictional claims in published maps and institutional affiliations.
Supplementary information
About this article
Cite this article
Kang, YR., Lee, SH., Lin, NH. et al. A novel in-frame GFAP p.E138_L148del mutation in Type II Alexander disease with atypical phenotypes. Eur J Hum Genet 30, 687–694 (2022). https://doi.org/10.1038/s41431-022-01073-2
Received:

Revised:

Accepted:

Published:

Issue Date:

DOI: https://doi.org/10.1038/s41431-022-01073-2
This article is cited by
European Journal of Human Genetics (2022)