Abstract
Hypertension, obesity, chronic kidney disease and type 2 diabetes are comorbidities that have very high prevalence among persons with hyperuricemia (serum urate > 6.8 mg/dL) and gout. Here we use multivariate genetic models to test the hypothesis that the co-association of traits representing hyperuricemia and its comorbidities is genetically based. Using Bayesian whole-genome regression models, we estimated the genetic marker-based variance and the covariance between serum urate, serum creatinine, systolic blood pressure (SBP), blood glucose and body mass index (BMI) from two independent family-based studies: The Framingham Heart Study-FHS and the Hypertension Genetic Epidemiology Network study-HyperGEN. The main genetic findings that replicated in both FHS and HyperGEN, were (1) creatinine was genetically correlated only with urate and (2) BMI was genetically correlated with urate, SBP, and glucose. The environmental covariance among the traits was generally highest for trait pairs involving BMI. The genetic overlap of traits representing the comorbidities of hyperuricemia and gout appears to cluster in two separate axes of genetic covariance. Because creatinine is genetically correlated with urate but not with metabolic traits, this suggests there is one genetic module of shared loci associated with hyperuricemia and chronic kidney disease. Another module of shared loci may account for the association of hyperuricemia and metabolic syndrome. This study provides a clear quantitative genetic basis for the clustering of comorbidities with hyperuricemia.
Access options
Subscribe to Journal
Get full journal access for 1 year
$119.00
only $9.92 per issue
All prices are NET prices.
VAT will be added later in the checkout.
Tax calculation will be finalised during checkout.
Rent or Buy article
Get time limited or full article access on ReadCube.
from$8.99
All prices are NET prices.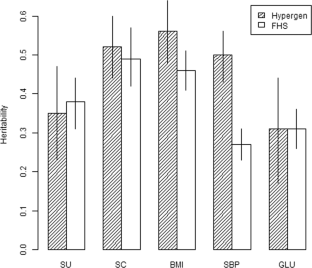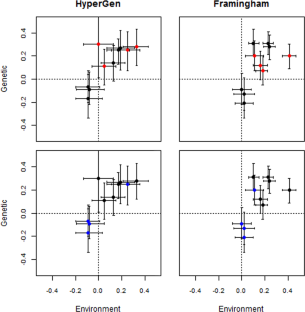 References
1.

Zhu Y, Pandya BJ, Choi HK. Comorbidities of gout and hyperuricemia in the US general population: NHANES 2007-2008. Am J Med. 2012;125:679–.e671.

2.

Choi HK, Ford ES. Prevalence of the metabolic syndrome in individuals with hyperuricemia. Am J Med. 2007;120:442–7.

3.

Choi HK, Ford ES, Li C, Curhan G. Prevalence of the metabolic syndrome in patients with gout: the Third National Health and Nutrition Examination Survey. Arthritis Rheum. 2007;57:109–15.

4.

Richette P, Clerson P, Périssin L, Flipo RM, Bardin T. Revisiting comorbidities in gout: a cluster analysis. Ann Rheum Dis. 2015;74:142–7.

5.

Sattui SE, Singh JA, Gaffo AL. Comorbidities in patients with crystal diseases and hyperuricemia. Rheum Dis Clin N Am. 2014;40:251–78.

6.

Sun M, Vazquez AI, Reynolds RJ, Singh JA, Reeves M, Merriman TR, et al. Untangling the complex relationships between incident gout risk, serum urate, and its comorbidities. Arthritis Res Ther. 2018;20:90.

7.

Merriman TR. An update on the genetic architecture of hyperuricemia and gout. Arthritis Res Ther. 2015;17:98.

8.

Ehret GB, Munroe PB, Rice KM, Bochud M, Johnson AD, Chasman DI, et al. Genetic variants in novel pathways influence blood pressure and cardiovascular disease risk. Nature. 2011;478:103–9.

9.

Chambers JC, Zhang W, Lord GM, van der Harst P, Lawlor DA, Sehmi JS, et al. Genetic loci influencing kidney function and chronic kidney disease. Nat Genet. 2010;42:373–5.

10.

Köttgen A, Albrecht E, Teumer A, Vitart V, Krumsiek J, Hundertmark C, et al. Genome-wide association analyses identify 18 new loci associated with serum urate concentrations. Nat Genet. 2013;45:145–54.

11.

Locke AE, Kahali B, Berndt SI, Justice AE, Pers TH, Day FR, et al. Genetic studies of body mass index yield new insights for obesity biology. Nature. 2015;518:197–206.

12.

Pattaro C, Teumer A, Gorski M, Chu AY, Li M, Mijatovic V, et al. Genetic associations at 53 loci highlight cell types and biological pathways relevant for kidney function. Nat Commun. 2016;7:10023.

13.

Bulik-Sullivan B, Finucane HK, Anttila V, Gusev A, Day FR, Loh PR, et al. An atlas of genetic correlations across human diseases and traits. Nat Genet. 2015;47:1236–41.

14.

Shi H, Mancuso N, Spendlove S, Pasaniuc B. Local genetic correlation gives insights into the shared genetic architecture of complex traits. Am J Hum Genet. 2017;101:737–51.

15.

Falconer DS, MacKay TFC. Introduction to quantitative genetics, 4th ed. Harlow, England: Pearson; 1996.

16.

Lynch M, Walsh B. Genetics and analysis of quantitative traits. Sunderland, MA: Sinauer; 1998.

17.

de los Campos G, Gianola D, Allison DB. Predicting genetic predisposition in humans: the promise of whole-genome markers. Nat Rev Genet. 2010;11:880–6.

18.

de Los Campos G, Vazquez AI, Hsu S, Lello L. Complex-trait prediction in the era of big data. Trends Genet. 2018;34:746–54.

19.

Aslibekyan S, Wiener HW, Wu G, Zhi D, Shrestha S, de los Campos G, et al. Estimating proportions of explained variance: a comparison of whole genome subsets. BMC Proc. 2014;8:S102

20.

Goddard ME, Kemper KE, MacLeod IM, Chamberlain AJ, Hayes BJ. Genetics of complex traits: prediction of phenotype, identification of causal polymorphisms and genetic architecture. Proc Biol Sci. 2016;283. https://doi.org/10.1098/rspb.2016.0569.

21.

Lello L, Avery SG, Tellier L, Vazquez AI, de Los Campos G, Hsu SDH. Accurate genomic prediction of human height. Genetics. 2018;210:477–97.

22.

Vazquez AI, Klimentidis YC, Dhurandhar EJ, Veturi YC, Paérez-Rodríguez P. Assessment of whole-genome regression for type II diabetes. PLoS ONE. 2015;10:e0123818.

23.

Mahmood SS, Levy D, Vasan RS, Wang TJ. The Framingham Heart Study and the epidemiology of cardiovascular disease: a historical perspective. Lancet. 2014;383:999–1008.

24.

Williams RR, Rao DC, Ellison RC, Arnett DK, Heiss G, Oberman A, et al. NHLBI family blood pressure program: methodology and recruitment in the HyperGEN network. Hypertension genetic epidemiology network. Ann Epidemiol. 2000;10:389–400.

25.

Makowsky R, Pajewski NM, Klimentidis YC, Vazquez AI, Duarte CW, Allison DB, et al. Beyond missing heritability: prediction of complex traits. PLoS Genet. 2011;7:e1002051.

26.

de Los Campos G, Vazquez AI, Fernando R, Klimentidis YC, Sorensen D. Prediction of complex human traits using the genomic best linear unbiased predictor. PLoS Genet. 2013;9:e1003608.

27.

Vazquez AI. de los Campos G, Klimentidis YC, Rosa GJ, Gianola D, Yi N, et al: A comprehensive genetic approach for improving prediction of skin cancer risk in humans. Genetics. 2012;192:1493–502.

28.

Muñoz M, Pong-Wong R, Canela-Xandri O, Rawlik K, Haley CS, Tenesa A. Evaluating the contribution of genetics and familial shared environment to common disease using the UK Biobank. Nat Genet. 2016;48:980–3.

29.

Klimentidis YC, Vazquez AI, de Los Campos G, Allison DB, Dransfield MT, Thannickal VJ. Heritability of pulmonary function estimated from pedigree and whole-genome markers. Front Genet. 2013;4:174.

30.

VanRaden PM. Efficient methods to compute genomic predictions. J Dairy Sci. 2008;91:4414–23.

31.

R CT: R: A language and environment for statistical computing. Vienna: R Foundation for Statistical Computing, 2020.

32.

Dupuis J, Langenberg C, Prokopenko I, Saxena R, Soranzo N, Jackson AU, et al. New genetic loci implicated in fasting glucose homeostasis and their impact on type 2 diabetes risk. Nat Genet. 2010;42:105–16.

33.

Bevis M, Blagojevic-Bucknall M, Mallen C, Hider S, Roddy E. Comorbidity clusters in people with gout: an observational cohort study with linked medical record review. Rheumatology. 2018;57:1358–63.

34.

Sumpter NA, Saag KG, Reynolds RJ, Merriman TR. Comorbidities in gout and hyperuricemia: causality or epiphenomena? Curr Opin Rheumatol. 2020;32:126–33.

35.

Arpegård J, Viktorin A, Chang Z, de Faire U, Magnusson PK, Svensson P. Comparison of heritability of Cystatin C- and creatinine-based estimates of kidney function and their relation to heritability of cardiovascular disease. J Am Heart Assoc. 2015;4:e001467.

36.

Tang W, Hong Y, Province MA, Rich SS, Hopkins PN, Arnett DK, et al. Familial clustering for features of the metabolic syndrome: the National Heart, Lung, and Blood Institute (NHLBI) Family Heart Study. Diabetes Care. 2006;29:631–6.

37.

Robinson PC, Choi HK, Do R, Merriman TR. Insight into rheumatological cause and effect through the use of Mendelian randomization. Nat Rev Rheumatol. 2016;12:486–96.

38.

Zhu Y, Zhang Y, Choi HK. The serum urate-lowering impact of weight loss among men with a high cardiovascular risk profile: the Multiple Risk Factor Intervention Trial. Rheumatology. 2010;49:2391–9.

39.

Jordan DM, Choi HK, Verbanck M, Topless R, Won HH, Nadkarni G, et al. No causal effects of serum urate levels on the risk of chronic kidney disease: a Mendelian randomization study. PLoS Med. 2019;16:e1002725.

40.

Grayson PC, Kim SY, LaValley M, Choi HK. Hyperuricemia and incident hypertension: a systematic review and meta-analysis. Arthritis Care Res. 2011;63:102–10.

41.

Gaffo AL, Jacobs DR, Sijtsma F, Lewis CE, Mikuls TR, Saag KG. Serum urate association with hypertension in young adults: analysis from the Coronary Artery Risk Development in Young Adults cohort. Ann Rheum Dis. 2013;72:1321–7.

42.

Kang DH, Park SK, Lee IK, Johnson RJ. Uric acid-induced C-reactive protein expression: implication on cell proliferation and nitric oxide production of human vascular cells. J Am Soc Nephrol. 2005;16:3553–62.

43.

Corry DB, Eslami P, Yamamoto K, Nyby MD, Makino H, Tuck ML. Uric acid stimulates vascular smooth muscle cell proliferation and oxidative stress via the vascular renin-angiotensin system. J Hypertens. 2008;26:269–75.

44.

Feig DI, Soletsky B, Johnson RJ. Effect of allopurinol on blood pressure of adolescents with newly diagnosed essential hypertension: a randomized trial. JAMA. 2008;300:924–32.

45.

Johnson RJ, Nakagawa T, Jalal D, Sánchez-Lozada LG, Kang DH, Ritz E. Uric acid and chronic kidney disease: which is chasing which? Nephrol Dial Transpl. 2013;28:2221–8.

46.

Gianola D, de los Campos G, Toro MA, Naya H, Schön CC, Sorensen D:. Do molecular markers inform about pleiotropy? Genetics. 2015;201:23–29.
Acknowledgements
RJR, SLB, TRM, JAS, and AIV acknowledge support from P50 AR060772. RJR acknowledges support from K01 AR060848 and the Arthritis National Research Foundation. AIV acknowledges financial support from NIH grant 7-R01-DK-062148-10-S1, R01GM09992, and R01GM101219. The Hypertension Genetic Epidemiology Network (HyperGEN) Study is part of the NHLBI Family Blood Pressure Program. Collection of the data represented here was supported by grants U01 HL054472, U01 HL054473, U01 HL054495, and U01 HL054509. The HyperGEN: Genetics of Left Ventricular Hypertrophy Study was supported by NHLBI grant R01 HL055673. We gratefully acknowledge scientists conducting the HyperGEN and Framingham Heart Study for collecting, analyzing, and providing the genotypic and phenotypic data used in the present study, as well as the invaluable dedication of the HyperGEN and Framingham Heart Study participants. The Framingham Heart Study is conducted and supported by the NHLBI in collaboration with Boston University (Contract No. N01-HC-25195 and HHSN268201500001I). This manuscript was not prepared in collaboration with investigators of the Framingham Heart Study and does not necessarily reflect the opinions or views of the Framingham Heart Study, Boston University, or NHLBI. Funding for SHARe Affymetrix genotyping was provided by NHLBI Contract N02-HL64278. SHARe Illumina genotyping was provided under an agreement between Illumina and Boston University. Funding for Affymetrix genotyping of the FHS Omni cohorts was provided by Intramural NHLBI funds from Andrew D. Johnson and Christopher J. O'Donnell.
Ethics declarations
Conflict of interest
AIV has received consultant fees from University of Alabama at Birmingham and University of Texas, Austin. JAS has received consultant fees from Crealta/Horizon, Medisys, Fidia, UBM LLC, Trio health, Medscape, WebMD, Clinical Care options, Clearview healthcare partners, Putnam associates, Spherix, Practice Point communications, the National Institutes of Health and the American College of Rheumatology. JAS owns stock options in Amarin pharmaceuticals and Viking therapeutics. JAS is on the speaker's bureau of Simply Speaking. JAS is a member of the executive of OMERACT, an organization that develops outcome measures in rheumatology and receives arms-length funding from 12 companies. JAS serves on the FDA Arthritis Advisory Committee. JAS is a member of the Veterans Affairs Rheumatology Field Advisory Committee. JAS is the editor and the Director of the UAB Cochrane Musculoskeletal Group Satellite Center on Network Meta-analysis. JAS previously served as a member of the following committees: member, the American College of Rheumatology's (ACR) Annual Meeting Planning Committee (AMPC) and Quality of Care Committees, the Chair of the ACR Meet-the-Professor, Workshop and Study Group Subcommittee and the co-chair of the ACR Criteria and Response Criteria subcommittee.
Additional information
Publisher's note Springer Nature remains neutral with regard to jurisdictional claims in published maps and institutional affiliations.
Supplementary information
About this article
Cite this article
Reynolds, R.J., Irvin, M.R., Bridges, S.L. et al. Genetic correlations between traits associated with hyperuricemia, gout, and comorbidities. Eur J Hum Genet 29, 1438–1445 (2021). https://doi.org/10.1038/s41431-021-00830-z
Received:

Revised:

Accepted:

Published:

Issue Date:
Further reading
Charleen D. Adams

&

Brian B. Boutwell

Scientific Reports (2021)