Access options
Subscribe to Journal
Get full journal access for 1 year
$1,189.00
only $99.08 per issue
All prices are NET prices.
VAT will be added later in the checkout.
Rent or Buy article
Get time limited or full article access on ReadCube.
from$8.99
All prices are NET prices.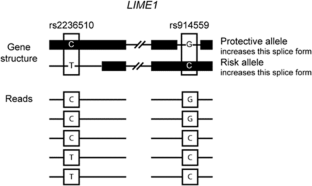 References
1.

Ban M, Liao W, Baker A, Thorpe J, Molyneux P, Fraser M, et al. Transcript specific regulation of expression influences susceptibility to multiple sclerosis. Eur J Hum Genet. 2020. in press.

2.

Park E, Pan Z, Zhang Z, Lin L, Xing Y. The expanding landscape of alternative splicing variation in human populations. Am J Hum Genet. 2018;102:11–26.

3.

Li YI, van de Geijn B, Raj A, Knowles DA, Petti AA, Golan D, et al. RNA splicing is a primary link between genetic variation and disease. Science. 2016;352:600–4.

4.

Chun S, Casparino A, Patsopoulos NA, Croteau-Chonka DC, Raby BA, De Jager PL, et al. Limited statistical evidence for shared genetic effects of eQTLs and autoimmune-disease-associated loci in three major immune-cell types. Nat Genet. 2017;49:600–5.

5.

The International Multiple Sclerosis Genetics Consortium. Multiple sclerosis genomic map implicates peripheral immune cells and microglia in susceptibility. Science. 2019;365:eaav7188.
Acknowledgements
LVH holds a PhD Fellowship of the Belgian Charcot Foundation. AG is supported for work related to this topic by the Research Council KU Leuven, the Research Foundation Flanders and the Queen Elisabeth Medical Foundation.
Ethics declarations
Conflict of interest
The authors declare that they have no conflict of interest.
Additional information
Publisher's note Springer Nature remains neutral with regard to jurisdictional claims in published maps and institutional affiliations.
About this article
Cite this article
Van Horebeek, L., Goris, A. Transcript-specific regulation in T-cells in multiple sclerosis susceptibility. Eur J Hum Genet (2020). https://doi.org/10.1038/s41431-020-0615-y
Received:

Accepted:

Published: