Abstract
Celiac disease (CeD) is a common immune-mediated disease of the small intestine that is triggered by exposure to dietary gluten. While the HLA locus plays a major role in disease susceptibility, 39 non-HLA loci were also identified in a study of 24,269 individuals. We now build on this earlier study by adding 4125 additional Caucasian samples including an Argentinian cohort. In doing so, we not only confirm the previous associations, we also identify two novel independent genome-wide significant associations at loci: 12p13.31 and 22q13.1. By applying a genomics approach and differential expression analysis in CeD intestinal biopsies, we prioritize potential causal genes at these novel loci, including LTBR, CYTH4, and RAC2. Nineteen prioritized causal genes are overlapping known drug targets. Pathway enrichment analysis and expression of these genes in CeD biopsies suggest that they have roles in regulating multiple pathways such as the tumor necrosis factor (TNF) mediated signaling pathway and positive regulation of I-κB kinase/NF-κB signaling.
Access options
Subscribe to Journal
Get full journal access for 1 year
$499.00
only $41.58 per issue
All prices are NET prices.
VAT will be added later in the checkout.
Rent or Buy article
Get time limited or full article access on ReadCube.
from$8.99
All prices are NET prices.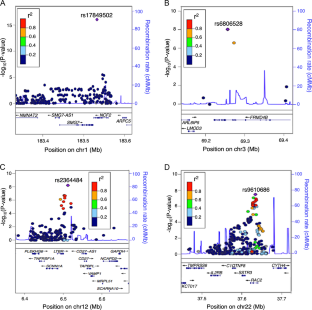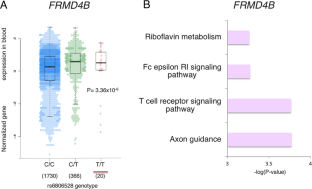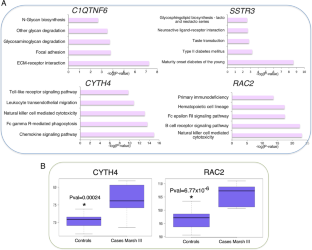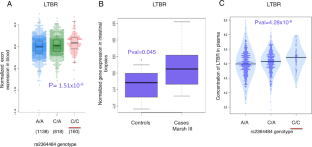 Data availability
The sample-phenotype information, summary statistics from the association analysis per cohort, and the results from the meta-analysis have been deposited at the European Genome-phenome Archive (EGA), which is hosted by the EBI and the CRG, under accession number EGAS00001003805.
References
1.

Tack GJJ, Verbeek WHMHM, Schreurs MWJWJ, Mulder CJJJJ. The spectrum of celiac disease: epidemiology, clinical aspects and treatment. Nat Rev Gastroenterol Hepatol. 2010;7:204–13.

2.

Kuja-Halkola R, Lebwohl B, Halfvarson J, Wijmenga C, Magnusson PKE, Ludvigsson JF. Heritability of non-HLA genetics in coeliac disease: a population- based study in 107 000 twins. Gut. 2016;65:1793–8.

3.

Trynka G, Hunt KA, Bockett NA, Romanos J, Mistry V, Szperl A, et al. Dense genotyping identifies and localizes multiple common and rare variant association signals in celiac disease. Nat Genet. 2011;43:1193–201.

4.

Dubois P, Trynka G, Franke L, Hunt K, Romanos J, Curtotti A, et al. Multiple common variants for celiac disease influencing immune gene expression. Nat Genet. 2010;42:295–302.

5.

van Heel DA, Franke L, Hunt KA, Gwilliam R, Zhernakova A, Inouye M, et al. A genome-wide association study for celiac disease identifies risk variants in the region harboring IL2 and IL21. Nat Genet. 2007;39:827–9.

6.

Kumar V, Westra HJ, Karjalainen J, Zhernakova DV, Esko T, Hrdlickova B et al. Human disease-associated genetic variation impacts large intergenic non-coding RNA expression. PLoS Genet. 2013; 8. https://doi.org/10.1371/journal.pgen.1003201.

7.

Ricaño-Ponce I, Zhernakova DV, Deelen P, Luo O, Li X, Isaacs A, et al. Refined mapping of autoimmune disease associated genetic variants with gene expression suggests an important role for non-coding RNAs. J Autoimmun. 2016;68:62–74.

8.

Tsoi LC, Spain SL, Knight J, Ellinghaus E, Stuart PE, Capon F, et al. Identification of 15 new psoriasis susceptibility loci highlights the role of innate immunity. Nat Genet. 2012;44:1341–8.

9.

Jostins L, Ripke S, Weersma R, Duerr RH, Dermot P, Hui K. et al. Host-microbe413 interactions shape genetic risk for inflammatory bowel disease. Nature. 2012;49:119–24.

10.

Beecham AH, Patsopoulos NA, Xifara DK, Davis MF, Kemppinen A, Cotsapas C, et al. Analysis of immune-related loci identifies 48 new susceptibility variants for multiple sclerosis. Nat Genet. 2013;45:1353–60.

11.

Okada Y, Wu D, Trynka G, Raj T, Terao C, Ikari K, et al. Genetics of rheumatoid arthritis contributes to biology and drug discovery. Nature. 2014;506:376–81.

12.

Coleman C, Quinn EM, Ryan AW, Conroy J, Trimble V, Mahmud N, et al. Common polygenic variation in coeliac disease and confirmation of ZNF335 and NIFA as disease susceptibility loci. Eur J Hum Genet. 2015;353:1–7.

13.

Miller SA, Dykes DD, Polesky HF. A simple salting out procedure for extracting DNA from human nucleated cells. Nucleic Acids Res. 1988;16:1215.

14.

Purcell S, Neale B, Todd-Brown K, Thomas L, Ferreira MAR, Bender D, et al. PLINK: A tool set for whole-genome association and population-based linkage analyses. Am J Hum Genet. 2007;81:559–75.

15.

Chang CC, Chow CC, Tellier LC, Vattikuti S, Purcell SM, Lee JJ. Second-generation PLINK: rising to the challenge of larger and richer datasets. GigaScience. 2015; 4. https://doi.org/10.1186/s13742-015-0047-8.

16.

Kent WJ, Sugnet CW, Furey TS, Roskin KM, Pringle TH, Zahler AM, et al. The human genome browser at UCSC. Genome Res. 2002;12:996–1006.

17.

Ward LD, Kellis M. HaploRegv4: systematic mining of putative causal variants, cell types, regulators and target genes for human complex traits and disease. Nucleic Acids Res. 2016;44:D877–81.

18.

Zhernakova DV, Deelen P, Vermaat M, van Iterson M, van Galen M, Arindrarto W, et al. Identification of context-dependent expression quantitative trait loci in whole blood. Nat Genet. 2016;49:139–45.

19.

Diosdado B, Wapenaar MC, Franke L, Duran KJ, Goerres MJ, Hadithi M, et al. A microarray screen for novel candidate genes in coeliac disease pathogenesis. Gut. 2004;53:944–51.

20.

Hunt KA, Zhernakova A, Turner G, Heap GAR, Franke L, Bruinenberg M, et al. Newly identified genetic risk variants for celiac disease related to the immune response. Nat Genet. 2008;40:395–402.

21.

Zhernakova DV, Le TH, Kurilshikov A, Atanasovska B, Bonder MJ, Sanna S, et al. Individual variations in cardiovascular-disease-related protein levels are driven by genetics and gut microbiome. Nat Genet. 2018;50:1524–32.

22.

Hunt KA, Mistry V, Bockett NA, Ahmad T, Ban M, Barker JN, et al. Negligible impact of rare autoimmune-locus coding-region variants on missing heritability. Nature. 2013;498:232–5.

23.

Gutierrez-Achury J, Zorro MM, Ricaño-Ponce I, Zhernakova DV, Diogo D, Raychaudhuri S, et al. Functional implications of disease-specific variants in loci jointly associated with coeliac disease and rheumatoid arthritis. Hum Mol Genet. 2016;25:180–90.

24.

Bentham J, Morris DL, Cunninghame Graham DS, Pinder CL, Tombleson P, Behrens TW, et al. Genetic association analyses implicate aberrant regulation of innate and adaptive immunity genes in the pathogenesis of systemic lupus erythematosus. Nat Genet. 2015;47:1457–64.

25.

Márquez A, Kerick M, Zhernakova A, Gutierrez-Achury J, Chen W-M, Onengut- Gumuscu S, et al. Meta-analysis of Immunochip data of four autoimmune diseases reveals novel single-disease and cross-phenotype associations. Genome Med. 2018;10:97.

26.

Garner C, Ahn R, Ding YC, Steele L, Stoven S, Green PH et al. Genome-wide association study of celiac disease in North America confirms FRMD4B as new celiac locus. PLoS ONE. 2014; 9. https://doi.org/10.1371/journal.pone.0101428.

27.

Klarlund JK, Holik J, Chawla A, Park JG, Buxton J, Czech MP. Signaling complexes of the FERM domain-containing protein GRSP1 bound to ARF exchange factor GRP1. J Biol Chem 2001;276:40065–70.

28.

Cooper JD, Smyth DJ, Smiles AM, Plagnol V, Walker NM, Allen JE, et al. Meta- analysis of genome-wide association study data identifies additional type 1 diabetes risk loci. Nat Genet. 2008;40:1399–401.

29.

Jin Y, Birlea SA, Fain PR, Ferrara TM, Ben S, Riccardi SL, et al. Genome-wide association analyses identify 13 new susceptibility loci for generalized vitiligo. Nat Genet. 2012;44:676–80.

30.

Lei X, Seldin MM, Little HC, Choy N, Klonisch T, Wong GW. C1q/TNF-related protein 6 (CTRP6) links obesity to adipose tissue inflammation and insulin resistance. J Biol Chem. 2017;292:14836–50.

31.

Sharma K, Patel YC, Srikant CB. Subtype-selective induction of wild-type p53 and apoptosis, but not cell cycle arrest, by human somatostatin receptor 3. Mol Endocrinol. 1996;10:1688–96.

32.

Ambruso DR, Knall C, Abell AN, Panepinto J, Kurkchubasche A, Thurman G, et al. Human neutrophil immunodeficiency syndrome is associated with an inhibitory Rac2 mutation. Proc Natl Acad Sci USA. 2000;97:4654–9.

33.

Yang FC, Kapur R, King AJ, Tao W, Kim C, Borneo J, et al. Rac2 stimulates Akt activation affecting BAD/Bcl-XL expression while mediating survival and actin function in primary mast cells. Immunity. 2000;12:557–68.

34.

Mesin L, Sollid LM, Niro RDi. The intestinal B-cell response in celiac disease. Front Immunol. 2012;3:313.

35.

Marafini I, Imeneo MG, Monteleone G. The role of natural killer receptors in celiac disease. Immunome Res. 2017;13:1–2.

36.

Cortes A, Hadler J, Pointon JP, Robinson PC, Karaderi T, Leo P, et al. Identification of multiple risk variants for ankylosing spondylitis through high-density genotyping of immune-related loci. Nat Genet. 2013;45:730–8.

37.

Hinks A, Cobb J, Marion MC, Prahalad S, Sudman M, Bowes J, et al. Dense genotyping of immune-related disease regions identifies 14 new susceptibility loci for juvenile idiopathic arthritis. Nat Genet 2013;45:664–9.

38.

Mells GF, Floyd JA, Morley KI, Cordell HJ, Franklin CS, Shin SY, et al. Genome-wide association study identifies 12 new susceptibility loci for primary biliary cirrhosis. Nat Genet. 2011;43:329–32.

39.

Kabakchiev B, Silverberg MS. Expression quantitative trait loci analysis identifies associations between genotype and gene expression in human intestine. Gastroenterology. 2013;144:1488–96.

40.

Chang Y-H, Hsieh S-L, Chen M-C, Lin W-W. Lymphotoxin beta receptor induces interleukin 8 gene expression via NF-kappaB and AP-1 activation. Exp Cell Res. 2002;278:166–74.

41.

VanArsdale TL, VanArsdale SL, Force WR, Walter BN, Mosialos G, Kieff E, et al. Lymphotoxin-beta receptor signaling complex: role of tumor necrosis factor receptor-associated factor 3 recruitment in cell death and activation of nuclear factor kappaB. Proc Natl Acad Sci USA. 1997;94:2460–5.

42.

Li C, Norris PS, Ni C-Z, Havert ML, Chiong EM, Tran BR, et al. Structurally distinct recognition motifs in lymphotoxin-β receptor and CD40 for tumor necrosis factor receptor-associated factor (TRAF)-mediated signaling. J Biol Chem. 2003;278:50523–9.

43.

Meresse B, Malamut G, Cerf-Bensussan N. Celiac disease: an immunological jigsaw. Immunity. 2012;36:907–19.

44.

Di Sabatino A, Brunetti L, Carnevale Maffè G, Giuffrida P, Corazza GR. Is it worth investigating splenic function in patients with celiac disease? World J Gastroenterol. 2013;19:2313–8.

45.

Maiuri MC, De Stefano D, Mele G, Iovine B, Bevilacqua MA, Greco L, et al. Gliadin increases iNOS gene expression in interferon-γ-stimulated RAW 264.7 cells through a mechanism involving NF-κB. Naunyn Schmiedebergs Arch Pharm. 2003;368:63–71.

46.

Fernandez-Jimenez N, Castellanos-Rubio A, Plaza-Izurieta L, Irastorza I, Elcoroaristizabal X, Jauregi-Miguel A, et al. Coregulation and modulation of NFκB-related genes in celiac disease: uncovered aspects of gut mucosal inflammation. Hum Mol Genet. 2014;23:1298–310.

47.

Sironi M, Guerini FR, Agliardi C, Biasin M, Cagliani R, Fumagalli M, et al. An evolutionary analysis of RAC2 identifies haplotypes associated with human autoimmune diseases. Mol Biol Evol. 2011;28:3319–29.

48.

Li B, Yu H, Zheng W, Voll R, Na S, Roberts AW, et al. Role of the guanosine triphosphatase Rac2 in T helper 1 cell differentiation. Science. 2000;288:2219–22.

49.

Nilsen EM, Jahnsen FL, Lundin KE, Johansen FE, Fausa O, Sollid LM, et al. Gluten induces an intestinal cytokine response strongly dominated by interferon gamma in patients with celiac disease. Gastroenterology. 1998;115:551–63.

50.

Braun J, Sieper J, Devlam K, Calin A, Braun J, et al. Ankylosing spondylitis. Lancet. 2007;369:1379–90.
Acknowledgements
We thank the Argentinian clinicians for recruiting individuals with CeD to provide blood samples; the genotyping facility of the UMCG for help in generating the Immunochip data; Jeffrey Barrett, Rinse Weersma, and Ross McManus for providing genotypes from extra controls and the Irish cohort; all the participating CeD patients and controls; and Kate Mc Intyre for editing the manuscript.
Funding
This work was supported by an ERC Advanced grant [FP/2007-2013/ERC grant 2012-322698], an NWO Spinoza prize grant [NWO SPI 92-266], NWO-VIDI grants [864.13.013] to JF and [016.178.056] to AZ, Hypatia grant to VK from Radboud UMC, NWO Gravitation Netherlands Organ-on-Chip Initiative [024.003.001] to CW, a European Union Seventh Framework Programme grant (EU FP7) TANDEM project [HEALTH-F3-2012-305279] to CW and a ERC Starting Grant [715772] to AZ. GT is supported by the Wellcome Trust grant WT206194.
Consortium for the study of genetic associations of celiac disease in Latin-America
Emilia Sugai, María L. Moreno, Horacio Vázquez, Elsa Barrientos, Eduardo Mauriño, Martin Talamo, Analia Villarruel.
Ethics declarations
Conflict of interest
The authors declare that they have no conflict of interest.
Additional information
Publisher's note Springer Nature remains neutral with regard to jurisdictional claims in published maps and institutional affiliations.
Supplementary information
About this article
Cite this article
Ricaño-Ponce, I., Gutierrez-Achury, J., Costa, A.F. et al. Immunochip meta-analysis in European and Argentinian populations identifies two novel genetic loci associated with celiac disease. Eur J Hum Genet 28, 313–323 (2020). https://doi.org/10.1038/s41431-019-0520-4
Received:

Revised:

Accepted:

Published:

Issue Date:
Further reading
Aarón D. Ramírez-Sánchez

,

Ineke L. Tan

,

B.C. Gonera-de Jong

,

Marijn C. Visschedijk

,

Iris Jonkers

&

Sebo Withoff

International Journal of Molecular Sciences (2020)