Abstract
Currently only 25–30% of patients with axonal forms of Charcot-Marie-Tooth disease (CMT) receive a genetic diagnosis. We aimed to identify the causative gene of CMT type 2 in 8 non-related French families with a distinct clinical phenotype. We collected clinical, electrophysiological, and laboratory findings and performed genetic analyses in four different French laboratories. Seventy-two patients with autosomal dominant inheritance were identified. The disease usually started in the fourth decade and the clinical picture was dominated by sensory ataxia (80%), neuropathic pain (38%), and length-dependent sensory loss to all modalities. Electrophysiological studies showed a primarily axonal neuropathy, with possible isolated sensory involvement in milder phenotypes. Disease severity varied greatly but the clinical course was generally mild. We identified 2 novel variants in LRSAM1 gene: a deletion of 4 amino acids, p.(Gln698_Gln701del), was found in 7 families and a duplication of a neighboring region of 10 amino acids, p.(Pro702_Gln711dup), in the remaining family. A common haplotype of ~450 kb suggesting a founder effect was noted around LRSAM1 in 4 families carrying the first variant. LRSAM1 gene encodes for an E3 ubiquitin ligase important for neural functioning. Our results confirm the localization of variants in its catalytic C-terminal RING domain and broaden the phenotypic spectrum of LRSAM1-related neuropathies, including painful and predominantly sensory ataxic forms.
Access options
Access options
Subscribe to Journal
Get full journal access for 1 year
$1,189.00
only $99.08 per issue
All prices are NET prices.
VAT will be added later in the checkout.
Rent or Buy article
Get time limited or full article access on ReadCube.
from$8.99
All prices are NET prices.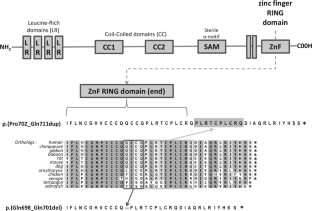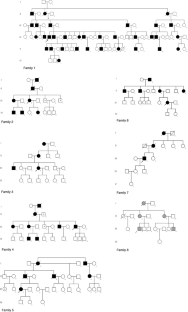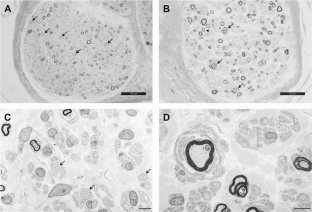 Data availability
Genetic data have been submitted to ClinVar (Submission ID: SUB4224652).
References
1.

Skre H. Genetic and clinical aspects of Charcot-Marie-Tooth's disease. Clin Genet. 1974;6:98–118.

2.

Pareyson D, Marchesi CDiagnosis. natural history, and management of Charcot-Marie-Tooth disease. Lancet Neurol. 2009;8:654–67.

3.

Harding AE, Thomas PK. The clinical features of hereditary motor and sensory neuropathy types I and II. Brain. 1980;103:259–80.

4.

Berciano J, García A, Gallardo E, Peeters K, Pelayo-Negro AL, Álvarez-Paradelo S, et al. Intermediate Charcot-Marie-Tooth disease: an electrophysiological reappraisal and systematic review. J Neurol. 2017;264:1655–77.

5.

Pisciotta C, Shy ME. Neuropathy. Neuromolecular Med. 2018;148:653–65.

6.

Rossor AM, Polke JM, Houlden H, Reilly MM. Clinical implications of genetic advances in Charcot-Marie-Tooth disease. Nat Rev Neurol. 2013;9:562–71.

7.

Hakonen JE, Sorrentino V, Avagliano Trezza R, de Wissel MB, van den Berg M, Bleijlevens B, et al. LRSAM1-mediated ubiquitylation is disrupted in axonal Charcot-Marie-Tooth disease 2P. Hum Mol Genet. 2017;26:2034–41.

8.

Guernsey DL, Jiang H, Bedard K, Evans SC, Ferguson M, Matsuoka M, et al. Mutation in the gene encoding ubiquitin ligase LRSAM1 in patients with Charcot-Marie-Tooth disease. PLoS Genet. 2010;6:e1001081.

9.

Weterman MA, Sorrentino V, Kasher PR, Jakobs ME, van Engelen BG, Fluiter K, et al. A frameshift mutation in LRSAM1 is responsible for a dominant hereditary polyneuropathy. Hum Mol Genet. 2012;21:358–70.

10.

Nicolaou P, Cianchetti C, Minaidou A, Marrosu G, Zamba-Papanicolaou E, Middleton L, et al. A novel LRSAM1 mutation is associated with autosomal dominant axonal Charcot-Marie-Tooth disease. Eur J Hum Genet. 2013;21:190–4.

11.

Engeholm M, Sekler J, Schöndorf DC, Arora V, Schittenhelm J, Biskup S, et al. A novel mutation in LRSAM1 causes axonal Charcot-Marie-Tooth disease with dominant inheritance. BMC Neurol. 2014;14:118.

12.

Peeters K, Palaima P, Pelayo-Negro AL, García A, Gallardo E, García-Barredo R, et al. Charcot-Marie-Tooth disease type 2G redefined by a novel mutation in LRSAM1. Ann Neurol. 2016;80:823–33.

13.

Hu B, Arpag S, Zuchner S, Li J. A novel missense mutation of CMT2P alters transcription machinery. Ann Neurol. 2016;80:834–45.

14.

Zhao G, Song J, Yang M, Song X, Liu X. A novel mutation of LRSAM1 in a Chinese family with Charcot-Marie-Tooth disease. J Peripher Nerv Syst. 2018;23:55–9.

15.

Sommer CL, Brandner S, Dyck PJ, Harati Y, LaCroix C, Lammens M, et al. Peripheral Nerve Society Guideline on processing and evaluation of nerve biopsies. J Peripher Nerv Syst. 2010;15:164–75.

16.

Bacquet J, Stojkovic T, Boyer A, Martini N, Audic F, Chabrol B, et al. Molecular diagnosis of inherited peripheral neuropathies by targeted next-generation sequencing: molecular spectrum delineation. BMJ Open. 2018;8:e021632.

17.

Masingue M, Perrot J, Carlier RY, Piguet-Lacroix G, Latour P, Stojkovic T. WES homozygosity mapping in a recessive form of Charcot-Marie-Tooth neuropathy reveals intronic GDAP1 variant leading to a premature stop codon. Neurogenetics. 2018;19:67–76.

18.

Chahin N, Sorenson EJ. Serum creatine kinase levels in spinobulbar muscular atrophy and amyotrophic lateral sclerosis. Muscle Nerve. 2009;40:126–9.

19.

Luigetti M, Modoni A, Renna R, Silvestri G, Ricci E, Montano N, et al. A case of CMT 1B due to Val 102/fs null mutation of the MPZ gene presenting as hyperCKemia. Clin Neurol Neurosurg. 2010;112:794–7.

20.

Berciano J, García A, Peeters K, Gallardo E, De Vriendt E, Pelayo-Negro AL, et al. NEFL E396K mutation is associated with a novel dominant intermediate Charcot-Marie-Tooth disease phenotype. J Neurol. 2015;262:1289–300.

21.

Aerts MB, Weterman AJ, Quadri M, Schelhaas HJ, Bloem BR, Esselink RA, et al. A LRSAM1 mutation links Charcot-Marie-Tooth type 2 to Parkinson's disease. Ann Clin Transl Neurol. 2015;3:146–9.

22.

Tang B, Seredenina T, Coppola G, Kuhn A, Geschwind DH, Luthi-Carter R, et al. Gene expression profiling of R6/2 transgenic mice with different CAG repeat lengths reveals genes associated with disease onset and progression in Huntington's disease. Neurobiol Dis. 2011;42:459–67.

23.

Trempe JF, Sauvé V, Grenier K, Seirafi M, Tang MY, Ménade M, et al. Structure of parkin reveals mechanisms for ubiquitin ligase activation. Science. 2013;340:1451–5.

24.

Bogdanik LP, Sleigh JN, Tian C, Samuels ME, Bedard K, Seburn KL, et al. Loss of the E3 ubiquitin ligase LRSAM1 sensitizes peripheral axons to degeneration in a mouse model of Charcot-Marie-Tooth disease. Dis Model Mech. 2013;6:780–92.

25.

Hershko A, Ciechanover A. The ubiquitin system. Annu Rev Biochem. 1998;67:425–79.

26.

Amit I, Yakir L, Katz M, Zwang Y, Marmor MD, Citri A, et al. Tal, a Tsg101-specific E3 ubiquitin ligase, regulates receptor endocytosis and retrovirus budding. Genes Dev. 2004;18:1737–52.
Ethics declarations
Conflict of interest
The authors declare that they have no conflict of interest.
Additional information
Publisher's note: Springer Nature remains neutral with regard to jurisdictional claims in published maps and institutional affiliations.
Supplementary information