Abstract
Evidence-based nutritional recommendations address the health impact of suboptimal nutritional status. Efficacy randomized controlled trials (RCTs) have traditionally been the preferred method for determining the effects of nutritional interventions on health outcomes. Nevertheless, obtaining a holistic understanding of intervention efficacy and effectiveness in real-world settings is stymied by inherent constraints of efficacy RCTs. These limitations are further compounded by the complexity of nutritional interventions and the intricacies of the clinical context. Herein, we explore the advantages and limitations of alternative study designs (e.g., adaptive and pragmatic trials), which can be incorporated into RCTs to optimize the efficacy or effectiveness of interventions in clinical nutrition research. Efficacy RCTs often lack external validity due to their fixed design and restrictive eligibility criteria, leading to efficacy-effectiveness and evidence-practice gaps. Adaptive trials improve the evaluation of nutritional intervention efficacy through planned study modifications, such as recalculating sample sizes or discontinuing a study arm. Pragmatic trials are embedded within clinical practice or conducted in settings that resemble standard of care, enabling a more comprehensive assessment of intervention effectiveness. Pragmatic trials often rely on patient-oriented primary outcomes, acquire outcome data from electronic health records, and employ broader eligibility criteria. Consequently, adaptive and pragmatic trials facilitate the prompt implementation of evidence-based nutritional recommendations into clinical practice. Recognizing the limitations of efficacy RCTs and the potential advantages of alternative trial designs is essential for bridging efficacy-effectiveness and evidence-practice gaps. Ultimately, this awareness will lead to a greater number of patients benefiting from evidence-based nutritional recommendations.
Access options
Subscribe to this journal
Receive 12 print issues and online access
$259.00 per year
only $21.58 per issue
Rent or buy this article
Prices vary by article type
from$1.95
to$39.95
Prices may be subject to local taxes which are calculated during checkout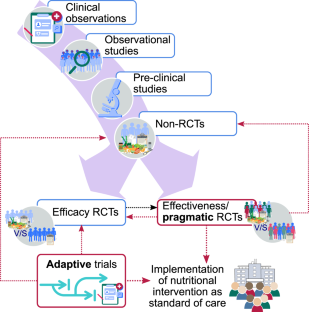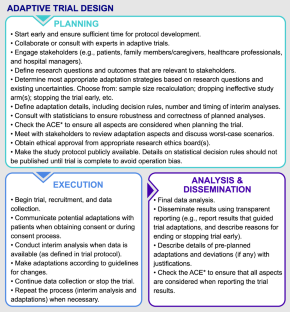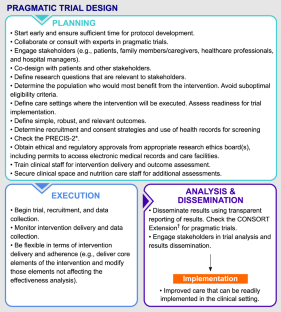 References
Micha R, Peñalvo JL, Cudhea F, Imamura F, Rehm CD, Mozaffarian D. Association between dietary factors and mortality from heart disease, stroke, and type 2 diabetes in the United States. JAMA. 2017;317:912–24.

Vinke PC, Navis G, Kromhout D, Corpeleijn E. Associations of diet quality and all-cause mortality across levels of cardiometabolic health and disease: A 7.6-year prospective analysis from the Dutch Lifelines Cohort. Diabetes Care. 2021;44:1228–35.

World Cancer Research Fund/American Institute for Cancer Research. Diet, Nutrition, Physical Activity and Cancer: A Global Perspective. Continuous Update Project Expert Report, 2018. https://www.wcrf.org/diet-activity-and-cancer/. Accessed 17 Aug 2023.

Cederholm T, Jensen GL, Correia MITD, Gonzalez MC, Fukushima R, Higashiguchi T, et al. GLIM criteria for the diagnosis of malnutrition – A consensus report from the global clinical nutrition community. Clin Nutr. 2019;38:1–9.

Jensen GL, Cederholm T, Correia MITD, Gonzalez MC, Fukushima R, Higashiguchi T, et al. GLIM Criteria for the Diagnosis of Malnutrition: A Consensus Report From the Global Clinical Nutrition Community. J Parenter Enter Nutr. 2019;43:32–40.

Prado C, Purcell S, Alish C, Pereira S, Deutz N, Heyland D, et al. Implications of low muscle mass across the continuum of care: A narrative review. Ann Med. 2018;50:675–93.

Gielen E, Beckwée D, Delaere A, De Breucker S, Vandewoude M, Bautmans I, et al. Nutritional interventions to improve muscle mass, muscle strength, and physical performance in older people: An umbrella review of systematic reviews and meta-analyses. Nutr Rev. 2021;79:121–47.

Bhat S, Coyle DH, Trieu K, Neal B, Mozaffarian D, Marklund M, et al. Healthy food prescription programs and their impact on dietary behavior and cardiometabolic risk factors: A systematic review and meta-analysis. Adv Nutr. 2021;12:1944–56.

Sempos CT, Liu K, Ernst ND. Food and nutrient exposures: What to consider when evaluating epidemiologic evidence. Am J Clin Nutr. 1999;69:1330S–1338S.

Thorpe KE, Zwarenstein M, Oxman AD, Treweek S, Furberg CD, Altman DG, et al. A pragmatic-explanatory continuum indicator summary (PRECIS): A tool to help trial designers. J Clin Epidemiol. 2009;62:464–75.

Courneya KS. Efficacy, effectiveness, and behavior change trials in exercise research. Int J Behav Nutr Phys Act. 2010;7:81.

Loudon K, Treweek S, Sullivan F, Donnan P, Thorpe KE, Zwarenstein M. The PRECIS-2 tool: Designing trials that are fit for purpose. BMJ. 2015;350:h2147.

Hébert JR, Frongillo EA, Adams SA, Turner-McGrievy GM, Hurley TG, Miller DR, et al. Perspective: Randomized controlled trials are not a panacea for diet-related research. Adv Nutr. 2016;7:423–32.

Lichtenstein AH, Petersen K, Barger K, Hansen KE, Anderson CAM, Baer DJ, et al. Perspective: Design and conduct of human nutrition randomized controlled trials. Adv Nutr. 2021;12:4–20.

Flay BR, Biglan A, Boruch RF, Castro FG, Gottfredson D, Kellam S, et al. Standards of evidence: Criteria for efficacy, effectiveness and dissemination. Prev Sci. 2005;6:151–75.

Weaver CM, Miller JW. Challenges in conducting clinical nutrition research. Nutr Rev. 2017;75:491–9.

Ford KL, Sawyer MB, Trottier CF, Ghosh S, Deutz NEP, Siervo M, et al. Protein Recommendation to Increase Muscle (PRIMe): Study protocol for a randomized controlled pilot trial investigating the feasibility of a high protein diet to halt loss of muscle mass in patients with colorectal cancer. Clin Nutr ESPEN. 2021;41:175–85.

Boushey CJ, Harris J, Bruemmer B, Archer SL. Publishing nutrition research: A review of sampling, sample size, statistical analysis, and other key elements of manuscript preparation, part 2. J Am Diet Assoc. 2008;108:679–88.

Lam CN, Watt AE, Isenring EA, de van der Schueren MAE, van der Meij BS. The effect of oral omega-3 polyunsaturated fatty acid supplementation on muscle maintenance and quality of life in patients with cancer: A systematic review and meta-analysis. Clin Nutr. 2021;40:3815–26.

Lambell KJ, King SJ, Forsyth AK, Tierney AC. Association of energy and protein delivery on skeletal muscle mass changes in critically ill adults: A systematic review. J Parenter Enter Nutr. 2018;42:1112–22.

Findlay M, Bauer JD, Dhaliwal R, de van der Schueren M, Laviano A, Widaman A, et al. Translating evidence-based guidelines into practice—are we getting it right? A multi-centre prospective international audit of nutrition care in patients with foregut tumors (INFORM). Nutrients. 2020;12:3808.

Laur C, Johnsen JT, Bradfield J, Eden T, Mitra S, Ray S. Closing the gap: Data-based decisions in food, nutrition and health systems: Proceedings of the Fifth International Summit on Medical and Public Health Nutrition Education and Research. BMJ Nutr Prev Heal. 2020;3:397–402.

Groenwold RHH The efficacy-effectiveness gap. In: Girman CJ, Ritchey ME (eds). Pragmatic randomized clinical trials: Using primary data collection and electronic health records. London: Academic Press; 2021. pp 9–19.

Fiaccadori E, Sabatino A, Barazzoni R, Carrero JJ, Cupisti A, De Waele E, et al. ESPEN guideline on clinical nutrition in hospitalized patients with acute or chronic kidney disease. Clin Nutr. 2021;40:1644–68.

Arends J, Bachmann P, Baracos V, Barthelemy N, Bertz H, Bozzetti F, et al. ESPEN guidelines on nutrition in cancer patients. Clin Nutr. 2017;36:11–48.

Muscaritoli M, Arends J, Bachmann P, Baracos V, Barthelemy N, Bertz H, et al. ESPEN practical guideline: Clinical Nutrition in cancer. Clin Nutr. 2021;40:2898–913.

Clinton SK, Giovannucci EL, Hursting SD. The World Cancer Research Fund/American Institute for Cancer Research Third Expert Report on Diet, Nutrition, Physical Activity, and Cancer: Impact and future directions. J Nutr. 2020;150:663–71.

Dimairo M, Pallmann P, Wason J, Todd S, Jaki T, Julious SA, et al. The Adaptive designs CONSORT Extension (ACE) statement: A checklist with explanation and elaboration guideline for reporting randomised trials that use an adaptive design. BMJ. 2020;369:m115.

Hiremath S, Fergusson D, Knoll G, Ramsay T, Kong J, Ruzicka M. Diet or additional supplement to increase potassium intake: Protocol for an adaptive clinical trial. Trials. 2022;23:147.

Pallmann P, Bedding AW, Choodari-Oskooei B, Dimairo M, Flight L, Hampson LV, et al. Adaptive designs in clinical trials: Why use them, and how to run and report them. BMC Med. 2018;16:29.

Schuetz P, Fehr R, Baechli V, Geiser M, Deiss M, Gomes F, et al. Individualised nutritional support in medical inpatients at nutritional risk: A randomised clinical trial. Lancet. 2019;393:2312–21.

Califf RM, Sugarman J. Exploring the ethical and regulatory issues in pragmatic clinical trials. Clin Trials. 2015;12:436.

Zwarenstein M, Treweek S, Gagnier JJ, Altman DG, Tunis S, Haynes B, et al. Improving the reporting of pragmatic trials: An extension of the CONSORT statement. BMJ. 2008;337:1223–6.

Pan A, Lin X, Hemler E, Hu FB. Diet and cardiovascular disease: Advances and challenges in population-based studies. Cell Metab. 2018;27:489–96.

Friedman LM, Furberg CD, DeMets DL, Reboussin DM, Granger CB. Fundamentals of clinical trials. 5th ed. Switzerland: Springer International Publishing; 2015.

Kernan WN, Viscoli CM, Makuch RW, Brass LM, Horwitz RI. Stratified randomization for clinical trials. J Clin Epidemiol. 1999;52:19–26.

Vorland CJ, Brown AW, Dawson JA, Dickinson SL, Golzarri-Arroyo L, Hannon BA, et al. Errors in the implementation, analysis, and reporting of randomization within obesity and nutrition research: A guide to their avoidance. Int J Obes. 2021;45:2335–46.

Most MM, Ershow AG, Clevidence BA. An overview of methodologies, proficiencies, and training resources for controlled feeding studies. J Am Diet Assoc. 2003;103:729–35.

Tiwari U, Cummins E. Factors influencing levels of phytochemicals in selected fruit and vegetables during pre- and post-harvest food processing operations. Food Res Int. 2013;50:497–506.

Sorkin BC, Kuszak AJ, Williamson JS, Hopp DC, Betz JM. The challenge of reproducibility and accuracy in nutrition research: Resources and pitfalls. Adv Nutr. 2016;7:383–9.

Staudacher HM, Irving PM, Lomer MCE, Whelan K. The challenges of control groups, placebos and blinding in clinical trials of dietary interventions. Proc Nutr Soc. 2017;76:203–12.

Jenab M, Slimani N, Bictash M, Ferrari P, Bingham SA. Biomarkers in nutritional epidemiology: Applications, needs and new horizons. Hum Genet. 2009;125:507–25.

Berk L, James J, Schwartz A, Hug E, Mahadevan A, Samuels M, et al. A randomized, double-blind, placebo-controlled trial of a β-hydroxyl β-methyl butyrate, glutamine, and arginine mixture for the treatment of cancer cachexia (RTOG 0122). Support Care Cancer. 2008;16:1179–88.

Yang J, Zhang X, Li K, Zhou Y, Hu Y, Chen X, et al. Effects of EN combined with PN enriched with n-3 polyunsaturated fatty acids on immune related indicators and early rehabilitation of patients with gastric cancer: A randomized controlled trial. Clin Nutr. 2022;41:1163–70.

Hanai N, Terada H, Hirakawa H, Suzuki H, Nishikawa D, Beppu S, et al. Prospective randomized investigation implementing immunonutritional therapy using a nutritional supplement with a high blend ratio of ω-3 fatty acids during the perioperative period for head and neck carcinomas. Jpn J Clin Oncol. 2018;48:356–61.

Sousa IM, Gonzalez MC, Bielemann RM, Rocha IMG, Barbalho ER, Carvalho ALM, et al. Agreement between muscle mass assessments by computed tomography and calf circumference in patients with cancer: A cross-sectional study. Clin Nutr ESPEN. 2022;47:183–8.

Orkin AM, Gill PJ, Ghersi D, Campbell L, Sugarman J, Emsley R, et al. Guidelines for reporting trial protocols and completed trials modified due to the COVID-19 pandemic and other extenuating circumstances: The CONSERVE 2021 Statement. JAMA. 2021;326:257–65.

Hui D, Glitza I, Chisholm G, Yennu S, Bruera E. Attrition rates, reasons, and predictive factors in supportive care and palliative oncology clinical trials. Cancer. 2013;119:1098–105.

Upadhaya S, Yu JX, Oliva C, Hooton M, Hodge J, Hubbard-Lucey VM. Impact of COVID-19 on oncology clinical trials. Nat Rev Drug Discov. 2020;19:376–7.

Edbrooke L, Khaw P, Freimund A, Carpenter D, McNally O, Joubert L, et al. ENhAncing Lifestyle Behaviors in EndometriaL CancEr (ENABLE): A pilot randomized controlled trial. Integr Cancer Ther. 2022;21:153473542110698.

Thomas EA, Zaman A, Sloggett KJ, Steinke S, Grau L, Catenacci VA, et al. Early time-restricted eating compared with daily caloric restriction: A randomized trial in adults with. Obes Obes. 2022;30:1027–38.

Mavridis D, White IR. Dealing with missing outcome data in meta-analysis. Res Synth Methods. 2020;11:2–13.

Mekanna AN, Panchal SK, Li L. Beyond lockdowns: A systematic review of the impacts of COVID-19 lockdowns on dietary pattern, physical activity, body weight, and food security. Nutr Rev. 2023;81:790–803.

Park JJH, Mogg R, Smith GE, Nakimuli-Mpungu E, Jehan F, Rayner CR, et al. How COVID-19 has fundamentally changed clinical research in global health. Lancet Glob Heal. 2021;9:e711–e720.

Glasziou P, Scott AM, Chalmers I, Kolstoe SE, Davies HT. Improving research ethics review and governance can improve human health. J R Soc Med. 2021;114:556–62.

Almeida-Magana R, Maroof H, Grierson J, Clow R, Dinneen E, Al-Hammouri T, et al. E-Consent—a guide to maintain recruitment in clinical trials during the COVID-19 pandemic. Trials. 2022;23:388.

Strujo E, Sanders M, Fiscella K, Thomas M, Johnson B, Deets A, et al. COVID-19 impact on multi-site recruitment and enrollment. Clin Trials. 2020;17:501–4.

Hoenemeyer TW, Cole WW, Oster RA, Pekmezi DW, Pye A, Demark-Wahnefried W. Test/retest reliability and validity of remote vs. in-person anthropometric and physical performance assessments in cancer survivors and supportive partners. Cancers. 2022;14:1075.

O'Shea AMJ, Baum A, Haraldsson B, Shahnazi A, Augustine MR, Mulligan K, et al. Association of adequacy of broadband internet service with access to primary care in the Veterans Health Administration before and during the COVID-19 pandemic. JAMA Netw Open. 2022;5:e2236524.

De Guzman KR, Caffery LJ, Smith AC, Snoswell CL. Specialist consultation activity and costs in Australia: Before and after the introduction of COVID-19 telehealth funding. J Telemed Telecare. 2021;27:609–14.

Burnett T, Mozgunov P, Pallmann P, Villar SS, Wheeler GM, Jaki T. Adding flexibility to clinical trial designs: An example-based guide to the practical use of adaptive designs. BMC Med. 2020;18:352.

Giovagnoli A. The bayesian design of adaptive clinical trials. Int J Environ Res Public Health. 2021;18:530.

Gallo P. Confidentiality and trial integrity issues for adaptive designs. Drug Inf J. 2006;40:445–9.

Sepehrvand N, Alemayehu W, Das D, Gupta AK, Gouda P, Ghimire A, et al. Trends in the explanatory or pragmatic nature of cardiovascular clinical trials over 2 decades. JAMA Cardiol. 2019;4:1122–8.

Godwin M, Ruhland L, Casson I, MacDonald S, Delva D, Birtwhistle R, et al. Pragmatic controlled clinical trials in primary care: The struggle between external and internal validity. BMC Med Res Methodol. 2003;3:28.

Appel LJ, Michos ED, Mitchell CM, Blackford AL, Sternberg AL, Miller ER, et al. The effects of four doses of vitamin D supplements on falls in older adults a response-adaptive, randomized clinical trial. Ann Intern Med. 2021;174:145–56.

de van der Schueren MAE, Laviano A, Blanchard H, Jourdan M, Arends J, Baracos VE. Systematic review and meta-analysis of the evidence for oral nutritional intervention on nutritional and clinical outcomes during chemo(radio)therapy: Current evidence and guidance for design of future trials. Ann Oncol. 2018;29:1141–53.

Chaitman BR, Pepine CJ, Parker JO, Skopal J, Chumakova G, Kuch J, et al. Effects of ranolazine with atenolol, amlodipine, or diltiazem on exercise tolerance and angina frequency in patients with severe chronic angina: A randomized controlled trial. JAMA. 2004;291:309–16.

Zajicek JP, Hobart JC, Slade A, Barnes D, Mattison PG. Multiple sclerosis and extract of cannabis: Results of the MUSEC trial. J Neurol Neurosurg Psychiatry. 2012;83:1125–32.

Miller E, Gallo P, He W, Kammerman LA, Koury K, Maca J, et al. DIA's Adaptive Design Scientific Working Group (ADSWG): Best Practices Case Studies for 'Less Well-understood' Adaptive Designs. Ther Innov Regul Sci. 2017;51:77–88.

Marquis-Gravel G, Faulkner M, Merritt G, Farrehi P, Zemon N, Robertson HR, et al. Importance of patient engagement in the conduct of pragmatic multicenter randomized controlled trials: The ADAPTABLE experience. Clin Trials. 2022;20:31–5.

Slattery P, Saeri AK, Bragge P. Research co-design in health: A rapid overview of reviews. Heal Res Policy Syst. 2020;18:17.

Pfaff E, Lee A, Bradford R, Pae J, Potter C, Blue P, et al. Recruiting for a pragmatic trial using the electronic health record and patient portal: Successes and lessons learned. J Am Med Inform Assoc. 2019;26:44–9.

Weinfurt KP, Hernandez AF, Coronado GD, DeBar LL, Dember LM, Green BB, et al. Pragmatic clinical trials embedded in healthcare systems: Generalizable lessons from the NIH Collaboratory. BMC Med Res Methodol. 2017;17:1–10.

Coffey CS, Levin B, Clark C, Timmerman C, Wittes J, Gilbert P, et al. Overview, hurdles, and future work in adaptive designs: Perspectives from a National Institutes of Health-funded workshop. Clin Trials. 2012;9:671–80.

Trujillo EB, Claghorn K, Dixon SW, Hill EB, Braun A, Lipinski E, et al. Inadequate nutrition coverage in outpatient cancer centers: Results of a national survey. J Oncol. 2019;2019:7462940.

Subar AF, Freedman LS, Tooze JA, Kirkpatrick SI, Boushey C, Neuhouser ML, et al. Addressing current criticism regarding the value of self-report dietary data. J Nutr. 2015;145:2639–45.

Reijnierse EM, De Van Der Schueren MAE, Trappenburg MC, Doves M, Meskers CGM, Maier AB. Lack of knowledge and availability of diagnostic equipment could hinder the diagnosis of sarcopenia and its management. PLoS One. 2017;12:e0185837.

Prado CM, Landi F, Chew ST, Atherton PJ, Molinger J, Ruck T, et al. Advances in muscle health and nutrition: A toolkit for healthcare professionals. Clin Nutr. 2022;41:2244–63.

Cuzick J, Edwards R, Segnan N. Adjusting for non-compliance and contamination in randomized clinical trials. Stat Med. 1997;16:1017–29.

Ford I, Norrie J. Pragmatic trials. N. Engl J Med. 2016;375:454–63.

Lund LH, Oldgren J, James S. Registry-based pragmatic trials in heart failure: Current experience and future directions. Curr Heart Fail Rep. 2017;14:59–70.

Palmer JA, Parker VA, Barre LR, Mor V, Volandes AE, Belanger E, et al. Understanding implementation fidelity in a pragmatic randomized clinical trial in the nursing home setting: A mixed-methods examination. Trials. 2019;20:656.

Roeland EJ, Bohlke K, Baracos VE, Bruera E, Del Fabbro E, Dixon S, et al. Management of cancer cachexia: ASCO guideline. J Clin Oncol. 2020;38:2438–53.

Arends J, Strasser F, Gonella S, Solheim TS, Madeddu C, Ravasco P, et al. Cancer cachexia in adult patients: ESMO Clinical Practice Guidelines. ESMO Open. 2021;6:100092.

Laviano A, Medicine P. Current guidelines for nutrition therapy in cancer: The arrival of a long journey or the starting point? JPNEN J Parenter Enter Nutr. 2021;45:12–15.

Hiatt RA, Clayton MF, Collins KK, Gold HT, Laiyemo AO, Parker Truesdale K, et al. The Pathways to Prevention (P2P) Program: Nutrition as Prevention for Improved Cancer Outcomes. J Natl Cancer Inst. 2023;115:886–95.

Ravasco P. Nutrition in cancer patients. J Clin Med. 2019;8:1211.

Trujillo EB, Hays C, Regan K, Ross S, Seifried H. Nutrition research funding trends and focus areas at the US National Cancer Institute. JNCI Cancer Spectr. 2022;6:pkac064.

Khorasanchi A, Nemani S, Pandey S, Del Fabbro E. Managing nutrition impact symptoms in cancer cachexia: A case series and mini review. Front Nutr. 2022;9:831934.

Nipp RD, Yao NA, Lowenstein LM, Buckner JC, Parker IR, Gajra A, et al. Pragmatic study designs for older adults with cancer: Report from the U13 conference. J Geriatr Oncol. 2016;7:234–41.

Parks RM, Holmes HM, Cheung KL. Current challenges faced by cancer clinical trials in addressing the problem of under-representation of older adults: a narrative review. Oncol Ther. 2021;9:55–67.

Nipp RD, Hong K, Paskett ED. Overcoming barriers to clinical trial enrollment. Am Soc Clin Oncol Educ B. 2019;39:105–14.

Saunders D, Liu M, Vandermeer L, Alzahrani MJ, Hutton B, Clemons M. The Rethinking Clinical Trials (REaCT) program. A Canadian-led pragmatic trials program: Strategies for integrating knowledge users into trial design. Curr Oncol. 2021;28:3959–77.

Carlson SE, Gajewski BJ, Valentine CJ, Kerling EH, Weiner CP, Cackovic M, et al. Higher dose docosahexaenoic acid supplementation during pregnancy and early preterm birth: a randomised, double-blind, adaptive-design superiority trial. EClinicalMedicine. 2021;36:100905.

Salchow J, Mann J, Koch B, Von Grundherr J, Jensen W, Elmers S, et al. Comprehensive assessments and related interventions to enhance the long-term outcomes of child, adolescent and young adult cancer survivors - Presentation of the CARE for CAYA-Program study protocol and associated literature review. BMC Cancer. 2020;20:16.

Downs DS, Savage JS, Rivera DE, Smyth JM, Rolls BJ, Hohman EE, et al. Individually tailored, adaptive intervention to manage gestational weight gain: Protocol for a randomized controlled trial in women with overweight and obesity. JMIR Res Protoc. 2018;7:e150.

Al Wattar HB, Dodds J, Placzek A, Beresford L, Spyreli E, Moore A, et al. Mediterranean-style diet in pregnant women with metabolic risk factors (ESTEEM): A pragmatic multicentre randomised trial. PLoS Med. 2019;16:e1002857.

Fortin M, Stewart M, Ngangue P, Almirall J, Bélanger M, Brown JB, et al. Scaling up patient-centered interdisciplinary care for multimorbidity: A pragmatic mixed-methods randomized controlled trial. Ann Fam Med. 2021;19:126–34.

Colin-Ramirez E, Ezekowitz JA. Rationale and design of the Study of Dietary Intervention Under 100 MMOL in Heart Failure (SODIUM-HF). Am Heart J. 2018;205:87–96.
Funding
Funding
This research received no specific grant from any funding agency, commercial or not-for-profit sectors. CMP was funded by as a Campus Alberta Innovation Program Chair in Nutrition, Food, and Health. Support for time for JHR was provided by National Institutes of Health MERIT award (R37CA218118) and by the Nutrition Shared Resource through the National Cancer Institute Cancer Center support grant (P30 CA16852); the contents are solely the responsibility of the authors and do not necessarily represent the official views of the National Institutes of Health.
Ethics declarations
Competing interests
CEO has received honoraria from Abbott Nutrition. CMP has previously received honoraria and/or paid consultancy from Abbott Nutrition, Nutricia, Nestlé Health Science, Fresenius Kabi, AMRA Medical, and Pfizer. NK has received honoraria and/or paid consultancy from Abbott Australasia. KLF, EBT, CKS, JHR—no conflicts of interest.
Additional information
Publisher's note Springer Nature remains neutral with regard to jurisdictional claims in published maps and institutional affiliations.
Rights and permissions
Springer Nature or its licensor (e.g. a society or other partner) holds exclusive rights to this article under a publishing agreement with the author(s) or other rightsholder(s); author self-archiving of the accepted manuscript version of this article is solely governed by the terms of such publishing agreement and applicable law.
About this article
Cite this article
Orsso, C.E., Ford, K.L., Kiss, N. et al. Optimizing clinical nutrition research: the role of adaptive and pragmatic trials. Eur J Clin Nutr 77, 1130–1142 (2023). https://doi.org/10.1038/s41430-023-01330-7
Received:

Revised:

Accepted:

Published:

Issue Date:

DOI: https://doi.org/10.1038/s41430-023-01330-7