Abstract
Background
The LOVIT trial examined the effect of vitamin C on sepsis patients, and concluded that in adults with sepsis receiving vasopressor therapy in the ICU, those who received 4-day intravenous vitamin C had a higher risk of death or persistent organ dysfunction at 28 days than those who received placebo. The aim of this study was to determine whether the abrupt termination of vitamin C administration could explain the increased mortality in the vitamin C group.
Methods
We used Cox regression with two time periods to model the distribution of deaths over the first 11 days in the LOVIT trial.
Results
Compared with a uniform difference between vitamin C and placebo groups over the 11-day follow-up period, addition of a separate vitamin C effect starting from day 5 improved the fit of the Cox model (p = 0.026). There was no difference in mortality between the groups during the 4-day vitamin C administration with RR = 0.97 (95% CI: 0.65–1.44). During the week after the sudden termination of vitamin C, there were 57 deaths in the vitamin C group, but only 32 deaths in the placebo group, with RR = 1.9 (95% CI: 1.2–2.9; p = 0.004).
Conclusion
The increased mortality in the vitamin C group in the LOVIT trial is not explained by ongoing vitamin C administration, but by the abrupt termination of vitamin C. The LOVIT trial findings should not be interpreted as evidence against vitamin C therapy for critically ill patients.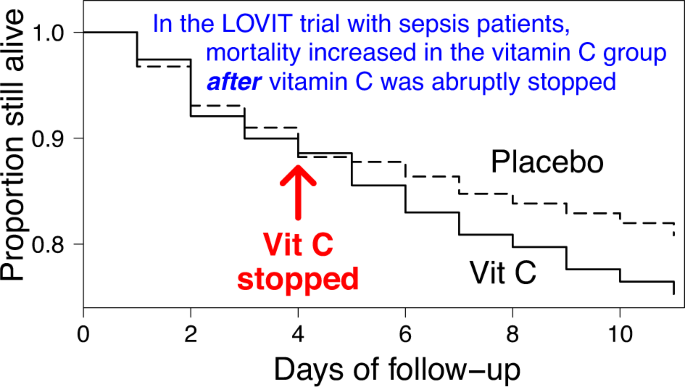 Acknowledgements
We are grateful to Dr. John Hoffer and Dr. Pekka Louhiala for critical reading of the manuscript.
Funding
Open Access funding provided by University of Helsinki including Helsinki University Central Hospital.
Ethics declarations
Competing interests
The authors declare no competing interests.
Additional information
Publisher's note Springer Nature remains neutral with regard to jurisdictional claims in published maps and institutional affiliations.
Rights and permissions
Open Access This article is licensed under a Creative Commons Attribution 4.0 International License, which permits use, sharing, adaptation, distribution and reproduction in any medium or format, as long as you give appropriate credit to the original author(s) and the source, provide a link to the Creative Commons license, and indicate if changes were made. The images or other third party material in this article are included in the article's Creative Commons license, unless indicated otherwise in a credit line to the material. If material is not included in the article's Creative Commons license and your intended use is not permitted by statutory regulation or exceeds the permitted use, you will need to obtain permission directly from the copyright holder. To view a copy of this license, visit http://creativecommons.org/licenses/by/4.0/.
About this article
Cite this article
Hemilä, H., Chalker, E. Abrupt termination of vitamin C from ICU patients may increase mortality: secondary analysis of the LOVIT trial. Eur J Clin Nutr 77, 490–494 (2023). https://doi.org/10.1038/s41430-022-01254-8
Received:

Revised:

Accepted:

Published:

Issue Date:

DOI: https://doi.org/10.1038/s41430-022-01254-8