Abstract
Objectives
The aim of the present study was to assess the efficacy of feeding a higher-density formula (HDF) in infant with congenital heart disease (CHD).
Methods
In a parallel randomized trial, infants (6 to 12 months) who underwent CHD corrective surgery received either a standard-density formula (SDF, 67 kcal /100 ml) or an HDF (90 kcal/100 ml) after discharge from the intensive care unit for 8 weeks. In addition to the formula, infants could receive breast milk or complementary food. Anthropometry, biochemistry, and formula intake were collected.
Result
Sixty-four infants completed the study (n = 32 in each group). All infants gained weight. The mean ± standard deviation (SD) of weight z score at baseline and week-8 were −2.38 ± 10.04 to −1.38 + 0.97 in the SDF group and −2.69 ± 1.19 to −0.89 ± 0.90 in the HDF group (between-group p = 0.0001). Both groups gained length, but showed a decline in length z-score which was significant in the SDF group but not significant in the HDF group. Mid-upper arm circumference and its z score improved in both groups, with more improvement in the HDF group. Serum albumin level was higher in the HDF than the SDF group at week-8, but no significant between-group differences were observed in hemoglobin, serum ferritin, or iron. Symptoms of gastrointestinal intolerance were not reported, but parents of 4 infants in the HDF group complained of their infants' constipation.
Conclusion
Feeding infants using a concentrated formula could increase infants' weight gain and growth, and improve the nutritional status after CHD surgery.
Access options
Subscribe to Journal
Get full journal access for 1 year
$119.00
only $9.92 per issue
All prices are NET prices.
VAT will be added later in the checkout.
Tax calculation will be finalised during checkout.
Buy article
Get time limited or full article access on ReadCube.
$32.00
All prices are NET prices.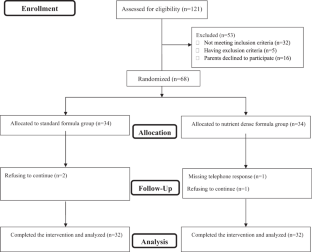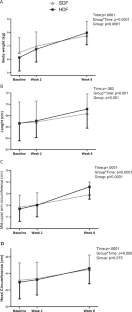 Data availability
The data that support the findings of this study are available from the corresponding author upon reasonable request.
References
Triedman JK, Newburger JW. Trends in congenital heart disease: the next decade. Circulation. 2016;133:2716–33.

Blasquez A, Clouzeau H, Fayon M, Mouton JB, Thambo JB, Enaud R, et al. Evaluation of nutritional status and support in children with congenital heart disease. Eur J Clin Nutr. 2016;70:528–31.

Hassan BA, Albanna EA, Morsy SM, Siam AG, Al Shafie MM, Elsaadany HF, et al. Nutritional status in children with un-operated congenital heart disease: an Egyptian center experience. Front Pediatr. 2015;3:53.

Shi H, Hu C, Zhang L, Tong M, Li L, Cui Y. Early growth trajectory of infants with simple congenital heart disease and complex congenital heart disease undergoing cardiac repair: a prospective cohort study in China. JPEN J Parenter Enter Nutr. 2021;45:1181–91.

van der Kuip M, Hoos MB, Forget PP, Westerterp KR, Gemke RJ, de Meer K. Energy expenditure in infants with congenital heart disease, including a meta-analysis. Acta Paediatr. 2003;92:921–7.

Nydegger A, Walsh A, Penny DJ, Henning R, Bines JE. Changes in resting energy expenditure in children with congenital heart disease. Eur J Clin Nutr. 2009;63:392–7.

Varan B, Tokel K, Yilmaz G. Malnutrition and growth failure in cyanotic and acyanotic congenital heart disease with and without pulmonary hypertension. Arch Dis Child. 1999;81:49–52.

Thommessen M, Heiberg A, Kase BF. Feeding problems in children with congenital heart disease: the impact on energy intake and growth outcome. Eur J Clin Nutr. 1992;46:457–64.

Ratanachu-Ek S, Pongdara A. Nutritional status of pediatric patients with congenital heart disease: pre- and post cardiac surgery. J Med Assoc Thai. 2011;94:S133–137.

Carmona F, Hatanaka LS, Barbieri MA, Bettiol H, Toffano RB, Monteiro JP, et al. Catch-up growth in children after repair of Tetralogy of Fallot. Cardiol Young-. 2012;22:507–13.

Vaidyanathan B, Radhakrishnan R, Sarala DA, Sundaram KR, Kumar RK. What determines nutritional recovery in malnourished children after correction of congenital heart defects? Pediatrics. 2009;124:e294–299.

Vaidyanathan B, Roth SJ, Gauvreau K, Shivaprakasha K, Rao SG, Kumar RK. Somatic growth after ventricular septal defect in malnourished infants. J Pediatr. 2006;149:205–9.

Argent AC, Balachandran R, Vaidyanathan B, Khan A, Kumar RK. Management of undernutrition and failure to thrive in children with congenital heart disease in low- and middle-income countries. Cardiol Young-. 2017;27:S22–S30.

Unger R, DeKleermaeker M, Gidding SS, Christoffel KK. Calories count. Improved weight gain with dietary intervention in congenital heart disease. Am J Dis Child. 1992;146:1078–84.

El-Koofy N, Mahmoud AM, Fattouh AM. Nutritional rehabilitation for children with congenital heart disease with left to right shunt. Turk J Pediatr. 2017;59:442–51.

Benzecry SG, Leite HP, Oliveira FC, Santana EMJF, de Carvalho WB, Silva CM. Interdisciplinary approach improves nutritional status of children with heart diseases. Nutrition. 2008;24:669–74.

Zhang H, Gu Y, Mi Y, Jin Y, Fu W, Latour JM. High-energy nutrition in paediatric cardiac critical care patients: a randomized controlled trial. Nurs Crit Care. 2019;24:97–102.

Pillo-Blocka F, Adatia I, Sharieff W, McCrindle BW, Zlotkin S. Rapid advancement to more concentrated formula in infants after surgery for congenital heart disease reduces duration of hospital stay: a randomized clinical trial. J Pediatr. 2004;145:761–6.

Chen X, Zhang M, Song Y, Luo Y, Wang L, Xu Z, et al. Early high-energy feeding in infants following cardiac surgery: a randomized controlled trial. Transl Pediatr. 2021;10:2439–48.

Clarke SE, Evans S, Macdonald A, Davies P, Booth IW. Randomized comparison of a nutrient-dense formula with an energy-supplemented formula for infants with faltering growth. J Hum Nutr Diet. 2007;20:329–39.

Taniguchi-Fukatsu A, Matsuoka M, Amagai T. Effect of a high density formula on growth and safety in congenital heart disease infants. e-SPEN, Eur e-J Clin Nutr Metab. 2010;5:e281–e283.

Hopkins D Congenital Heart Disease. In Clinical Paediatric Dietetics. 4th edition. Edited by Shaw V. 2014: 282–307.

Li X, Zhu J, An J, Wang Y, Wu Y, Li X. Growth and development of children under 5 years of age with tetralogy of Fallot in a Chinese population. Sci Rep. 2021;11:14255.

Becker PJ, Nieman Carney L, Corkins MR, Monczka J, Smith E, Smith SE, et al. Consensus statement of the Academy of Nutrition and Dietetics/American Society for Parenteral and Enteral Nutrition: indicators recommended for the identification and documentation of pediatric malnutrition (undernutrition). J Acad Nutr Diet. 2014;114:1988–2000.

Stephens K, Escobar A, Jennison EN, Vaughn L, Sullivan R, Abdel-Rahman S, et al. Evaluating mid-upper arm circumference Z-score as a determinant of nutrition status. Nutr Clin Pr. 2018;33:124–32.

Tay EL, Peset A, Papaphylactou M, Inuzuka R, Alonso-Gonzalez R, Giannakoulas G, et al. Replacement therapy for iron deficiency improves exercise capacity and quality of life in patients with cyanotic congenital heart disease and/or the Eisenmenger syndrome. Int J Cardiol. 2011;151:307–12.

Itiola AY, Animasahun BA, Njokanma OF. Serum iron status of children with cyanotic congenital heart disease in Lagos, Nigeria. Sultan Qaboos Univ Med J. 2019;19:e345–e351.
Funding
This research is funded by the National Nutrition and Food Technology Research Institute, Shahid Beheshti University of Medical Science, Tehran, Iran.
Ethics declarations
Competing interests
The authors declare no competing interests.
Additional information
Publisher's note Springer Nature remains neutral with regard to jurisdictional claims in published maps and institutional affiliations.
About this article
Cite this article
Aryafar, M., Mahdavi, M., Shahzadi, H. et al. Effect of feeding with standard or higher-density formulas on anthropometric measures in children with congenital heart defects after corrective surgery: a randomized clinical trial. Eur J Clin Nutr (2022). https://doi.org/10.1038/s41430-022-01186-3
Received:

Revised:

Accepted:

Published:

DOI: https://doi.org/10.1038/s41430-022-01186-3