Abstract
Diet is one of the important modifiable factors in prevention of type 2 diabetes (T2D), making it important to understand geographical variations of food consumption pattern, their similarities and differences across various regions. Asian Indian diet patterns are mostly carbohydrate-based and with vast regional diversity. Staple food, food groups consumed, meat consumption pattern, type of fermented foods, food preparations, type of cooking oil used and food ingredients vary with different regions of India. There has been a slow transition from consumption of coarse grains to refined grains owing to socio-economic, cultural and other factors. Consumption of fruits and vegetables, fats, ready-to-eat foods and sugar is higher in urban population whereas consumption of carbohydrates in the form of cereals and millets is higher among the rural population. Cereal grains followed by pulses and legumes are main sources of protein, given that the frequency of meat consumption is low even among non-vegetarians in India compared to other countries. Overall, there is a tendency towards consumption of calorie-dense foods at the cost of food diversity, which may also result in micronutrient deficiencies as well as development of T2D and related metabolic diseases. Public health strategies and policy level decisions involving stakeholders with diet and lifestyle modification as focal points are absolute priorities to prevent and manage the burden of obesity and T2D in India.
Access options
Subscribe to this journal
Receive 12 print issues and online access
$259.00 per year
only $21.58 per issue
Rent or buy this article
Get just this article for as long as you need it
$39.95
Prices may be subject to local taxes which are calculated during checkout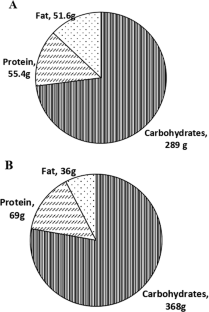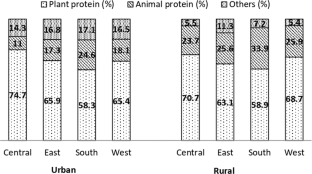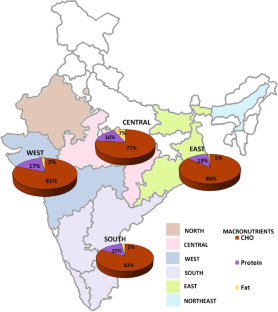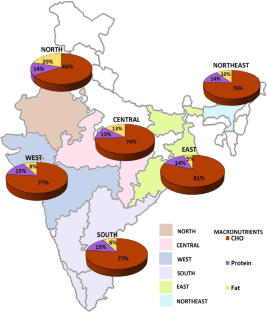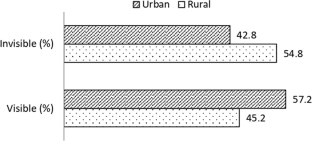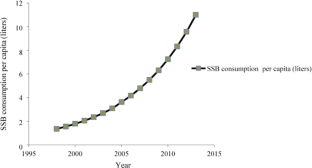 References
Hills AP, Misra A, Gill JMR, Byrne NM, Soares MJ, Ramachandran A, et al. Public health and health systems: implications for the prevention and management of type 2 diabetes in south Asia. Lancet Diabetes Endocrinol. 2018;6:992–1002.

Sen CT. Food Culture in India. Greenwood Publishing Group; 2004. 238 p.

Satija A, Hu FB, Bowen L, Bharathi AV, Vaz M, Prabhakaran D, et al. Dietary patterns in India and their association with obesity and central obesity. Public Health Nutr. 2015;18:3031–41.

Gupta A, Mishra D. Food consumption pattern in Rural India: a regional perspective. J Econ Soc Dev. 2014;10:1–16.

Bhattacharya M. A historical exploration of Indian diets and a possible link to insulin resistance syndrome. Appetite. 2015;95:421–54.

Popkin BM, Horton S, Kim S, Mahal A, Shuigao J. Trends in diet, nutritional status, and diet-related noncommunicable diseases in China and India: the economic costs of the nutrition transition. Nutr Rev. 2001;59:379–90.

Insight Guides. Insight Guides India. 8th edn. England: Insight Guides; 2009.

Civitello L. Cuisine and Culture: A History of Food and People. 3rd edn. New Jersey: John Wiley & Sons; 2011. 448 pp.

Kiran M, Prabhu KN, Paramesha SC, Rajshekar T, Praveen MP, Punitkumar C. Consumption pattern, consumer attitude and consumer perception on meat quality and safety in Southern India. Int Food Res. J. 2018;25:1026–30.

Raju DT, Suryanarayana M. Meat consumption in Prakasam district of Andhra Pradesh: an analysis. Reason. 2005;10:25–00.

Rampal P. An analysis of protein consumption in India through plant and animal sources. Food Nutr Bull. 2018;39:564–80.

Talukder S, Mendiratta SK, Kumar RR, Soni A, Bardhan D. Evaluation of meat consumption pattern and meat quality in North Indian cities. J Anim Res. 2020;10:365–73.

Padhi MK. Importance of indigenous breeds of chicken for rural economy and their improvements for higher production performance. Scientifica. 2016;2016:e2604685.

Needham S, Funge-Smith SJ. The consumption of fish and fish products in the Asia-Pacific region based on household surveys. RAP Publ. 2015;12:87.

Bharati P, Kulkarni UN. Chapter 3 - Nutritional sufficiency of traditional meal patterns. In: Prakash J, Waisundara V, Prakash V, editors. Nutritional and Health Aspects of Food in South Asian Countries. Academic Press; 2020. 31–50 pp.

Saboo B, Joshi S, Shah SN, Tiwaskar M, Vishwanathan V, Bhandari S, et al. Management of diabetes during fasting and feasting in India. J Assoc Physicians India. 2019;67:70–7.

Hemalatha, Laxmaiah A, Sriswan RM, Boiroju NK, Radhakrishna KV. What India Eats. Hyderabad, India: ICMR-National Institute of Nutrition; 2020.

Bowen L, Ebrahim S, De Stavola B, Ness A, Kinra S, Bharathi AV, et al. Dietary intake and rural-urban migration in India: a cross-sectional study. PLoS ONE. 2011;6:e14822.

Yadav K, Krishnan A. Changing patterns of diet, physical activity and obesity among urban, rural and slum populations in north India: Urbanization and its impact on obesity. Obes Rev. 2008;9:400–8.

Prasad DS, Kabir Z, Dash AK, Das BC. Prevalence and risk factors for metabolic syndrome in Asian Indians: a community study from urban Eastern India. J Cardiovasc Dis Res. 2012;3:204–11.

Minocha S, Thomas T, Kurpad AV. Are 'fruits and vegetables' intake really what they seem in India? Eur J Clin Nutr. 2018;72:603–8.

Sharma M, Kishore A, Roy D, Joshi K. A comparison of the Indian diet with the EAT-Lancet reference diet. BMC Public Health. 2020;20:812.

Namrata, Tiwari D. Ananya. Indian cuisines: representing Indian culture. Int Res J Manag Socio Humanit. 2016;7:32–8.

Savitri, Bhalla TC. Traditional foods and beverages of Himachal Pradesh. Indian J Tradit Knowl. 2007;6:8.

Ministry of Tourism and UNDP India. Explore Rural India. New Delhi: Roli Books Pvt Limited; 2009.

Bhutani J, Bhutani S, Niazi AK, Sawhney K. The holy prasad: healthier options. J Med Nutr Nutraceuticals. 2014;3:51.

Ferro-Luzzi GE. Food for the gods in South India: an exposition of data. Z Für Ethnol. 1978;103:86–108.

Kumar PP, Begum VH, Kumaravel S. Mineral nutrients of 'pazhaya sadham': a traditional fermented food of Tamil Nadu, India. Int J Nutr Metab. 2012;4:2.

Ray M, Ghosh K, Singh S, Chandra Mondal K. Folk to functional: an explorative overview of rice-based fermented foods and beverages in India. J Ethn Foods. 2016;3:5–18.

Sarkar P, Lohith Kumar DH, Dhumal C, Panigrahi SS, Choudhary R. Traditional and ayurvedic foods of Indian origin. J Ethn Foods. 2015;2:97–109.

Radhika G, Sudha V, Mohan Sathya R, Ganesan A, Mohan V. Association of fruit and vegetable intake with cardiovascular risk factors in urban south Indians. Br J Nutr. 2008;99:398–405.

Mukherjee A, Dutta S, Goyal TM. India's Phytonutrient Report - Executive Summary. New Delhi, India: Academic Foundation; 2016. 1–8 pp.

Singh A, Singh RK, Sureja AK. Cultural significance and diversities of ethnic foods of Northeast India. Indian J Tradit Knowl. 2007;6:16.

Das G, Patra JK, Singdevsachan SK, Gouda S, Shin H-S. Diversity of traditional and fermented foods of the Seven Sister states of India and their nutritional and nutraceutical potential: a review. Front Life Sci. 2016;9:292–312.

Krishnaswamy K, Vaidya R, Gayathri R, Sudha V. Diet and nutrition in the prevention of non-communicable diseases. Proc Ind Nat Sci Acad. 2016;82:1477–94.

Mohan V, Unnikrishnan R, Shobana S, Malavika M, Anjana RM, Sudha V. Are excess carbohydrates the main link to diabetes & its complications in Asians? Indian J Med Res. 2018;148:531–8.

Kumar N, Murali RD. Black Rice: a novel ingredient in food processing. J Nutr Food Sci. 2020;10:771.

Meera K, Smita M, Haripriya S, Sen S. Varietal influence on antioxidant properties and glycemic index of pigmented and non-pigmented rice. J Cereal Sci. 2019;87:202–8.

Siddiq EA, Vemireddy LR. Nagaraju. J Basmati Rices Genet Breed Trade Agric Res. 2012;1:25–36.

Srinivasa D, Raman A, Meena P, Chitale G, Marwahat A, Jainani KJ. Glycaemic index (GI) of an Indian branded thermally treated basmati rice variety: a multi centric study. J Assoc Physicians India. 2013;61:716–20.

Miller V, Mente A, Dehghan M, Rangarajan S, Zhang X, Swaminathan S, et al. Fruit, vegetable, and legume intake, and cardiovascular disease and deaths in 18 countries (PURE): a prospective cohort study. Lancet. 2017;390:2037–49.

National Horticulture Board. Annual Report 2018-19. Ministry of Agriculture & Farmers Welfare; 2019.

National Sample Survey Office. Nutritional Intake in India 2011–12. NSS 68th Round. New Delhi, India: Ministry of Statistics and Programme Implementation; 2014.

Devi SM, Balachandar V, Lee SI, Kim IH. An outline of meat consumption in the Indian population—a pilot review. Korean J Food Sci Anim Resour. 2014;34:507–15.

Annebolia LR, Kumar KK. Caught in the 'Net': Fish Consumption Patterns of Coastal Regions in India.Economic and Political Weekly. 2016;51:49–57.

National Nutrition monitoring Bureau. Diet and Nutritional Status of Urban Population in India and Prevalence of Obesity, Hypertension, Diabetes and Hyperlipidemia in Urban Men and Women. Hyderabad: National Institute of Nutrition; 2017.

Kumbla D, Dharmalingam M, Dalvi K, Ray S, Shah MK, Gupta S, et al. A Study of salt and fat Consumption pattern in Regional Indian diet among hypertensive and dyslipidemic PaTients-SCRIPT study. J Assoc Physicians India. 2016;64:47–54.

Keshari P, Mishra CP. Growing menace of fast food consumption in India: time to act. Int J Community Med Public Health. 2017;3:1355–62.

Pandey B, Reba M, Joshi PK, Seto KC. Urbanization and food consumption in India. Sci Rep. 2020;10:17241.

Gulati S, Misra A. Abdominal obesity and type 2 diabetes in Asian Indians: dietary strategies including edible oils, cooking practices and sugar intake. Eur J Clin Nutr. 2017. https://pubmed.ncbi.nlm.nih.gov/28612831/

Bhardwaj S, Passi SJ, Misra A, Pant KK, Anwar K, Pandey RM, et al. Effect of heating/reheating of fats/oils, as used by Asian Indians, on trans fatty acid formation. Food Chem. 2016;212:663–70.

Govindaraj G, Suryaprakash S, Sivaramane N. Present status of edible oil consumption and household demand projection for Tamil Nadu (India). J Agric Sci Belgrade. 2012;57:41–56.

Jayawardena R, Ranasinghe P, Wijayabandara M, Hills AP, Misra A. Nutrition transition and obesity among teenagers and young adults in South Asia. Curr Diabetes Rev. 2017;13:444–51.

Misra A, Singhal N, Sivakumar B, Bhagat N, Jaiswal A, Khurana L. Nutrition transition in India: secular trends in dietary intake and their relationship to diet-related non-communicable diseases. J Diabetes. 2011;3:278–92.

Anjana RM, Sudha V, Nair DH, Lakshmipriya N, Deepa M, Pradeepa R, et al. Diabetes in Asian Indians—How much is preventable? Ten-year follow-up of the Chennai Urban Rural Epidemiology Study (CURES-142). Diabetes Res Clin Pract. 2015;109:253–61.

Daniel CR, Prabhakaran D, Kapur K, Graubard BI, Devasenapathy N, Ramakrishnan L, et al. A cross-sectional investigation of regional patterns of diet and cardio-metabolic risk in India. Nutr J. 2011;10:12.

Ali J, Nath T. Factors Affecting Consumers' Eating-Out Choices in India: Implications for the Restaurant Industry. J Foodserv Bus Res. 2013;16:197–209.

Goyal A, Singh N. Consumer perception about fast food in India: An exploratory study. Br Food J. 2007;109:182–95.

Athavale P, Khadka N, Roy S, Mukherjee P, Chandra Mohan D, Turton BB. et al. Early childhood junk food consumption, severe dental caries, and undernutrition: a mixed-methods study from Mumbai, India. Int J Environ Res Public Health. 2020;17:1–17.

Gupta A, Kapil U, Singh G. Consumption of junk foods by school-aged children in rural Himachal Pradesh, India. Indian J Public Health. 2018;62:65.

Rautela YS, Reddy BV, Singh AK, Gupta A. The prevalence of obesity among adult population and its association with food outlet density in a hilly area of Uttarakhand. J Fam Med Prim Care. 2018;7:809–14.

Prakash J. Consumption trends of processed foods among rural population selected from South India. Int J Food Nutr Sci. 2015;2:162–7.

Gulati S, Misra A. Sugar intake, obesity, and diabetes in India. Nutrients. 2014;6:5955–74.

Mathur MR, Nagrath D, Malhotra J, Mishra VK. Determinants of sugar-sweetened beverage consumption among Indian adults: findings from the National Family Health Survey-4. Indian J Community Med Publ Indian Assoc Prev Soc Med. 2020;45:60–5.

Misra A, Khurana L, Isharwal S, Bhardwaj S. South Asian diets and insulin resistance. Br J Nutr. 2009;101:465–73.

Hills AP, Arena R, Khunti K, Yajnik CS, Jayawardena R, Henry CJ, et al. Epidemiology and determinants of type 2 diabetes in south Asia. Lancet Diabetes Endocrinol. 2018;6:966–78.

Mohan V, Radhika G, Sathya RM, Tamil SR, Ganesan A, Sudha V. Dietary carbohydrates, glycaemic load, food groups and newly detected type 2 diabetes among urban Asian Indian population in Chennai, India (Chennai Urban Rural Epidemiology Study 59). Br J Nutr. 2009;102:1498–506.

ICMR-NIN. Expert Group on Nutrient Requirement for Indians, Recommended Dietary Allowances (RDA) and Estimated Average Requirements (EAR) - 2020. Hyderabad, India: ICMR-National Institute of Nutrition; 2020. https://www.nin.res.in/nutrition2020/RDA_short_report.pdf.

Misra A, Singhal N, Khurana L. Obesity, the metabolic syndrome, and type 2 diabetes in developing countries: role of dietary fats and oils. J Am Coll Nutr. 2010;29:289S–301S.

Lakshmipriya N, Gayathri R, Praseena K, Vijayalakshmi P, Geetha G, Sudha V, et al. Type of vegetable oils used in cooking and risk of metabolic syndrome among Asian Indians. Int J Food Sci Nutr. 2013;64:131–9.

Sowmya N, Lakshmipriya N, Arumugam K, Venkatachalam S, Vijayalakshmi P, Ruchi V, et al. Comparison of dietary profile of a rural south Indian population with the current dietary recommendations for prevention of non-communicable diseases (CURES 147). Indian J Med Res. 2016;144:112–9.

Basu S, Vellakkal S, Agrawal S, Stuckler D, Popkin B, Ebrahim S. Averting obesity and type 2 diabetes in India through sugar-sweetened beverage taxation: an economic-epidemiologic modeling study. PLoS Med. 2014;11:e1001582.

Basu S, Babiarz KS, Ebrahim S, Vellakkal S, Stuckler D, Goldhaber-Fiebert JD. Palm oil taxes and cardiovascular disease mortality in India: economic-epidemiologic model. BMJ. 2013;347:f6048–f6048.

Ramachandran A, Snehalatha C, Mary S, Mukesh B, Bhaskar AD, Vijay V, et al. The Indian Diabetes Prevention Programme shows that lifestyle modification and metformin prevent type 2 diabetes in Asian Indian subjects with impaired glucose tolerance (IDPP-1). Diabetologia. 2006;49:289–97.

Kar SS, Kar SS. Prevention of childhood obesity in India: Way forward. J Nat Sci Biol Med. 2015;6:12.

Food Safety and Standards Authority of India. Eat Right India. 2021. https://eatrightindia.gov.in/eatrightindia.jsp

FSSAI. Eat Right India Handbook. 2020. https://www.fssai.gov.in/book-details.php?bkid=357

Shrivastava U, Misra A. Need for ethnic-specific guidelines for prevention, diagnosis, and management of type 2 diabetes in South asians. Diabetes Technol Ther. 2015;17:435–9.

Shrivastava U, Misra A. Intervention trials for prevention of metabolic syndrome and type 2 diabetes: focus on Asian Indians. Diabetes Technol Ther. 2014;16:531–41.

Tak M, Shankar B, Kadiyala S. Dietary transition in India: temporal and regional trends, 1993 to 2012. Food Nutr Bull. 2019;40:254–70.

Green R, Milner J, Joy EJM, Agrawal S, Dangour AD. Dietary patterns in India: a systematic review. Br J Nutr. 2016;116:142–8.
Funding
No financial assistance was received in support of the study.
Ethics declarations
Competing interests
The authors declare no competing interests.
Ethical approval
Ethical approval is not required for the current work as it was non-interventional and did not involve direct human or animal data collection.
Additional information
Publisher's note Springer Nature remains neutral with regard to jurisdictional claims in published maps and institutional affiliations.
Supplementary information
Rights and permissions
Springer Nature or its licensor (e.g. a society or other partner) holds exclusive rights to this article under a publishing agreement with the author(s) or other rightsholder(s); author self-archiving of the accepted manuscript version of this article is solely governed by the terms of such publishing agreement and applicable law.
About this article
Cite this article
Sachdev, M., Misra, A. Heterogeneity of Dietary practices in India: current status and implications for the prevention and control of type 2 diabetes. Eur J Clin Nutr 77, 145–155 (2023). https://doi.org/10.1038/s41430-021-01067-1
Received:

Revised:

Accepted:

Published:

Issue Date:

DOI: https://doi.org/10.1038/s41430-021-01067-1