Abstract
Background
Newborn telomere length is considered as an effective predictor of lifespan and health outcomes in later life. Selenium is an essential trace element for human health, and its antioxidation is of great significance for the prevention of telomere erosion.
Methods
We recruited 746 mother–newborn pairs in Wuhan Children's Hospital between 2013 and 2015. Urine samples were repeatedly collected at three time points during pregnancy, and umbilical cord blood samples were collected right after parturition. Urinary selenium concentration was detected using inductively coupled plasma mass spectrometry, and newborn telomere length was measured using quantitative real-time polymerase chain reaction. We applied general estimating equations to examine the trimester-specific association between maternal urinary selenium during pregnancy and newborn telomere length.
Results
The median of creatinine-corrected selenium concentrations during pregnancy were 16.29, 18.08, and 18.35 μg/g·creatinine in the first, second, and third trimesters, respectively. Selenium concentrations in all the three trimesters were significantly associated with newborn telomere length. Per doubling of maternal urinary selenium concentrations was associated with 6.44% (95% CI: 0.92, 12.25), 6.54% (95% CI: 0.17, 13.31), and 6.02% (95% CI: 0.29, 12.09) longer newborn telomere length in the first, second, and third trimesters, respectively, after adjusting for potential confounders.
Conclusions
This is the first study to provide evidence for the effect of maternal selenium levels on fetal telomere erosion. Findings from our study suggested that maternal urinary selenium was positively associated with newborn telomere length, indicating that intrauterine selenium exposure might have effect on initial setting of human telomere length.
This is a preview of subscription content
Access options
Subscribe to Journal
Get full journal access for 1 year
$119.00
only $9.92 per issue
All prices are NET prices.
VAT will be added later in the checkout.
Tax calculation will be finalised during checkout.
Rent or Buy article
Get time limited or full article access on ReadCube.
from$8.99
All prices are NET prices.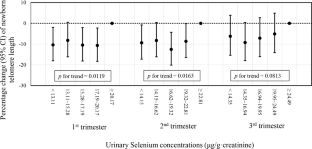 References
1.

Blackburn EH, Epel ES, Lin J. Human telomere biology: a contributory and interactive factor in aging, disease risks, and protection. Science. 2015;350:1193–8.

2.

Hammadah M, Al Mheid I, Wilmot K, Ramadan R, Abdelhadi N, Alkhoder A, et al. Telomere shortening, regenerative capacity, and cardiovascular outcomes. Circ Res. 2017;120:1130–8.

3.

Said MA, Eppinga RN, Hagemeijer Y, Verweij N, van der Harst P. Telomere length and risk of cardiovascular disease and cancer. J Am Coll Cardiol. 2017;70:506–7.

4.

Rode L, Nordestgaard BG, Bojesen SE. Peripheral blood leukocyte telomere length and mortality among 64,637 individuals from the general population. J Natl Cancer Inst. 2015;107:djv074.

5.

Astuti Y, Wardhana A, Watkins J, Wulaningsih W. Cigarette smoking and telomere length: a systematic review of 84 studies and meta-analysis. Environ Res. 2017;158:480–9.

6.

Hou L, Andreotti G, Baccarelli AA, Savage S, Hoppin JA, Sandler DP, et al. Lifetime pesticide use and telomere shortening among male pesticide applicators in the Agricultural Health Study. Environ Health Perspect. 2013;121:919–24.

7.

Pieters N, Janssen BG, Dewitte H, Cox B, Cuypers A, Lefebvre W, et al. Biomolecular markers within the core axis of aging and particulate air pollution exposure in the elderly: a cross-sectional study. Environ Health Perspect. 2016;124:943–50.

8.

Entringer S, de Punder K, Buss C, Wadhwa PD. The fetal programming of telomere biology hypothesis: an update. Philos Trans R Soc Lond BBiol Sci. 2018;373:20170151.

9.

Factor-Litvak P, Susser E, Kezios K, McKeague I, Kark JD, Hoffman M, et al. Leukocyte telomere length in newborns: implications for the role of telomeres in human disease. Pediatrics. 2016;137:e20153927.

10.

Martens DS, Plusquin M, Gyselaers W, De Vivo I, Nawrot TS. Maternal pre-pregnancy body mass index and newborn telomere length. BMC Med. 2016;14:148.

11.

Martens DS, Cox B, Janssen BG, Clemente DBP, Gasparrini A, Vanpoucke C, et al. Prenatal air pollution and newborns' predisposition to accelerated biological aging. JAMA Pediatr. 2017;171:1160–7.

12.

Entringer S, Buss C, Wadhwa PD. Prenatal stress, telomere biology, and fetal programming of health and disease risk. Sci Signal. 2012;5:pt12.

13.

Dinh QT, Cui Z, Huang J, Tran TAT, Wang D, Yang W, et al. Selenium distribution in the Chinese environment and its relationship with human health: a review. Environ Int. 2018;112:294–309. https://doi.org/10.1016/j.envint.2017.12.035.

14.

Shi Z, Pan P, Feng Y, Kan Z, Li Z, Wei F. Environmental water chemistry and possible correlation with Kaschin-Beck Disease (KBD) in northwestern Sichuan, China. Environ Int. 2017;99:282–92. https://doi.org/10.1016/j.envint.2016.12.006.

15.

Kryukov GV, Castellano S, Novoselov SV, Lobanov AV, Zehtab O, Guigo R, et al. Characterization of mammalian selenoproteomes. Science. 2003;300:1439–43.

16.

Tapiero H, Townsend DM, Tew KD. The antioxidant role of selenium and seleno-compounds. Biomed Pharmacother. 2003;57:134–44.

17.

Zhuo H, Smith AH, Steinmaus C. Selenium and lung cancer: a quantitative analysis of heterogeneity in the current epidemiological literature. Cancer Epidemiol Biomark Prev. 2004;13:771–8.

18.

Cai X, Wang C, Yu W, Fan W, Wang S, Shen N, et al. Selenium exposure and cancer risk: an updated meta-analysis and meta-regression. Sci Rep. 2016;6:19213.

19.

Wu Q, Rayman MP, Lv H, Schomburg L, Cui B, Gao C, et al. Low population selenium status is associated with increased prevalence of thyroid disease. J Clin Endocrinol Metab. 2015;100:4037–47. https://doi.org/10.1210/jc.2015-2222.

20.

Mistry HD, Wilson V, Ramsay MM, Symonds ME, Broughton Pipkin F. Reduced selenium concentrations and glutathione peroxidase activity in preeclamptic pregnancies. Hypertension. 2008;52:881–8.

21.

Ou Y, Bloom MS, Nie Z, Han F, Mai J, Chen J, et al. Associations between toxic and essential trace elements in maternal blood and fetal congenital heart defects. Environ Int. 2017;106:127–34.

22.

Cengiz B, Soylemez F, Ozturk E, Cavdar AO. Serum zinc, selenium, copper, and lead levels in women with second-trimester induced abortion resulting from neural tube defects: a preliminary study. Biol Trace Elem Res. 2004;97:225–35.

23.

Shu Y, Wu M, Yang S, Wang Y, Li H. Association of dietary selenium intake with telomere length in middle-aged and older adults. Clin Nutr. 2020;39:3086–91.

24.

Song L, Zhang B, Liu B, Wu M, Zhang L, Wang L, et al. Effects of maternal exposure to ambient air pollution on newborn telomere length. Environ Int. 2019;128:254–60.

25.

Sánchez BN, Hu H, Litman HJ, Téllez-Rojo MM. Statistical methods to study timing of vulnerability with sparsely sampled data on environmental toxicants. Environ Health Perspect. 2011;119:409–15.

26.

Sanz Alaejos M, Diaz, Romero C. Urinary selenium concentrations. Clin Chem. 1993;39:2040–52.

27.

Chen Z, Myers R, Wei T, Bind E, Kassim P, Wang G, et al. Placental transfer and concentrations of cadmium, mercury, lead, and selenium in mothers, newborns, and young children. J Expo Sci Environ Epidemiol. 2014;24:537–44.

28.

Kantola M, Purkunen R, Kroger P, Tooming A, Juravskaja J, Pasanen M, et al. Selenium in pregnancy: is selenium an active defective ion against environmental chemical stress? Environ Res. 2004;96:51–61.

29.

Wai KM, Mar O, Kosaka S, Umemura M, Watanabe C. Prenatal heavy metal exposure and adverse birth outcomes in Myanmar: a birth-cohort study. Int J Environ Res Public Health. 2017;14:1339.

30.

Callan AC, Hinwood AL, Ramalingam M, Boyce M, Heyworth J, McCafferty P, et al. Maternal exposure to metals-concentrations and predictors of exposure. Environ Res. 2013;126:111–7.

31.

Jin Y, Coad J, Weber JL, Thomson JS, Brough L. Selenium intake in iodine-deficient pregnant and breastfeeding women in New Zealand. Nutrients. 2019;11:69.

32.

Christian WJ, Hopenhayn C, Centeno JA, Todorov T. Distribution of urinary selenium and arsenic among pregnant women exposed to arsenic in drinking water. Environ Res. 2006;100:115–22.

33.

Shirai S, Suzuki Y, Yoshinaga J, Mizumoto Y. Maternal exposure to low-level heavy metals during pregnancy and birth size. J Environ Sci Health A Tox Hazard Subst Environ Eng. 2010;45:1468–74.

34.

Szybinski Z, Walas S, Zagrodzki P, Sokolowski G, Golkowski F, Mrowiec H. Iodine, selenium, and other trace elements in urine of pregnant women. Biol Trace Elem Res. 2010;138:28–41.

35.

Kippler M, Bottai M, Georgiou V, Koutra K, Chalkiadaki G, Kampouri M, et al. Impact of prenatal exposure to cadmium on cognitive development at preschool age and the importance of selenium and iodine. Eur J Epidemiol. 2016;31:1123–34.

36.

Fort M, Cosin-Tomas M, Grimalt JO, Querol X, Casas M, Sunyer J. Assessment of exposure to trace metals in a cohort of pregnant women from an urban center by urine analysis in the first and third trimesters of pregnancy. Environ Sci Pollut Res Int. 2014;21:9234–41.

37.

Sun X, Jiang Y, Xia W, Jin S, Liu W, Lin X, et al. Association between prenatal nickel exposure and preterm low birth weight: possible effect of selenium. Environ Sci Pollut Res Int. 2018;25:25888–95.

38.

Herlin M, Broberg K, Igra AM, Li H, Harari F, Vahter M. Exploring telomere length in mother-newborn pairs in relation to exposure to multiple toxic metals and potential modifying effects by nutritional factors. BMC Med. 2019;17:77.

39.

Pawlas N, Plachetka A, Kozlowska A, Broberg K, Kasperczyk S. Telomere length in children environmentally exposed to low-to-moderate levels of lead. Toxicol Appl Pharm. 2015;287:11–118.

40.

O'Callaghan NJ, Bull C, Fenech M. Elevated plasma magnesium and calcium may be associated with shorter telomeres in older South Australian women. J Nutr Health Aging. 2014;18:131–6.

41.

Milne E, O'Callaghan N, Ramankutty P, de Klerk NH, Greenop KR, Armstrong BK, et al. Plasma micronutrient levels and telomere length in children. Nutrition. 2015;31:331–6.

42.

Zwolak I, Zaporowska H. Selenium interactions and toxicity: a review. Selenium interactions and toxicity. Cell Biol Toxicol. 2012;28:31–46.

43.

Kawanishi S, Oikawa S. Mechanism of telomere shortening by oxidative stress. Ann N Y Acad Sci. 2004;1019:278–84.

44.

Lu KY, Lin PY, Chuang EY, Shih CM, Cheng TM, Lin TY, et al. H2O2-depleting and O2-generating selenium nanoparticles for fluorescence imaging and photodynamic treatment of proinflammatory-activated macrophages. ACS Appl Mater Interfaces. 2017;9:5158–72.

45.

Agarwal H, Nakara A, Shanmugam VK. Anti-inflammatory mechanism of various metal and metal oxide nanoparticles synthesized using plant extracts: a review. Biomed Pharmacother. 2019;109:2561–72.

46.

Zhang J, Rane G, Dai X, Shanmugam MK, Arfuso F, Samy RP, et al. Ageing and the telomere connection: an intimate relationship with inflammation. Ageing Res Rev. 2016;25:55–69.

47.

El-Benna J, Hurtado-Nedelec M, Marzaioli V, Marie JC, Gougerot-Pocidalo MA, Dang PM. Priming of the neutrophil respiratory burst: role in host defense and inflammation. Immunol Rev. 2016;273:180–93.

48.

Schmidt JC, Cech TR. Human telomerase: biogenesis, trafficking, recruitment, and activation. Genes Dev. 2015;29:1095–105.

49.

Yu RA, Chen HJ, He LF, Chen B, Chen XM. Telomerase activity and telomerase reverse transcriptase expression induced by selenium in rat hepatocytes. Biomed Environ Sci. 2009;22:311–7.

50.

Zota AR, Needham BL, Blackburn EH, Lin J, Park SK, Rehkopf DH, et al. Associations of cadmium and lead exposure with leukocyte telomere length: findings from National Health and Nutrition Examination Survey, 1999-2002. Am J Epidemiol. 2015;181:127–36.

51.

Fillman T, Shimizu-Furusawa H, Ng CFS, Parajuli RP, Watanabe C. Association of cadmium and arsenic exposure with salivary telomere length in adolescents in Terai, Nepal. Environ Res. 2016;149:8–14.

52.

Peraza MA, Ayala-Fierro F, Barber DS, Casarez E, Rael LT. Effects of micronutrients on metal toxicity. Environ Health Perspect. 1998;106:203–16.

53.

Phiri FP, Ander EL, Lark RM, Bailey EH, Chilima B, Gondwe J, et al. Urine selenium concentration is a useful biomarker for assessing population level selenium status. Environ Int. 2020;134:105218.

54.

Kim SS, Meeker JD, Carroll R, Zhao S, Mourgas MJ, Richards MJ, et al. Urinary trace metals individually and in mixtures in association with preterm birth. Environ Int. 2018;121:582–90.
Funding
This study was supported by the National Key R&D Program of China (grant number: 2017YFC0212003); National Natural Science Foundation of China (grant numbers: 91643207, 81273083); and the Hubei Province Health & Family Planning Scientific Research Project (grant number: WJ2017Z001).
Ethics declarations
Competing interests
The authors declare no competing interests.
Additional information
Publisher's note Springer Nature remains neutral with regard to jurisdictional claims in published maps and institutional affiliations.
Supplementary information
About this article
Cite this article
Wang, L., Song, L., Liu, B. et al. Association between maternal urinary selenium during pregnancy and newborn telomere length: results from a birth cohort study. Eur J Clin Nutr (2021). https://doi.org/10.1038/s41430-021-01004-2
Received:

Revised:

Accepted:

Published: