Abstract
Background/objective
To test five different methods to detect misreporting in comparison to doubly labeled water in a sample of older adults.
Subjects/methods
A cross-sectional study with thirty-eight Brazilian community-dwelling older adults aged 60–84 years, who had their total energy expenditure measured by doubly labeled water (TEEDLW). Dietary data were collected by two 24 h recalls. Misreporting was compared with estimates obtained by the methods proposed by: Goldberg et al. [1, 2], Black [3], McCrory et al. [4], Huang et al [5], and Rennie et al [6]. Bland–Altman plots with 95% limits of agreement were constructed to assess the agreement between rEI and TEEDLW. Weighted kappa coefficients, sensitivity and specificity analyses, and area under the receiving operator characteristic curve (AUC) were used to test the performance of each method.
Results
The prevalence of under-reporters (UR) and over-reporters (OR) obtained by the reference (DLW) were 57.9% (n = 22) and 5.3% (n = 2), respectively. Black [3] presented the worst agreement and McCrory et al. [4] the best one to accurately classify individuals in the three categories of energy reporting. McCrory et al. [4] had the best performance in the sensitivity and specificity analyses detecting UR and plausible reporters.
Conclusions
There was a high prevalence of misreporting, especially underreporting, in this sample of community-dwelling Brazilian older adults. The study showed a wide variation in the accuracy of predictive methods to handle misreporting, with none of the equations showing outstanding agreement with the reference. When DLW is not available, a valid method should be chosen to address energy intake reporting.
Your institute does not have access to this article
Access options
Subscribe to Journal
Get full journal access for 1 year
$119.00
only $9.92 per issue
All prices are NET prices.
VAT will be added later in the checkout.
Tax calculation will be finalised during checkout.
Buy article
Get time limited or full article access on ReadCube.
$32.00
All prices are NET prices.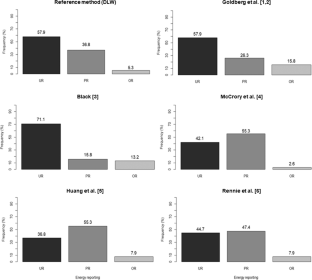 References
Goldberg G, Black A, Jebb S, Cole T, Murgatroyd P, Coward W. et al.Critical evaluation of energy intake data using fundamental principles of energy physiology: 1. Derivation of cut-off limits to identify under-recording.Eur J Clin Nutr. 1991;45:569–81.

Black A, Goldberg G, Jebb S, Livingstone M, Cole T, Prentice A.Critical evaluation of energy intake data using fundamental principles of energy physiology: 2. Evaluating the results of published surveys.Eur J Clin Nutr.1991;45:583–99.

Black A. Critical evaluation of energy intake using the Goldberg cut-off for energy intake: basal metabolic rate. A practical guide to its calculation, use and limitations. Int J Obes. 2000;24:1119–30.

Mccrory M, Hajduk C, Roberts S. Procedures for screening out inaccurate reports of dietary energy intake. Public Health Nutr. 2002;5:873–82.

Huang T, Roberts S, Howarth N, McCrory M. Effect of Screening Out Implausible Energy Intake Reports on Relationships between Diet and BMI. Obes Res. 2005;13:1205–17.

Rennie K, Coward A, Jebb S. Estimating under-reporting of energy intake in dietary surveys using an individualised method. Br J Nutr. 2007;97:1169–76.

Shahar D, Yu B, Houston D, Kritchevsky S, Newman A, Sellmeyer D, et al. Misreporting of Energy Intake in the Elderly Using Doubly Labeled Water to Measure Total Energy Expenditure and Weight Change. J Am Coll Nutr. 2010;29:14–24.

Banna J, Fialkowski M, Townsend M. Misreporting of Dietary Intake Affects Estimated Nutrient Intakes in Low-Income Spanish-Speaking Women. J Acad Nutr Dietetics. 2015;115:1124–33.

Livingstone M, Black A. Markers of the Validity of Reported Energy Intake. J Nutr. 2003;133:895S–920S.

Jessri M, Lou W, L'Abbé M. Evaluation of different methods to handle misreporting in obesity research: evidence from the Canadian national nutrition survey. Br J Nutr. 2016;115:147–59.

Hendrie G, Rebuli M, Golley R, Noakes M. Adjustment Factors Can Improve Estimates of Food Group Intake Assessed Using a Short Dietary Assessment Instrument. J Acad Nutr Dietetics. 2018;118:1864–73.

Jura M, Kozak LP. Obesity and related consequences to ageing. AGE. 2016;38:23.

Pfrimer K, Vilela M, Resende C, Scagliusi F, Marchini J, Lima N, et al. Under-reporting of food intake and body fatness in independent older people: a doubly labelled water study. Age Ageing. 2014;44:103–8.

Ferriolli E, Pfrimer K, Moriguti J, Lima N, Moriguti E, Formighieri P, et al. Under-reporting of food intake is frequent among Brazilian free-living older persons: a doubly labelled water study. Rapid Commun Mass Spectrom. 2010;24:506–10.

Lutomski J, van den Broeck J, Harrington J, Shiely F, Perry I. Sociodemographic, lifestyle, mental health and dietary factors associated with direction of misreporting of energy intake. Public Health Nutr. 2010;14:532–41.

Mendez M, Popkin B, Buckland G, Schroder H, Amiano P, Barricarte A, et al. Alternative Methods of Accounting for Underreporting and Overreporting When Measuring Dietary Intake-Obesity Relations. Am J Epidemiol. 2011;173:448–58.

Rhee J, Sampson L, Cho E, Hughes M, Hu F, Willett W. Comparison of Methods to Account for Implausible Reporting of Energy Intake in Epidemiologic Studies. Am J Epidemiol. 2015;181:225–33.

Tooze J, Krebs-Smith S, Troiano R, Subar A. The accuracy of the Goldberg method for classifying misreporters of energy intake on a food frequency questionnaire and 24-h recalls: comparison with doubly labeled water. Eur J Clin Nutr. 2011;66:569–76.

United Nations, Department of Economic and Social Affairs, Population Division (2019). World Population Prospects 2019: Highlights (ST/ESA/SER.A/423) p. 17.

Park Y, Dodd K, Kipnis V, Thompson F, Potischman N, Schoeller D, et al. Comparison of self-reported dietary intakes from the Automated Self-Administered 24-h recall, 4-d food records, and food-frequency questionnaires against recovery biomarkers. Am J Clin Nutr. 2018;107:80–93.

Lins I, Bueno N, Grotti Clemente A, Pfrimer K, Sawaya A, de Menezes Toledo Florêncio TM. Energy Intake in Socially Vulnerable Women Living in Brazil: assessment of the accuracy of two methods of dietary intake recording using doubly labeled water. J Acad Nutr Dietetics. 2016;116:1560–7.

World Health Organization. (2017). Integrated care for older people: guidelines on community-level interventions to manage declines in intrinsic capacity. Geneva: World Health Organization; 2017. Licence: CC BY-NC-SA 3.0 IGO. https://apps.who.int/iris/bitstream/handle/10665/258981/9789241550109-eng.pdf?sequence=1&isAllowed=y.

Fisberg R, Sales C, Fontanelli M, Pereira J, Alves M, Escuder M, et al. 2015 Health Survey of São Paulo with Focus in Nutrition: rationale, design, and procedures. Nutrients. 2018;10:169.

Blanton C, Moshfegh A, Baer D, Kretsch M. The USDA Automated Multiple-Pass Method Accurately Estimates Group Total Energy and Nutrient Intake. J Nutr. 2006;136:2594–9.

Haubrock J, Nöthlings U, Volatier J, Dekkers A, Ocké M, Harttig U, et al. Estimating Usual Food Intake Distributions by Using the Multiple Source Method in the EPIC-Potsdam Calibration Study. J Nutr. 2011;141:914–20.

NEPA - Núcleo de Estudos e Pesquisas em Alimentação. Tabela Brasileira de Composição de Alimentos – TACO, 4th ed. Campinas: NEPA-UNICAMP; 2011.

Ferrioli E, Cruz BM, Pfrimer K Uso de Isótopos Leves em Ciências Nutricionais. In: Dutra JE, Marchini S Ciências Nutricionais: Aprendendo a Aprender. 2nd ed. São Paulo: Sarvier;2008. 23. p. 443–64.

Batista LD, De França NAG, Pfrimer K, Fontanelli MM, Ferriolli E, Fisberg RM. Estimating total daily energy requirements in community-dwelling older adults: validity of previous predictive equations and modeling of a new approach. Eur J Clin Nutr. 2021;75:133–40.

Coward W, Ritz P, Cole T. Revision of calculations in the doubly labeled water method for measurement of energy expenditure in humans. Am J Physiol-Endocrinol Metab.1994;267.

Schofield WN. Predicting basal metabolic rate, new standards and review of previous work. Hum Nutr Clin Nutr. 1985;39:5–41.

Vinken AG, Bathalon GP, Sawaya AL, Dallal GE, Tucker KL, Roberts SB. Equations for predicting the energy requirements of healthy adults aged 18–81 y. Am J Clin Nutr. 1999;69:920–6.

IOM/ Food and Nutrition Board. Dietary Reference Intakes for Energy, Carbohydrate, Fiber, Fat, Fatty Acids, Cholesterol, Protein, and Amino Acids (Macronutrients). Natl Acad Press. 2005;5:107–264.

PAHO. Pan-American Health Organization. XXXVI Reunión del Comitê Asesor de Ivestigaciones en Salud – Encuestra Multicêntrica – Salud Beinestar y Envejecimeiento (SABE) en América Latina e el Caribe – Informe preliminar. http://envejecimiento.csic.es/documentos/documentos/paho-salud-01.pdf 2001. Accessed on 29 apr 2020.

Schutz Y, Bessard T, Jéquier E. Diet-induced thermogenesis measured over a whole day in obese and nonobese women. Am J Clin Nutr. 1984;40:542–52.

Diener J. Calorimetria indireta. Rev da Assocção Médica Brasileira. 1997;43:245–53.

Martin R, Brandão C, Junqueira-Franco M, Junqueira G, Chueire F, Oliveira J, et al. Concepts of indirect calorimetry on metabolic disorders: a narrative review. Rev Med (São Paulo). 2020;99:581–90.

Mullen JL. Indirect Calorimetry in Critical Care. Proceedings of the Nutrition Society. Cambridge University Press (Cambridge); 1991;50(2). p. 239–44.

Compher C, Frankenfield D, Keim N, Roth-Yousey L. Best practice methods to apply to measurement of resting metabolic rate in adults: a systematic review. J Am Dietetic Assoc. 2006;106:881–903.

Weir JBDV. New methods for calculating metabolic rate with special reference to protein metabolism. J Physiol. 1949;109:1–9.

Black AE, Cole TJ. Within and between-subject variation in energy expenditure measured by the doubly labelled water technique: implications for validating reported dietary energy intake. Eur J Clin Nutr. 2000;54:386–94.

McHugh ML. Interrater reliability: the kappa statistic. Biochem Med (Zagreb). 2012;22:276–82.

Mehdi T, Bashardoost N, Ahmadi M. Kernel Smoothing for ROC Curve and Estimation for Thyroid Stimulating Hormone. Int J Public Health Res. 2011;239–42.

Horgan GW, Stubbs J. Predicting basal metabolic rate in the obese is difficult. Eur J Clin Nutr. 2003;57:335–40.

Soriano G, Goisser S, Guyonnet S, Vellas B, Andrieu S, Sourdet S. Misreporting of Energy Intake in Older People: comparison of two dietary assessment methods. J Nutr Gerontol Geriatrics. 2018;37:310–20.

Gemming L, Ni Mhurchu C. Dietary under-reporting: what foods and which meals are typically under-reported? Eur J Clin Nutr. 2016;70:640–1.

Lafay L, Mennen L, Basdevant A, Charles MA, Does energy intake underreporting involve all kinds of food or only specific food items? Results from the Fleurbaix Laventie Ville Santé (FLVS) study. Int J Obes Relat Metab Disord. 2000;24:1500–6.

Hartig U, Haubrock J, Knüppel S, Boeing H. The MSM program: Webbased statistics package for estimating usual dietary intake using the Multiple Source Method. Eur J Clin Nutr. 2011;65:S87–S91.

Dodd KW, Guenther PM, Freedman LS, Subar AF, Kipnis V, Midthune D, et al. Statistical methods for estimating usual intake of nutrients and foods: a review of the theory. J Am Diet Assoc. 2006;106:1640–50.

Laureano G, Torman V, Crispim S, Dekkers A, Camey S. Comparison of the ISU, NCI, MSM, and SPADE Methods for Estimating Usual Intake: a simulation study of nutrients consumed daily. Nutrients. 2016;8:166.
Acknowledgements
We would like to thank all fieldworkers and all participants. We also acknowledge the work of the Dietary Intake Research Group (Grupo de Avaliação do Consumo Alimentar) at the University of São Paulo and the workers at the Isotope Ratio Mass Spectrometry Laboratory of the Ribeirão Preto Medical School—University of São Paulo, Brazil. This work was supported by the São Paulo Research Foundation (grant number 2018/01991-4) and the National Council for Scientific and Technological Development (grant number 134149/2018-1). The Health Survey of São Paulo was supported by the São Paulo Research Foundation (grant number 2017/05125-7), and National Council for Scientific and Technological Development (grant number 301597/2017–0).
Ethics declarations
Competing interests
The authors declare no competing interests.
Additional information
Publisher's note Springer Nature remains neutral with regard to jurisdictional claims in published maps and institutional affiliations.
Supplementary information
About this article
Cite this article
Batista, L.D., de França, N.A.G., Fontanelli, M.d.M. et al. Misreporting of dietary energy intake obtained by 24 h recalls in older adults: a comparison of five previous methods using doubly labeled water. Eur J Clin Nutr 76, 535–543 (2022). https://doi.org/10.1038/s41430-021-00998-z
Received:

Revised:

Accepted:

Published:

Issue Date:

DOI: https://doi.org/10.1038/s41430-021-00998-z