Abstract
Objectives
To examine the effects of physical activity (PA) in adults with or without prehypertension at baseline on systolic blood pressure (SBP), diastolic blood pressure (DBP), and hypertension risk by gender.
Methods
A total of 5986 men and 6525 women (≥18 years old) without hypertension-related disease at baseline who attended surveys from China Health and Nutrition Survey (1991–2015) at least twice were selected. In terms of the nested data structure, three-level random intercept growth model and three-level logistic regression were used to estimate the relationship between the PA and SBP/DBP or hypertension risk.
Results
The incidence of hypertension increased from 10.86% in 1991 to 20.34% in 2015, and the median of PA dropped from 408 MET·h/week in 1991 to 104 MET·h/week in 2015. After adjusting confounders, PA in the third and fourth quartiles decreased SBP (by 0.98 and 0.96 mm Hg, p < 0.05) and DBP (by 0.30 and 0.38 mm Hg, p < 0.05), and it reduced the odds of hypertension by 12 and 15% (p < 0.05), compared with PA in the lowest quartile. For normotensive women in the third quartile of PA and prehypertensive women in the fourth quartile of PA, the risk of hypertension was reduced 15 and 22%, compared with women in the lowest quartile of PA.
Conclusions
Physical activity should be improved to the relatively high level to be effective in controlling blood pressure. Normotensive women had an association between physical activity and SBP, DBP, and the risk of hypertension.
Access options
Subscribe to Journal
Get full journal access for 1 year
$119.00
only $9.92 per issue
All prices are NET prices.
VAT will be added later in the checkout.
Tax calculation will be finalised during checkout.
Rent or Buy article
Get time limited or full article access on ReadCube.
from$8.99
All prices are NET prices.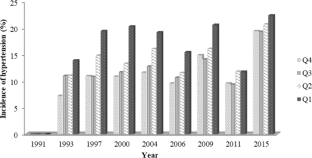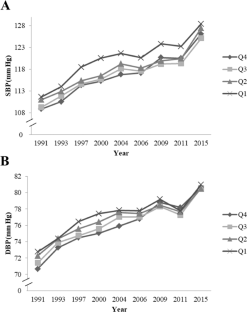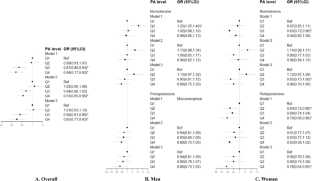 References
1.

GBD 2017 Disease and Injury Incidence and Prevalence Collaborators. Global, regional, and national comparative risk assessment of 84 behavioural, environmental and occupational, and metabolic risks or clusters of risks for 195 countries and territories, 1990–2017: a systematic analysis for the Global Burden of Disease Study 2017. Lancet. 2018;392:1923–94.

2.

Wang ZW, Chen Z, Zhang LF, Wang X, Hao G, Zhang ZG, et al. Status of hypertension in China: results from the China Hypertension Survey, 2012–2015. Circulation. 2018;137:2344–56.

3.

Bushman B. Promoting exercise as medicine for prediabetes and prehypertension. Curr Sports Med Rep. 2014;13:233–39.

4.

Ng SW, Howard AG, Wang HJ, Su C, Zhang B. The physical activity transition among adults in China: 1991–2011. Obes Rev. 2014;15 Suppl 1:27–36.

5.

Gong XY, Chen JC, Li JX, Cao J, Hu DS, Shen C, et al. The relationship between physical activity and incident hypertension in rural Chinese. Zhonghua Yu Fang Yi Xue Za Zhi. 2018;52:615–21.

6.

Loprinzi PD. Accelerometer-determined physical activity and all-cause mortality in a national prospective cohort study of hypertensive adults. J Hypertens. 2016;34:848–52.

7.

Gu DF, Wildman RP, Wu XQ, Reynolds K, Huang JF, Chen CS, et al. Incidence and predictors of hypertension over 8 years among Chinese men and women. J Hypertens. 2007;25:517–23.

8.

Williams PT. A cohort study of incident hypertension in relation to changes in vigorous physical activity in men and women. J Hypertens. 2008;26:1085–93.

9.

Bennett DA, Du HD, Clarke R, Guo Y, Yang L, Bian Z, et al. Association of physical activity with risk of major cardiovascular diseases in Chinese men and women. JAMA Cardiol. 2017;2:1349–58.

10.

Diaz KM, Booth JN III, Seals SR, Abdalla M, Dubbert PM, Sims M, et al. Physical activity and incident hypertension in African Americans: the Jackson Heart Study. Hypertension. 2017;69:421–7.

11.

Haapanen N, Miilunpalo S, Vuori I, Oja P, Pasanen M. Association of leisure time physical activity with the risk of coronary heart disease, hypertension and diabetes in middle-aged men and women. Int J Epidemiol. 1997;26:739–47.

12.

Pereira MA, Folsom AR, McGovern PG, Carpenter M, Arnett DK, Liao D, et al. Physical activity and incident hypertension in Black and White adults—the atherosclerosis risk in communities study. Prev Med. 1999;28:304–12.

13.

Tabrizi JS, Sadeghi-Bazargani H, Farahbakhsh M, Nikniaz L, Nikniaz Z. Prevalence and associated factors of prehypertension and hypertension in iranian population: the lifestyle promotion project (LPP). PLoS ONE. 2016;11:e0165264.

14.

Alvarez C, Ramirez-Campillo R, Cristi-Montero C, Ramirez-Velez R, Izquierdo M. Prevalence of non-responders for blood pressure and cardiometabolic risk factors among prehypertensive women after long-term high-intensity interval training. Front Physiol. 2018;9:1443.

15.

Booth JN, Li JX, Zhang L, Chen L, Muntner P, Egan B. Trends in prehypertension and hypertension risk factors in US adults: 1999–2012. Hypertension. 2017;70:275–84.

16.

Gao Z, Wang Y, Dai Y, Xie Y, Zheng J, Guo R, et al. Association between body mass index changes and short- and long-term outcomes of hypertension in a Chinese rural cohort study. J Hum Hypertens. 2019. https://doi.org/10.1038/s41371-019-0276-x.

17.

Stenehjem JS, Hjerkind KV, Nilsen TIL. Adiposity, physical activity, and risk of hypertension: prospective data from the population-based HUNT Study, Norway. J Hum Hypertens. 2018;32:278–86.

18.

Crump C, Sundquist J, Winkleby MA, Sundquist K. Interactive effects of physical fitness and body mass index on the risk of hypertension. JAMA Intern Med. 2016;176:210–6.

19.

Zhang B, Zhai FY, Du SF, Popkin BM. The China Health and Nutrition Survey, 1989–2011. Obes Rev. 2014;15 Suppl 1:2–7.

20.

Su C, Jia XF, Wang ZH, Wang HJ, Ouyang YF, Zhang B. Longitudinal association of leisure time physical activity and sedentary behaviors with body weight among Chinese adults from China Health and Nutrition Survey 2004–2011. Eur J Clin Nutr. 2017;71:383–8.

21.

Wang Z, Zhang B, Wang H, Zhang J, Zhai F. The effects of body mass index and its dynamic shift on hypertension in Chinese adults. Chin J Hypertens. 2010;18:1173–6.

22.

Writing Group of 2018 Chinese Guidelines for the Management of Hypertension, Chinese Hypertension League, Chinese Society of Cardiology, Chinese Medical Doctor Association Hypertension Committee, Hypertension Branch of China International Exchange and Promotive Association for Medical and Health Care, Hypertension Branch of Chinese Geriatric Medical Association. 2018 Chinese guidelines for the management of hypertension. Chin J Cardiovasc Med. 2019;24:24–56.

23.

Shephard RJ. 2011 compendium of physical activities: a second update of codes and MET values. Yearb Sports Med. 2012;2012:126–7.

24.

Ainsworth BE, Haskell WL, Herrmann SD, Meckes N, DRB JR, Tudor-Locke C, et al. 2011 compendium of physical activities: a second update of codes and MET values. Med Sci Sports Exercise. 2011;43:1575–81.

25.

Du WW, Zhang B, Wang HJ, Wang ZH, Su C, Zhang JG, et al. Gender difference in the association between food away-from-home consumption and body weight outcomes among Chinese adults. Public Health Nutr. 2016;19:2984–90.

26.

Rebholz CM, Gu D, Chen J, Huang JF, Cao J, Chen JC, et al. Physical activity reduces salt sensitivity of blood pressure: the Genetic Epidemiology Network of Salt Sensitivity Study. Am J Epidemiol. 2012;176 Suppl 7:S106–13.

27.

Liu X, Zhang D, Liu Y, Sun X, Han C, Wang B, et al. Dose-response association between physical activity and incident hypertension: a systematic review and meta-analysis of cohort studies. Hypertension. 2017;69:813–20.

28.

Doumas M, Papademetriou V, Faselis C, Kokkinos P. Gender differences in hypertension: myths and reality. Curr Hypertens Rep. 2013;15:321–30.

29.

Di Giosia P, Giorgini P, Stamerra CA, Petrarca M, Ferri C, Sahebkar A. Gender differences in epidemiology, pathophysiology, and treatment of hypertension. Curr Atheroscler Rep. 2018;20:13.

30.

Egan BM, Stevens-Fabry S. Prehypertension-prevalence, health risks, and management strategies. Nat Rev Cardiol. 2015;12:289–300.

31.

Diaz KM, Shimbo D. Physical activity and the prevention of hypertension. Curr Hypertens Rep. 2013;15:659–68.

32.

Zhang M, Zhao Y, Wang G, Zhang H, Ren Y, Wang B. et al. Body mass index and waist circumference combined predicts obesity-related hypertension better than either alone in a rural Chinese population. Sci Rep. 2016;6:1–8. https://doi.org/10.1038/srep31935.

33.

Levine DA, Calhoun DA, Prineas RJ, Cushman M, Howard VJ, Howard G. Moderate waist circumference and hypertension prevalence: the REGARDS Study. Am J Hypertens. 2011;24:482–8.

34.

Jackson C, Herber-Gast GC, Brown W. Joint effects of physical activity and BMI on risk of hypertension in women: a longitudinal study. J Obes. 2014;2014:271532.

35.

Gay HC, Rao SG, Vaccarino V, Ali MK. Effects of different dietary interventions on blood pressure: systematic review and meta-analysis of randomized controlled trials. Hypertension. 2016;67:733–9.

36.

Aljuraiban GS, Stamler J, Chan Q, Van Horn L, Daviglus ML, Elliott P, et al. Relations between dairy product intake and blood pressure: the International study on macro/micronutrients and blood pressure. J Hypertens. 2018;36:2049–58.

37.

Binia A, Jaeger J, Hu Y, Singh A, Zimmermann D. Daily potassium intake and sodium-to-potassium ratio in the reduction of blood pressure: a meta-analysis of randomized controlled trials. J Hypertens. 2015;33:1509–20.

38.

Perez V, Chang ET. Sodium-to-potassium ratio and blood pressure, hypertension, and related factors. Adv Nutr. 2014;5:712–41.
Acknowledgements
This research uses data from the CHNS. We thank all the participants in our study and the staff responsible for conducting CHNS. The authors also are grateful to the team at the National Institute for Nutrition and Health, Chinese Center for Disease Control and Prevention, and the Carolina Population Center, University of North Carolina at Chapel Hill.
Funding
The present study is funded by the National Key Research and Development Program of China (No. 2019YFC1605100) and supported by grants from the National Natural Science Foundation of China (No. 81573155). The "China Nutritional Transition Cohort Study" project received funding from Ministry of Finance of the People's Republic of China (No. 13103110700015005). The present study is also sponsored by Carolina Population Center (P2CHD050924, T32 HD007168), the University of North Carolina at Chapel Hill, the NIH (R01-HD30880, DK056350, R24 HD050924, and R01-HD38700), and the National Institutes of Health Fogarty International Center (D43TW009077, D43 TW007709) for financial support for CHNS data collection and analysis files from 1989 to 2015 and future surveys.
Ethics declarations
Conflict of interest
The authors declare that they have no conflict of interest.
Additional information
Publisher's note Springer Nature remains neutral with regard to jurisdictional claims in published maps and institutional affiliations.
About this article
Cite this article
Zou, Q., Wang, H., Su, C. et al. Longitudinal association between physical activity and blood pressure, risk of hypertension among Chinese adults: China Health and Nutrition Survey 1991–2015. Eur J Clin Nutr 75, 274–282 (2021). https://doi.org/10.1038/s41430-020-0653-0
Received:

Revised:

Accepted:

Published:

Issue Date:
Further reading
Environmental Science and Pollution Research (2021)

Y. Han

,

K. Han

,

Y. Zhang

&

X. Zeng

Journal of Endocrinological Investigation (2021)