Abstract
Background/objectives
The Comprehensive Assessment of Long-term Effects of Reducing Intake of Energy Phase 2 (CALERIE) study showed that individuals who are nonobese were able to undergo significant calorie restriction (CR), yet the time course changes in adherence, weight, and appetite are unknown. This analysis aimed to investigate the time course changes in adherence, body weight, and appetite during the CALERIE study.
Subjects/methods
Overall, 143 participants (body mass index: 21.9–28.0 kg/m2) were randomized to a CR group that aimed to achieve 25% CR for 2 years. Throughout the intervention, body weight was measured, and appetite was assessed through visual analogue scales. Algorithms were utilized with body weight measurements to calculate adherence percentile score. Participants targeted an adherence percentile score of 50, though being between 80 (lowest acceptable adherence) and 10 (highest acceptable adherence) was adequate. Polynomial regression analyses were used to assess time course changes.
Results
Polynomials indicated that adherence percentile score increased above 50 after approximately week 20, although adherence remained acceptable (adherence percentile score less than 80) (R2 = 0.89; P < 0.001). Weight loss occurred until approximately week 60 and then plateaued (R2 ≥ 0.92; P < 0.001). Hunger and thirst increased (R2 ≥ 0.30; P < 0.001), but the total increase in scale scores were <10 mm throughout the intervention.
Conclusions
In individuals who are nonobese, adherence to 25% CR declines after 20 weeks, but 2 years of CR that stimulates a meaningful reduction in weight, promotes aging-related benefits and negligibly affects appetite is viable.
Access options
Subscribe to Journal
Get full journal access for 1 year
$646.00
only $53.83 per issue
All prices are NET prices.
VAT will be added later in the checkout.
Rent or Buy article
Get time limited or full article access on ReadCube.
from$8.99
All prices are NET prices.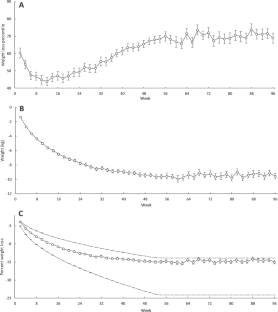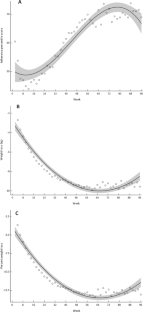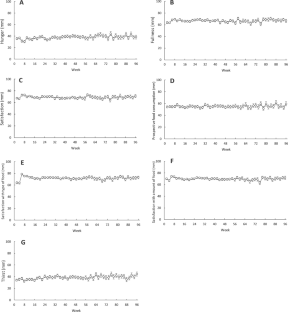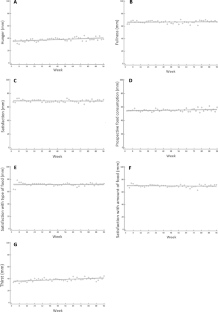 References
1.

Redman LM, Ravussin E. Caloric restriction in humans: Impact on physiological, psychological, and behavioral outcomes. Antioxid Redox Signal. 2011;14:275–87.

2.

Ravussin E, Redman LM, Rochon J, Das SK, Fontana L, Kraus WE, et al. A 2-year randomized controlled trial of human caloric restriction: Feasibility and effects on predictors of health span and longevity. J Gerontol A Biol Sci Med Sci. 2015;70:1097–104.

3.

Doucet E, St-Pierre S, Alméras N, Tremblay A. Relation between appetite ratings before and after a standard meal and estimates of daily energy intake in obese and reduced obese individuals. Appetite. 2003;40:137–43.

4.

McGuire MT, Wing RR, Klem ML, Lang W, Hill JO. What predicts weight regain in a group of successful weight losers? J Consult Clin Psychol. 1999;67:177–85.

5.

Sumithran P, Prendergast LA, Delbridge E, Purcell K, Shulkes A, Kriketos A, et al. Long-term persistence of hormonal adaptations to weight loss. N Engl J Med. 2011;365:1597–604.

6.

Wadden TA, Vogt RA, Andersen RE, Bartlett SJ, Foster GD, Wilk J, et al. Exercise in the treatment of obesity: Effects of four interventions on body composition, resting energy expenditure, appetite, and mood. J Consult Clin Psychol. 1997;65:269–77.

7.

Anton SD, Han H, York E, Martin CK, Ravussin E, Williamson DA. Effect of calorie restriction on subjective ratings of appetite. J Hum Nutr Diet. 2009;22:141–7.

8.

Dorling JL, Bhapkar M, Das SK, Racette SB, Apolzan JW, Fearnbach SN, et al. Change in self-efficacy, eating behaviors and food cravings during two years of calorie restriction in humans without obesity. Appetite. 2019;143:104397.

9.

Rochon J, Bales CW, Ravussin E, Redman LM, Holloszy JO, Racette SB, et al. Design and conduct of the CALERIE study: comprehensive assessment of the long-term effects of reducing intake of energy. J Gerontol Ser A Biol Sci Med Sci. 2011;66:97–108.

10.

Stewart TM, Bhapkar M, Das S, Galan K, Martin CK, McAdams L, et al. Comprehensive Assessment of Long-term Effects of Reducing Intake of Energy Phase 2 (CALERIE Phase 2) screening and recruitment: methods and results. Contemp Clin Trials. 2013;34:10–20.

11.

Rickman AD, Williamson DA, Martin CK, Gilhooly CH, Stein RI, Bales CW, et al. The CALERIE Study: Design and methods of an innovative 25% caloric restriction intervention. Contemp Clin Trials. 2011;32:874–81.

12.

Racette SB, Das SK, Bhapkar M, Hadley EC, Roberts SB, Ravussin E, et al. Approaches for quantifying energy intake and %calorie restriction during calorie restriction interventions in humans: the multicenter CALERIE study. AJP Endocrinol Metab. 2012;302:E441–8.

13.

Anton SD, LeBlanc E, Allen HR, Karabetian C, Sacks F, Bray G, et al. Use of a computerized tracking system to monitor and provide feedback on dietary goals for calorie-restricted diets: the POUNDS LOST study. J Diabetes Sci Technol. 2012;6:1216–25.

14.

Wadden TA, West D, Delahanty LM, Jakicic JM, Rejeski J, Williamson DA, et al. The look AHEAD study: a description of the lifestyle intervention and the evidence supporting it. Obesity. 2006;14:737–52.

15.

Pieper C, Redman L, Racette S, Roberts S, Bhapkar M, Rochon J, et al. Development of adherence metrics for caloric restriction interventions. Clin Trials. 2011;8:155–64.

16.

Racette SB, Weiss EP, Villareal DT, Arif H, Steger-May K, Schechtman KB, et al. One year of caloric restriction in humans: Feasibility and effects on body composition and abdominal adipose tissue. J Gerontol A Biol Sci Med Sci. 2006;61:943–50.

17.

Flint A, Raben A, Blundell JE, Astrup A. Reproducibility, power and validity of visual analogue scales in assessment of appetite sensations in single test meal studies. Int J Obes Relat Metab Disord. 2000;24:38–48.

18.

Womble LG, Wadden TA, Chandler JM, Martin AR. Agreement between weekly vs. daily assessment of appetite. Appetite. 2003;40:131–5.

19.

Maxwell S, Delaney H. Designing experiments and analyzing data: a model comparison perspective. 2nd ed. Pacific Grove, California: Routledge; 1990. p. 1990.

20.

Akaike H. Information theory and an extension of the maximum likelihood principle. In: Petrov B, Csaki F, editors. Second International Symposium on Information Theory. Budapest: Akadémiai Kiadó; 1998. p. 267–81.

21.

Redman LM, Smith SR, Burton JH, Martin CK, Il'yasova D, Ravussin E. Metabolic slowing and reduced oxidative damage with sustained caloric restriction support the rate of living and oxidative damage theories of aging. Cell Metab. 2018;27:805–14.

22.

Most J, Gilmore LA, Smith SR, Han H, Ravussin E, Redman LM. Significant improvement in cardiometabolic health in healthy nonobese individuals during caloric restriction-induced weight loss and weight loss maintenance. Am J Physiol Metab. 2018;314:E396–405.

23.

Martin CK, Bhapkar M, Pittas AG, Pieper CF, Das SK, Williamson DA, et al. Effect of calorie restriction on mood, quality of life, sleep, and sexual function in healthy nonobese adults the CALERIE 2 randomized clinical trial. JAMA. Intern Med. 2016;176:743–52.

24.

Weindruch R, Walford RL, Fligiel S, Guthrie D. The retardation of aging in mice by dietary restriction: longevity, cancer, immunity and lifetime energy intake. J Nutr. 1986;116:641–54.

25.

Heymsfield SB, Thomas D, Nguyen AM, Peng JZ, Martin C, Shen W, et al. Voluntary weight loss: systematic review of early phase body composition changes. Obes Rev. 2011;12:e348–61.

26.

Franz MJ, VanWormer JJ, Crain AL, Boucher JL, Histon T, Caplan W, et al. Weight-loss outcomes: a systematic review and meta-analysis of weight-loss clinical trials with a minimum 1-year follow-up. J Am Diet Assoc. 2007;107:1755–67.

27.

The Look AHEAD Research Group. Eight-year weight losses with an intensive lifestyle intervention: the look AHEAD study. Obesity. 2014;22:5–13.

28.

Knowler WC, Barrett-Connor E, Fowler SE, Hamman RF, Lachin JM, Walker EA, et al. Reduction in the incidence of type 2 diabetes with lifestyle intervention or metformin. N Engl J Med. 2002;346:393–403.

29.

Müller MJ, Geisler C, Heymsfield SB, Bosy-Westphal A. Recent advances in understanding body weight homeostasis in humans. F1000Res. 2018;7:F1000.

30.

Speakman JR. The evolution of body fatness: Trading off disease and predation risk. J Exp Biol. 2018;221:jeb167254.

31.

Giskes K, van Lenthe F, Avendano-Pabon M, Brug J. A systematic review of environmental factors and obesogenic dietary intakes among adults: are we getting closer to understanding obesogenic environments? Obes Rev. 2011;12:e95–106.

32.

Blundell J, De Graaf C, Hulshof T, Jebb S, Livingstone B, Lluch A, et al. Appetite control: methodological aspects of the evaluation of foods. Obes Rev. 2010;11:251–70.

33.

Keim NL, Stern JS, Havel PJ. Relation between circulating leptin concentrations and appetite during a prolonged, moderate energy deficit in women. Am J Clin Nutr. 1998;68:794–801.

34.

Cummings DE, Weigle DS, Frayo RS, Breen PA, Ma MK, Dellinger EP, et al. Plasma ghrelin levels after diet-induced weight loss or gastric bypass surgery. N Engl J Med. 2002;346:1623–30.

35.

Howarth NC, Saltzman E, Roberts SB. Dietary fiber and weight regulation. Nutr Rev. 2001;59:129–39.

36.

Perri M, JA C. Improving the maintenance of weight lost in behavioral treatment of obesity. In: Wadden TA, Stunkard AJ, editors. Handbook of obesity treatment. New York, NY: Guilford Press; 2002. p. 357–79.
Acknowledgements
We are indebted to the study participants. The efforts of the CALERIE data coordinating center (James Rochon, Kim Huffman, and William Krauss) are also acknowledged and greatly appreciated. CALERIE 2 data, including the data reported in this paper, can be accessed at https://calerie.duke.edu/.
Funding
The research was supported by the National Institute on Aging and the National Institute of Diabetes and Digestive and Kidney Diseases, National Institutes of Health (grants U01AG022132, U01AG020478, U01AG020487, and U01AG020480); National Obesity Research Center (grant P30 DK072476), sponsored by the National Institute of Diabetes and Digestive and Kidney Diseases; and the National Institute of General Medical Sciences of the National Institutes of Health, which funds the Louisiana Clinical and Translational Science Center (grant 1 U54 GM104940). It was also supported by the American Heart Association Grant #20POST35210907 (James L. Dorling). The CALERIE data repository is supported by the CALERIE Research Network and contains an array of clinical, physiologic, and molecular data. More information about repository contents and how to request data and samples can be found at the following website: https://calerie.duke.edu/.
CALERIE Study Members
Principal investigators (PIs), Coinvestigators (CIs), site intervention leaders (SILs), intervention counselors (ICs), study managers (SMs), project leaders (PLs), study coordinators (SCs), and other staff (OS) participating in the CALERIE study. Pennington Biomedical Research Center (clinical site)—PI: Eric Ravussin, PhD; CI: Catherine Champagne, RD, PhD; Alok Gupta, MD; Corby Martin, PhD; Leanne Redman, PhD; Steven Smith, MD; Donald Williamson, PhD; SIL: Corby Martin, PhD; Tiffany Stewart, PhD; IC: Michelle Begnaud, RD; Barbara Cerniauskas, RD; Allison Davis, MS; Jeanne Gabrielle, PhD; Heather Walden, MS; SM: Natalie Currier, RD; Mandy Shipp, RD; SC: Sarah Masters; Melody McNicoll; OS: Shelly Prince, MS, RD; Courtney Brock, RD; Renee Puyau, RD; Conrad Earnest, PhD; Jennifer Rood, PhD; Tiffany Stewart, PhD; Lillian Levitan, PhD; Crystal Traylor, WHNP; Susan Thomas, WHNP; Valerie Toups, LPN; Karen Jones, RN; Stephanie Tatum, RN; Celeste Waguespack, RN; Kimberly Crotwell, LPN; Lisa Dalfrey, LPN; Amy Braymer, LPN; Rhonda Hilliard, LPN; Onolee Thomas, RN; Jennifer Arceneaux, RN; Stacie LaPrarie, RN; Allison Strate, RN; Jana Ihrig, RN; Susan Mancuso, RN; Christy Beard, RN; Alicia Hymel; Desti Shepard; John Correa; Denise Jarreau; Brenda Dahmer; Grace Bella; Elizabeth Soroe; Bridget Conner; Paige McCown; Stephanie Anaya; Melissa Lupo. Tufts University (clinical site)—PI: Susan B. Roberts, PhD; CI: Sai Krupa Das, PhD; Simin Meydani, PhD; Roger Fielding, MD; Isaac Greenberg, PhD; Anastassios Pittas, MD; Edward Saltzman, MD; Tammy Scott, PhD; SIL: Cheryl Gilhooly, RD, PhD; IC: Kimberly Gerber, PhD; Isaac Greenberg, PhD; Marjory Kaplan, PhD; Christy Karabetian, MA; Russell Kennedy, PhD; Lisa Robinson, RD; OS: Assefa, Senait; Verona Bembridge; Maria Berlis; Scarlett Buer; Robert Carabello; Cherie Campbell; Lauren Collins, RN; Marybeth Doherty, RN; Alicia Freed, RD; Chervonte Hernandez; Gyna JeanBaptiste, RN; Mary Krasinski, RN; Marie Lim-Lucas, MPH, RD; Ekaterina Maslova; Barbara Maxwell, RN; Jean McShea, RN; Ann Muchowski, RN; Margaret Mulkerrin; Kerry Murphy; Carol Nelsen, RN; Megan O'Neill; Helen Rasmussen, RD, PhD; Brenda Roche; Eneida Roman; Gregory Sproull; Marie St. Victor, RN; Susan Storer, RN; Katherine Strissel, PhD; Stephanie Valliere; Margaret Vilme, RN; Justin Wheeler; Jill Wiley, RN; Fania Yangarber. Washington University (clinical site)—PI: John O. Holloszy, MD; CI: Luigi Fontana, MD; Sam Klein, MD; Charles Lambert, PhD; B. Selma Mohammed, MD, PhD; Susan Racette, PhD; Dennis Villareal, MD; SIL: Rick Stein, PhD; IC: Karen Cotton, Psy D; Margaret Hof, MS, RD, LD; Cherie Massmann, MA, LPC, NCC; Kathleen Obert, MS, RD, LD; Marni Pearlman, MA, PLPC; Tina M Reising, Psy D; Laura Weber, MSEd, RD, LD; SM: Mary Uhrich, MS; SC: Morgan Schram, MS; OS: Mel Meyer, RN, BSN, CRC; Chelsea Carlen, BS; Lisa Kee, DTR; Barbara Larson, DTR; Mary McFerson, BS, DTR; Rebecca Sabatino, BS; Bridgett Toennies, RRT. Duke Clinical Research Institute (coordinating center)—PI: James Rochon, PhD; CI: Connie W. Bales, PhD; Carl F. Pieper, DrPH; William Kraus, MD; PL: Katherine M. Galan, RN; OS: Richard Adrian, BS; Eleanor Law Allen, BA; William Blasko, BS; Manjushri Bhapkar, MS; Nikka Brown, BSN; Maria Butts, RN, BSN; Elaina K. Cossin, BS; Jennifer Curry, AAS; Jamie Daniel, BS, MS; Kathleen S. Diemer, RN; Lee Greiner, BS, MS; Darryl Johnson, BS; Cassandra Jones, BSEE; Lauren Lindblad, MS; Luanne McAdams, RN, MSN; Marty Mansfield, BA, PhD; Senthil Murugesan, MS; Lucy Piner, MS, ACSM CES; Christopher Plummer, BS; Mike Revoir, BS; Pamela Smith, RN, BSN; Monica Spaulding, MPH; James Topping, MS. Baylor College of Medicine (doubly labeled water laboratory)—PI: William W. Wong, PhD; OS: Lucinda L. Clarke, AA; Chun W. Liu, BS; J. Kennard Fraley, MPH. © 2016 American Medical Association. All rights reserved. 3 University of California at San Francisco (dual-energy x-ray absorptiometry reading center)—PI: Ann V. Schwartz, PhD; CI: John Shepherd, PhD; OS: Lisa Palermo, MS; Susan Ewing, MS; Michaela Rahorst; Caroline Navy. University of Vermont (biochemistry laboratory)—PI: Michael Lewis, MD, MBA; CI: Russell P. Tracy, PhD; OS: Rebekah Boyle, BS, MS; Elaine Cornell, BS; Patrick Daunais, BS; Dean Draayer, PhD; Melissa Floersch, BS; Nicole Gagne, BA; Florence Keating, BS; Angela Patnoad, BS. University of Cincinnati (nutrition reading center)—PI: Marcia Schmidt, MS, RD, LD; OS: Marcia Gavin BS, RD, LD; Frida Wiener MS, RD, LD; Ashley Hughes, DTR; Laura Benken. University of Pittsburgh (intervention counseling curriculum)—PI: Amy Otto, PhD. Data and safety monitoring board—Jeffrey Halter, MD (chair); David M. Buchner, MD, MPH; Patricia Elmer, PhD; Mark Espeland, PhD; Steven B. Heymsfield, MD; Xavier Pi-Sunyer, MD; Thomas Prohaska, MD; Sue Shapses, PhD; John Speakman, DSc; Richard Weindruch, PhD. National Institute on Aging (primary funding agency)—Evan C. Hadley, MD; Judy Hannah, PhD; Sergei Romashkan, MD. National Institute of Diabetes and Digestive and Kidney Diseases (cosponsor)—Mary Evans, PhD.
Ethics declarations
Conflict of interest
The authors declare that they have no conflict of interest.
Additional information
Publisher's note Springer Nature remains neutral with regard to jurisdictional claims in published maps and institutional affiliations.
Members of the CALERIE Study Group are listed below Acknowledgements.
Supplementary information
About this article
Cite this article
Dorling, J.L., Das, S.K., Racette, S.B. et al. Changes in body weight, adherence, and appetite during 2 years of calorie restriction: the CALERIE 2 randomized clinical trial. Eur J Clin Nutr (2020). https://doi.org/10.1038/s41430-020-0593-8
Received:

Revised:

Accepted:

Published: