Abstract
Background/objectives
Weight loss through a low-calorie diet (LCD) could improve low-grade inflammation evident in the obese state. Few studies have evaluated the effect of the mixed nuts consumption in the context of a LCD on inflammatory biomarkers. This study compared the effects of a nut-enriched LCD (NELCD) with a nut-free LCD (NFLCD) on body weight and inflammatory markers in overweight or obese coronary artery disease (CAD) patients.
Subjects/method
In this randomized controlled parallel trial, patients with stable CAD of both genders were randomly allocated to 8-week NELCD or NFLCD. Body weight, plasma C-reactive protein (CRP), interleukin-6 (IL-6), interleukin 10 (IL-10), intercellular adhesion molecule-1 (ICAM-1), and monocyte chemoattractant protein (MCP-1) were assessed at baseline and 8 weeks.
Results
Overall, 67 patients (aged 58.8 ± 7.4 years; BMI 30.9 ± 3.9 kg/m2) completed the study. Participants in both groups lost weight to a comparable extent. Patients in the NELCD group showed a decrease in ICAM-1 (p = 0.04) and IL-6 (p = 0.02) concentrations compared to NFLCD group. No significant difference in concentrations of MCP-1, IL-10, or CRP was observed between diet groups.
Conclusions
Nuts are healthy energy-dense foods that if included in controlled amounts in a weight management program can still result in weight reduction and may improve some plasma concentration of inflammatory factors, such as ICAM-1 and IL-6.
This is a preview of subscription content
Access options
Subscribe to Journal
Get full journal access for 1 year
$119.00
only $9.92 per issue
All prices are NET prices.
VAT will be added later in the checkout.
Tax calculation will be finalised during checkout.
Buy article
Get time limited or full article access on ReadCube.
$32.00
All prices are NET prices.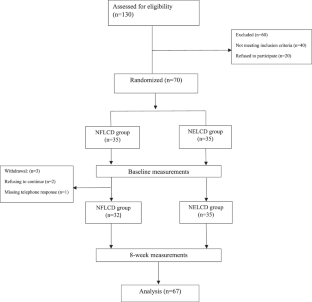 References
Collaborators GBDCoD. Global, regional, and national age-sex specific mortality for 264 causes of death, 1980-2016: a systematic analysis for the Global Burden of Disease Study 2016. Lancet. 2017;390:1151–210.

Wong BW, Meredith A, Lin D, McManus BM. The biological role of inflammation in atherosclerosis. Can J Cardiol. 2012;28:631–41.

Li H, Sun K, Zhao R, Hu J, Hao Z, Wang F, et al. Inflammatory biomarkers of coronary heart disease. Front Biosci. 2018;10:185–96.

Ridker PM, Hennekens CH, Buring JE, Rifai N. C-reactive protein and other markers of inflammation in the prediction of cardiovascular disease in women. N. Engl J Med. 2000;342:836–43.

Blankenberg S, Rupprecht HJ, Bickel C, Peetz D, Hafner G, Tiret L, et al. Circulating cell adhesion molecules and death in patients with coronary artery disease. Circulation. 2001;104:1336–42.

Marinou K, Tousoulis D, Antonopoulos AS, Stefanadi E, Stefanadis C. Obesity and cardiovascular disease: from pathophysiology to risk stratification. Int J Cardiol. 2010;138:3–8.

Saltiel AR, Olefsky JM. Inflammatory mechanisms linking obesity and metabolic disease. J Clin Investig. 2017;127:1–4.

Forsythe LK, Wallace JM, Livingstone MB. Obesity and inflammation: the effects of weight loss. Nutr Res Rev. 2008;21:117–33.

Alasalvar C, Bolling BW. Review of nut phytochemicals, fat-soluble bioactives, antioxidant components and health effects. Br J Nutr. 2015;113:S68–78.

Sabaté J, Ang Y. Nuts and health outcomes: new epidemiologic evidence. Am J Clin Nutr. 2009;89:1643S–8S.

Luo C, Zhang Y, Ding Y, Shan Z, Chen S, Yu M, et al. Nut consumption and risk of type 2 diabetes, cardiovascular disease, and all-cause mortality: a systematic review and meta-analysis. Am J Clin Nutr. 2014;100:256–69.

Yu Z, Malik VS, Keum N, Hu FB, Giovannucci EL, Stampfer MJ, et al. Associations between nut consumption and inflammatory biomarkers. Am J Clin Nutr. 2016;104:722–8.

Liu JF, Liu YH, Chen CM, Chang WH, Chen CY. The effect of almonds on inflammation and oxidative stress in Chinese patients with type 2 diabetes mellitus: a randomized crossover controlled feeding trial. Eur J Nutr. 2013;52:927–35.

Gulati S, Misra A, Pandey R, Bhatt DS, Saluja S. Effects of pistachio nuts on body composition, metabolic, inflammatory and oxidative stress parameters in Asian Indians with metabolic syndrome: A 24-week, randomized control trial. Nutrition. 2014;30:192–7.

Xiao Y, Xia J, Ke Y, Cheng J, Yuan J, Wu S, et al. Effects of nut consumption on selected inflammatory markers: a systematic review and meta-analysis of randomized controlled trials. Nutrition. 2018;54:129–43.

Neale EP, Tapsell LC, Guan V, Batterham MJ. The effect of nut consumption on markers of inflammation and endothelial function: a systematic review and meta-analysis of randomised controlled trials. BMJ Open. 2017;7:e016863.

Hong MY, Groven S, Marx A, Rasmussen C, Beidler J. Anti-inflammatory, antioxidant, and hypolipidemic effects of mixed nuts in atherogenic diet-fed rats. Molecules. 2018;23:3126–38.

Casas-Agustench P, López-Uriarte P, Bulló M, Ros E, Cabré-Vila JJ, Salas-Salvadó J. Effects of one serving of mixed nuts on serum lipids, insulin resistance and inflammatory markers in patients with the metabolic syndrome. Nutr, Metab, Cardiovasc Dis. 2011;21:126–35.

Lee YJ, Nam GE, Seo JA, Yoon T, Seo I, Lee JH, et al. Nut consumption has favorable effects on lipid profiles of Korean women with metabolic syndrome. Nutr Res. 2014;34:814–20.

Abbaspour N, Roberts T, Hooshmand S, Kern M, Hong MY. Mixed nut consumption may improve cardiovascular disease risk factors in overweight and obese adults. Nutrients. 2019;11:1488–500.

Casas R, Sacanella E, Urpi-Sarda M, Corella D, Castaner O, Lamuela-Raventos RM, et al. Long-term immunomodulatory effects of a mediterranean diet in adults at high risk of cardiovascular disease in the PREvencion con DIeta MEDiterranea (PREDIMED) Randomized Controlled Trial. J Nutr 2016;146:1684–93.

Estruch R, Martinez-Gonzalez MA, Corella D, Salas-Salvado J, Ruiz-Gutierrez V, Covas MI, et al. Effects of a Mediterranean-style diet on cardiovascular risk factors: a randomized trial. Ann Intern Med. 2006;145:1–11.

Mena MP, Sacanella E, Vazquez-Agell M, Morales M, Fito M, Escoda R, et al. Inhibition of circulating immune cell activation: a molecular antiinflammatory effect of the Mediterranean diet. Am J Clin Nutr. 2009;89:248–56.

Mifflin MD, St Jeor ST, Hill LA, Scott BJ, Daugherty SA, Koh YO. A new predictive equation for resting energy expenditure in healthy individuals. Am J Clin Nutr. 1990;51:241–7.

Craig C, Marshall A, Sjostrom M, Bauman A, Booth M, Ainsworth B, et al. International physical activity questionnaire: 12-country reliability and validity. Med Sci sports Exerc. 2003;35:1381–95.

Shivappa N, Steck SE, Hurley TG, Hussey JR, Hébert JR. Designing and developing a literature-derived, population-based dietary inflammatory index. Public Health Nutr. 2014;17:1689–96.

Zhao G, Etherton TD, Martin KR, West SG, Gillies PJ, Kris-Etherton PM. Dietary alpha-linolenic acid reduces inflammatory and lipid cardiovascular risk factors in hypercholesterolemic men and women. J Nutr. 2004;134:2991–7.

Tan SY, Dhillon J, Mattes RD. A review of the effects of nuts on appetite, food intake, metabolism, and body weight. Am J Clin Nutr. 2014;100:412S–22S.

Hollis J, Mattes R. Effect of chronic consumption of almonds on body weight in healthy humans. Br J Nutr. 2007;98:651–6.

Li Z, Song R, Nguyen C, Zerlin A, Karp H, Naowamondhol K, et al. Pistachio nuts reduce triglycerides and body weight by comparison to refined carbohydrate snack in obese subjects on a 12-week weight loss program. J Am Coll Nutr. 2010;29:198–203.

Foster GD, Shantz KL, Vander Veur SS, Oliver TL, Lent MR, Virus A, et al. A randomized trial of the effects of an almond-enriched, hypocaloric diet in the treatment of obesity. Am J Clin Nutr. 2012;96:249–54.

Wien MA, Sabate JM, Ikle DN, Cole SE, Kandeel FR. Almonds vs complex carbohydrates in a weight reduction program. Int J Obes Relat Metab Disord. 2003;27:1365–72.

Mathieu P, Lemieux I, Despres JP. Obesity, inflammation, and cardiovascular risk. Clin Pharmacol Therapeutics. 2010;87:407–16.

Monneret D, Mestari F, Djiavoudine S, Bachelot G, Cloison M, Imbert-Bismut F, et al. Wide-range CRP versus high-sensitivity CRP on Roche analyzers: focus on low-grade inflammation ranges and high-sensitivity cardiac troponin T levels. Scand J Clin Lab Investig. 2018;78:346–51.

Li R, Xue Y, Wang T, Gong L, Peng P, Xiong P, et al. A comparison study between wide-range and high-sensitivity C-reactive protein assays (Roche Cobas c702) for low C-reactive protein concentration in patients with cardiovascular risk. J Clin Lab Anal. 2019;33:e22957.

Rajaram S, Connell KM, Sabate J. Effect of almond-enriched high-monounsaturated fat diet on selected markers of inflammation: a randomised, controlled, crossover study. Br J Nutr. 2010;103:907–12.

Tey SL, Gray AR, Chisholm AW, Delahunty CM, Brown RC. The dose of hazelnuts influences acceptance and diet quality but not inflammatory markers and body composition in overweight and obese individuals. J Nutr. 2013;143:1254–62.

Parham M, Heidari S, Khorramirad A, Hozoori M, Hosseinzadeh F, Bakhtyari L, et al. Effects of pistachio nut supplementation on blood glucose in patients with type 2 diabetes: a randomized crossover trial. Rev Diabet Stud. 2014;11:190–6.

Barbour JA, Howe PR, Buckley JD, Bryan J, Coates AM. Effect of 12 weeks high oleic peanut consumption on cardio-metabolic risk factors and body composition. Nutrients. 2015;7:7381–98.

Chen CY, Holbrook M, Duess MA, Dohadwala MM, Hamburg NM, Asztalos BF, et al. Effect of almond consumption on vascular function in patients with coronary artery disease: a randomized, controlled, cross-over trial. Nutr J. 2015;14:61.

Mazidi M, Rezaie P, Ferns GA, Gao HK. Impact of different types of tree nut, peanut, and soy nut consumption on serum C-reactive protein (CRP): A systematic review and meta-analysis of randomized controlled clinical trials. Medicine. 2016;95:e5165.

Urpi-Sarda M, Casas R, Chiva-Blanch G, Romero-Mamani ES, Valderas-Martinez P, Salas-Salvado J, et al. The Mediterranean diet pattern and its main components are associated with lower plasma concentrations of tumor necrosis factor receptor 60 in patients at high risk for cardiovascular disease. J Nutr. 2012;142:1019–25.

Sari I, Baltaci Y, Bagci C, Davutoglu V, Erel O, Celik H, et al. Effect of pistachio diet on lipid parameters, endothelial function, inflammation, and oxidative status: a prospective study. Nutrition. 2010;26:399–404.

Aronis KN, Vamvini MT, Chamberland JP, Sweeney LL, Brennan AM, Magkos F, et al. Short-term walnut consumption increases circulating total adiponectin and apolipoprotein A concentrations, but does not affect markers of inflammation or vascular injury in obese humans with the metabolic syndrome: data from a double-blinded, randomized, placebo-controlled study. Metabolism. 2012;61:577–82.

Lopez-Uriarte P, Nogues R, Saez G, Bullo M, Romeu M, Masana L, et al. Effect of nut consumption on oxidative stress and the endothelial function in metabolic syndrome. Clin Nutr. 2010;29:373–80.

Biesalski HK. Polyphenols and inflammation: basic interactions. Curr Opin Clin Nutr Metab Care. 2007;10:724–8.

Chen CY, Blumberg JB. Phytochemical composition of nuts. Asia Pac J Clin Nutr. 2008;17:329–32.

Csiszar A. Anti-inflammatory effects of resveratrol: possible role in prevention of age-related cardiovascular disease. Ann N. Y Acad Sci. 2011;1215:117–22.

Bolling BW, Chen CY, McKay DL, Blumberg JB. Tree nut phytochemicals: composition, antioxidant capacity, bioactivity, impact factors. A systematic review of almonds, Brazils, cashews, hazelnuts, macadamias, pecans, pine nuts, pistachios and walnuts. Nutr Res Rev. 2011;24:244–75.

Owona BA, Abia WA, Moundipa PF. Natural compounds flavonoids as modulators of inflammasomes in chronic diseases. Int Immunopharmacol. 2020;84:106498.

Medeiros-de-Moraes IM, Goncalves-de-Albuquerque CF, Kurz ARM, Oliveira FMJ, de Abreu VHP, Torres RC, et al. Omega-9 oleic acid, the main compound of olive oil, mitigates inflammation during experimental sepsis. Oxid Med Cell Longev. 2018;2018:6053492.

Camell C, Smith CW. Dietary oleic acid increases m2 macrophages in the mesenteric adipose tissue. PLoS One. 2013;8:e75147.
Funding
This research is funded by the National Nutrition and Food Technology Research Institute, Shahid Beheshti University of Medical Science, Tehran, Iran.
Ethics declarations
Conflict of interest
The authors declare that there is no conflict of interest.
Additional information
Publisher's note Springer Nature remains neutral with regard to jurisdictional claims in published maps and institutional affiliations.
About this article
Cite this article
Ghanavati, M., Hosseinabadi, S.M., Parsa, S.A. et al. Effect of a nut-enriched low-calorie diet on body weight and selected markers of inflammation in overweight and obese stable coronary artery disease patients: a randomized controlled study. Eur J Clin Nutr 75, 1099–1108 (2021). https://doi.org/10.1038/s41430-020-00819-9
Received:

Revised:

Accepted:

Published:

Issue Date:

DOI: https://doi.org/10.1038/s41430-020-00819-9