Abstract
Background/objectives
Few studies have evaluated the effects of energy drinks on allergic diseases. The purpose of this investigation was to evaluate the association between energy drinks and various allergic diseases, including asthma, allergic rhinitis, and atopic dermatitis, in a large representative Korean adolescent population.
Subjects/methods
This cross-sectional study used data from the Korea Youth Risk Behavior Web-based Survey collected from 2015 to 2016. A total of 129,809 participants (n = 67,056 for males; n = 62,753 for females) aged 12–18 years were included and were asked about their frequency of consumption of energy drinks such as Hot6®, Redbull®, and Bacchus®. Their history of asthma, allergic rhinitis, and atopic dermatitis throughout life and in the last 12 months were obtained. The association between the frequency of energy-drink consumption and allergic diseases was analyzed using multiple logistic regression with adjustment for various covariates.
Results
Age, sex, physical activity, obesity, region of residence, economic level, paternal and maternal educational level, smoking, and alcohol consumption differed significantly according to the frequency of energy-drink consumption (each P < 0.001). Frequent energy-drink consumption (≥7 times a week) was significantly associated with asthma throughout life (odds ratio [OR] = 1.30, 95% confidence interval (CI) = 1.03–1.64, P = 0.025), asthma within the last 12 months (OR = 1.65, 95% CI = 1.16–2.35, P = 0.006), allergic rhinitis within the last 12 months (OR = 1.21, 95% CI = 1.02–1.44, P = 0.030), and atopic dermatitis within the last 12 months (OR = 1.49, 95% CI = 1.17–1.90, P = 0.001) compared to no energy-drink consumption in the full-adjusted model.
Conclusions
Frequent energy-drink consumption is associated with allergic diseases, including asthma, allergic rhinitis, and atopic dermatitis, in Korean adolescents.
Access options
Subscribe to this journal
Receive 12 print issues and online access
$259.00 per year
only $21.58 per issue
Rent or buy this article
Prices vary by article type
from$1.95
to$39.95
Prices may be subject to local taxes which are calculated during checkout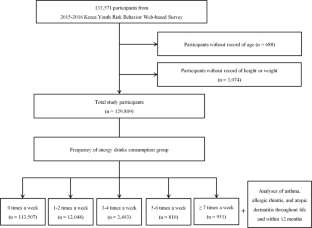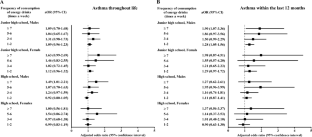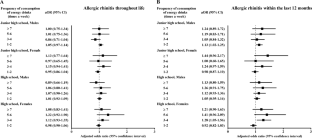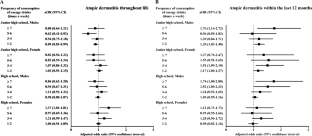 References
Reissig CJ, Strain EC, Griffiths RR. Caffeinated energy drinks—a growing problem. Drug Alcohol Depend. 2009;99:1–10.

Heckman M, Sherry K, De, Mejia EG. Energy drinks: an assessment of their market size, consumer demographics, ingredient profile, functionality, and regulations in the United States. Compr Rev Food Sci Food Saf. 2010;9:303–17.

Research S. Global energy drinks (Soft Drinks) market—outlook to 2022: market size, growth and forecast analytics. 2018. https://www.sandlerresearch.org/global-energy-drinks-soft-drinks-market-outlook-to-2022-market-size-growth-and-forecast-analytics.html. Accessed Mar 2020.

Zucconi S, Volpato C, Adinolfi F, Gandini E, Gentile E, Loi A, et al. Gathering consumption data on specific consumer groups of energy drinks. EFSA Supporting Publ. 2013;10:394E. https://doi.org/10.2903/sp.efsa.2013.EN-394.

Euromonitor International. Energy drinks in South Korea. London: Euromonitor International; 2016.

Kim MS. The subjective well-being of Korean children and its policy implications. Health Welf Policy Forum (Korean). 2015;220:14–26.

Carrillo JA, Benitez J. Clinically significant pharmacokinetic interactions between dietary caffeine and medications. Clin Pharmacokinet. 2000;39:127–53.

Ali F, Rehman H, Babayan Z, Stapleton D, Joshi DD. Energy drinks and their adverse health effects: a systematic review of the current evidence. Postgrad Med. 2015;127:308–22.

Koivusilta L, Kuoppamäki H, Rimpelä A. Energy drink consumption, health complaints and late bedtime among young adolescents. Int J Public Health. 2016;61:299–306.

Nordt SP, Claudius I, Rangan C, Armijo E, Milano P, Yanger S, et al. Reasons for energy drink use and reported adverse effects among adolescent emergency department patients. Pediatr Emerg Care. 2017;33:770–3.

Kauffmann F, Demenais F. Gene-environment interactions in asthma and allergic diseases: challenges and perspectives. J Allergy Clin Immunol. 2012;130:1229–40.

Ellwood P, Asher MI, García-Marcos L, Williams H, Keil U, Robertson C, et al. Do fast foods cause asthma, rhinoconjunctivitis and eczema? Global findings from the International Study of Asthma and Allergies in Childhood (ISAAC) phase three. Thorax. 2013;68:351–60.

Wang CS, Wang J, Zhang X, Zhang L, Zhang HP, Wang L, et al. Is the consumption of fast foods associated with asthma or other allergic diseases? Respirology. 2018;23:901–13.

Al-Zalabani AH, Elahi IN, Katib A, Alamri AG, Halawani A, Alsindi NM, et al. Association between soft drinks consumption and asthma: a systematic review and meta-analysis. BMJ Open. 2019;9:e029046.

Eltahir HM, Alamri G, Alamri A, Aloufi A, Nazmy M, Elbadawy H, et al. The metabolic disorders associated with chronic consumption of soft and energy drinks in rats. Acta Biochimica Polonica. 2020;67:79–84.

Walker GJ, Finlay O, Griffiths H, Sylvester J, Williams M, Bishop NC. Immunoendocrine response to cycling following ingestion of caffeine and carbohydrate. Med Sci Sports Exerc. 2007;39:1554–60.

Zampelas A, Panagiotakos DB, Pitsavos C, Chrysohoou C, Stefanadis C. Associations between coffee consumption and inflammatory markers in healthy persons: the ATTICA study. Am J Clin Nutr. 2004;80:862–7.

Bae J, Joung H, Kim JY, Kwon KN, Kim Y, Park SW. Validity of self-reported height, weight, and body mass index of the Korea Youth Risk Behavior Web-based Survey questionnaire. J Prev Med Public Health. 2010;43:396–402.

Bae J, Joung H, Kim JY, Kwon KN, Kim YT, Park SW. Test-retest reliability of a questionnaire for the Korea Youth Risk Behavior Web-based Survey. J Prev Med Public Health. 2010;43:403–10.

Korea Centers for Disease Control and Prevention. The Korea Youth Risk Behavior Web-based Survey Questionnaire. 2015–2016. http://www.cdc.go.kr/yhs/. Accessed March 2020.

Kim S, Kim J, Lee D, Min H, Chung H, Woo N, et al. Study of establishment of recommended daily allowance for caffeine. Korea Food and Nutrition Foundation (Korean); 2007. p. 18–98.

The International Study of Asthma and Allergies in Children (ISSAC). ISSAC manuals. 2017. http://isaac.auckland.ac.nz/resources/tools.php?menu=tools1#quest. Accessed Mar 2020.

Centers for Disease Control and Prevention. About children & teen BMI. 2018. http://www.cdc.gov/healthyweight/assessing/bmi/childrens_bmi/about_childrens_bmi.html. Accessed Mar 2020.

Moon JS, Lee SY, Nam CM, Choi JM, Choe BK, Seo JW, et al. 2007 Korean National Growth Charts: review of developmental process and an outlook. Korean J Pediatr (Korean). 2008;51:1–25. https://doi.org/10.3345/kjp.2008.51.1.1.

Cho SI, Lee H, Lee DH, Kim KH. Association of frequent intake of fast foods, energy drinks, or convenience food with atopic dermatitis in adolescents. Eur J Nutr. 2020;59:3171–82.

Park S, Akinbami LJ, McGuire LC, Blanck HM. Association of sugar-sweetened beverage intake frequency and asthma among US adults, 2013. Prev Med. 2016;91:58–61.

Berentzen N, Van Stokkom V, Gehring U, Koppelman G, Schaap L, Smit H, et al. Associations of sugar-containing beverages with asthma prevalence in 11-year-old children: the PIAMA birth cohort. Eur J Clin Nutr. 2015;69:303–8.

Welsh EJ, Bara A, Barley E, Cates CJ. Caffeine for asthma. Cochrane Database Syst Rev. 2010;2010:CD001112.

Alfaro TM, Monteiro RA, Cunha RA, Cordeiro CR. Chronic coffee consumption and respiratory disease: a systematic review. Clin Respir J. 2018;12:1283–94.

Committee on Nutrition and the Council on Sports Medicine and Fitness. Sports drinks and energy drinks for children and adolescents: are they appropriate. Pediatrics. 2011;127:1182–9.

Sanchez SE, Martinez C, Oriol RA, Yanez D, Castañeda B, Sanchez E, et al. Sleep quality, sleep patterns and consumption of energy drinks and other caffeinated beverages among Peruvian college students. Health (Irvine Calif). 2013;5:26–35.

Jin MJ, Yoon CH, Ko HJ, Kim HM, Kim AS, Moon HN, et al. The relationship of caffeine intake with depression, anxiety, stress, and sleep in Korean adolescents. Korean J Fam Med. 2016;37:111–6.

Orbeta RL, Overpeck MD, Ramcharran D, Kogan MD, Ledsky R. High caffeine intake in adolescents: associations with difficulty sleeping and feeling tired in the morning. J Adolesc Health. 2006;38:451–3.

Kwon JA, Lee M, Yoo K-B, Park E-C. Does the duration and time of sleep increase the risk of allergic rhinitis? Results of the 6-year nationwide Korea youth risk behavior web-based survey. PloS ONE. 2013;8:e72507.

Meltzer LJ, Faino A, Szefler SJ, Strand M, Gelfand EW, Beebe DW. Experimentally manipulated sleep duration in adolescents with asthma: feasibility and preliminary findings. Pediatr Pulmonol. 2015;50:1360–7.

Cohen S, Booth GH Jr. Gastric acid secretion and lower-esophageal-sphincter pressure in response to coffee and caffeine. N Engl J Med. 1975;293:897–9.

Kim SY, Kim H-R, Min C, Oh DJ, Park B, Choi HG. Bidirectional association between GERD and asthma in children: two longitudinal follow-up studies using a national sample cohort. Pediatr Res. 2020;88:320–4.

Gupta S, Lodha R, Kabra S. Asthma, GERD and obesity: triangle of inflammation. Indian J Pediatr. 2018;85:887–92.

Ruxton C. The impact of caffeine on mood, cognitive function, performance and hydration: a review of benefits and risks. Nutr Bull. 2008;33:15–25.

Zhang Y, Coca A, Casa DJ, Antonio J, Green JM, Bishop PA. Caffeine and diuresis during rest and exercise: a meta-analysis. J Sci Med Sport. 2015;18:569–74.

Kim KB, Kwak YS. Dehydration affects exercise-induced asthma and anaphylaxis. J Exerc Rehabil. 2019;15:647–50.

Wang W, Ji H-L. Epithelial sodium and chloride channels and asthma. Chin Med J. 2015;128:2242–9.

Aeberli I, Gerber PA, Hochuli M, Kohler S, Haile SR, Gouni-Berthold I, et al. Low to moderate sugar-sweetened beverage consumption impairs glucose and lipid metabolism and promotes inflammation in healthy young men: a randomized controlled trial. Am J Clin Nutr. 2011;94:479–85.

DeChristopher LR, Tucker KL. Excess free fructose, high-fructose corn syrup and adult asthma: the Framingham Offspring Cohort. Br J Nutr. 2018;119:1157–67.

Johnson RJ, Nakagawa T, Sanchez-Lozada LG, Shafiu M, Sundaram S, Le M, et al. Sugar, uric acid, and the etiology of diabetes and obesity. Diabetes. 2013;62:3307–15.

Lin L, Chun W, Fuqiang W. An unexpected role for serum uric acid as a biomarker for severity of asthma exacerbation. Asian Pac J Allergy Immunol. 2014;32:93–9.

Kool M, Willart MA, van Nimwegen M, Bergen I, Pouliot P, Virchow JC, et al. An unexpected role for uric acid as an inducer of T helper 2 cell immunity to inhaled antigens and inflammatory mediator of allergic asthma. Immunity. 2011;34:527–40.

Asero R. Sodium benzoate-induced pruritus. Allergy. 2006;61:1240–1.

Pacor M, Di Lorenzo G, Martinelli N, Mansueto P, Rini G, Corrocher R. Monosodium benzoate hypersensitivity in subjects with persistent rhinitis. Allergy. 2004;59:192–7.

Oren E, Gerald L, Stern DA, Martinez FD, Wright AL. Self-reported stressful life events during adolescence and subsequent asthma: a longitudinal study. J Allergy Clin Immunol Pract. 2017;5:427–34.e2.

Rhee CS, Wee JH, Ahn JC, Lee WH, Tan KL, Ahn S, et al. Prevalence, risk factors and comorbidities of allergic rhinitis in South Korea: the Fifth Korea National Health and Nutrition Examination Survey. Am J Rhinol Allergy. 2014;28:e107–14.

Kim SY, Sim S, Choi HG. High stress, lack of sleep, low school performance, and suicide attempts are associated with high energy drink intake in adolescents. PLoS ONE. 2017;12:e0187759.

Nawrot P, Jordan S, Eastwood J, Rotstein J, Hugenholtz A, Feeley M. Effects of caffeine on human health. Food Addit Contam. 2003;20:1–30.

Temple JL, Ziegler AM, Graczyk A, Bendlin A, Sion T, Vattana K. Cardiovascular responses to caffeine by gender and pubertal stage. Pediatrics. 2014;134:e112–9.

Poulos NS, Pasch KE. Energy drink consumption is associated with unhealthy dietary behaviours among college youth. Perspect Public Health. 2015;135:316–21.

Larson N, DeWolfe J, Story M, Neumark-Sztainer D. Adolescent consumption of sports and energy drinks: linkages to higher physical activity, unhealthy beverage patterns, cigarette smoking, and screen media use. J Nutr Educ Behav. 2014;46:181–7.

Williams RD Jr, Odum M, Housman JM. Adolescent energy drink use related to intake of fried and high-sugar foods. Am J Health Behav. 2017;41:454–60.

Korea Centers for Disease Control and Prevention. The fifth Korea National Health and Nutrition Examination Survey (KNHANES V-2) 2011. Seoul: Korea Centers for Disease Control and Prevention; 2012.

Lee KS, Rha YH, Oh IH, Choi YS, Choi SH. Socioeconomic and sociodemographic factors related to allergic diseases in Korean adolescents based on the Seventh Korea Youth Risk Behavior Web-based Survey: a cross-sectional study. BMC Pediatr. 2016;16:19.

Dixon AE, Holguin F, Sood A, Salome CM, Pratley RE, Beuther DA, et al. An official American Thoracic Society Workshop report: obesity and asthma. Proc Am Thorac Soc. 2010;7:325–35.

Visness CM, London SJ, Daniels JL, Kaufman JS, Yeatts KB, Siega-Riz A-M, et al. Association of childhood obesity with atopic and nonatopic asthma: results from the National Health and Nutrition Examination Survey 1999–2006. J Asthma. 2010;47:822–9.
Funding
This work was supported by the National Research Foundation (HGC, Grant number NRF-2018-R1D1A1A02085328) (JHW, grant number NRF-2020-R1G1A1005390); and Hallym University Research Fund (HGC, Grant number HURF 2019-31). The National Research Foundation and Hallym University Research Fund had no role in the design, analysis or writing of this article.
Ethics declarations
Conflict of interest
The authors declare that they have no conflict of interest.
Additional information
Publisher's note Springer Nature remains neutral with regard to jurisdictional claims in published maps and institutional affiliations.
Supplementary information
About this article
Cite this article
Wee, J.H., Min, C., Park, M.W. et al. Energy-drink consumption is associated with asthma, allergic rhinitis, and atopic dermatitis in Korean adolescents. Eur J Clin Nutr 75, 1077–1087 (2021). https://doi.org/10.1038/s41430-020-00812-2
Received:

Revised:

Accepted:

Published:

Issue Date:

DOI: https://doi.org/10.1038/s41430-020-00812-2