Access options
Subscribe to Journal
Get full journal access for 1 year
$499.00
only $41.58 per issue
All prices are NET prices.
VAT will be added later in the checkout.
Rent or Buy article
Get time limited or full article access on ReadCube.
from$8.99
All prices are NET prices.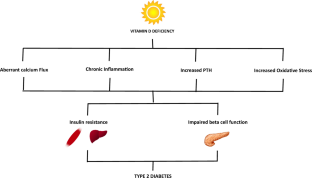 References
1.

Holick M. Phylogenetic and evolutionary aspects of vitamin D from phytoplankton to humans. In: Pang PKT, Schreibman MP, Eds. Verebrate endocrinology: fundamentals and biomedical implications. Orlando, FL, USA: Academic Press, Inc.; 1989.

2.

Holick MF. Vitamin D: evolutionary, physiological and health perspectives. Curr Drug Targets. 2011;12:4–18.

3.

Muscogiuri G, Mitri J, Mathieu C, et al. Mechanisms in endocrinology: vitamin D as a potential contributor in endocrine health and disease. Eur J Endocrinol. 2014;171(3):R101–10.

4.

Sai AJ, Walters RW, Fang X, Gallagher JC. Relationship between vitamin D, parathyroid hormone, and bone health. J Clin Endocrinol Metab. 2011;96:E436–46.

5.

Lips P, van Schoor NM. The effect of vitamin D on bone and osteoporosis. Best Pract Res Clin Endocrinol Metab. 2011;25:585–91.

6.

Holick MF, Tian XQ, Allen M. Evolutionary importance for the membrane enhancement of the production of vitamin D3 in the skin of poikilothermic animals. Proc Natl Acad Sci USA. 1995;92:3124–6.

7.

Tian XQ, Chen TC, Matsuoka LY, Wortsman J, Holick MF. Kinetic and thermodynamic studies of the conversion of previtamin D3 to vitamin D3 in human skin. J Biol Chem. 1993;268:14888–92.

8.

Holick MF. Vitamin D deficiency. N Engl J Med. 2007;357:266–81.

9.

Jones G. Phosphorus metabolism and management in chronic kidney disease: expanding role for vitamin D in chronic kidney disease: importance of blood 25-OH-D levels and extra-renal 1α-hydroxylase in the classical and nonclassical actions of 1α,25-dihydroxyvitamin D3. Semin Dial. 2007;20:316–24.

10.

Holick MF, Binkley NC, Bischoff-Ferrari HA, Gordon CM, Hanley DA, Heaney RP, Murad MH, Weaver CM. Evaluation, treatment, and prevention of vitamin D deficiency: an endocrine society clinical practice guideline. J Clin Endocrinol Metab. 2011;96:1911–30.

11.

Holick MF. Vitamin D and health: evolution, biologic functions, and recommended dietary intakes for vitamin D. Clin Rev Bone Miner Metab. 2009;7:2–19.

12.

Zehnder D, Bland R, Williams MC, McNinch RW, Howie AJ, Stewart PM, Hewison M. Extrarenal expression of 25-hydroxyvitamin D (3)1 alpha-hydroxylase. J Clin Endocrinol Metab. 2001;86:888–94.

13.

Lehmann B, Meurer M. Vitamin D metabolism. Dermatol Ther. 2010;23:2–12.

14.

Ritter CS, Haughey BH, Armbrecht HJ, Brown AJ. Distribution and regulation of the 25-hydroxyvitamin D3 1α-hydroxylase in human parathyroid glands. J Steroid Biochem Mol Biol. 2012;130:73–80.

15.

Cooper C, Javaid K, Westlake S, Harvey N, Dennison E. Developmental origins of osteoporotic fracture: the role of maternal vitamin D insufficiency. J Nutr. 2005;135:2728S–34S.

16.

Holick MF. Resurrection of vitamin D deficiency and rickets. J Clin Invest. 2006;116:2062–72.

17.

Holick MF, Chen TC. Vitamin D deficiency: a worldwide problem with health consequences. Am J Clin Nutr. 2008;87:1080S–6S.

18.

Lam NN, Triliana R, Sawyer RK, Atkins GJ, Morris HA, O'Loughlin PD, et al. Vitamin D receptor overexpression in osteoblasts and osteocytes prevents bone loss during vitamin D-deficiency. J Steroid Biochem Mol Biol. 2014;144(A):128–31.

19.

Shi Y-c, Worton L, Esteban L, Baldock P, Fong C, Eisman JA, et al. Effects of continuous activation of vitamin D and Wnt response pathways on osteoblastic proliferation and differentiation. Bone. 2007;41:87–96.

20.

Muscogiuri G, Altieri B, Annweiler C, et al. Vitamin D and chronic diseases: the current state of the art. Arch Toxicol. 2017;91(1):97–107.

21.

Kearns MD, Alvarez JA, Seidel N, Tangpricha V. Impact of vitamin D on infectious disease. Am J Med Sci. 2015;349(3):245–62.

22.

Antico A, Tampoia M, Tozzoli R, Bizzaro N. Can supplementation with vitamin D reduce the risk or modify the course of autoimmune diseases? A systematic review of the literature. Autoimmun Rev. 2012;12(2):127–36.

23.

Prietl B, Treiber G, Pieber TR, Amrein K. Vitamin D and immune function. Nutrients. 2013;5(7):2502–21.

24.

Muscogiuri G, Annweiler C, Duval G, et al. Vitamin D and cardiovascular disease: from atherosclerosis to myocardial infarction and stroke. Int J Cardiol. 2017;230:577–84.

25.

Muscogiuri G, Nuzzo V, Gatti A, et al. Hypovitaminosis D: a novel risk factor for coronary heart disease in type 2 diabetes? Endocrine. 2016;51(2):268–73.

26.

Muscogiuri G, Sorice GP, Ajjan R, et al. Can vitamin D deficiency cause diabetes and cardiovascular diseases? Present evidence and future perspectives. Nutr Metab Cardiovasc Dis. 2012;22(2):81–7.

27.

Altieri B, Grant WB, Della Casa S, et al. Vitamin D and pancreas: the role of sunshine vitamin in the pathogenesis of diabetes mellitus and pancreatic cancer. Crit Rev Food Sci Nutr. 2017;57(16):3472–88.
Ethics declarations
Conflict of interest
The authors declare that they have no conflict of interest.
About this article
Cite this article
Muscogiuri, G. Vitamin D: past, present and future perspectives in the prevention of chronic diseases. Eur J Clin Nutr 72, 1221–1225 (2018). https://doi.org/10.1038/s41430-018-0261-4
Received:

Accepted:

Published:

Issue Date: