Abstract
Hyperkalemia is a metabolic disturbance of the potassium balance that can cause potentially fatal cardiac arrhythmias. Kidney dysfunction and renin–angiotensin–aldosterone system inhibiting drugs are notorious for their tendency to induce hyperkalemia by decreasing the excretion of potassium. The role of dietary potassium intake in inducing hyperkalemia is less clear. We review and analyze the common presentation, laboratory, and electrocardiogram (ECG) findings and therapeutic options associated with dietary-induced hyperkalemia, and find evidence for hyperkalemia development in non-renal impaired patients. Thirty-five case reports including 44 incidences of oral intake-induced hyperkalemia were assessed, 17 patients did not suffer from kidney dysfunction. Mean age was 49 ± 20 years. Mean potassium concentration was 8.2 ± 1.4 mEq/l, most frequently caused by abundant intake of fruit and vegetables (n = 17) or salt substitutes (n = 12). In patients with normal kidney function, intake of salt substitutes or supplements was the main cause of hyperkalemia. Main symptoms encompassed muscle weakness (29.5%), vomiting (20.4%), and dyspnea (15.9%). When ECGs were performed (n = 30), abnormalities were present in 86.7% of cases. Treatment involved administration of insulin (n = 22), sodium/calcium polystyrene sulfonate (n = 14), and/or calcium gluconate (n = 14). Forty patients fully recovered. Three, non-renal impaired, patients passed away. These results offer insight into the clinical aspects of dietary-induced hyperkalemia and suggest that the common assumption that dietary-induced hyperkalemia is a condition of renal impaired patients might be incorrect.
Your institute does not have access to this article
Access options
Subscribe to Journal
Get full journal access for 1 year
$119.00
only $9.92 per issue
All prices are NET prices.
VAT will be added later in the checkout.
Tax calculation will be finalised during checkout.
Buy article
Get time limited or full article access on ReadCube.
$32.00
All prices are NET prices.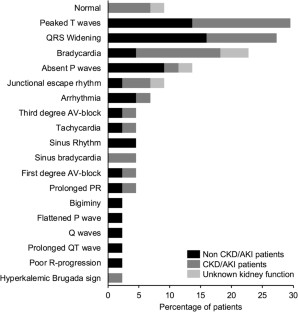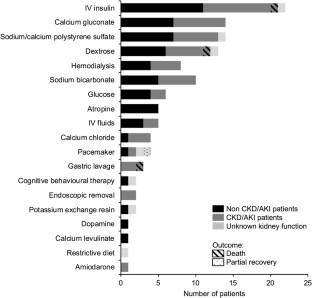 References
Soar J, Perkins GD, Abbas G, Alfonzo A, Barelli A, Bierens JJ, et al. European Resuscitation Council Guidelines for Resuscitation 2010 Section 8. Cardiac arrest in special circumstances: electrolyte abnormalities, poisoning, drowning, accidental hypothermia, hyperthermia, asthma, anaphylaxis, cardiac surgery, trauma, pregnancy, electrocution. Resuscitation. 2010;81:1400–33.

Viera AJ, Wouk N. Potassium disorders: hypokalemia and hyperkalemia. Am Fam Physician. 2015;92:487–95.

Bailey RL, Parker EA, Rhodes DG, Goldman JD, Clemens JC, Moshfegh AJ, et al. Estimating sodium and potassium intakes and their ratio in the American diet: data from the 2011-2012 NHANES. J Nutr. 2016;146:745–50.

Cogswell ME, Zhang Z, Carriquiry AL, Gunn JP, Kuklina EV, Saydah SH, et al. Sodium and potassium intakes among US adults: NHANES 2003-2008. Am J Clin Nutr. 2012;96:647–57.

Rabelink TJ, Koomans HA, Hené RJ, Dorhout Mees EJ. Early and late adjustment to potassium loading in humans. Kidney Int. 1990;38:942–7.

Javed RA, Marrero K, Rafique M, Khan MU, Jamarai D, Viera J. Life-threatening hyperkalemia developing following excessive ingestion of orange juice in a patient with baseline normal renal function. Singap Med J. 2007;48:e293.

Larsson SC, Orsini N, Wolk A. Dietary potassium intake and risk of stroke: a dose-response meta-analysis of prospective studies. Stroke. 2011;42:2746–50.

Nagasaki A, Takamine W, Takasu N. Severe hyperkalemia associated with "alternative" nutritional cancer therapy. Clin Nutr. 2005;24:864–5.

Hunt CD, Meacham SL. Aluminum, boron, calcium, copper, iron, magnesium, manganese, molybdenum, phosphorus, potassium, sodium, and zinc. J Am Diet Assoc. 2001;101:1058–60.

Haroun M. Risk factors for chronic kidney disease: a prospective study of 23,534 men and women in Washington County, Maryland. J Am Soc Nephrol. 2003;14:2934–41.

Mount DB. Clinical manifestations of hyperkalemia in adults. In: UpToDate. UpToDate, Waltham, MA. 2015. http://www.uptodate.com/contents/clinical-manifestations-of-hyperkalemia-in-adults. Accessed 20 May 2017.

Pfortmüller C, Leichtle A, Fiedler G, Exadaktylos A, Lindner G. Hyperkalemia in the emergency department: etiology, symptoms and outcome of a life threatening electrolyte disorder. Eur J Int Med. 2013;24:e59–e60.

Montague BT, Ouellette JR, Buller GK. Retrospective review of the frequency of ECG changes in hyperkalemia. Clin J Am Soc Nephrol. 2008;3:324–30.

Diercks DB, Shumaik GM, Harrigan RA, Brady WJ, Chan TC. Electrocardiographic manifestations: electrolyte abnormalities. J Emerg Med. 2004;27:153–60.

Lehnhardt A, Kemper MJ. Pathogenesis, diagnosis and management of hyperkalemia. Pediatr Nephrol. 2011;26:377–84.

Einhorn L, Zhan M, Hsu V, Walker L, Moen M, Seliger S, et al. The frequency of hyperkalemia and its significance in chronic kidney disease. Arch Intern Med. 2009;169:1156.

Illingworth RN, Proudfoot AT. Rapid poisoning with slow-release potassium. Br Med J. 1980;281:485–6.

Restuccio A. Fatal hyperkalemia from a salt substitute. Am J Emerg Med. 1992;10:171–3.

Wetli CV, Davis JH. Fatal hyperkalemia from accidental overdose of potassium chloride. J Am Med Ass. 1978;240:1339.

Allon M. Treatment and prevention of hyperkalemia in end-stage renal disease. J Am Soc Nephrol. 1995;6:1134–42.

Berk DR, Conti PM, Sommer BR. Orange juice-induced hyperkalemia in schizophrenia. Int J Psychiatry Med. 2004;34:79–82.

Bosse GM, Platt MA, Anderson SD, Presley MW. Acute oral potassium overdose: the role of hemodialysis. J Med Toxicol. 2011;7:52–56.

Briggs AL, Deal LL. Endoscopic removal of pharmacobezoar in case of intentional potassium overdose. J Emerg Med. 2014;46:351–4.

Browning JJ, Channer KS. Hyperkalemic cardiac arrhythmia caused by potassium citrate mixture. Br Med J. 1981;282:1366.

Corbacioglu SK, Gueler S, Yagmur D, Ulker V, Kilicaslan I. Severe Hyperkalemia Resulting from Excessive Consumption of Apricot and Banana: A Report of Two Cases and Review of the Literature. Tr J Emerg Med. 2012;12:41–44.

Epperly TD. Hyperkalemia from baby food consumption: a case report. J Am Geriatr Soc. 1987;35:876–9.

Hoyt RE. Hyperkalemia due to salt substitutes. J Am Med Ass. 1986;256:1726.

John SK, Rangan Y, Block CA, Koff MD. Life-threatening hyperkalemia from nutritional supplements: uncommon or undiagnosed? Am J Emerg Med. 2011;29:1237.e1–1237.e2.

Kallen RJ, Reiger CHL, Cohen HS, Sutter MA, Ong RT. Near-fatal hyperkalemia due to ingestion of salt substitutes by an infant. J Am Med Ass. 1976;235:2125–6.

Lisenbee N, Desai B, Falgiani M. Self-inflicted hyperkalemia: a case report. Case Rep Emerg Med. 2012;2012:458049.

Pavletic AJ. Hyperkalemia induced by excessive consumption of dried fruits - manifestation of an undiagnosed eating disorder? Psychosomatics. 2011;52:494–5.

Rusyniak DE, Durant PJ, Mowry JB, Johnson JA, Sanftleben JA, Smith JM. Life-threatening hyperkalemia from cream of tartar ingestion. J Med Toxicol. 2013;9:79–81.

Schim van der Loeff HJ, Strack van Schijndel RJM, Thijs LG. Cardiac arrest due to oral potassium intake. Intensive Care Med. 1988;15:58–59.

Belknap MK. Hyperkalemia from blackstrap molasses. Wis Med J. 1991;90:581.

Berrebi R, Orban JC, Levraut J, Grimaud D, Ichai C. Secondary hyperkalemic acute flaccid tetraplegia. Ann Fr Anest Rean. 2009;28:381–3.

Cheng CJ, Chiu JS, Huang WH, Lin SH. Acute hyperkalemic paralysis in uremic patient. J Nephrol. 2005;18:630–3.

Doorenbos CJ, Verweij CG. Danger of salt substitutes that contain potassium in patients with renal failure. Br Med J. 2003;326:35–36.

Fan K, Leehey DJ. Orange juice-induced hyperkalemia in a diabetic patient with chronic renal failure. Diab Care. 1996;19:1457–8.

Gelfand MC, Zarate A, Knepshield JH. Geophagia: a cause of life-threatening Hyperkalemia in patients with chronic renal failure. J Am Med Ass. 1975;234:738–40.

Hakimian J, Goldbarg SH, Park CH, Kerwin TC. Death by coconut. Circ Arrhythm Electrophysiol. 2014;7:180–1.

Jones SJ. Severe hyperkalemia related to excessive tomato juice ingestion in presence of neobladder. J Urol. 2004;171:353.

Lamid S, Klingbeil GHyperkalemia. Hypercalcemia, hyperuricemia after a diet of soup. Am J Clin Nutr. 1978;31:2135.

Leo CLB, Leong WS, Tieh CS, Liew CK. Durian induced hyperkalemia. Med J Malays. 2011;66:66–67.

Mueller BA, Scott MK, Sowinski KM, Prag KA. Noni juice (Morinda Citrifolia): hidden potential for hyperkalemia? Am J Kid Dis. 2000;35:310–2.

Ray KK, Dorman S, Watson RDS. Severe hyperkalaemia due to concomitant use of salt substitutes and ACE inhibitors in hypertension: a potentially life-threatening interaction. J Hum Hypertens. 1999;13:717–20.

Tazoe M, Narita M, Sakuta R, Nagai T, Narita N. Hyperkalemia and hyperdopaminemia induced by an obsessive eating of banana in an anorexia nervosa adolescent. J Brain Dev. 2007;29:369–72.

Wang Y. Hyperkalemia in a patient with chronic renal failure caused by improper diets. Shanxi Nurs J. 1996;10:271.

Williams E, Fulop M. A puzzling case of hyperkalemia. Lancet. 2011;357:1176.

Yap V, Patel A, Thomsen J. Hyperkalemia with cardiac arrhythmia. J Am Med Ass. 1976;236:2775–6.

Yip T, Wan W, Hui PC, Lui SL, Lo WK. Severe hyperkalemia in a peritoneal dialysis patient after consumption of salt substitute. Per Dial Int. 2012;32:206–8.
Acknowledgements
We thank Hiroki Takanari (Tokushima University Hospital, Tokushima, Japan) for his help in translating the Japanese case report.
Author contributions
Conceived, collected, analyzed data, wrote the manuscript: RPMtD, MTV, JH, VYHvW, and MAGvdH.
Ethics declarations
Conflict of interest
The authors declare that they have no conflict of interest.
Additional information
These authors contributed equally: Rogier PM te Dorsthorst, Jytte Hendrikse, Mats T Vervoorn, Valerie YH van Weperen.
About this article
Cite this article
te Dorsthorst, R.P.M., Hendrikse, J., Vervoorn, M.T. et al. Review of case reports on hyperkalemia induced by dietary intake: not restricted to chronic kidney disease patients. Eur J Clin Nutr 73, 38–45 (2019). https://doi.org/10.1038/s41430-018-0154-6
Received:

Revised:

Accepted:

Published:

Issue Date:

DOI: https://doi.org/10.1038/s41430-018-0154-6
Further reading
Die Innere Medizin (2022)