Abstract
Background/objectives
Breakfast consumption has been shown to impact children's growth and development, but the influence of breakfast skipping on total daily intakes is not known. The purpose of this study was to examine the differences in nutritional intakes and food consumption between children who consume breakfast versus those who do not.
Subjects/methods
Dietary recall data were assessed for 2-year-old to 5-year-old children (n = 3443) and 6-year-old to 12-year-old children (n = 5147) from NHANES 2005–2012. Dietary intakes and diet quality scores were compared across breakfast consumption and skipping with means and 95% confidence interval.
Results
Children who skipped breakfast on the day of intake had significantly lower energy intakes for the total day (5911 vs 6723 kJ) but had greater energy intakes from non-breakfast meals and snacks. Children who skipped breakfast consumed nearly 40% of the day's intake (2332 kJ of 5911 kJ) from snacks, with 586 kJ from snacks as added sugars. Breakfast skipping was also related to significantly lower intakes of fiber, folate, iron, and calcium intakes. Overall diet quality scores, as well as fruit, whole fruit, whole grains, dairy and empty calorie subscale scores were significantly better in children who ate breakfast.
Conclusions
Children who skipped breakfast presented poorer overall diet quality and lower total intakes commonly obtained at breakfast. To address missed opportunities, nutrition professionals should encourage children's consumption of a nutritious breakfast to support overall diet quality.
Relevant articles
Open Access articles citing this article.
Marieke De Craemer

,

Vicky Van Stappen

…

Greet Cardon

BMC Endocrine Disorders Open Access 24 August 2022

José Francisco López-Gil

,

Pedro Antonio Sánchez-Miguel

…

Antonio García-Hermoso

European Journal of Pediatrics Open Access 01 June 2022

BMC Public Health Open Access 02 September 2019
Access options
Subscribe to this journal
Receive 12 print issues and online access
$259.00 per year
only $21.58 per issue
Rent or buy this article
Prices vary by article type
from$1.95
to$39.95
Prices may be subject to local taxes which are calculated during checkout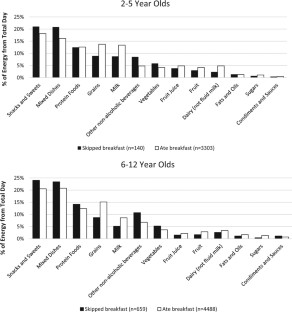 References
Kerver JM, Yang EJ, Obayashi S, Bianchi L, Song WO. Meal and snack patterns are associated with dietary intake of energy and nutrients in US adults. J Am Diet Assoc. 2006;106:46–53.

Rampersaud GC, Pereira MA, Girard BL, Adams J, Metzl JD. Breakfast habits, nutritional status, body weight, and academic performance in children and adolescents. J Am Diet Assoc. 2005;105:743–60.

Mhurchu CN, Blakely T, Jiang Y, Eyles HC, Rodgers A. Effects of price discounts and tailored nutrition education on supermarket purchases: a randomized controlled trial. Am J Clin Nutr. 2010;91:736–47.

Edwards JU, Magel R. Use of the youth risk behavior survey to monitor trends for nutrition and physical activity in a Midwest city school district. J Sch Health. 2007;77:351–8.

Edwards JU, Mauch L, Winkelman MR. Relationship of nutrition and physical activity behaviors and fitness measures to academic performance for sixth graders in a midwest city school district. J Sch Health. 2011;81:65–73.

Raaijmakers LG, Bessems KM, Kremers SP, van Assema P. Breakfast consumption among children and adolescents in the Netherland. Eur J Public Health. 2009;20:318–24.

Zullig KJ, Pun S, Patton JM, Ubbes VA. Reliability of the 2005 middle school youth risk behavior survey. J Adolesc Health. 2006;39:856–60.

Alexander KE, Ventura EE, Spruijt‐Metz D, Weigensberg MJ, Goran MI, Davis JN. Association of breakfast skipping with visceral fat and insulin indices in overweight Latino youth. Obesity. 2009;17:1528–33.

Mahoney CR, Taylor HA, Kanarek RB, Samuel P. Effect of breakfast composition on cognitive processes in elementary school children. Physiol Behav. 2005;85:635–45.

Florence MD, Asbridge M, Veugelers PJ. Diet quality and academic performance. J Sch Health. 2008;78:209–15.

Hayes D, Spano M, Donnelly JE, Hillman CH, Kleinman R. Proceedings of the Learning Connection Summit: Nutrition, Physical Activity, and Student Achievement. Nutr Today. 2014;49:18–25.

Veldhuis L, Vogel I, Renders CM, van Rossem L, Oenema A, HiraSing RA, et al. Behavioral risk factors for overweight in early childhood; the 'Be active, eat right' study. Int J Behav Nutr Phys Act. 2012;9:1.

Kleinman RE, Hall S, Green H, Korzec-Ramirez D, Patton K, Pagano ME, et al. Diet, breakfast, and academic performance in children. Ann Nutr Metab. 2002;46:24–30.

Liu J, Hwang WT, Dickerman B, Compher C. Regular breakfast consumption is associated with increased IQ in kindergarten children. Early Hum Dev. 2013;89:257–62.

Pereira MA, Erickson E, McKee P, Schrankler K, Raatz SK, Lytle LA, et al. Breakfast frequency and quality may affect glycemia and appetite in adults and children. J Nutr. 2011;141:163–8.

Duncan JS, Schofield G, Duncan EK, Rush EC. Risk factors for excess body fatness in New Zealand children. Asia Pacific. J Clin Nutr. 2008;17:138–47.

Grydeland M, Bergh IH, Bjelland M, Lien N, Andersen LF, Ommundsen Y, et al. Correlates of weight status among Norwegian 11-year-olds: The HEIA study. BMC Public Health. 2012;12:1.

Mullan B, Wong C, Kothe E, O'Moore K, Pickles K, Sainsbury K. An examination of the demographic predictors of adolescent breakfast consumption, content, and context. BMC Public Health. 2014;14:1.

O'Dea JA, Wagstaff S. Increased breakfast frequency and nutritional quality among school children after a national breakfast promotion campaign in Australia between 2000 and 2006. Health Educ Res. 2011;26:1086–96.

Centers for Disease Control and Prevention. National Health and Nutrition Examination Survey, MEC in-person dietary interviewers procedure manual. http://www.cdc.gov/nchs/data/nhanes/nhanes_09_10/DietaryInterviewers_Inperson.pdf. Published 2009. Accessed November 30, 2012.

Conway JM, Ingwersen LA, Moshfegh AJ. Accuracy of dietary recall using the USDA five-step multiple-pass method in men: an observational validation study. J Am Diet Assoc. 2004;104:595–603.

Ahluwalia N, Dwyer J, Terry A, Moshfegh A, Johnson C. Update on NHANES dietary data: focus on collection, release, analytical considerations, and uses to inform public policy. Adv Nutr. 2016;7:121–34.

Ahuja JK, Montville JB, Omolewa-Tomobi G, Heendeniya KY, Martin CL, Steinfeldt LC, et al. USDA food and nutrient database for dietary studies, 5.0. US Department of Agriculture, Agricultural Research Service, Food Surveys Research Group. 2012.

Bowman SA, Clemens JC, Thoerig RC, Friday JE, Shimizu M, Moshfegh AJ. Food Patterns Equivalents Database 2009–10: Methodology and User Guide [Online]. Beltsville: Food Surveys Research Group, Beltsville Human Nutrition Research Center. Agricultural Research Service, US Department of Agriculture. 2013.

U.S. Department of Agriculture, Agricultural Research Service. 2013. What We Eat in America Food Categories 2009-2010. Available at: www.ars.usda.gov/nea/bhnrc/fsrg.

Guenther PM, Casavale KO, Reedy J, Kirkpatrick SI, Hiza HA, Kuczynski KJ, Kahle LL, Krebs-Smith SM. Update of the Healthy Eating Index: HEI-2010. J Acad Nutr Diet. 2013;113:569–80.

Koegel KL, Kuczynski KJ. Center for Nutrition Policy and Promotion addendum to the MyPyramid Equivalents Database 2.0 [Online]. USDA. 2011.

Pedersen TP, Holstein BE, Flachs EM, Rasmussen M. Meal frequencies in early adolescence predict meal frequencies in late adolescence and early adulthood. BMC Public Health. 2013;13:1.

Pereira MA, Erickson E, McKee P, Schrankler K, Raatz SK, Lytle LA, Pellegrini AD. Breakfast frequency and quality may affect glycemia and appetite in adults and children. J Nutr. 2011;141:163–8.

Jennings A, Cassidy A, Sluijs EM, Griffin SJ, Welch AA. Associations between eating frequency, adiposity, diet, and activity in 9–10 year old healthy‐weight and centrally obese children. Obesity. 2012;20:1462–8.

Ramsay SA, Eskelsen AK, Branen LJ, ShultzJA,Plumb J. Nutrient intake and consumption of fruit and vegetables in young children. ICAN: Infant Child Adolescent Nutr. 2014;6:332–344.
Funding
Funding
The Project was funded by an unrestricted grant from Abbott Nutrition.
Ethics declarations
Conflict of interest
The authors declare that they have no conflict of interest.
Additional information
In memory of Samantha A. Ramsay
About this article
Cite this article
Ramsay, S.A., Bloch, T.D., Marriage, B. et al. Skipping breakfast is associated with lower diet quality in young US children. Eur J Clin Nutr 72, 548–556 (2018). https://doi.org/10.1038/s41430-018-0084-3
Received:

Revised:

Accepted:

Published:

Issue Date:

DOI: https://doi.org/10.1038/s41430-018-0084-3