Abstract
The aim of this survey was to examine differences in personality profiles among 198 vegan (n = 64; 32.3%), vegetarian (n = 78; 39.4%) and omnivore (n = 55; 27.8%) medical professionals. Outcomes were motives for the nutritional approaches, WHO QoL-BREF, Big Five SOEP Inventory, Portraits Value Questionnaire, and Empathizing Scale. Regarding motives for particular diets, omnivores rated influence of guardians (p < 0.001), physical health (p = 0.017) and food taste (p = 0.001) as more and love of animals as less important (p < 0.001) than vegans and vegetarians. Vegans and vegetarians consumed less coffee (p = 0.007) and alcohol compared to omnivores (p = 0.017). The duration of adhering to a specific diet was significantly shorter in vegans. Data suggest that vegan medical professionals do not differ from vegetarians or omnivores regarding empathy, values or personality traits. Differences to a related internet sample were observed for a number of outcomes. Given the small sample size and potential selection bias through the specific subpopulation attending a plant-based nutrition conference, further studies are warranted to confirm these results. Particularly, potential reciprocities between empathy and individual nutritional choices deserve further attention.
Access options
Subscribe to Journal
Get full journal access for 1 year
$499.00
only $41.58 per issue
All prices are NET prices.
VAT will be added later in the checkout.
Rent or Buy article
Get time limited or full article access on ReadCube.
from$8.99
All prices are NET prices.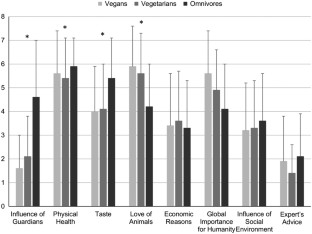 References
1.

Ruby MB. Vegetarianism. A blossoming field of study. Appetite. 2012;58(1):141–50

2.

Hoffman SR, Stallings SF, Bessinger RC, Brooks GT. Differences between health and ethical vegetarians. Strength of conviction, nutrition knowledge, dietary restriction, and duration of adherence. Appetite. 2013;65:139–44.

3.

Bobić J, Cvijetić S, Barić IC, Satalić Z. Personality traits, motivation and bone health in vegetarians. Coll Antropol. 2012;36(3):795–800.

4.

Melina V, Craig W, Levin S. Position of the academy of nutrition and dietetics: vegetarian diets. J Acad Nutr Diet. 2016;116(12):1970–80.

5.

Kessler CS, Holler S, Joy S, Dhruva A, Michalsen A, Dobos G, et al. Personality profiles, values and empathy: differences between Lacto-Ovo-vegetarians and vegans. Forsch Komplementmed. 2016;23(2):95–102.

6.

Rothgerber H. Can you have your meat and eat it too? Conscientious omnivores, vegetarians, and adherence to diet. Appetite. 2015;84:196–203.

7.

Neumann M, Scheffer C, Tauschel D, Lutz G, Wirtz M, Edelhäuser F. Physician empathy: definition, outcome-relevance and its measurement in patient care and medical education. GMS Z Med Ausbild. 2012;29(1):Doc11; https://doi.org/10.3205/zma000781.

8.

Ahrweiler F, Neumann M, Goldblatt H, Hahn EG, Scheffer C. Determinants of physician empathy during medical education: hypothetical conclusions from an exploratory qualitative survey of practicing physicians. BMC Med Educ. 2014;14:122.

9.

Modi A, Fascelli M, Daitch Z, Hojat M. Evaluating the relationship between participation in student-run free clinics and changes in empathy in medical students. J Prim Care Commun Health. 2017;8(3):122–126.

10.

McFarland S. Authoritarianism, social dominance, and other roots of generalized prejudice. Polit Psychol. 2010;31(3):453–477.
Acknowledgements
Thanks to the German Vegetarian Society (VEBU) for its very valuable support, particularly to Sebastian Joy and Hendrik Schulte. Most importantly, however, we would like to express our thanks to all participants, regardless of their nutritional choices.
Author contributions
CK and HC conceptualized the research project, developed the methodology and the trial protocol. CK and SH conducted the investigation process and coordinated the research activity planning and execution. CK and HC wrote the initial draft of the manuscript. SH, VM and AM took part in editing the manuscript. HC performed the formal statistical analysis and performed data entry and data curation.
Funding
The study was funded by institutional funds from first author's institute only. No other funding sources were used.
Transparency declaration
CK and HC had full access to all of the data in the study and take full responsibility for theintegrity of the data and the accuracy of the data analysis. They affirm that the manuscript isan honest, accurate, and transparent account of the study being reported; that no importantaspects of the study have been omitted; and that any discrepancies from the study as planned have been explained.
Data sharing
Statistical code: Available from Dr. Holger Cramer (e-mail: h.cramer@kliniken-essenmitte.de). Data set: Certain portions of the analytic data set are available to approved individuals through written agreements with the authors.
Ethics declarations
Conflict of interest
The authors declare that they have no competing interests.
Ethical approval
The study was approved by the Charité Medical University ethics committee before beginning its implementation (approval number: EA1/282/13).
Informed consent
Participants were informed about the study and voluntariness of participation and gave consent to participate.
Registration and ethics
The study was registered at clinicaltrials.gov under NCT02055677 (initial release 10/31/2013).
Electronic supplementary material
About this article
Cite this article
Kessler, C.S., Michalsen, A., Holler, S. et al. How empathic are vegan medical professionals compared to others? Leads from a paper–pencil-survey. Eur J Clin Nutr 72, 780–784 (2018). https://doi.org/10.1038/s41430-017-0007-8
Received:

Revised:

Accepted:

Published:

Issue Date:
Further reading
Eleanor Trethewey

&

Mervyn Jackson

Appetite (2019)

Rayna Sariyska

,

Sebastian Markett

,

Bernd Lachmann

&

Christian Montag

Frontiers in Psychology (2019)

Appetite (2018)