Abstract
A novel Gram-stain-positive, aerobic, non-flagellated and rod-shaped actinobacterium, designated 10F1B-8-1T, was isolated from mangrove soil sampled at Futian Mangrove Nature Reserve, China. The isolate was able to grow at 10–40 °C (optimum 30–32 °C), at pH 6–8 (optimum 7) and in the presence of 0–6% (w/v) NaCl (optimum 0%). Strain 10F1B-8-1T shared the highest 16S rRNA gene sequence similarity to Protaetiibacter larvae NBRC 113051T (98.3%), followed by Protaetiibacter intestinalis NBRC 113050T (98.2%). Phylogenetic trees based on 16S rRNA gene sequences and the core proteomes exhibited that strain 10F1B-8-1T formed a new phyletic line in the clade of genus Protaetiibacter, indicating that this strain belonged to the genus Protaetiibacter. Strain 10F1B-8-1T showed low average nucleotide identity (<84%) and digital DNA-DNA hybridization values (<27%) with closely related taxa, suggesting that strain 10F1B-8-1T was a hitherto undescribed species of the genus Protaetiibacter. Strain 10F1B-8-1T contained D-2,4-diaminobutyric acid as the diagnostic diamino acid, and the peptidoglycan type was characterized as type B2β. The major fatty acids were iso-C16:0, anteiso-C15:0 and anteiso-C17:0. The major menaquinones were MK-13 and MK-14. The polar lipid profile included diphosphatidylglycerol, phosphatidylglycerol, an unidentified glycolipid and five unidentified lipids. Notably, the ethyl acetate extracts of strain 10F1B-8-1T showed effective antibacterial activity against Bacillus subtilis CPCC 100029 and Escherichia coli △tolC. According to the polyphasic data, strain 10F1B-8-1T should be classified as a novel species of the genus Protaetiibacter, for which the name Protaetiibacter mangrovi sp. nov. is proposed, with the type strain 10F1B-8-1T (=JCM 33142T = CPCC 205428T).
Access options
Subscribe to this journal
Receive 12 print issues and online access
$259.00 per year
only $21.58 per issue
Rent or buy this article
Get just this article for as long as you need it
$39.95
Prices may be subject to local taxes which are calculated during checkout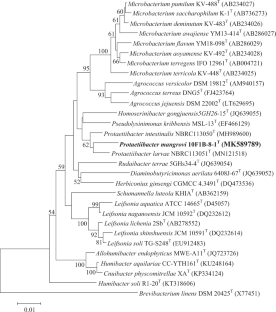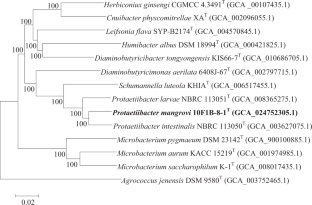 References
Heo J, Cho H, Kim MA, Hamada M, Tamura T, Saitou S, Kim SJ, Kwon SW. Protaetiibacter intestinalis gen. nov., of the family Microbacteriaceae, isolated from gut of Protaetia brevitarsis seulensis, reclassification of Lysinimonas kribbensis Jang et al. 2013 as Pseudolysinimonas kribbensis gen. nov., comb. nov. and emended description of the genus Lysinimonas Jang et al. 2013. Int J Syst Evol Microbiol. 2019;69:2101–7.

Lee SA, Heo J, Kim MA, Tamura T, Saitou S, Kwon SW, Weon HY. Protaetiibacter larvae sp. nov. and Agromyces intestinalis sp. nov., isolated from the gut of larvae of Protaetia brevitarsis seulensis, reclassification of Lysinimonas yzui as Pseudolysinimonas yzui comb. nov. and emended description of the genus Pseudolysinimonas. Int J Syst Evol Microbiol. 2021;71. https://doi.org/10.1099/ijsem.0.004669.

Li F, Lu Q, Liao S, Tuo L, Liu S, Yang Q, Shen A, Sun C. Schumannella soli sp. nov., a novel actinomycete isolated from mangrove soil by in situ cultivation. Antonie Van Leeuwenhoek. 2021;114:1657–67.

Walsh PS, Metzger DA, Higuchi R. Chelex 100 as a medium for simple extraction of DNA for PCR-based typing from forensic material. Biotechniques. 1991;10:506–13.

Li FN, Tuo L, Pan Z, Guo M, Lee SM, Chen L, Hu L, Sun CH. Aureimonas endophytica sp. nov., a novel endophytic bacterium isolated from Kandelia candel. Int J Syst Evol Microbiol. 2017;67:2934–20.

Thompson JD, Higgins DG, Gibson TJ. CLUSTAL W: improving the sensitivity of progressive multiple sequence alignment through sequence weighting, position-specific gap penalties and weight matrix choice. Nucleic Acids Res. 1994;22:4673–80.

Kumar S, Stecher G, Tamura K. MEGA7: Molecular Evolutionar Genetics Analysis version 7.0 for bigger datasets. Mol Biol Evol. 2016;33:1870–4.

Saitou N, Nei M. The neighbor-joining method: a new method for reconstructing phylogenetic trees. Mol Biol Evol. 1987;4:406–25.

Felsenstein J. Evolutionary trees from DNA sequences: a maximum likelihood approach. J Mol Evol. 1981;17:368–76.

Fitch WM. Toward defining the course of evolution: minimum change for a specific tree topology. Syst Biol. 1971;20:406–16.

Felsenstein J. Confidence limits on phylogenies: an approach using the bootstrap. Evolution. 1985;39:783–91.

Del Sal G, Manfioletti G, Schneider C. The CTAB-DNA precipitation method: a common mini-scale preparation of template DNA from phagemids, phages or plasmids suitable for sequencing. Biotechniques. 1989;7:514–20.

Tatusova T, DiCuccio M, Badretdin A, Chetvernin V, Nawrocki EP, Zaslavsky L, Lomsadze A, Pruitt KD, Borodovsky M, Ostell J. NCBI prokaryotic genome annotation pipeline. Nucleic Acids Res. 2016;44:6614–24.

Wattam AR, Davis JJ, Assaf R, Boisvert S, Brettin T, Bun C, Conrad N, Dietrich EM, Disz T, Gabbard JL, Gerdes S, Henry CS, Kenyon RW, Machi D, Mao C, Nordberg EK, Olsen GJ, Murphy-Olson DE, Olson R, Overbeek R, Parrello B, Pusch GD, Shukla M, Vonstein V, Warren A, Xia F, Yoo H, Stevens RL. Improvements to PATRIC, the all-bacterial Bioinformatics Database and Analysis Resource Center. Nucleic Acids Res. 2017;45:D535–42.

Galperin MY, Makarova KS, Wolf YI, Koonin EV. Expanded microbial genome coverage and improved protein family annotation in the COG database. Nucleic Acids Res. 2015;43:D261–9.

Kanehisa M, Goto S. KEGG: Kyoto encyclopedia of genes and genomes. Nucleic Acids Res. 2000;28:27–30.

Lombard V, Golaconda Ramulu H, Drula E, Coutinho PM, Henrissat B. The carbohydrate-active enzymes database (CAZy) in 2013. Nucleic Acids Res. 2014;42:D490–5.

Xu L, Dong Z, Fang L, Luo Y, Wei Z, Guo H, Zhang G, Gu YQ, Coleman-Derr D, Xia Q, Wang Y. OrthoVenn2: a web server for whole-genome comparison and annotation of orthologous clusters across multiple species. Nucleic Acids Res. 2019;47:W52–8.

Blin K, Shaw S, Kloosterman AM, Charlop-Powers Z, van Wezel GP, Medema MH, Weber T. antiSMASH 6.0: improving cluster detection and comparison capabilities. Nucleic Acids Res. 2021;49:W29–35.

Meier-Kolthoff JP, Auch AF, Klenk HP, Göker M. Genome sequence-based species delimitation with confidence intervals and improved distance functions. BMC Bioinform. 2013;14:60.

Avram O, Rapoport D, Portugez S, Pupko T. M1CR0B1AL1Z3R-a user-friendly web server for the analysis of large-scale microbial genomics data. Nucleic Acids Res. 2019;47:W88–92.

Magee CM, Rodeheaver G, Edgerton MT, Edlich RF. A more reliable gram staining technic for diagnosis of surgical infections. Am J Surg. 1975;130:341–6.

Xu P, Li WJ, Tang SK, Zhang YQ, Chen GZ, Chen HH, Xu LH, Jiang CL. Naxibacter alkalitolerans gen. nov., sp. nov., a novel member of the family 'Oxalobacteraceae' isolated from China. Int J Syst Evol Microbiol. 2005;55:1149–53.

Li FN, Lu Q, Liao SL, Jin T, Li W, Sun CH. Labedella phragmitis sp. nov. and Labedella populi sp. nov., two endophytic actinobacteria isolated from plants in the Taklamakan Desert and emended description of the genus Labedella. Syst Appl Microbiol. 2019;42:126004.

Sasser M. Identification of bacteria by gas chromatography of cellular fatty acids. MIDI Technical Note 101. Newark, DE: MIDI Inc;1990.

Tuo L, Yan XR, Li FN, Bao YX, Shi HC, Li HY, Sun CH. Brachybacterium endophyticum sp. nov., a novel endophytic actinobacterium isolated from bark of Scutellaria baicalensis Georgi. Int J Syst Evol Microbiol. 2018;68:3563–8.

Collins MD, Pirouz T, Goodfellow M, Minnikin DE. Distribution of menaquinones in actinomycetes and corynebacteria. J Gen Microbiol. 1977;100:221–30.

Guo L, Tuo L, Habden X, Zhang Y, Liu J, Jiang Z, Liu S, Dilbar T, Sun C. Allosalinactinospora lopnorensis gen. nov., sp. nov., a new member of the family Nocardiopsaceae isolated from soil. Int J Syst Evol Microbiol. 2015;65:206–13.

Paderog MJV, Suarez AFL, Sabido EM, Low ZJ, Saludes JP, Dalisay DS. Anthracycline shunt metabolites from philippine marine sediment-derived Streptomyces destroy cell membrane integrity of multidrug-resistant Staphylococcus aureus. Front Microbiol. 2020;11:743.

Richter M, Rosselló-Móra R. Shifting the genomic gold standard for the prokaryotic species definition. Proc Natl Acad Sci USA. 2009;106:19126–31.

Ciufo S, Kannan S, Sharma S, Badretdin A, Clark K, Turner S, Brover S, Schoch CL, Kimchi A, DiCuccio M. Using average nucleotide identity to improve taxonomic assignments in prokaryotic genomes at the NCBI. Int J Syst Evol Microbiol. 2018;68:2386–92.
Acknowledgements
This research was supported by the Beijing Natural Science Foundation (BJNSF, Grant number 5224038 and 7222256), the National Natural Science Foundation of China (NSFC, Grant number 32200001), and Foreign Youth Talent Program QN2022194001L funded by Ministry of Science and Technology of the People's Republic of China.
Ethics declarations
Conflict of interest
The authors declare that they have no competing interests.
Additional information
Publisher's note Springer Nature remains neutral with regard to jurisdictional claims in published maps and institutional affiliations.
Supplementary information
Rights and permissions
Springer Nature or its licensor (e.g. a society or other partner) holds exclusive rights to this article under a publishing agreement with the author(s) or other rightsholder(s); author self-archiving of the accepted manuscript version of this article is solely governed by the terms of such publishing agreement and applicable law.
About this article
Cite this article
Li, F., Hao, X., Lu, Q. et al. Protaetiibacter mangrovi sp. nov., isolated from mangrove soil. J Antibiot (2023). https://doi.org/10.1038/s41429-023-00627-w
Received:

Revised:

Accepted:

Published:

DOI: https://doi.org/10.1038/s41429-023-00627-w