Abstract
Isatropolones/isarubrolones are Streptomyces secondary metabolites featuring a tropolone ring in the pentacyclic scaffolds of these molecules. They are able to induce complete autophagy in human HepG2 cells. Here, methyl isatropolones (1–2) and isarubrolone (3) are identified from Streptomyces CPCC 204095. They all have a methyl tropolone ring in the pentacyclic scaffold of these molecules resolved by MS and NMR spectra. Biological activity assay indicates that isatropolone Cm (1) and isarubrolone Cm (3) induce incomplete autophagy in human HepG2 cells.
Access options
Subscribe to Journal
Get full journal access for 1 year
$119.00
only $9.92 per issue
All prices are NET prices.
VAT will be added later in the checkout.
Tax calculation will be finalised during checkout.
Buy article
Get time limited or full article access on ReadCube.
$32.00
All prices are NET prices.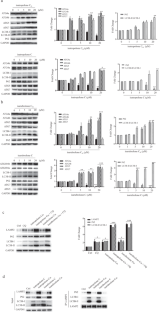 References
Cai X, et al. Structure and biosynthesis of isatropolones, bioactive amine-scavenging fluorescent natural products from Streptomyces Gö66. Angew Chem-Int Ed. 2017;56:4945–9.

Li L, et al. Isarubrolones containing a pyridooxazinium unit from Streptomyces as autophagy activators. J Nat Prod. 2019;82:1149–54.

Palleroni NJ, et al. Production of a novel red pigment, rubrolone, by Streptomyces echinoruber sp. nov. I. Taxonomy, fermentation and partial purification. J Antibiot (Tokyo). 1978;31:1218–25.

Schüep W, Blount JF, Williams TH, Stempel A. Production of a novel red pigment, rubrolone, by Streptomyces echinoruber sp. nov. II. Chem Struct Elucidation J Antibiot (Tokyo). 1978;31:1226–32.

Yan Y, et al. Tropolone ring construction in the biosynthesis of rubrolone B, a cationic tropolone alkaloid from endophytic Streptomyces. Org Lett. 2016;18:1254–57.

Guo H, et al. Isolation, biosynthesis and chemical modifications of rubterolones A-F: rare tropolone alkaloids from Actinomadura sp. 5-2. Chem - Eur J. 2017;23:9338–45.

Yan Y, et al. Non-enzymatic pyridine ring formation in the biosynthesis of the rubrolone tropolone alkaloids. Nat Commun. 2016;7:13083.

Moureu S, et al. Rubrolone production by Dactylosporangium vinaceum: biosynthesis, modulation and possible biological function. Appl Microbiol Biotechnol. 2021;105:5541–51.

Sarwar A, et al. Biological control of potato common scab with rare isatropolone C compound produced by plant growth promoting Streptomyces A1RT. Front Microbiol. 2018;9:1126.

Zhang M, Li L, Wu L, Zhang J. Isarubrolone C promotes autophagic degradation of virus proteins via activating ATG10S in HepG2 Cells. J Nat Prod. 2022;85:1018–28.

Yang YP, et al. Application and interpretation of current autophagy inhibitors and activators. Acta Pharm Sin. 2013;34:625–35.

Franz L, Kazmaier U, Truman AW, Koehnke J. Bottromycins - biosynthesis, synthesis and activity. Nat Prod Rep. 2021;38:1659–83.

Yang Y, et al. Investigate natural product indolmycin and the synthetically improved analogue toward antimycobacterial agents. ACS Chem Biol. 2022;17:39–53.

Kimura S, Noda T, Yoshimori T. Dissection of the autophagosome maturation process by a novel reporter protein, tandem fluorescent-tagged LC3. Autophagy. 2007;3:452–60.

Guo H, Roman D, Beemelmanns C. Tropolone natural products. Nat Prod Rep. 2019;36:1137–55.

Deng S, et al. Targeting autophagy using natural compounds for cancer prevention and therapy. Cancer 2019;125:1228–46.

Guo H, et al. Expanding the rubterolone family: intrinsic reactivity and directed diversification of PKS-derived pyrans. Chem - Eur J. 2018;24:11319–24.

Cevatemre B, et al. A promising natural product, pristimerin, results in cytotoxicity against breast cancer stem cells in vitro and xenografts in vivo through apoptosis and an incomplete autopaghy in breast cancer. Pharm Res. 2018;129:500–14.

Zhong L, Hu J, Shu W, Gao B, Xiong S. Epigallocatechin-3-gallate opposes HBV-induced incomplete autophagy by enhancing lysosomal acidification, which is unfavorable for HBV replication. Cell Death Dis. 2015;6:e1770.

Okamoto K, Sakimoto Y, Imai K, Senoo H, Shidoji Y. Induction of an incomplete autophagic response by cancer-preventive geranylgeranoic acid (GGA) in a human hepatoma-derived cell line. Biochem J. 2011;440:63–71.

Hong X, et al. TNF-α suppresses autophagic flux in acinar cells in IgG4-related sialadenitis. J Dent Res. 2019;98:1386–96.
Acknowledgements
NMR and MS analyses were performed at Nuclear Magnetic Resonance Center of Institute of Materia Medica, CAMS & PUMC. This work was supported by National Key Research and Development Program of China (2018YFA0902000), National Natural Science Foundation of China (81903530), CAMS Innovation Fund for Medical Sciences (CIFMS, 2021-I2M-1-055) and National Microbial Resources center (No. NMRC-2021-3).
Ethics declarations
Conflict of interest
The authors declare no competing interests.
Additional information
Publisher's note Springer Nature remains neutral with regard to jurisdictional claims in published maps and institutional affiliations.
Supplementary information
Supplementary material Isatropolone/isarubrolone C<sub>m</sub> from <i>Streptomyces</i> with biological activity of inducing incomplete autophagy
About this article
Cite this article
Li, L., Zhang, M., Li, S. et al. Isatropolone/isarubrolone Cm from Streptomyces with biological activity of inducing incomplete autophagy. J Antibiot 75, 702–708 (2022). https://doi.org/10.1038/s41429-022-00575-x
Received:

Revised:

Accepted:

Published:

Issue Date:

DOI: https://doi.org/10.1038/s41429-022-00575-x