Abstract
Synthesis of various destruxin analogs was accomplished using Shiina's macrolactonization as a key reaction. Combinatorial synthesis of cyclization precursors using solid-phase peptide synthesis and macrolactonization in solution were successful. In the synthesis of destruxin E and its analogs, the hydroxyacid–proline (HA1–Pro2) dipeptide with an acetonide-protected diol moiety was synthesized in an asymmetric manner, and the protected diol was converted to an epoxide after macrocyclization. Destruxin E was synthesized on a gram scale using solution-phase synthesis. The structure-activity relationships of destruxins were elucidated through biological evaluation of synthetic destruxins A, B, and E and their analogs for morphological changes in osteoclast-like multinucleated cells.
Access options
Subscribe to this journal
Receive 12 print issues and online access
$259.00 per year
only $21.58 per issue
Rent or buy this article
Prices vary by article type
from$1.95
to$39.95
Prices may be subject to local taxes which are calculated during checkout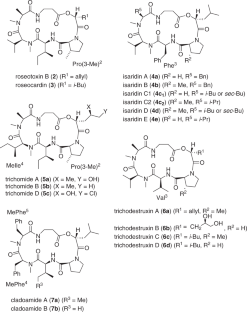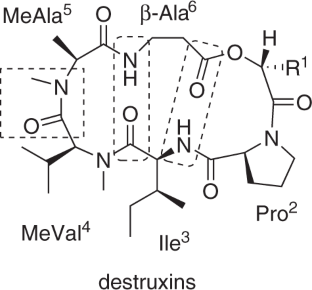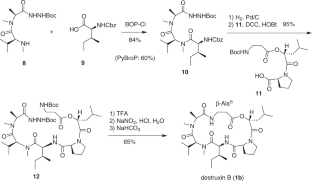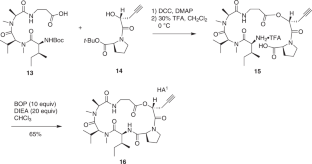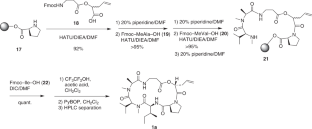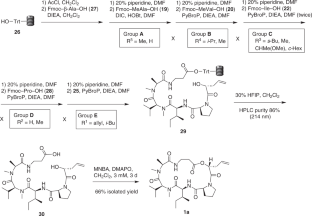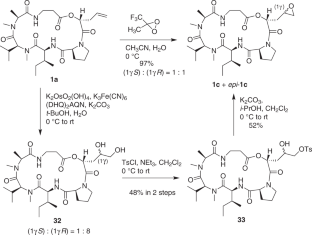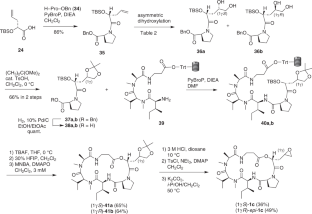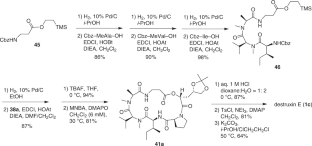 References
Kodaira Y. Studies on new toxic substances to insects, destruxin A and B, produced by Oospora destructor: Part I. Isolation and purification of destruxin A and B. Agr. Biol Chem. 1962;26:36–42.

Liu BL, Tzeng YM. Development and applications of destruxins: A review. Biotechnol Adv. 2012;30:1242–54.

Fan J, Chen X, Hu Q. Effects of destruxin A on hemocytes morphology of Bombyx mori. J Integr Agric. 2013;12:1042–8.

Zhang H, Hu W, Xiao M, Ou S, Hu Q. Destruxin A induces and binds HSPs in Bombyx mori Bm12 Cells. J Agric Food Chem. 2017;65:9849–53.

Shakeel M, Xu X, Xu J, Li S, Yu J, Zhou X, Xu X, Hu Q, Yu X, Jin F. Genome-wide identification of destruxin A-responsive immunity-related MicroRNAs in Diamondback Moth, Plutella xylostella. Front Immunol. 2018;9:185.

Wang J, Weng Q, Hu Q. Effects of destruxin A on silkworm's immunophilins. Toxins. 2019;11:349.

Huynh TT, Rao YK, Lee WH, Chen HA, Le TDQ, Tzeng DTW, Wanga LS, Wui ATH, Lin YF, Tzeng YM, Yeh CT. Destruxin B inhibits hepatocellular carcinoma cell growth through modulation of the Wnt/β-catenin signaling pathway and epithelial–mesenchymal transition. Toxicol Vitr. 2014;28:552–61.

Kao MC, Rao YK, Hsieh YW, Weng H, Lu TL, Tzeng DTW, Liu JJ, Lin CJ, Lai CH, Tzeng WM. A cyclohexadepsipeptide from entomogenous fungi Metarhizium anisopliae inhibits the Helicobacter pylori induced pathogenesis through attenuation of vacuolating cytotoxin-A activity. Process Biochem. 2015;50:134–9.

Wu SY, Huang YJ, Tzeng YM, Huang CYF, Hsiao M, Wu ATH, Huang TH. Destruxin B suppresses drug-resistant colon tumorigenesis and stemness is associated with the upregulation of miR-214 and downregulation of mTOR/β-Catenin Pathway. Cancers. 2018;10:353.

Gupta S, Roberts DW, Renwick JAA. Insecticidal Cyclodepsipeptides from Metarhizium anisopliae. J Chem Soc Perkin Trans I. 1989;2347–57.

Dornetshuber-Fleiss R, Heffeter P, Mohr T, Hazemi P, Kryeziu K, Seger C, Berger W, Lemmens-Gruber R. Destruxins: Fungal-derived cyclohexadepsipeptides with multifaceted anticancer and antiangiogenic activities. Biochem Pharm. 2013;86:361–77.

Vázquez MJ, Albarrán MI, Espada A, Rivera-Sagredo A, Díez E, Hueso-Rodríguez JA. A new destruxin as inhibitors of vacuolar-type H+-ATPase of Saccharomyces cerevisiae. Chem Biodivers. 2005;2:123–8.

Nakagawa H, Takami M, Udagawa N, Sawae Y, Suda K, Sasaki T, Takahashi N, Wachi M, Nagai K, Woo JT. Destruxins, cyclodepsipeptides, block the formation of actin rings and prominent clear zones and ruffled borders in osteoclasts. Bone. 2003;33:443–55.

Woo JT, Yonezawa T, Cha BY, Teruya T, Nagai K. Pharmacological topics of bone metabolism: antiresorptive microbial compounds that inhibit osteoclast differentiation, function, and survival. J Pharm Sci. 2008;106:547–54.

Engstrom GW, DeLance JV, Richard JL, Baetz AL. Purification and characterization of roseotoxin B, a toxic cyclodepsipeptide from Trichothecium roseum. J Agr Food Chem. 1975;23:224–53.

Tsunoo A, Kamijo M, Taketomo N. Roseocardin, a novel cardiotonic cyclodepsipeptide from Trichothecium roseum TT103. J Antibiot. 1997;50:1007–13.

Ravindra G, Ranganayaki RS, Raghothama S, Srinivasan MC, Gilardi RD, Karle IL, Balaram P. Two novel hexadepsipeptides with several modified amino acid residues isolated from the fungus isaria. Chem Divers. 2004;1:489–504.

Sabareesh V, Ranganayaki RS, Raghothama S, Bopanna MP, Balaram H, Srinivasan MC, Balaram P. Identification and characterization of a library of microheterogeneous cyclohexadepsipeptides from the fungus Isaria. J Nat Prod. 2007;70:715–29.

Zhang AH, Wang XQ, Han WB, Sun Y, Guo Y, Wu Q, Ge HM, Song YC, Ng SW, Xu Q, Tan RX. Discovery of a new class of immunosuppressants from Trichothecium roseum co-inspired by cross-Kingdom similarity in innate immunity and pharmacophore motif. Chem Asian J. 2013;8:3101–7.

Zhou Ym-M, Ju GL, Xiao L, Zhang XF, Du FY. Cyclodepsipeptides and sesquiterpenes from marine-derived fungus Trichothecium roseum and their biological functions. Mar Drugs. 2018;16:519.

Liu Z, Sun Y, Tang M, Sun Q, Wang A, Hao Y, Wang Y, Pei Y. Trichodestruxins A−D: cytotoxic cyclodepsipeptides from the endophytic fungus Trichoderma harzianum. J Nat Prod. 2020;83:3635–41.

Zhou T, Katsuragawa M, Xing T, Fukaya K, Okuda T, Tokiwa T, Tashiro E, Imoto M, Oku N, Urabe D, Igarashi Y. Cyclopeptides from the Mushroom Pathogen Fungus Cladobotryum varium. J Nat Prod. 2021;84:327–38.

Gupta S, Roberts DW, Renwick JAA. Molecular conformation of Destruxin A. Tetrahedron Lett. 1989;30:4189–92.

Steiner JR, Barnes CL. Crystal and molecular structure of Destruxin B. Int J Pept Protein Res. 1988;31:212–9.

Springer JP, Cole RJ, Dorner JW, Cox RH, Richard JL, Barnes CL, van der Helm D. Structure and conformation of roseotoxin B. J Am Chem Soc. 1984;106:2388–92.

Snyder JP. Probable unimportance of intramolecular hydrogen bonds for determining the secondary structure of cyclic hexapeptides. roseotoxin B. J Am Chem Soc. 1984;106:2393–2400.

Du FU, Mándi A, Li XM, Meng LH, Kurtán T, Wang BG. Experimental and computational analysis of the solution and solid-state conformations of hexadepsipeptides from Beauveria feline. Chin J Chem. 2022;40:378–84.

Ward DE, Lazny R, Pedras MSC. Synthesis of the host-selective phytotoxin destruxin B. Avoiding diketopiperazine formation from an N-Methyl amino acid dipeptide by use of the Boc-Hydrazide Derivative. Tetrahedron Lett. 1997;38:339–42.

Ward DE, Gai Y, Lazny R, Pedras MSC. Probing host-selective phytotoxicity: synthesis of destruxin B and several natural analogues. J Org Chem. 2001;66:7832–40.

Calmes M, Cavelier-Frontin F, Jacquier R, Mercadier JN, Sabil S, Verducci J, Qciot JM, Vey A. Synthesis and biological activity of a destruxin analogue: D-Lac-6 destruxin E. Int J Pept Protein Res. 1993;41:528–35.

Cavelier F, Jacquier R, Mercadier JL, Verducci J, Traris M, Vey A. Destruxin analogs: variations of the α-hydroxy acid side chain. J Pept Res. 1997;50:94–101.

Ast T, Barron E, Kinne L, Schmidt M, Germeroth L, Simmons K, Wenschuh H. Synthesis and biological evaluation of destruxin A and related analogs. J Pept Res. 2001;58:1–11.

Yoshida M, Takeuchi H, Ishida Y, Yashiroda Y, Yoshida M, Takagi M, Shin-ya K, Doi T. Synthesis, structure determination, and biological evaluation of destruxin E. Org Lett. 2010;12:3792–5.

Yoshida M, Sato H, Ishida Y, Nakagawa H, Doi T. Scalable solution-phase synthesis of the biologically active cyclodepsipeptide destruxin E, a potent negative regulator of osteoclast morphology. J Org Chem. 2014;79:296–306.

Parsons JG, Sheehan CS, Wu Z, James IW, Bray AM. A review of solid-phase organic synthesis on SynPhaseTM lanterns and SynPhaseTM crowns. Methods Enzymol. 2003;369:39–74.

Shiina I. An adventurous synthetic journey with MNBA from its reaction chemistry to the total synthesis of natural products. Bull Chem Soc Jpn. 2014;87:196–233.

Sato H, Yoshida M, Murase H, Nakagawa H, Doi T. Combinatorial solid-phase synthesis and biological evaluation of cyclodepsipeptide destruxin B as a negative regulator for osteoclast morphology. ACS Comb Sci. 2016;18:590–5.

Yoshida M, Ishida Y, Adachi K, Murase H, Nakagawa H, Doi T. Solid-phase combinatorial synthesis and biological evaluation of destruxin E analogues. Chem Eur J. 2015;21:18417–30.

Yoshida M, Adachi K, Murase H, Nakagawa H, Doi T. Parallel synthesis and biological evaluation of destruxin E analogs modified with a side chain in the α-Hydroxycarboxylic Acid Moiety. Eur J Org Chem. 2019;2019:1669–76.

Yoshida M. Combinatorial synthesis and biological evaluation of destruxins. Chem Pharm Bull. 2019;67:1023–9.
Funding
This work was supported in part by JSPS KAKENHI (Grant No. JP26282208, JP23710264 and JP15H05837), the Platform Project for Supporting Drug Discovery and Life Science Research from AMED (Grand No. JP21am0101095 and JP21am0101100), the Naito Foundation, and Takeda Science Foundation.
Ethics declarations
Conflict of interest
The authors declare no competing interests.
Additional information
Publisher's note Springer Nature remains neutral with regard to jurisdictional claims in published maps and institutional affiliations.
About this article
Cite this article
Yoshida, M., Nakagawa, H. & Doi, T. Synthetic studies for destruxins and biological evaluation for osteoclast-like multinucleated cells: a review. J Antibiot 75, 420–431 (2022). https://doi.org/10.1038/s41429-022-00540-8
Received:

Revised:

Accepted:

Published:

Issue Date:

DOI: https://doi.org/10.1038/s41429-022-00540-8