Abstract
Addressed herein a series of thioureas starting from various amines and nicotinic acid have been synthesized. Notably, thiourea based scaffolds are increasingly employed in medicinal chemistry owing to their tunable physicochemical and structural properties. As well-known from the literature, the pyridine ring contains various biological properties, especially antimicrobial activity. Therefore, we performed the synthesis of biologically important thiourea derivatives containing pyridine ring. The structures of the synthesized compounds were characterized by 1H NMR, 13C NMR and FT-IR. In the second part of the study, newly synthesized compounds were also tested in order to demonstrate their antimicrobial and antioxidant properties. All compounds exhibited moderate activity against all tested bacteria known to cause nosocomial infections, which have acquired resistance to many antibiotics, as compared to the standard antibiotics and also strong antioxidant properties. Therefore, they can be evaluated as possible seeds of agents in the treatment of bacterial infections and many health problems related to aging such as cancer, and neurodegenerative diseases.
Access options
Subscribe to this journal
Receive 12 print issues and online access
$259.00 per year
only $21.58 per issue
Rent or buy this article
Prices vary by article type
from$1.95
to$39.95
Prices may be subject to local taxes which are calculated during checkout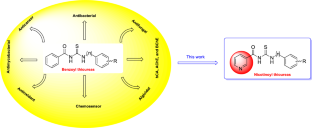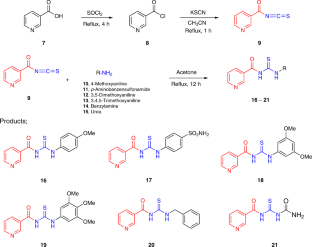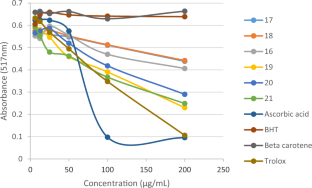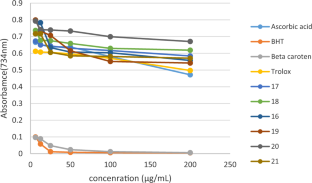 References
She WY, Ye WK, Shi YS, Zhou L, Zhang ZH, Chen F, et al. A novel chresdihydrochalcone from Streptomyces chrestomyceticus exhibiting activity against Gram-positive bacteria. J Antibiot. 2020;73:429–34.

Lu K, Chen Q, Xu XF, Meng Y, Lin J, Chen WM. Novel benzyl phenyl sulfide derivatives as antibacterial agents against methicillin-resistant Staphylococcus aureus. J Antibiot. 2020;73:82–90.

Ventola CL. The antibiotic resistance crisis: part 1: causes and threats. P T. 2015;40:277–83.

Schroeder DC. Thioureas. Chem Rev. 1955;55:181–228.

Murru S, Singh CB, Kavala V, Patel BK. A convenient one-pot synthesis of thiazol-2-imines: application in the construction of pifithrin analogues. Tetrahedron. 2008;64:1931–42.

Saeed A, Flörke U, Erben MF. A review on the chemistry, coordination, structure and biological properties of 1-(acyl/aroyl)−3-(substituted) thioureas. J Sulphur Chem. 2014;35:318–55.

Duan LP, Xue J, Xu LL, Zhang HB. Synthesis 1-Acyl-3-(2 '-aminophenyl) thioureas as anti-intestinal nematode prodrugs. Molecules. 2010;15:6941–7.

Cunha S, Macedo FC, Costa GAN, Rodrigues MT, Verde RBV, de Souza Neta LC, et al. Antimicrobial activity and structural study of disubstituted thiourea derivatives. Monatsh Chem. 2007;138:511–6.

Wyles DL, Kaihara KA, Schooley RT. Synergy of a hepatitis C virus (HCV) NS4A antagonist in combination with HCV protease and polymerase inhibitors. Antimicrob Agents Chemother. 2008;52:1862–4.

Sambanthamoorthy K, Sloup RE, Parashar V, Smith JM, Kim EE, Semmelhack MF, et al. Identification of small molecules that antagonize diguanylate cyclase enzymes to inhibit biofilm formation. Antimicrob Agents Chemother. 2012;56:5202–11.

Brito TO, Souza AX, Mota YCC, Morais VSS, de Souza LT, de Fatima A, et al. Design, syntheses and evaluation of benzoylthioureas as urease inhibitors of agricultural interest. RSC Adv. 2015;5:44507–15.

Lim HD, Istyastono EP, van de Stolpe A, Romeo G, Gobbi S, Schepers M, et al. Clobenpropit analogs as dual activity ligands for the histamine H-3 and H-4 receptors: Synthesis, pharmacological evaluation, and cross-target QSAR studies. Bioorg Med Chem. 2009;17:3987–94.

You JC, Han GH, Lee CH, Song DN, Chung KH. Thiourea or urea derivative as anti-AIDS agent and method for the preparation thereof. PCT Int Appl. 2011;156:74037.

Murray M, Sefton RM-M,R, Butler AM. Comparative induction of CYP3A and CYP2B in rat liver by 3-benzoylpyridine and metyrapone. Chem Biol Interact. 1998;113:161–73.

Baumann M, Baxendale IR. An overview of the synthetic routes to the best selling drugs containing 6-membered heterocycles. Beilstein J Org Chem. 2013;9:2265–319.

Martin JM, Goldstein LJ. Profile of abemaciclib and its potential in the treatment of breast cancer. Onco Targets Ther. 2018;11:5253–9.

Perez-Mayoral E, Calvino-Casilda V, Godino M, Lopez-Peinado AJ, Martin-Aranda RM. Porous catalytic systems in the synthesis of bioactive heterocycles and related compounds. In: Brahmachari G, editor. Green synthetic approaches for biologically relevant heterocycles. Waltham, MA: Elsevier; 2015. p. 377-408.

El-Sayed HA, Moustafa AH, El-Torky AE, Abd, El-Salam EA. A series of pyridines and pyridine based sulfa-drugs as antimicrobial agents: design, synthesis and antimicrobial activity. Russ J Gen Chem. 2017;87:2401–8.

Aksu K, Ozgeris B, Taslimi P, Naderi A, Gulcin I, Goksu S. Antioxidant activity, acetylcholinesterase, and carbonic anhydrase inhibitory properties of novel ureas derived from phenethylamines. Arch Pharm. 2016;349:944–54.

Hanif M, Saleem M, Hussain MT, Rama NH, Zaib S, Aslam MAM, et al. Synthesis, urease inhibition, antioxidant and antibacterial studies of some 4-amino-5-aryl-3H-1,2,4-triazole-3-thiones and their 3,6-Disubstituted 1,2,4-Triazolo 3,4-b 1,3,4-thiadiazole derivatives. J Braz Chem Soc. 2012;23:854–60.

Villani FJ, King MS. 3-Benzoylpyridine. Org Synth. 1957;37:6–8.

Parkanyi C, Yuan HL, Cho NS, Jaw HJ, Woodhouse TE, Aung TL. Synthesis of 2-(2',3'-dihydroxypropyl)-5-amino-2H-1,2,4-thiadiazol-3-one and 3-(2',3'-dihydroxypropyl)-5-amino-3H-1,3,4-thiadiazol-2-one. J Heterocycl Chem. 1989;26:1331–4.

Brindley JC, Caldwell JM, Meakins GD, Plackett SJ, Price SJ. N'-substituted N-acyl- and N-imidoylthioureas. Preparation and conversion of N',N'-disubstituted compounds into 2-(N,N-disubstituted-amino)-5-thiazolyl ketones. J Chem Soc, Perkin Trans. 1. 1987;1:1153–8.

Xue S-J, Guan Q. Synthesis and herbicidal activity of 2H-1,2,4-thiadiazolo[2,3-a]pyrimidine derivatives. (V). Chin J Org Chem. 2002;22:646–50.

Rauf MK, Talib A, Badshah A, Zaib S, Shoaib K, Shahid M, et al. Solution-phase microwave assisted parallel synthesis of N,N '-disubstituted thioureas derived from benzoic acid: Biological evaluation and molecular docking studies. Eur J Med Chem. 2013;70:487–96.

Obradovic D, Nikolic S, Milenkovic I, Milenkovic M, Jovanovic P, Savic V, et al. Synthesis, characterization, antimicrobial and cytotoxic activity of novel half-sandwich Ru(II) arene complexes with benzoylthiourea derivatives. J Inorg Biochem. 2020;210:111164–72.

Altaf AA, Shahzad A, Gul Z, Rasool N, Badshah A, Lal B, et al. A Review on the medicinal importance of pyridine derivatives. J Drug Des Med Chem. 2015;1:1–11.

Zhong Z, Xing R, Liu S, Wang L, Cai S, Li P. Synthesis of acyl thiourea derivatives of chitosan and their antimicrobial activities in vitro. Carbohydr Res. 2008;343:566–70.

Ngaini Z, Arif MAM, Hussain H, Mei ES, Tang D, Kamaluddin DHA. Synthesis and antibacterial activity of acetoxybenzoyl thioureas with aryl and amino acid side chains. Phosphorus Sulfur Silicon Relat Elem. 2012;187:1–7.

Aydin F, Tunoglu N, Aykac D. Synthesis of two novel aroyl thioureas and their use as anion binding receptors. Asian J Chem. 2013;25:2455–8.

Eweis M, Elkholy SS, Elsabee MZ. Antifungal efficacy of chitosan and its thiourea derivatives upon the growth of some sugar-beet pathogens. Int J Biol Macromol. 2006;38:1–8.

Fleet GH. Composition and structure of yeast cell walls. Curr Top Med Mycol. 1985;1:24–56.

Venkatesh P, Pandeya SN. Synthesis and anti-oxidant activity of some n-(anilinocarbonothioyl) benzamide and heterocyclic based thiourea derivatives. Int J Chemtech Res. 2009;1:733–41.

Mahdavi M, Shirazi MS, Taherkhani R, Saeedi M, Alipour E, Moghadam FH, et al. Synthesis, biological evaluation and docking study of 3-aroyl-1-(4-sulfamoylphenyl)thiourea derivatives as 15-lipoxygenase inhibitors. Eur J Med Chem. 2014;82:308–13.

Mojarrab M, Soltani R, Aliabadi A. Pyridine based chalcones: synthesis and evaluation of antioxidant activity of 1-phenyl-3-(pyridin-2-yl)prop-2-en-1-one derivatives. Jundishapur J Nat Pharm Prod. 2013;8:125–30.

CLSI. Performance standards for antimicrobial susceptibility testing. Wayne, PA: Clinical and Laboratory Standards Institute; 2017.

Gormez A, Bozari S, Yanmis D, Gulluce M, Sahin F, Agar G. Chemical composition and antibacterial activity of essential oils of two species of lamiaceae against phytopathogenic bacteria. Pol J Microbiol. 2015;64:121–7.

Zgoda JR, Porter JR. A convenient microdilution method for screening natural products against bacteria and fungi. Pharm Biol. 2001;39:221–5.

Gülçin İ. Antioxidant and antiradical activities of l-carnitine. Life Sci. 2006;78:803–11.

Gülçin İ. Antioxidant activity of caffeic acid (3,4-dihydroxycinnamic acid). Toxicology. 2006;217:213–20.

Re R, Pellegrini N, Proteggente A, Pannala A, Yang M, Rice-Evans C. Antioxidant activity applying an improved ABTS radical cation decolorization assay. Free Radic Biol Med. 1999;26:1231–7.

Gülçin İ, Mshvildadze V, Gepdiremen A, Elias R. Screening of antiradical and antioxidant activity of monodesmosides and crude extract from Leontice smirnowii tuber. Phytomedicine. 2006;13:343–51.

Tohma HS, Gulçin I. Antioxidant and radical scavenging activity of aerial parts and roots of turkish liquorice (glycyrrhiza glabra L.). Int J Food Prop. 2010;13:657–71.
Acknowledgements
No words are sufficient to express my gratitude to Prof. Dr. Arzu Görmez for her mentorship.
Ethics declarations
Conflict of interest
The author declares no conflict of interest.
Additional information
Publisher's note Springer Nature remains neutral with regard to jurisdictional claims in published maps and institutional affiliations.
Supplementary information
About this article
Cite this article
Özgeriş, B. Design, synthesis, characterization, and biological evaluation of nicotinoyl thioureas as antimicrobial and antioxidant agents. J Antibiot 74, 233–243 (2021). https://doi.org/10.1038/s41429-020-00399-7
Received:

Revised:

Accepted:

Published:

Issue Date:

DOI: https://doi.org/10.1038/s41429-020-00399-7
This article is cited by
G. F. Makhaeva
A. N. Proshin
S. O. Bachurin

Russian Chemical Bulletin (2022)