Abstract
Boron-incorporated p−π* conjugated polymers have been studied as optoelectronic and sensor materials. p−π* conjugated polymers usually possess bulky aryl groups that kinetically stabilize the boron centers, and the bulky aryl substituents prohibit intermolecular interactions in the solid state, thereby limiting the application of the polymers to semiconductors. In this work, we synthesized a thiophene-fused thiaborin unit as a new building block. The thiaborin monomer was facilely converted into distannyl and diiodo derivatives via lithiation. The p−π* conjugated polymers with the thiaborin unit exhibited well-defined redshifts in the absorption spectra measured in the film state relative to those measured in solution, suggesting strong intermolecular interactions.
Access options
Subscribe to Journal
Get full journal access for 1 year
$119.00
only $9.92 per issue
All prices are NET prices.
VAT will be added later in the checkout.
Tax calculation will be finalised during checkout.
Buy article
Get time limited or full article access on ReadCube.
$32.00
All prices are NET prices.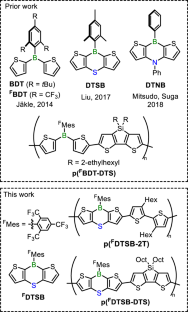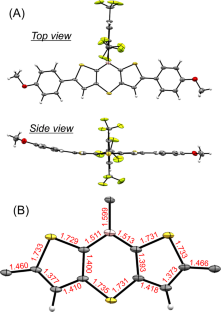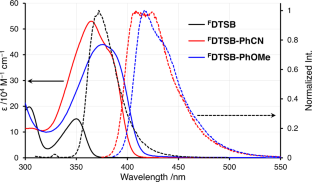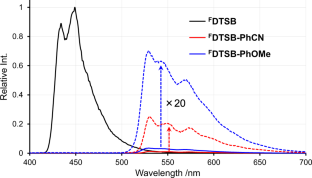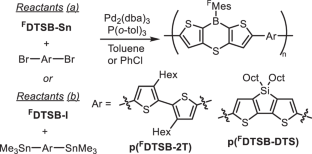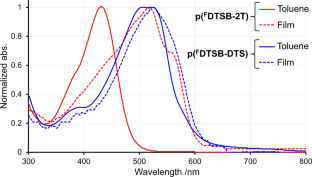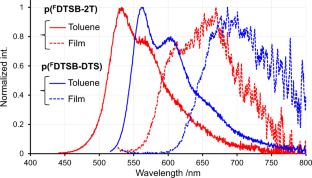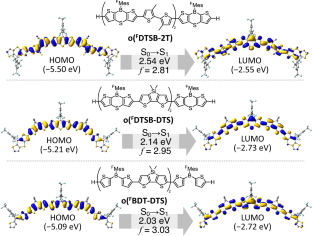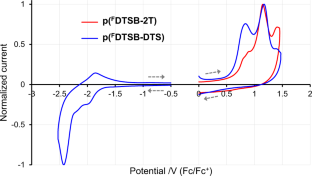 References
Facchetti A. π-Conjugated polymers for organic electronics and photovoltaic cell applications. Chem Mater. 2011;23:733–58.

Ostroverkhova O. Organic optoelectronic materials: mechanisms and applications. Chem Rev. 2016;116:13279–412.

Inal S, Rivnay J, Suiu A-O, Malliaras GG, McCulloch I. Conjugated polymers in bioelectronics. Acc Chem Res. 2018;51:1368–76.

Fratini S, Nikolka M, Salleo A, Schweicher G, Sirringhaus H. Charge transport in high-mobility conjugated polymers and molecular semiconductors. Nat Mater. 2020;19:491–502.

Ren Y, Jäkle F. Merging thiophene with boron: new building blocks for conjugated materials. Dalton Trans. 2016;45:13996–4007.

Ji L, Griesbeck S, Marder TB. Recent developments in and perspectives on three-coordinate boron materials: a bright future. Chem Sci. 2017;8:846–63.

Helten H. Doping the backbone of π-conjugated polymers with tricoordinate boron: synthetic strategies and emerging applications. Chem Asian J. 2019;14:919–35.

Yin X, Liu J, Jäkle F. Electron-deficient conjugated materials via p–π* conjugation with boron: extending monomers to oligomers, macrocycles, and polymers. Chem Eur J. 2021;27:2973–86.

Hudnall TW, Chiu C-W, Gabbaï FP. Fluoride ion recognition by chelating and cationic boranes. Acc Chem Res. 2009;42:388–97.

Wade CR, Broomsgrove AEJ, Aldridge S, Gabbaï FP. Fluoride ion complexation and sensing using organoboron compounds. Chem Rev. 2010;110:3958–84.

Mellerup SK, Wang S. Boron-based stimuli responsive materials. Chem Soc Rev. 2019;48:3537–49.

Matsumi N, Naka K, Chujo Y. Extension of π-conjugation length via the vacant p-orbital of the boron atom. Synthesis of novel electron deficient π-conjugated systems by hydroboration polymerization and their blue light emission. J Am Chem Soc. 1998;120:5112–3.

Matsumi N, Naka K, Chujo Y. Poly(p-phenylene-borane)s. Novel organoboron π-conjugated polymers via grignard reagent. J Am Chem Soc. 1998;120:10776–7.

Yin X, Chen J, Lalancette RA, Marder TB, Jäkle F. Highly electron-deficient and air-stable conjugated thienylboranes. Angew Chem Int Ed. 2014;53:9761–5.

Yin X, Guo F, Lalancette RA, Jäkle F. Luminescent main-chain organoborane polymers: highly robust, electron-deficient poly(oligothiophene borane)s via stille coupling polymerization. Macromolecules. 2016;49:537–46.

Adachi Y, Ooyama Y, Ren Y, Yin X, Jäkle F, Ohshita J. Hybrid conjugated polymers with alternating dithienosilole or dithienogermole and tricoordinate boron units. Polym Chem. 2018;9:291–9.

Adachi Y, Nabeya T, Kawakami K, Yamaji K, Jäkle F, Ohshita J. Optical characteristics of hybrid macrocycles with dithienogermole and tricoordinate boron units. Chem Eur J. 2021;27:3306–14.

Adachi Y, Kondo K, Yin X, Jäkle F, Ohshita J. m-Phenylene linked macrocycle composed of electron-rich dithienogermole and electron-deficient tricoordinate boron units. Polymer 2022;239:124404.

Meng B, Ren Y, Liu J, Jäkle F, Wang L. p–π conjugated polymers based on stable triarylborane with n-type behavior in optoelectronic devices. Angew Chem Int Ed. 2018;57:2183–7.

Welsh TA, Laventure A, Alahmadi AF, Zhang G, Baumgartner T, Zou Y, et al. Borane incorporation in a non-fullerene acceptor to tune steric and electronic properties and improve organic solar cell performance. ACS Appl Energy Mater. 2019;2:1229–40.

Yu Y, Dong C, Alahmadi AF, Meng B, Liu J, Jäkle F, et al. A p-π* conjugated triarylborane as an alcohol-processable n-type semiconductor for organic optoelectronic devices. J Mater Chem C. 2019;7:7427–32.

Adachi Y, Nomura T, Tazuhara S, Naito H, Ohshita J. Thiophene-based twisted bistricyclic aromatic ene with tricoordinate boron: a new n-type semiconductor. Chem Commun. 2021;57:1316–9.

Mitsudo K, Shigemori K, Mandai H, Wakamiya A, Suga S. Synthesis and properties of dithieno-fused 1,4-azaborine derivatives. Org Lett. 2018;20:7336–40.

Yan Y, Sun Z, Li C, Zhang J, Lv L, Liu X, et al. Thiophene-fused 1,4-thiaborins: synthesis, structures and properties. Asian J Org Chem. 2017;6:496–502.

Chiu C-Y, Kim B, Gorodetsky AA, Sattler W, Wei S, Sattler A, et al. Shape-shifting in contorted dibenzotetrathienocoronenes. Chem Sci. 2011;2:1480–6.

Wang X-Y, Jiang W, Chen T, Yan H-J, Wang Z-H, Wan L-J, et al. Molecular evidence for the intermolecular S⋯S interaction in the surface molecular packing motifs of a fused thiophene derivative. Chem Commun. 2013;49:1829–31.

Antonijević IS, Janjić GV, Milčić MK, Zarić SD. Preferred geometries and energies of sulfur–sulfur interactions in crystal structures. Cryst Growth Des. 2016;16:632–9.

Higashino T, Ishida K, Sakurai T, Seki S, Konishi T, Kamada K, et al. Pluripotent features of doubly thiophene-fused benzodiphospholes as organic functional materials. Chem Eur J. 2019;25:6425–38.

Kruszewski J, Krygowski TM. Definition of aromaticity basing on the harmonic oscillator model. Tetrahedron Lett. 1972;13:3839–42.

Krygowski TM, Szatylowicz H, Stasyuk OA, Dominikowska J, Palusiak M. Aromaticity from the viewpoint of molecular geometry: application to planar systems. Chem Rev. 2014;114:6383–422.

Ma J-L, Liu H, Li S-Y, Li Z-Y, Zhang H-Y, Wang Y, et al. Metal-free room-temperature phosphorescence from amorphous triarylborane-based biphenyl. Organometallics. 2020;39:4153–8.

Wu Z, Nitsch J, Schuster J, Friedrich A, Edkins K, Loebnitz M, et al. Persistent room temperature phosphorescence from triarylboranes: a combined experimental and theoretical study. Angew Chem Int Ed. 2020;59:17137–44.

Adachi Y, Yamada K, Ohshita J. Synthesis and optical properties of anthryl-substituted tetracyclic borepins. Chem Lett. 2022;51:654–7.

Adachi Y, Arai F, Yamada K, Kurihara M, Ohshita J. Optical properties of boron-incorporated analogues of tetrathienoanthracene. Organometallics. 2022;41:1225–31.
Funding
This work was supported by JSPS KAKENHI Grant Numbers JP19K15543 and JP22K14666.
Ethics declarations
Conflict of interest
The authors declare no competing interests.
Additional information
Publisher's note Springer Nature remains neutral with regard to jurisdictional claims in published maps and institutional affiliations.
Supplementary information
Rights and permissions
Springer Nature or its licensor (e.g. a society or other partner) holds exclusive rights to this article under a publishing agreement with the author(s) or other rightsholder(s); author self-archiving of the accepted manuscript version of this article is solely governed by the terms of such publishing agreement and applicable law.
About this article
Cite this article
Adachi, Y., Sakabe, M., Nomura, T. et al. Conjugated polymers with thiophene-fused thiaborin units and their strong intermolecular interactions. Polym J (2022). https://doi.org/10.1038/s41428-022-00726-9
Received:

Revised:

Accepted:

Published:

DOI: https://doi.org/10.1038/s41428-022-00726-9