Abstract
Molecularly imprinted hydrogel layers with lectin-recognition sites were prepared on surface plasmon resonance (SPR) sensor chips via surface-initiated atom transfer radical polymerization (SI-ATRP) combined with molecular imprinting. The lectin-imprinted hydrogel layer sensor chips showed larger SPR signal change in response to a target lectin than nonimprinted hydrogel layer sensor chips. The larger SPR signal change was attributed to the strong affinity constant of the lectin-imprinted hydrogel layer for the target lectin. These results suggest that molecular recognition sites for the lectin were formed within the hydrogel layers by molecular imprinting. On the other hand, the SPR signal change of the lectin-imprinted hydrogel layer chip in the presence of other lectin was very small. Poly(2-methacryloxyethyl phosphorylcholine) as a main chain of the hydrogel layer inhibited nonspecific adsorption of other lectin. This paper describes that SI-ATRP with biomolecular imprinting is a useful method to design highly sensitive and selective SPR sensor chips with molecular recognition sites for a target lectin.
Access options
Subscribe to Journal
Get full journal access for 1 year
$119.00
only $9.92 per issue
All prices are NET prices.
VAT will be added later in the checkout.
Tax calculation will be finalised during checkout.
Buy article
Get time limited or full article access on ReadCube.
$32.00
All prices are NET prices.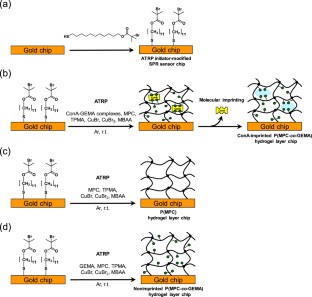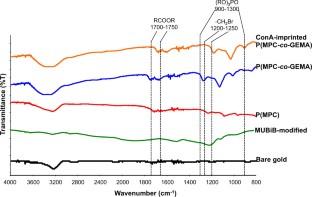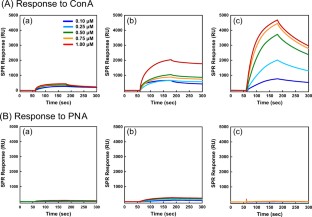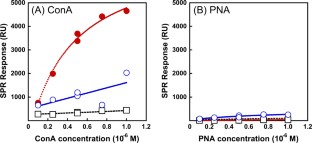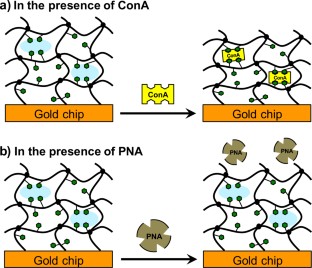 References
Whelan RJ, Wohland T, Neumann L, Huang B, Kobilka BK, Zare RN. Analysis of biomolecular interactions using a miniaturized surface plasmon resonance sensor. Anal Chem. 2002;74:4570–6.

Homola J. Surface plasmon resonance sensors for detection of chemical and biological species. Chem Rev. 2008;108:462–93.

Kooymann RPH, Kolkman H, Gent JV, Greve J. Surface plasmon resonance immunosensors: sensitivity considerations. Anal Chim Acta. 1988;213:34–5.

Liedberg B, Nylander C, Lunström I. Surface plasmon resonance for gas detection and biosensing. Sens Actuators. 1983;4:299–304.

Schuster SC, Swanson RV, Alex LA, Bourret RB, Simon MI. Assembly and function of a quaternary signal transduction complex monitored by surface plasmon resonance. Nature. 1993;365:343–7.

Silin V, Weetall H, Vanderah DJ. SPR studies of the nonspecific adsorption kinetics of human IgG and BSA on gold surfaces modified by self-assembled monolayers (SAMs). J Colloid Interface Sci. 1997;185:94–103.

Calakos N, Bennett MK, Peterson KE, Scheller RH. Protein-protein interactions contributing to the specificity of intracellular vesicular trafficking. Science. 1994;263:1146–9.

Stojanovic I, Schasfoort RB, Terstappen LW. Analysis of cell surface antigens by surface plasmon resonance imaging. Biosens Bioelectron. 2014;52:36–43.

Frederix F, Bonroy K, Reekmans G, Laureyn W, Campitelli A, Abramov MA, Dehaen W, Maes G. Reduced nonspecific adsorption on covalently immobilized protein surfaces using poly(ethylene oxide) containing blocking agents. J Biochem Biophy Methods. 2004;58:67–74.

Kurui Y, Ishikawa M, Kawamura A, Uragami T, Miyata T. SPR signals of three-dimensional antibody-immobilized gel layers formed on sensor chips by atom transfer radical polymerization. Chem Lett. 2012;41:1660–2.

Nieba L, Niebar-Axmann SE, Persson A, Hämäläinen M, Edebratt F, Hansson A, Lidholm J, Magnusson K, Karlsson AF, Plückthun A. Biacore analysis of histidine-tagged proteins using a chelating NTA sensor chip. Anal Biochem. 1997;252:217–28.

Wulff G. Molecular imprinting in cross-linked materials with the aid of molecular templates-a way towards artificial antibodies. Angew Chem Int Ed Engl. 1995;34:1812–32.

Shea K. Molecular imprinting of synthetic network polymers: the de novo synthesis of macromolecular binding and catalytic sites. Trends Polym Sci. 1994;2:155–73.

Bossi A, Bonini F, Turner AP, Piletsky SA. Molecularly imprinted polymers for the recognition of proteins: the state of the art. Biosens Bioelectron. 2007;22:1131–7.

Lépinay S, Kham K, Millot M-C, Carbonnier B. In-situ polymerized molecularly imprinted polymeric thin films used as sensing layers in surface plasmon resonance sensors: Mini-review focused on 2010–2011. Chem Pap. 2012;66:340–51.

Morelli I, Chiono V, Ciardelli G, Silvestri D, Giusti P. Molecularly imprinted submicronspheres for applications in a novel model biosensor-film. Sens Actuators B Chem. 2010;150:394–401.

Takeuchi T, Hayashi T, Ichikawa S, Kaji A, Masui M, Matsumoto H, Sasao R. Molecularly imprinted tailor-made functional polymer receptors for highly sensitive and selective separation and detection of target molecules. Chromatography. 2016;37:43–64.

Asliyuce S, Uzun L, Rad AY, Unal S, Say R, Denizli A. Molecular imprinting-based composite cryogel membranes for purification of anti-hepatitis B surface antibody by fast protein liquid chromatography. J Chromatogr B. 2012;889–990:95–102.

Zhang H, Ye L, Mosbach K. Non-covalent molecular imprinting with emphasis on its application in separation and drug development. J Mol Recognit. 2006;19:248–59.

Vidyasankar S, Arnold FH. Molecular imprinting: selective materials for separations, sensors and catalysis. Curr Opin Biotechnol. 1995;6:218–24.

Ertürk G, Uzun L, Tümer MA, Say R, Denizli A. Fab fragments imprinted SPR biosensor for real-time human immunoglobulin G detection. Biosens Bioelectron. 2011;28:97–104.

Naraprawatphong R, Kawanaka G, Hayashi M, Kawamura A, Miyata T. Development of protein-recognition SPR devices by combination of SI-ATRP with biomolecular imprinting using protein ligands. Mol Impr. 2006;4:21–30.

Kurui Y, Kawamura A, Uragami T, Miyata T. Formation of thin molecularly imprinted hydrogel layers with lectin recognition sites on SPR sensor chips by atom transfer radical polymerization. Chem Lett. 2014;43:825–7.

Wichterle O, Lím D. Hydrophilic gels for biological use. Nature. 1960;185:117–8.

Ahmed EM. Hydrogel: Preparation, characterization, and applications: A review. J Adv Res. 2015;6:105–21.

T Miyata, Stimuli-Responsive Polymers and Gels, Supramolecular Design for Biological Applications (ed. N Yui), Chapter 9, CRC Press, Boca Raton, 191–225 (2002).

Miyata T, Asami N, Uragami T. A reversibly antigen-responsive hydrogel. Nature. 1999;399:766–9.

Miyata T. Preparation of smart soft materials using molecular complexes. Polym J. 2010;42:277–89.

Miyata T, Asami N, Uragami T. Preparation of an antigen-sensitive hydrogel using antigen-antibody bindings. Macromolecules. 1999;32:2082–4.

Miyata T, Jige M, Nakaminami T, Uragami T. Tumor marker-responsive behavior of gels prepared by biomolecular imprinting. Proc Natl Acad Sci USA. 2006;103:1190–3.

Miyata T, Hayashi T, Kuriu Y, Uragami T. Responsive behavior of tumor-marker- imprinted hydrogels using macromolecular cross-linkers. J Mol Recognit. 2012;25:336–43.

Kawamura A, Kiguchi T, Nishihata T, Uragami T, Miyata T. Target molecule-responsive hydrogels designed via molecular imprinting using bisphenol A as a template. Chem Commun. 2014;76:11101–3.

Miyata T, Uragami T, Nakamae K. Biomolecule-sensitive hydrogels. Adv Drug Deliv Rev. 2002;54:79–98.

Jones DM, Brown AA, Huck WTS. Surface-initiated polymerizations in aqueous media: effect of initiator density. Langmuir. 2002;18:1256–69.

Matsumoto K, Tiu BDB, Kawamura A, Advincula RC, Miyata T. QCM sensing of bisphenol A using molecularly imprinted hydrogel/conducting polymer matrix. Polym J. 2016;48:525–32.

Miyata T, Nakamae K. Polymers with pendant saccharides –"Glycopolymers. Trend Polym Sci. 1997;5:198–206.

Ishihara K, Nomura H, Mihara T, Kurita K, Iwasaki Y, Nakabayashi N. Why do phospholipid polymers reduce protein adsorption? J Biomed Mater Res. 1998;39:323–30.
Acknowledgements
This work was supported in part by a Grant-in-Aid for Scientific Research (B) (No. 15H03026) and a Grant-in-Aid for challenging Exploratory Research (No. 17K19163) from the Japan Society of the Promotion of Science (JSPS) and by the AMED S-innovation Program for the development of biofunctional materials for the realization of innovative medicine.
Ethics declarations
Conflict of interest
The authors declare that they have no competing interests.
Additional information
Publisher's note: Springer Nature remains neutral with regard to jurisdictional claims in published maps and institutional affiliations.
About this article
Cite this article
Naraprawatphong, R., Kawamura, A. & Miyata, T. Preparation of molecularly imprinted hydrogel layer SPR sensor chips with lectin-recognition sites via SI-ATRP. Polym J 50, 261–269 (2018). https://doi.org/10.1038/s41428-017-0013-7
Received:

Revised:

Accepted:

Published:

Issue Date:

DOI: https://doi.org/10.1038/s41428-017-0013-7