Access options
Subscribe to this journal
Receive 12 digital issues and online access to articles
$119.00 per year
only $9.92 per issue
Rent or buy this article
Get just this article for as long as you need it
$39.95
Prices may be subject to local taxes which are calculated during checkout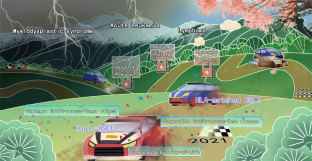 References
Chang YJ, Pei XY, Huang XJ. Haematopoietic stem-cell transplantation in China in the era of targeted therapies: current advances, challenges, and future directions. Lancet Haematol. 2022;9:e919–e929.

Lv M, Gorin NC, Huang XJ. A vision for the future of allogeneic hematopoietic stem cell transplantation in the next decade. Sci Bull (Beijing). 2022;67:1921–4.

Wang Y, Liu DH, Xu LP, Liu KY, Chen H, Chen YH, et al. Superior graft-versus-leukemia effect associated with transplantation of haploidentical compared with HLA-identical sibling donor grafts for high-risk acute leukemia: an historic comparison. Biol Blood Marrow Transpl. 2011;17:821–30.

Ringden O, Labopin M, Ciceri F, Velardi A, Bacigalupo A, Arcese W, et al. Is there a stronger graft-versus-leukemia effect using HLA-haploidentical donors compared with HLA-identical siblings? Leukemia 2016;30:447–55.

Chang YJ, Wang Y, Liu YR, Xu LP, Zhang XH, Chen H, et al. Haploidentical allograft is superior to matched sibling donor allograft in eradicating pre-transplantation minimal residual disease of AML patients as determined by multiparameter flow cytometry: a retrospective and prospective analysis. J Hematol Oncol. 2017;10:134.

Chang YJ, Wang Y, Xu LP, Zhang XH, Chen H, Chen YH, et al. Haploidentical donor is preferred over matched sibling donor for pre-transplantation MRD positive ALL: a phase 3 genetically randomized study. J Hematol Oncol. 2020;13:27.

Gorin NC, Labopin M, Blaise D, de Groot M, Socié G, Bourhis JH, et al. Stem cell transplantation from a haploidentical donor versus a genoidentical sister for adult male patients with acute myelogenous leukemia in first remission: A retrospective study from the acute leukemia working party of the European Society for Blood and Marrow Transplantation. Cancer 2020;126:1004–15.

Nagler A, Labopin M, Houhou M, Aljurf M, Mousavi A, Hamladji RM, et al. Outcome of haploidentical versus matched sibling donors in hematopoietic stem cell transplantation for adult patients with acute lymphoblastic leukemia: a study from the Acute Leukemia Working Party of the European Society for Blood and Marrow Transplantation. J Hematol Oncol. 2021;14:53.

Guo H, Chang YJ, Hong Y, Xu LP, Wang Y, Zhang XH, et al. Dynamic immune profiling identifies the stronger graft-versus-leukemia (GVL) effects with haploidentical allografts compared to HLA-matched stem cell transplantation. Cell Mol Immunol. 2021;18:1172–85.

Wang M, Wang B, Xu LP, Wang Y, Zhang XH, Cheng Y, et al. The lower relapse rate and better survival advantages of haploidentical allograft compared with HLA-matched sibling donor allografts for intermediate- and adverse-risk AML patients with pretransplantation minimal residual disease. Bone Marrow Transpl. 2023;58:215–8.

Xu ZL, Xu LP, Wu DP, Wang SQ, Zhang X, Xi R, et al. Comparable long-term outcomes between upfront haploidentical and identical sibling donor transplant in aplastic anemia: a national registry-based study. Haematologica 2022;107:2918–27.

Zhang XH, Chen J, Han MZ, Huang H, Jiang EL, Jiang M, et al. The consensus from The Chinese Society of Hematology on indications, conditioning regimens and donor selection for allogeneic hematopoietic stem cell transplantation: 2021 update. J Hematol Oncol. 2021;14:145.

Lv M, Shen M, Mo X. Development of allogeneic hematopoietic stem cell transplantation in 2022: Regenerating "Groot" to heal the world. Innov (Camb). 2023;4:100373.

Wu H, Shi J, Luo Y, Yu J, Lai X, Liu L, et al. Assessment of Patient-Specific Human Leukocyte Antigen Genomic Loss at Relapse After Antithymocyte Globulin–Based T-Cell–Replete Haploidentical Hematopoietic Stem Cell Transplant. JAMA Netw Open. 2022;5:e226114.

Naik S, Vasileiou S, Tzannou I, Kuvalekar M, Watanabe A, Robertson C, et al. Donor-derived multiple leukemia antigen-specific T-cell therapy to prevent relapse after transplant in patients with ALL. Blood 2022;139:2706–11.
Acknowledgements
National Key Research and Development Program of China (No.2022YFA1103300, 2021YFA1100902); Major Program, Key Program and General Program of the National Natural Science Foundation of China (82293630, 81930004, 82070182); Beijing Nova Program of Science and Technology (No. Z191100001119120); Fund of China Scholarship Council (202106015007).
Ethics declarations
Competing interests
The authors declare no competing interests.
About this article
Cite this article
Lv, M., Guo, HD. & Huang, Xj. A perfect mismatch: haploidentical hematopoietic stem cell transplantation overtakes a bend. Cell Mol Immunol (2023). https://doi.org/10.1038/s41423-023-01007-y
Received:

Accepted:

Published:

DOI: https://doi.org/10.1038/s41423-023-01007-y