Access options
Subscribe to Journal
Get full journal access for 1 year
$259.00
only $21.58 per issue
All prices are NET prices.
VAT will be added later in the checkout.
Tax calculation will be finalised during checkout.
Rent or Buy article
Get time limited or full article access on ReadCube.
from$8.99
All prices are NET prices.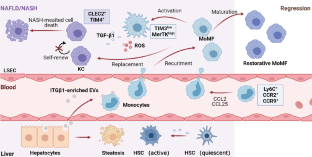 References
1.

Tacke, F. & Yoneyama, H. From NAFLD to NASH to fibrosis to HCC: role of dendritic cell populations in the liver. Hepatology 58, 494–496 (2013).

2.

Krenkel, O. & Tacke, F. Liver macrophages in tissue homeostasis and disease. Nat. Rev. Immunol. 17, 306–321 (2017).

3.

Ju, C. & Tacke, F. Hepatic macrophages in homeostasis and liver diseases: from pathogenesis to novel therapeutic strategies. Cell. Mol. Immunol. 13, 316–327 (2016).

4.

Tran, S. et al. Impaired Kupffer cell self-renewal alters the liver response to lipid overload during non-alcoholic steatohepatitis. Immunity 53, 627–640 (2020). e625.

5.

Remmerie, A. et al. Osteopontin expression identifies a subset of recruited macrophages distinct from Kupffer cells in the fatty liver. Immunity 53, 641–657 (2020).

6.

Seidman, J. et al. Niche-specific reprogramming of epigenetic landscapes drives myeloid cell diversity in nonalcoholic steatohepatitis. Immunity 52, 1057–1074 (2020).

7.

Krenkel, O. et al. Therapeutic inhibition of inflammatory monocyte recruitment reduces steatohepatitis and liver fibrosis. Hepatology 67, 1270–1283 (2018).

8.

Morikawa, R. et al. Role of CC chemokine receptor 9 in the progression of murine and human non-alcoholic steatohepatitis. J. Hepatol. 74, 511–521 (2021).

9.

Guo, Q. et al. Integrin β-enriched extracellular vesicles mediate monocyte adhesion and promote liver inflammation in murine NASH. J. Hepatol. 71, 1193–1205 (2019).

10.

Cai, B. et al. Macrophage MerTK promotes liver fibrosis in nonalcoholic steatohepatitis. Cell Metab. 31, 406–421 (2020).

11.

Wang, Y. et al. Overexpression of TIM-3 in macrophages aggravates pathogenesis of pulmonary fibrosis in mice. Am. J. Resp. Cell Mol. Biol. 61, 727–736 (2019).

12.

Du, X. et al. Increased Tim-3 expression alleviates liver injury by regulating macrophage activation in MCD-induced NASH mice. Cell. Mol. Immunol. 16, 878–886 (2019).
Ethics declarations
Competing interests
The authors declare no competing interests.
About this article
Cite this article
Wang, T., Ma, C. The hepatic macrophage pool in NASH. Cell Mol Immunol (2021). https://doi.org/10.1038/s41423-021-00690-z
Received:

Accepted:

Published: