Abstract
Programmed cell death receptor 1 (PD-1) and its ligand, PD-L1, are important immune checkpoint proteins. Although antibodies that block PD-1/PD-L1 have shown promising clinical efficacy in a subset of cancer patients, the detailed cellular and molecular mechanisms behind anti-PD-1 and anti-PD-L1 immunotherapy are not well defined. Specifically, the way in which PD-L1 contributes to immune suppression on tumor and non-tumor cells remains controversial. By selectively blocking PD-L1 on either tumor or non-tumor cells, we demonstrated that PD-L1 from both sources suppressed the anti-tumor T-cell response. Blocking PD-L1 on either tumor cells or non-tumor cells inhibited tumor growth and enhanced immune cell infiltration, as well as the tumor-specific T-cell response. Further, simultaneously blocking tumor- and non-tumor-derived PD-L1 maximized anti-tumor T-cell responses and demonstrated synergy. In addition, the relative contribution of PD-L1 on tumor and non-tumor cells to immune suppression depended on the PD-L1 expression level. Lastly, we found that the F4/80 receptor was involved in the anti-tumor effect of PD-L1 blockade. Taken together, our data indicate that PD-L1 on both tumor and non-tumor cells is critical for T-cell inhibition, which provides new directions for the optimization of PD-L1-blocking antibodies and the development of clinical biomarker strategies.
Access options
Access options
Subscribe to Journal
Get full journal access for 1 year
$338.00
only $28.17 per issue
All prices are NET prices.
VAT will be added later in the checkout.
Rent or Buy article
Get time limited or full article access on ReadCube.
from$8.99
All prices are NET prices.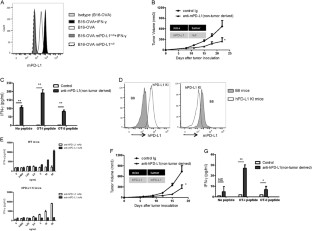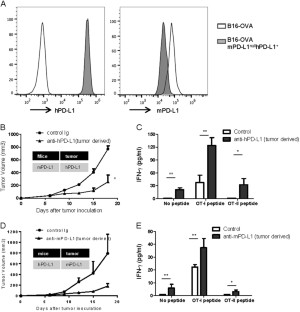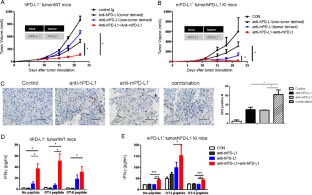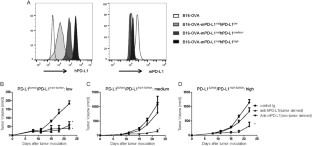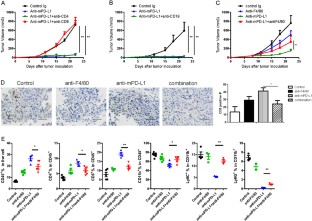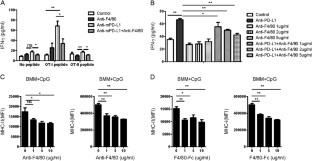 References
1.

Hanahan, D. & Weinberg, R. A. Hallmarks of cancer: the next generation. Cell 144, 646–674 (2011).

2.

Johnsen, A., France, J., Sy, M. S. & Harding, C. V. Down-regulation of the transporter for antigen presentation, proteasome subunits, and class I major histocompatibility complex in tumor cell lines. Cancer Res. 58, 3660–3667 (1998).

3.

Iwai, Y., Ishida, M., Tanaka, Y., Okazaki, T., Honjo, T. & Minato, N. Involvement of PD-L1 on tumor cells in the escape from host immune system and tumor immunotherapy by PD-L1 blockade. Proc. Natl Acad Sci. USA 99, 12293–12297 (2002).

4.

Zou, W. & Chen, L. Inhibitory B7-family molecules in the tumour microenvironment. Nat. Rev. Immunol. 8, 467–477 (2008).

5.

Xu, W., Hieu, T., Malarkannan, S., & Wang, L. The structure, expression, and multifaceted role of immune-checkpoint protein VISTA as a critical regulator of anti-tumor immunity, autoimmunity, and inflammation. Cell. Mol. Immunol. 2018 Jan 29. https://doi.org/10.1038/cmi.2017.148.

6.

Dong, H. & Chen, X. Immunoregulatory role of B7-H1 in chronicity of inflammatory responses. Cell. Mol .Immunol. 3, 179–187 (2006).

7.

Wang, S. & Chen, L. T lymphocyte co-signaling pathways of the B7-CD28 family. Cell. Mol. Immunol. 1, 37–42 (2004).

8.

Luo, L., Wang, S., Lang, X., Zhou, T., Geng, J. & Li, X. et al. Selection and characterization of the novel anti-human PD-1 FV78 antibody from a targeted epitope mammalian cell-displayed antibody library. Cell. Mol. Immunol. 15, 146–157 (2018).

9.

Zou, W., Wolchok, J. D. & Chen, L. PD-L1 (B7-H1) and PD-1 pathway blockade for cancer therapy: mechanisms, response biomarkers, and combinations. Sci. Transl. Med. 8, 328rv324 (2016).

10.

Baumeister, S. H., Freeman, G. J., Dranoff, G. & Sharpe, A. H. Coinhibitory pathways in immunotherapy for cancer. Annu. Rev. Immunol. 34, 539–573 (2016).

11.

Gubin, M. M., Zhang, X., Schuster, H., Caron, E., Ward, J. P. & Noguchi, T. et al. Checkpoint blockade cancer immunotherapy targets tumour-specific mutant antigens. Nature 515, 577–581 (2014).

12.

Herbst, R. S., Soria, J. C., Kowanetz, M., Fine, G. D., Hamid, O. & Gordon, M. S. et al. Predictive correlates of response to the anti-PD-L1 antibody MPDL3280A in cancer patients. Nature 515, 563–567 (2014).

13.

Dahan, R., Sega, E., Engelhardt, J., Selby, M., Korman, A. J. & Ravetch, J. V. FcgammaRs modulate the anti-tumor activity of antibodies targeting the PD-1/PD-L1 axis. Cancer Cell 28, 285–295 (2015).

14.

Yang, X., Zhang, X., Fu, M. L., Weichselbaum, R. R., Gajewski, T. F. & Guo, Y. et al. Targeting the tumor microenvironment with interferon-beta bridges innate and adaptive immune responses. Cancer Cell 25, 37–48 (2014).

15.

Lim, S. O., Li, C. W., Xia, W., Cha, J. H., Chan, L. C. & Wu, Y. et al. Deubiquitination and stabilization of PD-L1 by CSN5. Cancer Cell 30, 925–939 (2016).

16.

Garcia-Diaz, A., Shin, D. S., Moreno, B. H., Saco, J., Escuin-Ordinas, H. & Rodriguez, G. A. et al. Interferon receptor signaling pathways regulating PD-L1 and PD-L2 expression. Cell Rep. 19, 1189–1201 (2017).

17.

Tumeh, P. C., Harview, C. L., Yearley, J. H., Shintaku, I. P., Taylor, E. J. & Robert, L. et al. PD-1 blockade induces responses by inhibiting adaptive immune resistance. Nature 515, 568–571 (2014).

18.

Lau, J., Cheung, J., Navarro, A., Lianoglou, S., Haley, B. & Totpal, K. et al. Tumour and host cell PD-L1 is required to mediate suppression of anti-tumour immunity in mice. Nat. Commun. 8, 14572 (2017).

19.

Juneja, V. R., McGuire, K. A., Manguso, R. T., LaFleur, M. W., Collins, N. & Haining, W. N. et al. PD-L1 on tumor cells is sufficient for immune evasion in immunogenic tumors and inhibits CD8 T cell cytotoxicity. J. Exp. Med. 214, 895–904 (2017).

20.

Kleinovink, J. W., Marijt, K. A., Schoonderwoerd, M. J. A., van Hall, T., Ossendorp, F. & Fransen, M. F. PD-L1 expression on malignant cells is no prerequisite for checkpoint therapy. Oncoimmunology 6, e1294299 (2017).

21.

Noguchi, T., Ward, J. P., Gubin, M. M., Arthur, C. D., Lee, S. H. & Hundal, J. et al. Temporally distinct PD-L1 expression by tumor and host cells contributes to immune escape. Cancer Immunol. Res. 5, 106–117 (2017).

22.

Stewart, R., Morrow, M., Hammond, S. A., Mulgrew, K., Marcus, D. & Poon, E. et al. Identification and characterization of MEDI4736, an antagonistic anti-PD-L1 monoclonal antibody. Cancer Immunol. Res. 3, 1052–1062 (2015).

23.

Lin, D. Y., Tanaka, Y., Iwasaki, M., Gittis, A. G., Su, H. P. & Mikami, B. et al. The PD-1/PD-L1 complex resembles the antigen-binding Fv domains of antibodies and T cell receptors. Proc. Natl Acad. Sci. USA 105, 3011–3016 (2008).

24.

Latchman, Y. E., Liang, S. C., Wu, Y., Chernova, T., Sobel, R. A. & Klemm, M. et al. PD-L1-deficient mice show that PD-L1 on T cells, antigen-presenting cells, and host tissues negatively regulates T cells. Proc. Natl Acad. Sci. USA 101, 10691–10696 (2004).

25.

Gordon, S. R., Maute, R. L., Dulken, B. W., Hutter, G., George, B. M. & McCracken, M. N. et al. PD-1 expression by tumour-associated macrophages inhibits phagocytosis and tumour immunity. Nature 545, 495–499 (2017).

26.

Austyn, J. M. & Gordon, S. F4/80, a monoclonal antibody directed specifically against the mouse macrophage. Eur. J. Immunol. 11, 805–815 (1981).
Acknowledgements
We thank Dr. Hans Schreiber for providing the B16-OVA cells and Dr. Michelle Xu and Dr. Jie Zhao for their useful comments on this paper. X.W was supported by Special development fund of Shanghai Zhangjiang National Innovation Demonstration Zone (201609-JA-ZBC1085-009). X.Y. was supported by the Program for Professor of Special Appointment (Eastern Scholar) at Shanghai Institutions of Higher Learning (TP2015013), Shanghai Pujiang Program (15PJ1404500), National Natural Science Foundation of China (81671643) and the Recruitment Program of Global Experts (People's Republic of China).
Ethics declarations
Competing interests
The authors declare no competing interests.
Additional information
Publisher's note: Springer Nature remains neutral with regard to jurisdictional claims in published maps and institutional affiliations.
Electronic supplementary material