Abstract
RIPK1 is a master regulator of multiple cell death pathways, including apoptosis and necroptosis, and inflammation. Importantly, activation of RIPK1 has also been shown to promote the transcriptional induction of proinflammatory cytokines in cells undergoing necroptosis, in animal models of amyotrophic lateral sclerosis (ALS) and Alzheimer's disease (AD), and in human ALS and AD. Rare human genetic carriers of non-cleavable RIPK1 variants (D324V and D324H) exhibit distinct symptoms of recurrent fevers and increased transcription of proinflammatory cytokines. Multiple RIPK1 inhibitors have been advanced into human clinical trials as new therapeutics for human inflammatory and neurodegenerative diseases, such as ALS and AD. However, it is unclear whether and how RIPK1 kinase activity directly mediates inflammation independent of cell death as the nuclear function of RIPK1 has not yet been explored. Here we show that nuclear RIPK1 is physically associated with the BAF complex. Upon RIPK1 activation, the RIPK1/BAF complex is recruited by specific transcription factors to active enhancers and promoters marked by H3K4me1 and H3K27ac. Activated nuclear RIPK1 mediates the phosphorylation of SMARCC2, a key component of the BAF complex, to promote chromatin remodeling and the transcription of specific proinflammatory genes. Increased nuclear RIPK1 activation and RIPK1/BAF-mediated chromatin-remodeling activity were found in cells expressing non-cleavable RIPK1, and increased enrichment of activated RIPK1 on active enhancers and promoters was found in an animal model and human pathological samples of ALS. Our results suggest that RIPK1 kinase serves as a transcriptional coregulator in nucleus that can transmit extracellular stimuli to the BAF complex to modulate chromatin accessibility and directly regulate the transcription of specific genes involved in mediating inflammatory responses.
Your institute does not have access to this article
Access options
Subscribe to Journal
Get full journal access for 1 year
$119.00
only $9.92 per issue
All prices are NET prices.
VAT will be added later in the checkout.
Tax calculation will be finalised during checkout.
Buy article
Get time limited or full article access on ReadCube.
$32.00
All prices are NET prices.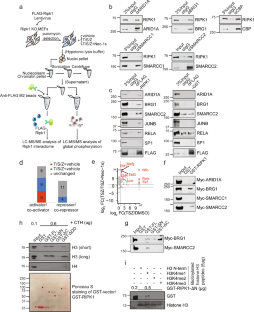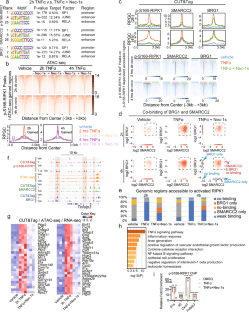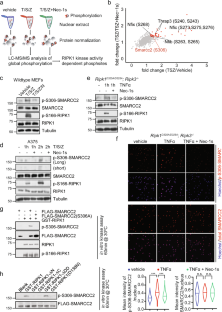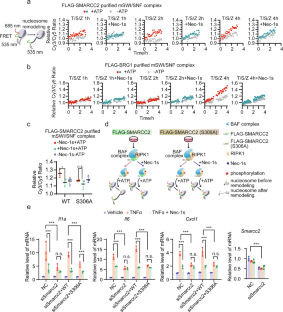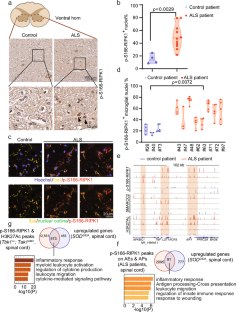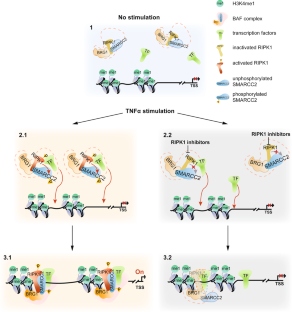 Data availability
ATAC-seq, RNA-seq and CUT&Tag data have been deposited in the GEO database (http://www.ncbi.nlm.nih.gov/geo/) with an accession number GSE179018. All the codes used in the analysis are available upon request.
References
Mifflin, L., Ofengeim, D. & Yuan, J. Receptor-interacting protein kinase 1 (RIPK1) as a therapeutic target. Nat. Rev. Drug Discov. 19, 553–571 (2020).

Ito, Y. et al. RIPK1 mediates axonal degeneration by promoting inflammation and necroptosis in ALS. Science 353, 603–608 (2016).

Ofengeim, D. et al. RIPK1 mediates a disease-associated microglial response in Alzheimer's disease. Proc. Natl. Acad. Sci. USA 114, E8788–E8797 (2017).

Zhu, K. et al. Necroptosis promotes cell-autonomous activation of proinflammatory cytokine gene expression. Cell Death Dis. 9, 500 (2018).

Lalaoui, N. et al. Mutations that prevent caspase cleavage of RIPK1 cause autoinflammatory disease. Nature 577, 103–108 (2020).

Tao, P. et al. A dominant autoinflammatory disease caused by non-cleavable variants of RIPK1. Nature 577, 109–114 (2020).

Hargreaves, D. C. & Crabtree, G. R. ATP-dependent chromatin remodeling: genetics, genomics and mechanisms. Cell Res. 21, 396–420 (2011).

Sokpor, G., Xie, Y., Rosenbusch, J. & Tuoc, T. Chromatin remodeling BAF (SWI/SNF) complexes in neural development and disorders. Front. Mol. Neurosci. 10, 243 (2017).

Ho, L. & Crabtree, G. R. Chromatin remodelling during development. Nature 463, 474–484 (2010).

Heintzman, N. D. et al. Distinct and predictive chromatin signatures of transcriptional promoters and enhancers in the human genome. Nat. Genet. 39, 311–318 (2007).

Creyghton, M. P. et al. Histone H3K27ac separates active from poised enhancers and predicts developmental state. Proc. Natl. Acad. Sci. USA 107, 21931–21936 (2010).

Ofengeim, D. et al. Activation of necroptosis in multiple sclerosis. Cell Rep. 10, 1836–1849 (2015).

Li, X. et al. Ubiquitination of RIPK1 regulates its activation mediated by TNFR1 and TLRs signaling in distinct manners. Nat. Commun. 11, 6364 (2020).

Degterev, A. et al. Identification of RIP1 kinase as a specific cellular target of necrostatins. Nat. Chem. Biol. 4, 313–321 (2008).

Wallach, D., Kang, T. B., Dillon, C. P. & Green, D. R. Programmed necrosis in inflammation: Toward identification of the effector molecules. Science 352, aaf2154 (2016).

Zhang, X., Dowling, J. P. & Zhang, J. RIPK1 can mediate apoptosis in addition to necroptosis during embryonic development. Cell Death Dis. 10, 245 (2019).

Newton, K. et al. Cleavage of RIPK1 by caspase-8 is crucial for limiting apoptosis and necroptosis. Nature 574, 428–431 (2019).

Najafov, A. et al. BRAF and AXL oncogenes drive RIPK3 expression loss in cancer. PLoS Biol. 16, e2005756 (2018).

Najafov, A., Chen, H. & Yuan, J. Necroptosis and cancer. Trends Cancer 3, 294–301 (2017).

Local, A. et al. Identification of H3K4me1-associated proteins at mammalian enhancers. Nat. Genet. 50, 73–82 (2018).

Rada-Iglesias, A. et al. A unique chromatin signature uncovers early developmental enhancers in humans. Nature 470, 279–283 (2011).

Henikoff, S., Henikoff, J. G., Kaya-Okur, H. S. & Ahmad, K. Efficient chromatin accessibility mapping in situ by nucleosome-tethered tagmentation. Elife 9, e63274 (2020).

Kaya-Okur, H. S. et al. CUT&Tag for efficient epigenomic profiling of small samples and single cells. Nat. Commun. 10, 1930 (2019).

Zhou, Y. et al. Metascape provides a biologist-oriented resource for the analysis of systems-level datasets. Nat. Commun. 10, 1523 (2019).

Xu, D. et al. TBK1 suppresses RIPK1-driven apoptosis and inflammation during development and in aging. Cell 174, 1477–1491.e19 (2018).

Song, F., Chiang, P., Wang, J., Ravits, J. & Loeb, J. A. Aberrant neuregulin 1 signaling in amyotrophic lateral sclerosis. J. Neuropathol. Exp. Neurol. 71, 104–115 (2012).

Cheng, D. et al. The genome-wide transcriptional regulatory landscape of ecdysone in the silkworm. Epigenet. Chromatin 11, 48 (2018).

Herrera-Uribe, J. et al. Changes in H3K27ac at gene regulatory regions in porcine alveolar macrophages following LPS or polyIC exposure. Front. Genet. 11, 817 (2020).

Chiu, I. M. et al. A neurodegeneration-specific gene-expression signature of acutely isolated microglia from an amyotrophic lateral sclerosis mouse model. Cell Rep. 4, 385–401 (2013).

Iurlaro, M. et al. Mammalian SWI/SNF continuously restores local accessibility to chromatin. Nat. Genet. 53, 279–287 (2021).

Monaco, C., Nanchahal, J., Taylor, P. & Feldmann, M. Anti-TNF therapy: past, present and future. Int. Immunol. 27, 55–62 (2015).

Bao, X. et al. A novel ATAC-seq approach reveals lineage-specific reinforcement of the open chromatin landscape via cooperation between BAF and p63. Genome Biol. 16, 284 (2015).

Kwon, H., Imbalzano, A. N., Khavari, P. A., Kingston, R. E. & Green, M. R. Nucleosome disruption and enhancement of activator binding by a human SW1/SNF complex. Nature 370, 477–481 (1994).

Ochoa, D. et al. The functional landscape of the human phosphoproteome. Nat. Biotechnol. 38, 365–373 (2020).

Chesi, A. et al. Exome sequencing to identify de novo mutations in sporadic ALS trios. Nat. Neurosci. 16, 851–855 (2013).

Machol, K. et al. Expanding the spectrum of BAF-related disorders: de novo variants in SMARCC2 cause a syndrome with intellectual disability and developmental delay. Am. J. Hum. Genet. 104, 164–178 (2019).

Huttlin, E. L. et al. A tissue-specific atlas of mouse protein phosphorylation and expression. Cell 143, 1174–1189 (2010).

Tak, P. P. & Firestein, G. S. NF-kappaB: a key role in inflammatory diseases. J. Clin. Invest. 107, 7–11 (2001).

Fiuza, C. et al. Inflammation-promoting activity of HMGB1 on human microvascular endothelial cells. Blood 101, 2652–2660 (2003).

Brown, J. D. et al. NF-kappaB directs dynamic super enhancer formation in inflammation and atherogenesis. Mol. Cell 56, 219–231 (2014).

Fontana, M. F. et al. JUNB is a key transcriptional modulator of macrophage activation. J. Immunol. 194, 177–186 (2015).

Schonthaler, H. B., Guinea-Viniegra, J. & Wagner, E. F. Targeting inflammation by modulating the Jun/AP-1 pathway. Ann. Rheum. Dis. 70, i109–i112 (2011).

Qiu, Z. et al. Sp1 is up-regulated in cellular and transgenic models of Huntington disease, and its reduction is neuroprotective. J. Biol. Chem. 281, 16672–16680 (2006).

Ravache, M., Weber, C., Merienne, K. & Trottier, Y. Transcriptional activation of REST by Sp1 in Huntington's disease models. PLoS One 5, e14311 (2010).

Swarup, V. et al. Deregulation of TDP-43 in amyotrophic lateral sclerosis triggers nuclear factor kappaB-mediated pathogenic pathways. J. Exp. Med. 208, 2429–2447 (2011).

Frakes, A. E. et al. Microglia induce motor neuron death via the classical NF-kappaB pathway in amyotrophic lateral sclerosis. Neuron 81, 1009–1023 (2014).

Ikiz, B. et al. The regulatory machinery of neurodegeneration in in vitro models of amyotrophic lateral sclerosis. Cell Rep. 12, 335–345 (2015).

Geng, J. et al. Regulation of RIPK1 activation by TAK1-mediated phosphorylation dictates apoptosis and necroptosis. Nat. Commun. 8, 359 (2017).

Dondelinger, Y. et al. Serine 25 phosphorylation inhibits RIPK1 kinase-dependent cell death in models of infection and inflammation. Nat. Commun. 10, 1729 (2019).

Ishii, K. J. et al. TANK-binding kinase-1 delineates innate and adaptive immune responses to DNA vaccines. Nature 451, 725–729 (2008).

Sato, S. et al. Essential function for the kinase TAK1 in innate and adaptive immune responses. Nat. Immunol. 6, 1087–1095 (2005).

Gagnon, K. T., Li, L., Janowski, B. A. & Corey, D. R. Analysis of nuclear RNA interference in human cells by subcellular fractionation and Argonaute loading. Nat. Protoc. 9, 2045–2060 (2014).

Cox, J. & Mann, M. MaxQuant enables high peptide identification rates, individualized p.p.b.-range mass accuracies and proteome-wide protein quantification. Nat. Biotechnol. 26, 1367–1372 (2008).

Si, W. et al. Dysfunction of the reciprocal feedback loop between GATA3- and ZEB2-nucleated repression programs contributes to breast cancer metastasis. Cancer Cell 27, 822–836 (2015).

Li, W. et al. The FOXN3-NEAT1-SIN3A repressor complex promotes progression of hormonally responsive breast cancer. J. Clin. Invest. 127, 3421–3440 (2017).

Iwase, S. et al. The X-linked mental retardation gene SMCX/JARID1C defines a family of histone H3 lysine 4 demethylases. Cell 128, 1077–1088 (2007).

Langmead, B. & Salzberg, S. L. Fast gapped-read alignment with Bowtie 2. Nat Methods 9, 357–359 (2012).

Meers, M. P., Tenenbaum, D. & Henikoff, S. Peak calling by Sparse Enrichment Analysis for CUT&RUN chromatin profiling. Epigenet. Chromatin 12, 42 (2019).

Quinlan, A. R. & Hall, I. M. BEDTools: a flexible suite of utilities for comparing genomic features. Bioinformatics 26, 841–842 (2010).

Heinz, S. et al. Simple combinations of lineage-determining transcription factors prime cis-regulatory elements required for macrophage and B cell identities. Mol. Cell 38, 576–589 (2010).

Ramirez, F. et al. deepTools2: a next generation web server for deep-sequencing data analysis. Nucleic Acids Res. 44, W160–W165 (2016).

Robinson, J. T. et al. Integrative genomics viewer. Nat. Biotechnol. 29, 24–26 (2011).

Patro, R., Duggal, G., Love, M. I., Irizarry, R. A. & Kingsford, C. Salmon provides fast and bias-aware quantification of transcript expression. Nat. Methods 14, 417–419 (2017).

Love, M. I., Huber, W. & Anders, S. Moderated estimation of fold change and dispersion for RNA-seq data with DESeq2. Genome Biol. 15, 550 (2014).

Buenrostro, J. D., Giresi, P. G., Zaba, L. C., Chang, H. Y. & Greenleaf, W. J. Transposition of native chromatin for fast and sensitive epigenomic profiling of open chromatin, DNA-binding proteins and nucleosome position. Nat. Methods 10, 1213–1218 (2013).

Buenrostro, J. D., Wu, B., Chang, H. Y. & Greenleaf, W. J. ATAC-seq: a method for assaying chromatin accessibility genome-wide. Curr. Protoc. Mol. Biol. 109, 21.29.1–21.29.9 (2015).

Zhang, Y. et al. Corepressor protein CDYL functions as a molecular bridge between polycomb repressor complex 2 and repressive chromatin mark trimethylated histone lysine 27. J. Biol. Chem. 286, 42414–42425 (2011).

Nott, A. et al. Brain cell type-specific enhancer-promoter interactome maps and disease-risk association. Science 366, 1134–1139 (2019).

McQuin, C. et al. CellProfiler 3.0: Next-generation image processing for biology. PLoS Biol. 16, e2005970 (2018).
Acknowledgements
We thank Dr. Kevin Struhl for critical reading of this manuscript. We thank Dr. Jianke Zhang of Thomas Jefferson University, for Ripk1D325A/D325A/Ripk3−/− MEFs, Dr. Matthew Frosch of Harvard Neuropathology Services for providing post-mortem human spinal cord pathological samples, Dr. Jennifer Walters at the Harvard Medical School Nikon microscope facility for assistance with fluorescence microscopy, Dr. Gary Kasof of Cell Signaling Technology for developing p-S306 SMARCC2 antibody and Prof. Jiahuai Han of Xiamen University for providing Ripk1D325A/D325A MEFs during revision. This work was supported in part by the National Natural Science Foundation of China (82188101, 21837004 and 91849204), and the National Natural Science Youth Foundation of China (31701210).
Ethics declarations
Competing interests
J.Y. is a consultant for Sanofi. The other authors declare that they have no competing financial interests.
Supplementary information
About this article
Cite this article
Li, W., Shan, B., Zou, C. et al. Nuclear RIPK1 promotes chromatin remodeling to mediate inflammatory response. Cell Res 32, 621–637 (2022). https://doi.org/10.1038/s41422-022-00673-3
Received:

Accepted:

Published:

Issue Date:

DOI: https://doi.org/10.1038/s41422-022-00673-3
Further reading
Jessica M. Gullett
Thirumala-Devi Kanneganti

Cell Research (2022)