Abstract
Biomolecular condensation driven by liquid–liquid phase separation (LLPS) is key to assembly of membraneless organelles in numerous crucial pathways. It is largely unknown how cellular structures or components spatiotemporally regulate LLPS and condensate formation. Here we reveal that cytoskeletal dynamics can control the condensation of p62 bodies comprising the autophagic adaptor p62/SQSTM1 and poly-ubiquitinated cargos. Branched actin networks are associated with p62 bodies and are required for their condensation. Myosin 1D, a branched actin-associated motor protein, drives coalescence of small nanoscale p62 bodies into large micron-scale condensates along the branched actin network. Impairment of actin cytoskeletal networks compromises the condensation of p62 bodies and retards substrate degradation by autophagy in both cellular models and Myosin 1D knockout mice. Coupling of LLPS scaffold to cytoskeleton systems may represent a general mechanism by which cells exert spatiotemporal control over phase condensation processes.
Your institute does not have access to this article
Access options
Subscribe to Journal
Get full journal access for 1 year
$119.00
only $9.92 per issue
All prices are NET prices.
VAT will be added later in the checkout.
Tax calculation will be finalised during checkout.
Buy article
Get time limited or full article access on ReadCube.
$32.00
All prices are NET prices.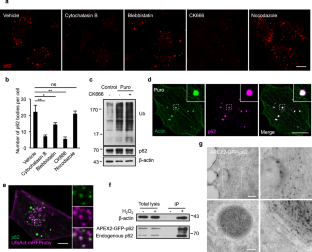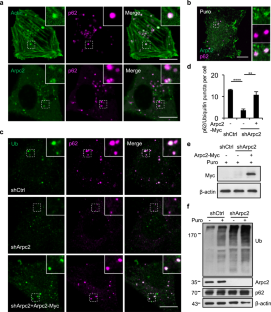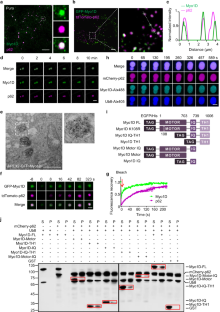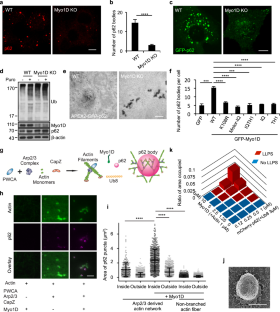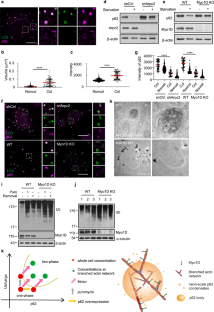 References
Banani, S. F., Lee, H. O., Hyman, A. A. & Rosen, M. K. Biomolecular condensates: Organizers of cellular biochemistry. Nat. Rev. Mol. Cell Biol. 18, 285–298 (2017).

Brangwynne, C. P. et al. Germline P granules are liquid droplets that localize by controlled dissolution/condensation. Science 324, 1729–1732 (2009).

Banani, S. F. et al. Compositional control of phase-separated cellular bodies. Cell 166, 651–663 (2016).

Li, P. et al. Phase transitions in the assembly of multivalent signalling proteins. Nature 483, 336–340 (2012).

Wu, X., Cai, Q., Feng, Z. & Zhang, M. Liquid-liquid phase separation in neuronal development and synaptic signaling. Dev. Cell 55, 18–29 (2020).

Wu, X. et al. RIM and RIM-BP form presynaptic active-zone-like condensates via phase separation. Mol. Cell 73, 971–984.e975 (2019).

Zeng, M. et al. Phase separation-mediated TARP/MAGUK complex condensation and AMPA receptor synaptic transmission. Neuron 104, 529–543.e526 (2019).

Liu, Z. et al. Par complex cluster formation mediated by phase separation. Nat. Commun. 11, 2266 (2020).

Case, L. B., Zhang, X., Ditlev, J. A. & Rosen, M. K. Stoichiometry controls activity of phase-separated clusters of actin signaling proteins. Science 363, 1093–1097 (2019).

Shimobayashi, S. F., Ronceray, P., Sanders, D. W., Haataja, M. P. & Brangwynne, C. P. Nucleation landscape of biomolecular condensates. Nature 599, 503–506 (2021).

Minton, A. P. Holobiochemistry: The effect of local environment upon the equilibria and rates of biochemical reactions. Int. J. Biochem. 22, 1063–1067 (1990).

Jalihal, A. P. et al. Hyperosmotic phase separation: Condensates beyond inclusions, granules and organelles. J. Biol. Chem. 296, 100044 (2021).

Woodruff, J. B. et al. The centrosome is a selective condensate that nucleates microtubules by concentrating tubulin. Cell 169, 1066–1077.e1010 (2017).

Su, X. et al. Phase separation of signaling molecules promotes T cell receptor signal transduction. Science 352, 595–599 (2016).

Jiang, H. et al. Phase transition of spindle-associated protein regulate spindle apparatus assembly. Cell 163, 108–122 (2015).

Hernandez-Vega, A. et al. Local nucleation of microtubule bundles through tubulin concentration into a condensed tau phase. Cell Rep. 20, 2304–2312 (2017).

Wiegand, T. & Hyman, A. A. Drops and fibers — how biomolecular condensates and cytoskeletal filaments influence each other. Emerg. Top. Life Sci. 4, 247–261 (2020).

Ditlev, J. A. et al. A composition-dependent molecular clutch between T cell signaling condensates and actin. Elife 8, e42695 (2019).

Mi, N. et al. CapZ regulates autophagosomal membrane shaping by promoting actin assembly inside the isolation membrane. Nat. Cell Biol. 17, 1112–1123 (2015).

Kast, D. J., Zajac, A. L., Holzbaur, E. L., Ostap, E. M. & Dominguez, R. WHAMM directs the Arp2/3 complex to the ER for autophagosome biogenesis through an actin comet tail mechanism. Curr. Biol. 25, 1791–1797 (2015).

Saydmohammed, M. et al. Vertebrate myosin 1d regulates left-right organizer morphogenesis and laterality. Nat. Commun. 9, 3381 (2018).

Fujioka, Y. et al. Phase separation organizes the site of autophagosome formation. Nature 578, 301–305 (2020).

Agudo-Canalejo, J. et al. Wetting regulates autophagy of phase-separated compartments and the cytosol. Nature 591, 142–146 (2021).

Turco, E. et al. FIP200 claw domain binding to p62 promotes autophagosome formation at ubiquitin condensates. Mol. Cell 74, 330–346.e11 (2019).

Lystad, A. H. & Simonsen, A. Assays to monitor aggrephagy. Methods 75, 112–119 (2015).

Nolen, B. J. et al. Characterization of two classes of small molecule inhibitors of Arp2/3 complex. Nature 460, 1031–1034 (2009).

Riedl, J. et al. Lifeact: a versatile marker to visualize F-actin. Nat. Methods 5, 605–607 (2008).

Hung, V. et al. Spatially resolved proteomic mapping in living cells with the engineered peroxidase APEX2. Nat. Protoc. 11, 456–475 (2016).

Blanchoin, L., Boujemaa-Paterski, R., Sykes, C. & Plastino, J. Actin dynamics, architecture, and mechanics in cell motility. Physiol. Rev. 94, 235–263 (2014).

Michelot, A. & Drubin, D. G. Building distinct actin filament networks in a common cytoplasm. Curr. Biol. 21, R560–R569 (2011).

McIntosh, B. B. & Ostap, E. M. Myosin-I molecular motors at a glance. J. Cell Sci. 129, 2689–2695 (2016).

Benesh, A. E. et al. Differential localization and dynamics of class I myosins in the enterocyte microvillus. Mol. Biol. Cell 21, 970–978 (2010).

Brandstaetter, H., Kendrick-Jones, J. & Buss, F. Myo1c regulates lipid raft recycling to control cell spreading, migration and Salmonella invasion. J. Cell Sci. 125, 1991–2003 (2012).

Campellone, K. G., Webb, N. J., Znameroski, E. A. & Welch, M. D. WHAMM is an Arp2/3 complex activator that binds microtubules and functions in ER to Golgi transport. Cell 134, 148–161 (2008).

Zhao, Y. G. & Zhang, H. Phase separation in membrane biology: The interplay between membrane-bound organelles and membraneless condensates. Dev. Cell 55, 30–44 (2020).

Shin, Y. & Brangwynne, C. P. Liquid phase condensation in cell physiology and disease. Science 357, eaaf4382 (2017).

Chen, X. D., Wu, X. D., Wu, H. W. & Zhang, M. J. Phase separation at the synapse. Nat. Neurosci. 23, 301–310 (2020).

Huang, W. Y. C. et al. A molecular assembly phase transition and kinetic proofreading modulate Ras activation by SOS. Science 363, 1098–1103 (2019).

Maharana, S. et al. RNA buffers the phase separation behavior of prion-like RNA binding proteins. Science 360, 918–921 (2018).

Huang, Y. et al. Migrasome formation is mediated by assembly of micron-scale tetraspanin macrodomains. Nat. Cell Biol. 21, 991–1002 (2019).
Acknowledgements
We are grateful to members of the groups of L.Y., P.L., S.H. and N.M. for helpful discussions. We thank the group of Dr. Hongwei Wang (Tsinghua University, Beijing) for assistance with actin polymerization. We thank the State Key Laboratory of Membrane Biology for confocal microscopy imaging and facility support. We would also like to acknowledge the Center of Biomedical Analysis, Tsinghua University, for assistance with Andor high-speed confocal Dragonfly microscopy and Imaris analysis. This work was supported by the Ministry of Science and Technology of China (2017YFA0506300 to N.M.; 2019YFA0508403 to P.L.), and the National Natural Science Foundation of China (31771536 and 31860316).
Ethics declarations
Competing interests
The authors declare no competing interests.
Supplementary information
About this article
Cite this article
Feng, X., Du, W., Ding, M. et al. Myosin 1D and the branched actin network control the condensation of p62 bodies. Cell Res 32, 659–669 (2022). https://doi.org/10.1038/s41422-022-00662-6
Received:

Accepted:

Published:

Issue Date:

DOI: https://doi.org/10.1038/s41422-022-00662-6