Access options
Subscribe to Journal
Get full journal access for 1 year
$119.00
only $9.92 per issue
All prices are NET prices.
VAT will be added later in the checkout.
Tax calculation will be finalised during checkout.
Buy article
Get time limited or full article access on ReadCube.
$32.00
All prices are NET prices.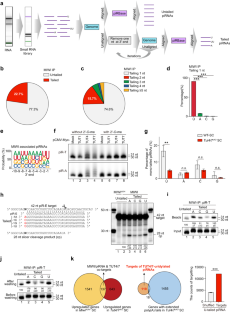 References
Liudkovska, V. & Dziembowski, A. Wiley Interdiscip. Rev. RNA 12, e1622 (2021).

Ozata, D. M., Gainetdinov, I., Zoch, A., O'Carroll, D. & Zamore, P. D. Nat. Rev. Genet. 20, 89–108 (2019).

Pastore, B., Hertz, H. L., Price, I. F. & Tang, W. Cell Rep. 36, 109640 (2021).

Dai, P. et al. Cell 179, 1566–1581 (2019).

Gou, L. T. et al. Cell Res. 24, 680–700 (2014).

Morgan, M. et al. Cell Res. 29, 221–232 (2019).

Heo, I. et al. Cell 151, 521–532 (2012).

Lim, S. L. et al. PLoS Genet. 11, e1005620 (2015).

Li, F. et al. Nat. Cell Biol. 22, 425–438 (2020).

Reuter, M. et al. Nature 480, 264–267 (2011).

Dai, P., Wang, X. & Liu, M. F. Sci. China Life Sci. 63, 447–449 (2020).

Kawaoka, S., Izumi, N., Katsuma, S. & Tomari, Y. Mol. Cell 43, 1015–1022 (2011).

Goh, W. S. et al. Genes Dev. 29, 1032–1044 (2015).

Watanabe, T., Cheng, E. C., Zhong, M. & Lin, H. Genome Res. 25, 368–380 (2015).

Zhang, P. et al. Cell Res. 25, 193–207 (2015).
Acknowledgements
We thank members of the M.-F.L. lab and L.-T.G. lab for helpful comments. We thank Drs Marcos Morgan and Dónal O'Carroll from University of Edinburgh for the TAIL-seq datasets of Tut4/7cKO spermatocytes. This work was supported by the National Key R&D Program of China (2017YFA0504400, and 2021YFC2700200), the Strategic Priority Research Program of the Chinese Academy of Sciences (XDB19010203), the National Natural Science Foundation of China (91940305, 31830109, 31821004, 31961133022, 91640201, 32170815 and 32101037), Science and Technology Commission of Shanghai Municipality (17JC1420100, 2017SHZDZX01, 19JC1410200, 21PJ1413800, 21ZR1470200, 21YF1452700 and 21ZR1470500), China Postdoctoral Science Foundation (2020T130670 and 2020M671256) and the Foundation of Key Laboratory of Gene Engineering of the Ministry of Education.
Ethics declarations
Competing interests
The authors declare no competing interests.
About this article
Cite this article
Zhao, MZ., Lin, DH., Zuo, H. et al. piRNA 3′ uridylation facilitates the assembly of MIWI/piRNA complex for efficient target regulation in mouse male germ cells. Cell Res 32, 1030–1033 (2022). https://doi.org/10.1038/s41422-022-00659-1
Received:

Accepted:

Published:

Issue Date:

DOI: https://doi.org/10.1038/s41422-022-00659-1
This article is cited by
Xin Wang
Anne Ramat
Mo-Fang Liu

Nature Reviews Molecular Cell Biology (2022)