Abstract
The pancreatic islet contains multiple hormone+ endocrine lineages (α, β, δ, PP and ε cells), but the developmental processes that underlie endocrinogenesis are poorly understood. Here, we generated novel mouse lines and combined them with various genetic tools to enrich all types of hormone+ cells for well-based deep single-cell RNA sequencing (scRNA-seq), and gene coexpression networks were extracted from the generated data for the optimization of high-throughput droplet-based scRNA-seq analyses. These analyses defined an entire endocrinogenesis pathway in which different states of endocrine progenitor (EP) cells sequentially differentiate into specific endocrine lineages in mice. Subpopulations of the EP cells at the final stage (EP4early and EP4late) show different potentials for distinct endocrine lineages. ε cells and an intermediate cell population were identified as distinct progenitors that independently generate both α and PP cells. Single-cell analyses were also performed to delineate the human pancreatic endocrinogenesis process. Although the developmental trajectory of pancreatic lineages is generally conserved between humans and mice, clear interspecies differences, including differences in the proportions of cell types and the regulatory networks associated with the differentiation of specific lineages, have been detected. Our findings support a model in which sequential transient progenitor cell states determine the differentiation of multiple cell lineages and provide a blueprint for directing the generation of pancreatic islets in vitro.
Access options
Subscribe to Journal
Get full journal access for 1 year
We are sorry, but there is no personal subscription option available for your country.
Rent or Buy article
Get time limited or full article access on ReadCube.
from$8.99
All prices are NET prices.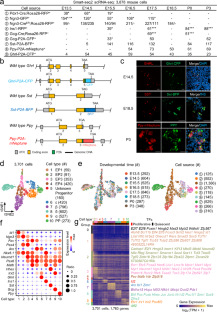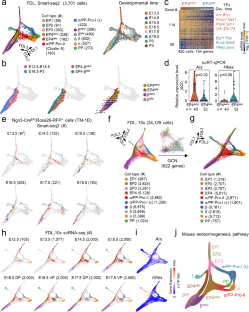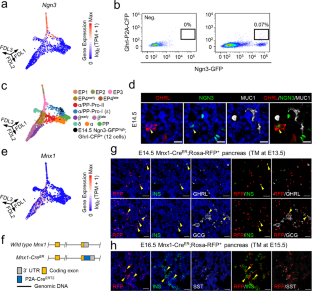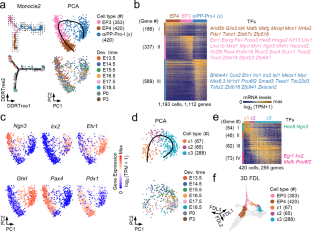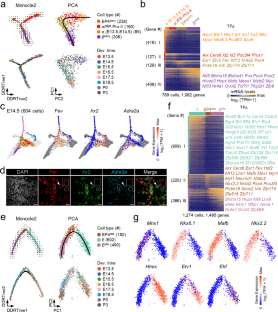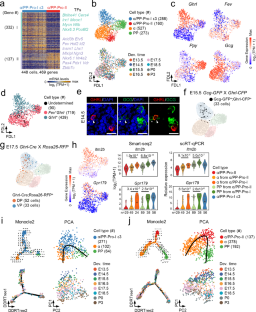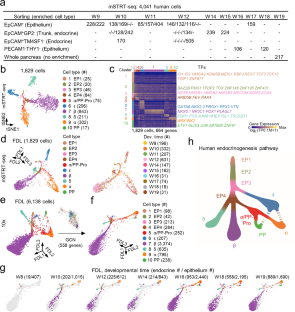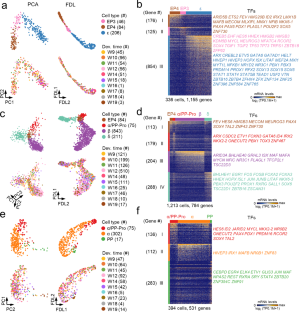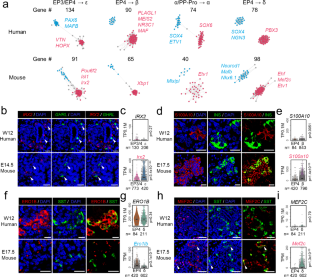 Data availability
The mouse RNA-seq data from this publication have been deposited to the Gene Expression Omnibus (GEO) and assigned the identifier GSE139627. The human RNA-seq expression matrix data from this publication have been deposited to the OMix (https://bigd.big.ac.cn/omix/) and assigned the identifier OMIX236.
References
1.

Zhou, Q. & Melton, D. A. Pancreas regeneration. Nature 557, 351–358 (2018).

2.

Aguayo-Mazzucato, C. & Bonner-Weir, S. Pancreatic beta cell regeneration as a possible therapy for diabetes. Cell Metab. 27, 57–67 (2018).

3.

Shih, H. P., Wang, A. & Sander, M. Pancreas organogenesis: from lineage determination to morphogenesis. Annu. Rev. Cell Dev. Biol. 29, 81–105 (2013).

4.

Gradwohl, G., Dierich, A., LeMeur, M. & Guillemot, F. neurogenin3 is required for the development of the four endocrine cell lineages of the pancreas. Proc. Natl. Acad. Sci. USA 97, 1607–1611 (2000).

5.

Gu, G., Dubauskaite, J. & Melton, D. A. Direct evidence for the pancreatic lineage: NGN3+ cells are islet progenitors and are distinct from duct progenitors. Development 129, 2447–2457 (2002).

6.

Heller, R. S. et al. Genetic determinants of pancreatic epsilon-cell development. Dev. Biol. 286, 217–224 (2005).

7.

Desgraz, R. & Herrera, P. L. Pancreatic neurogenin 3-expressing cells are unipotent islet precursors. Development 136, 3567–3574 (2009).

8.

Byrnes, L. E. et al. Lineage dynamics of murine pancreatic development at single-cell resolution. Nat. Commun. 9, 3922 (2018).

9.

Scavuzzo, M. A. et al. Endocrine lineage biases arise in temporally distinct endocrine progenitors during pancreatic morphogenesis. Nat. Commun. 9, 3356 (2018).

10.

Yu, X. X. et al. Defining multistep cell fate decision pathways during pancreatic development at single-cell resolution. EMBO J. 38, e100164 (2019).

11.

van Gurp, L. et al. A transcriptomic roadmap to alpha- and beta-cell differentiation in the embryonic pancreas. Development 146, dev173716 (2019).

12.

Bastidas-Ponce, A. et al. Comprehensive single cell mRNA profiling reveals a detailed roadmap for pancreatic endocrinogenesis. Development 146, dev173849 (2019).

13.

Jennings, R. E., Berry, A. A., Strutt, J. P., Gerrard, D. T. & Hanley, N. A. Human pancreas development. Development 142, 3126–3137 (2015).

14.

Baeyens, L. et al. (Re)generating human beta cells: status, pitfalls, and perspectives. Physiol. Rev. 98, 1143–1167 (2018).

15.

Petersen, M. B. K., Goncalves, C. A. C., Kim, Y. H. & Grapin-Botton, A. Recapitulating and deciphering human pancreas development from human pluripotent stem cells in a dish. Curr. Top. Dev. Biol. 129, 143–190 (2018).

16.

Jeon, J., Correa-Medina, M., Ricordi, C., Edlund, H. & Diez, J. A. Endocrine cell clustering during human pancreas development. J. Histochem. Cytochem. 57, 811–824 (2009).

17.

Piper, K. et al. Beta cell differentiation during early human pancreas development. J. Endocrinol. 181, 11–23 (2004).

18.

Liu, J. et al. Neurog3-independent methylation is the earliest detectable mark distinguishing pancreatic progenitor identity. Dev. Cell 48, 49–63 (2019).

19.

Sharon, N. et al. A peninsular structure coordinates asynchronous differentiation with morphogenesis to generate pancreatic islets. Cell 176, 790–804 (2019).

20.

Krentz, N. A. J. et al. Single-cell transcriptome profiling of mouse and hESC-derived pancreatic progenitors. Stem Cell Rep. 11, 1551–1564 (2018).

21.

Yu, X. X. & Xu, C. R. Understanding generation and regeneration of pancreatic beta cells from a single-cell perspective. Development 147, dev179051 (2020).

22.

Ziegenhain, C. et al. Comparative analysis of single-cell RNA sequencing methods. Mol. Cell 65, 631–643 (2017).

23.

Picelli, S. et al. Full-length RNA-seq from single cells using Smart-seq2. Nat. Protoc. 9, 171–181 (2014).

24.

Dong, J. et al. Single-cell RNA-seq analysis unveils a prevalent epithelial/mesenchymal hybrid state during mouse organogenesis. Genome Biol. 19, 31 (2018).

25.

Islam, S. et al. Characterization of the single-cell transcriptional landscape by highly multiplex RNA-seq. Genome Res. 21, 1160–1167 (2011).

26.

van Dam, S., Vosa, U., van der Graaf, A., Franke, L. & de Magalhaes, J. P. Gene co-expression analysis for functional classification and gene-disease predictions. Brief Bioinform. 19, 575–592 (2018).

27.

Iacono, G., Massoni-Badosa, R. & Heyn, H. Single-cell transcriptomics unveils gene regulatory network plasticity. Genome Biol. 20, 110 (2019).

28.

Pollen, A. A. et al. Establishing cerebral organoids as models of human-specific brain evolution. Cell 176, 743–756 (2019).

29.

Wierup, N., Yang, S., McEvilly, R. J., Mulder, H. & Sundler, F. Ghrelin is expressed in a novel endocrine cell type in developing rat islets and inhibits insulin secretion from INS-1 (832/13) cells. J. Histochem. Cytochem. 52, 301–310 (2004).

30.

Wierup, N., Svensson, H., Mulder, H. & Sundler, F. The ghrelin cell: a novel developmentally regulated islet cell in the human pancreas. Regul. Pept. 107, 63–69 (2002).

31.

Yu, X. X. et al. Dynamics of chromatin marks and the role of JMJD3 during pancreatic endocrine cell fate commitment. Development 145, dev163162 (2018).

32.

Pan, F. C. & Wright, C. Pancreas organogenesis: from bud to plexus to gland. Dev. Dyn. 240, 530–565 (2011).

33.

Wang, X. et al. Quantitative analysis of pancreatic polypeptide cell distribution in the human pancreas. PLoS One 8, e55501 (2013).

34.

Herrera, P. L. et al. Embryogenesis of the murine endocrine pancreas; early expression of pancreatic polypeptide gene. Development 113, 1257–1265 (1991).

35.

Collombat, P. et al. Opposing actions of Arx and Pax4 in endocrine pancreas development. Genes Dev. 17, 2591–2603 (2003).

36.

Zhang, J., McKenna, L. B., Bogue, C. W. & Kaestner, K. H. The diabetes gene Hhex maintains delta-cell differentiation and islet function. Genes Dev. 28, 829–834 (2014).

37.

La Manno, G. et al. RNA velocity of single cells. Nature 560, 494–498 (2018).

38.

Pan, F. C., Brissova, M., Powers, A. C., Pfaff, S. & Wright, C. V. Inactivating the permanent neonatal diabetes gene Mnx1 switches insulin-producing beta-cells to a delta-like fate and reveals a facultative proliferative capacity in aged beta-cells. Development 142, 3637–3648 (2015).

39.

Qiu, X. et al. Reversed graph embedding resolves complex single-cell trajectories. Nat. Methods 14, 979–982 (2017).

40.

Li, J. et al. Single-cell transcriptomes reveal characteristic features of human pancreatic islet cell types. EMBO Rep. 17, 178–187 (2016).

41.

Artner, I. et al. MafB is required for islet beta cell maturation. Proc. Natl. Acad. Sci. USA 104, 3853–3858 (2007).

42.

Nishimura, W. et al. A switch from MafB to MafA expression accompanies differentiation to pancreatic beta-cells. Dev. Biol. 293, 526–539 (2006).

43.

Henseleit, K. D. et al. NKX6 transcription factor activity is required for alpha- and beta-cell development in the pancreas. Development 132, 3139–3149 (2005).

44.

Nelson, S. B., Schaffer, A. E. & Sander, M. The transcription factors Nkx6.1 and Nkx6.2 possess equivalent activities in promoting beta-cell fate specification in Pdx1+ pancreatic progenitor cells. Development 134, 2491–2500 (2007).

45.

Sussel, L. et al. Mice lacking the homeodomain transcription factor Nkx2.2 have diabetes due to arrested differentiation of pancreatic beta cells. Development 125, 2213–2221 (1998).

46.

Arnes, L., Hill, J. T., Gross, S., Magnuson, M. A. & Sussel, L. Ghrelin expression in the mouse pancreas defines a unique multipotent progenitor population. PLoS One 7, e52026 (2012).

47.

Salisbury, R. J. et al. The window period of NEUROGENIN3 during human gestation. Islets 6, e954436 (2014).

48.

Ramond, C. et al. Reconstructing human pancreatic differentiation by mapping specific cell populations during development. Elife 6, e27564 (2017).

49.

Stuart, T. et al. Comprehensive integration of single-cell data. Cell 177, 1888–1902 (2019).

50.

Dolensek, J., Rupnik, M. S. & Stozer, A. Structural similarities and differences between the human and the mouse pancreas. Islets 7, e1024405 (2015).

51.

Andralojc, K. M. et al. Ghrelin-producing epsilon cells in the developing and adult human pancreas. Diabetologia 52, 486–493 (2009).

52.

Miyatsuka, T., Li, Z. & German, M. S. Chronology of islet differentiation revealed by temporal cell labeling. Diabetes 58, 1863–1868 (2009).

53.

Johansson, K. A. et al. Temporal control of neurogenin3 activity in pancreas progenitors reveals competence windows for the generation of different endocrine cell types. Dev. Cell 12, 457–465 (2007).

54.

Bankaitis, E. D., Bechard, M. E. & Wright, C. V. Feedback control of growth, differentiation, and morphogenesis of pancreatic endocrine progenitors in an epithelial plexus niche. Genes Dev. 29, 2203–2216 (2015).

55.

Cozzitorto, C. et al. A specialized niche in the pancreatic microenvironment promotes endocrine differentiation. Dev. Cell 55, 150–162 (2020).

56.

Stoffers, D. A., Zinkin, N. T., Stanojevic, V., Clarke, W. L. & Habener, J. F. Pancreatic agenesis attributable to a single nucleotide deletion in the human IPF1 gene coding sequence. Nat. Genet. 15, 106–110 (1997).

57.

Bonnefond, A. et al. Transcription factor gene MNX1 is a novel cause of permanent neonatal diabetes in a consanguineous family. Diabetes Metab. 39, 276–280 (2013).

58.

Flanagan, S. E. et al. Analysis of transcription factors key for mouse pancreatic development establishes NKX2-2 and MNX1 mutations as causes of neonatal diabetes in man. Cell Metab. 19, 146–154 (2014).

59.

Rubio-Cabezas, O. et al. Homozygous mutations in NEUROD1 are responsible for a novel syndrome of permanent neonatal diabetes and neurological abnormalities. Diabetes 59, 2326–2331 (2010).

60.

Wang, D. et al. Long-term expansion of pancreatic islet organoids from resident Procr(+) progenitors. Cell 180, 1198–1211 (2020).

61.

Jennings, R. E. et al. Development of the human pancreas from foregut to endocrine commitment. Diabetes 62, 3514–3522 (2013).

62.

Schonhoff, S. E., Giel-Moloney, M. & Leiter, A. B. Neurogenin 3-expressing progenitor cells in the gastrointestinal tract differentiate into both endocrine and non-endocrine cell types. Dev. Biol. 270, 443–454 (2004).

63.

Kim, D. et al. TopHat2: accurate alignment of transcriptomes in the presence of insertions, deletions and gene fusions. Genome Biol. 14, R36 (2013).

64.

Anders, S., Pyl, P. T. & Huber, W. HTSeq — a Python framework to work with high-throughput sequencing data. Bioinformatics 31, 166–169 (2015).

65.

Liao, Y., Smyth, G. K. & Shi, W. featureCounts: an efficient general purpose program for assigning sequence reads to genomic features. Bioinformatics 30, 923–930 (2014).

66.

Li, H. et al. The sequence alignment/map format and SAMtools. Bioinformatics 25, 2078–2079 (2009).

67.

Smith, T., Heger, A. & Sudbery, I. UMI-tools: modeling sequencing errors in Unique Molecular Identifiers to improve quantification accuracy. Genome Res. 27, 491–499 (2017).

68.

Brennecke, P. et al. Accounting for technical noise in single-cell RNA-seq experiments. Nat. Methods 10, 1093–1095 (2013).

69.

Quinn, T. P., Richardson, M. F., Lovell, D. & Crowley, T. M. propr: an R-package for identifying proportionally abundant features using compositional data analysis. Sci. Rep. 7, 16252 (2017).

70.

Skinnider, M. A., Squair, J. W. & Foster, L. J. Evaluating measures of association for single-cell transcriptomics. Nat. Methods 16, 381–386 (2019).

71.

Csardi, G. & Nepusz, T. The igraph software package for complex network research. Int. J. Complex Syst. 1695, 1–9 (2006).

72.

Zhang, H. M. et al. AnimalTFDB: a comprehensive animal transcription factor database. Nucl. Acids Res. 40, D144–D149 (2012).

73.

Andrews, T. S. & Hemberg, M. M3Drop: dropout-bas d feature selection for scRNASeq. Bioinformatics 35, 2865–2867 (2019).

74.

Haghverdi, L., Lun, A. T. L., Morgan, M. D. & Marioni, J. C. Batch effects in single-cell RNA-sequencing data are corrected by matching mutual nearest neighbors. Nat. Biotechnol. 36, 421–427 (2018).

75.

Falcon, S. & Gentleman, R. Using GOstats to test gene lists for GO term association. Bioinformatics 23, 257–258 (2007).

76.

Street, K. et al. Slingshot: cell lineage and pseudotime inference for single-cell transcriptomics. BMC Genomics 19, 477 (2018).

77.

Langfelder, P. & Horvath, S. WGCNA: an R package for weighted correlation network analysis. BMC Bioinformatics 9, 559 (2008).
Acknowledgements
We thank Drs. Chris Wright, Zemin Zhang, Ge Gao and members of the Xu laboratory for the advice and comments. We thank Nurse Jianrong Tian for the assistance with human embryo collection. We also thank the Peking-Tsinghua Center for Life Science High Performance Computing Platform, the Flow Cytometry Core at the National Center for Protein Sciences at Peking University, particularly Ms. Fei Wang, Ms. Yinghua Guo and Ms. Hongxia Lv for the technical help, and the Core Facilities at the School of Life Sciences of Peking University, particularly Ms. Siying Qin for the technical help and Mr. Ming Du for the assistance with imaging. This work was supported by the National Key R&D Program of China (2019YFA0801500 to C.-R.X.), the Ministry of Science and Technology of China (2015CB942800 to C.-R.X.), the National Natural Science Foundation of China (32030034, 91753138, and 31521004 to C.-R.X. and 32000566 to X.-X.Y.), funding from the Peking-Tsinghua Center for Life Sciences to C.-R. X, and the China Postdoctoral Science Foundation (BX20190009 to X.-X.Y. and 2020TQ0018 to W.-L.Q.).
Ethics declarations
Competing interests
The authors declare no competing interests.
Supplementary information
About this article
Cite this article
Yu, XX., Qiu, WL., Yang, L. et al. Sequential progenitor states mark the generation of pancreatic endocrine lineages in mice and humans. Cell Res (2021). https://doi.org/10.1038/s41422-021-00486-w
Received:

Accepted:

Published: