Access options
Subscribe to Journal
Get full journal access for 1 year
We are sorry, but there is no personal subscription option available for your country.
Rent or Buy article
Get time limited or full article access on ReadCube.
from$8.99
All prices are NET prices.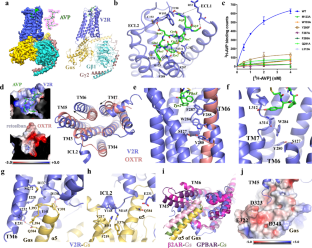 Data availability
The structural restraints ad coordinates of the AVP-V2R-Gs complex have been deposited in the Protein Data Bank (PDB: 7KH0) and the Electron Microscopy Data Bank (EMDB: EMD-22872).
References
1.

Fredriksson, R., Lagerstrom, M. C., Lundin, L. G. & Schioth, H. B. Mol. Pharmacol. 63, 1256–1272 (2003).

2.

Juul, K. V., Bichet, D. G., Nielsen, S. & Norgaard, J. P. Am. J. Physiol. Renal. Physiol. 306, F931–F940 (2014).

3.

Makita, N., Manaka, K., Sato, J. & Iiri, T. Vitam. Horm. 113, 79–99 (2020).

4.

Sasaki, S., Chiga, M., Kikuchi, E., Rai, T. & Uchida, S. Clin. Exp. Nephrol. 17, 338–344 (2013).

5.

Miyakoshi, M., Kamoi, K., Uchida, S. & Sasaki, S. Endocr. J. 50, 809–814 (2003).

6.

Tahara, A. et al. Br. J. Pharmacol. 125, 1463–1470 (1998).

7.

Cotte, N. et al. J. Biol. Chem. 273, 29462–29468 (1998).

8.

Waltenspuhl, Y., Schoppe, J., Ehrenmann, J., Kummer, L. & Pluckthun, A. Sci. Adv. 6, eabb5419 (2020).

9.

Weis, W. I. & Kobilka, B. K. Annu. Rev. Biochem. 87, 897–919 (2018).

10.

Rasmussen, S. G. et al. Nature 469, 175–180 (2011).

11.

Manglik, A. & Kruse, A. C. Biochemistry 56, 5628–5634 (2017).

12.

Erlenbach, I. et al. J. Biol. Chem. 276, 29382–29392 (2001).

13.

Rasmussen, S. G. et al. Nature 477, 549–555 (2011).

14.

Yang, F. et al. Nature 587, 499–504 (2020).
Acknowledgements
We thank the Cryo-EM Facility Center of the Chinese University of Hong Kong, Shenzhen for providing technical support during EM image acquisition. Y.D. is supported by a grant from Science, Technology and Innovation Commission of Shenzhen Municipality (Project JCYJ20200109150019113), and in part by the Kobilka Institute of Innovative Drug Discovery and Presidential Fellowship at the Chinese University of Hong Kong, Shenzhen. C.Z. is supported by the grant R35GM128641 from the National Institutes of Health, the United States of America.
Ethics declarations
Competing interests
The authors declare no competing interests.
Supplementary information
About this article
Cite this article
Wang, L., Xu, J., Cao, S. et al. Cryo-EM structure of the AVP–vasopressin receptor 2–Gs signaling complex. Cell Res (2021). https://doi.org/10.1038/s41422-021-00483-z
Received:

Accepted:

Published:
Further reading
Ming-Chun Chen

,

Yu-Chao Hsiao

,

Chun-Chun Chang

,

Sheng-Feng Pan

,

Chih-Wen Peng

,

Ya-Tzu Li

,

Cheng-Der Liu

,

Je-Wen Liou

&

Hao-Jen Hsu

Biomedicines (2021)

Julien Bous

,

Hélène Orcel

,

Nicolas Floquet

,

Cédric Leyrat

,

Joséphine Lai-Kee-Him

,

Gérald Gaibelet

,

Aurélie Ancelin

,

Julie Saint-Paul

,

Stefano Trapani

,

Maxime Louet

,

Rémy Sounier

,

Hélène Déméné

,

Sébastien Granier

,

Patrick Bron

&

Bernard Mouillac

Science Advances (2021)