Access options
Subscribe to Journal
Get full journal access for 1 year
We are sorry, but there is no personal subscription option available for your country.
Rent or Buy article
Get time limited or full article access on ReadCube.
from$8.99
All prices are NET prices.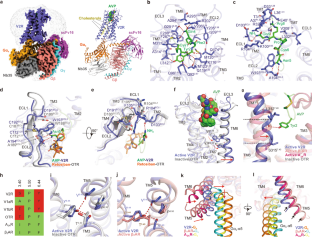 References
1.

Barberis, C., Mouillac, B. & Durroux, T. J. Endocrinol. 156, 223–229 (1998).

2.

Donaldson, Z. R. & Young, L. J. Science 322, 900–904 (2008).

3.

Makita, N., Manaka, K., Sato, J. & Iiri, T. Vitam. Horm. 113, 79–99 (2020).

4.

Carpenter, B., Nehme, R., Warne, T., Leslie, A. G. & Tate, C. G. Nature 538, 104–107 (2016).

5.

Ballesteros, J. A. & Weinstein, H. Methods Neurosci. 25, 366–428 (1995).

6.

Tahara, A. et al. Br. J. Pharmacol. 125, 1463–1470 (1998).

7.

Conner, M. et al. J. Biol. Chem. 282, 17405–17412 (2007).

8.

Waltenspuhl, Y., Schoppe, J., Ehrenmann, J., Kummer, L. & Pluckthun, A. Sci. Adv. 6, eabb5419 (2020).

9.

Zhou, Q. et al. Elife 8, e50279 (2019).

10.

Wisniewski, K. et al. J. Med. Chem. 54, 4388–4398 (2011).

11.

Rasmussen, S. G. et al. Nature 477, 549–555 (2011).

12.

Erdélyi, L. et al. Endocrine Abstracts 49, https://doi.org/10.1530/endoabs.49.EP804 (2017).

13.

Wenkert, D. et al. Mol. Cell Endocrinol. 124, 43–50 (1996).

14.

Chini, B. et al. FEBS Lett. 397, 201–206 (1996).
Acknowledgements
We thank all staff members of the Cryo-EM Centre, Southern University of Science and Technology for their assistance in data collection. This work was partially supported by the Ministry of Science and Technology (China) grant (2018YFA0507002 to H.E.X.); National Natural Science Foundation of China (31770796 to Y.J., 81872915 to M,-W.W., 31600606 to X.Z., and 81773792 to D.Y.); National Science & Technology Major Project "Key New Drug Creation and Manufacturing Program" (2018ZX09711002-002-002 to Y.J., 2018ZX09735-001 to M.-W.W., and 2018ZX09711002-002-005 to D.Y.); Shanghai Municipal Science and Technology Major Project (2019SHZDZX02 to H.E.X.); CAS Strategic Priority Research Program (XDB37030103 to H.E.X.); Start-up funding by Fudan University (Q.Z.); Wellcome Trust 209407/Z/17/Z; National Key R&D Program of China (2016YFA0501100 to X.Z.); Guangdong Provincial Key Laboratory of Brain Connectome and Behavior (2017B030301017 to X.Z.); CAS Key Laboratory of Brain Connectome and Manipulation (2019DP173024 to X.Z.).
Ethics declarations
Competing interests
The authors declare no competing interests.
Supplementary information
About this article
Cite this article
Zhou, F., Ye, C., Ma, X. et al. Molecular basis of ligand recognition and activation of human V2 vasopressin receptor. Cell Res (2021). https://doi.org/10.1038/s41422-021-00480-2
Received:

Accepted:

Published: