Abstract
SLC1A5 variant (SLC1A5_var) is identified as a mitochondrial glutamine transporter in cancer cells recently. However, the role of SLC1A5_var in Parkinson's disease (PD) is completely unknown. Here, we found the significant downregulation of SLC1A5_var in astrocytes and midbrain of mice treated with MPTP/MPP+ and LPS. Importantly, overexpression of SLC1A5_var ameliorated but knockdown of SLC1A5_var exacerbated MPTP/MPP+- and LPS-induced mitochondrial dysfunction. Consequently, SLC1A5_var provided beneficial effects on PD pathology including improvement of PD-like motor symptoms and rescue of dopaminergic (DA) neuron degeneration through maintaining mitochondrial energy metabolism. Moreover, SLC1A5_var reduced astrocyte reactivity via inhibition of A1 astrocyte conversion. Further investigation demonstrated that SLC1A5_var restrained the secretion of astrocytic pro-inflammatory cytokines by blunting TLR4-mediated downstream pathways. This is the first study to prove that astrocytic SLC1A5_var inhibits neuroinflammation, and rescues the loss of DA neurons and motor symptoms involved in PD progression, which provides a novel target for PD treatment.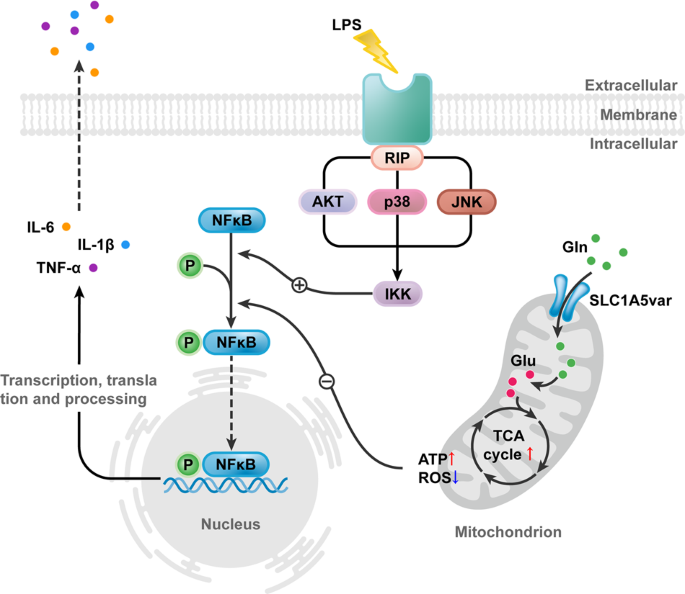 Data availability
The raw data supporting the conclusions of this article will be made available by the authors.
References
Bloem BR, Okun MS, Klein C. Parkinson's disease. Lancet. 2021;397:2284–303.

Le H, Zeng W, Zhang H, Li J, Wu X, Xie M, et al. Mean apparent propagator MRI is better than conventional diffusion tensor imaging for the evaluation of Parkinson's Disease: a prospective pilot study. Front Aging Neurosci. 2020;12:563595.

Jurcau A. Insights into the pathogenesis of neurodegenerative diseases: focus on mitochondrial dysfunction and oxidative stress. Int J Mol Sci. 2021;22:11847.

Snow BJ, Rolfe FL, Lockhart MM, Frampton CM, O'Sullivan JD, Fung V, et al. A double-blind, placebo-controlled study to assess the mitochondria-targeted antioxidant MitoQ as a disease-modifying therapy in Parkinson's disease. Mov Disord. 2010;25:1670–4.

Wei Y, Lu M, Mei M, Wang H, Han Z, Chen M, et al. Pyridoxine induces glutathione synthesis via PKM2-mediated Nrf2 transactivation and confers neuroprotection. Nat Commun. 2020;11:941.

Zhu J, Hu Z, Han X, Wang D, Jiang Q, Ding J, et al. Dopamine D2 receptor restricts astrocytic NLRP3 inflammasome activation via enhancing the interaction of beta-arrestin2 and NLRP3. Cell Death Differ. 2018;25:2037–49.

Zhu J, Sun T, Zhang J, Liu Y, Wang D, Zhu H, et al. Drd2 biased agonist prevents neurodegeneration against NLRP3 inflammasome in Parkinson's disease model via a beta-arrestin2-biased mechanism. Brain Behav Immun. 2020;90:259–71.

Ding ZB, Song LJ, Wang Q, Kumar G, Yan YQ, Ma CG. Astrocytes: a double-edged sword in neurodegenerative diseases. Neural Regen Res. 2021;16:1702–10.

Giovannoni F, Quintana FJ. The role of astrocytes in CNS inflammation. Trends Immunol. 2020;41:805–19.

Dauer W, Przedborski S. Parkinson's disease: mechanisms and models. Neuron. 2003;39:889–909.

Yoo HC, Park SJ, Nam M, Kang J, Kim K, Yeo JH, et al. A variant of SLC1A5 is a mitochondrial glutamine transporter for metabolic reprogramming in cancer cells. Cell Metab. 2020;31:267–83. e212.

Han X, Sun S, Sun Y, Song Q, Zhu J, Song N, et al. Small molecule-driven NLRP3 inflammation inhibition via interplay between ubiquitination and autophagy: implications for Parkinson disease. Autophagy. 2019;15:1860–81.

Song N, Fang Y, Zhu H, Liu J, Jiang S, Sun S, et al. Kir6.2 is essential to maintain neurite features by modulating PM20D1-reduced mitochondrial ATP generation. Redox Biol. 2021;47:102168.

Maley F, Trimble RB, Tarentino AL, Plummer TH Jr. Characterization of glycoproteins and their associated oligosaccharides through the use of endoglycosidases. Anal Biochem. 1989;180:195–204.

Lee H, Zandkarimi F, Zhang Y, Meena JK, Kim J, Zhuang L, et al. Energy-stress-mediated AMPK activation inhibits ferroptosis. Nat Cell Biol. 2020;22:225–34.

Willems PH, Rossignol R, Dieteren CE, Murphy MP, Koopman WJ. Redox homeostasis and mitochondrial dynamics. Cell Metab. 2015;22:207–18.

Pang Y, Wu D, Ma Y, Cao Y, Liu Q, Tang M, et al. Reactive oxygen species trigger NF-kappaB-mediated NLRP3 inflammasome activation involvement in low-dose CdTe QDs exposure-induced hepatotoxicity. Redox Biol. 2021;47:102157.

Bang E, Kim DH, Chung HY. Protease-activated receptor 2 induces ROS-mediated inflammation through Akt-mediated NF-kappaB and FoxO6 modulation during skin photoaging. Redox Biol. 2021;44:102022.

Liu H, Han Y, Wang T, Zhang H, Xu Q, Yuan J, et al. Targeting microglia for therapy of Parkinson's Disease by using biomimetic ultrasmall nanoparticles. J Am Chem Soc. 2020;142:21730–42.

Liddelow SA, Guttenplan KA, Clarke LE, Bennett FC, Bohlen CJ, Schirmer L, et al. Neurotoxic reactive astrocytes are induced by activated microglia. Nature 2017;541:481–7.

Ciesielska A, Matyjek M, Kwiatkowska K. TLR4 and CD14 trafficking and its influence on LPS-induced pro-inflammatory signaling. Cell Mol Life Sci. 2021;78:1233–61.

Zhang C, Zhao M, Wang B, Su Z, Guo B, Qin L, et al. The Nrf2-NLRP3-caspase-1 axis mediates the neuroprotective effects of Celastrol in Parkinson's disease. Redox Biol. 2021;47:102134.

Ramirez AI, de Hoz R, Salobrar-Garcia E, Salazar JJ, Rojas B, Ajoy D, et al. The role of microglia in retinal neurodegeneration: Alzheimer's Disease, Parkinson, and glaucoma. Front Aging Neurosci. 2017;9:214.

Han X, Xu T, Fang Q, Zhang H, Yue L, Hu G, et al. Quercetin hinders microglial activation to alleviate neurotoxicity via the interplay between NLRP3 inflammasome and mitophagy. Redox Biol. 2021;44:102010.

Di Martino R, Sisalli MJ, Sirabella R, Della Notte S, Borzacchiello D, Feliciello A, et al. Ncx3-induced mitochondrial dysfunction in midbrain leads to neuroinflammation in striatum of A53t-alpha-synuclein transgenic old mice. Int J Mol Sci. 2021;22:8177.

Sarkar S, Malovic E, Harischandra DS, Ngwa HA, Ghosh A, Hogan C, et al. Manganese exposure induces neuroinflammation by impairing mitochondrial dynamics in astrocytes. Neurotoxicology. 2018;64:204–18.

Scalise M, Pochini L, Console L, Losso MA, Indiveri C. The human SLC1A5 (ASCT2) amino acid transporter: from function to structure and role in cell biology. Front Cell Dev Biol. 2018;6:96.

Zhao M, Wang B, Zhang C, Su Z, Guo B, Zhao Y, et al. The DJ1-Nrf2-STING axis mediates the neuroprotective effects of Withaferin A in Parkinson's disease. Cell Death Differ. 2021;28:2517–35.

Han X, Liu Y, Dai Y, Xu T, Hu Q, Yi X, et al. Neuronal SH2B1 attenuates apoptosis in an MPTP mouse model of Parkinson's disease via promoting PLIN4 degradation. Redox Biol. 2022;52:102308.

Mani S, Sevanan M, Krishnamoorthy A, Sekar S. A systematic review of molecular approaches that link mitochondrial dysfunction and neuroinflammation in Parkinson's disease. Neurol Sci. 2021;42:4459–69.
Funding
This research was supported by grants from the National Key R&D Program of China (No.2021ZD0202900), the National Natural Science Foundation of China (No. 81922066, No. 82003725, No. 82173797, No. 81991523), and the Natural Science Foundation of Nanjing University of Chinese Medicine (No. NZY82003725).
Ethics declarations
Competing interests
The authors declare no competing interests.
Ethics approval
The animal study was reviewed and approved by Nanjing Medical University's Institutional Animal Care and Use Committee (IACUC).
Additional information
Publisher's note Springer Nature remains neutral with regard to jurisdictional claims in published maps and institutional affiliations.
Edited by Dr Daniele Bano
Supplementary information
Rights and permissions
Open Access This article is licensed under a Creative Commons Attribution 4.0 International License, which permits use, sharing, adaptation, distribution and reproduction in any medium or format, as long as you give appropriate credit to the original author(s) and the source, provide a link to the Creative Commons license, and indicate if changes were made. The images or other third party material in this article are included in the article's Creative Commons license, unless indicated otherwise in a credit line to the material. If material is not included in the article's Creative Commons license and your intended use is not permitted by statutory regulation or exceeds the permitted use, you will need to obtain permission directly from the copyright holder. To view a copy of this license, visit http://creativecommons.org/licenses/by/4.0/.
About this article
Cite this article
Liu, Y., Cao, L., Song, Y. et al. Mitochondrial glutamine transporter SLC1A5_var, a potential target to suppress astrocyte reactivity in Parkinson's Disease. Cell Death Dis 13, 946 (2022). https://doi.org/10.1038/s41419-022-05399-z
Received:

Revised:

Accepted:

Published:

DOI: https://doi.org/10.1038/s41419-022-05399-z