Abstract
Mesenchymal stem cells (MSCs) can differentiate into endothelial cells; however, the mechanisms underlying this process in the tumor microenvironment (TME) remain elusive. This study shows that tumor necrosis factor alpha (TNF-α), a key cytokine present in the TME, promotes the endothelial differentiation of MSCs by inducing vascular endothelial growth factor receptor 2 (VEGFR2) gene expression. EGR1 is a member of the zinc-finger transcription factor family induced by TNF-α. Our findings indicate that EGR1 directly binds to the VEGFR2 promoter and transactivates VEGFR2 expression. We also demonstrate that EGR1 forms a complex with c-JUN activated by c-JUN N-terminal kinase (JNK) to promote VEGFR2 transcription and endothelial differentiation in MSCs in response to TNF-α stimulation. The shRNA-mediated silencing of EGR1 or c-JUN abrogates TNF-α-induced VEGFR2 transcription and the endothelial differentiation of MSCs. To further evaluated the role of EGR1 in the endothelial differentiation of BM-MSCs, we used a syngenic tumor implantation model. 4T1 mouse mammary tumor cells were injected subcutaneously into BALB/c mice with primary mBM-MSCs isolated from wild-type (Egr1+/+) or Egr1-null (Egr1−/−) mice. CD31-positive cells were predominantly observed at the border of the tumor in the 4T1 plus wild-type MSC group, while staining less in the 4T1 alone or 4T1 plus Egr1-null MSC group. Collectively, these findings demonstrate that the JNK-EGR1 signaling axis plays a crucial role in the TNF-α-induced endothelial differentiation of MSCs in the TME, which could be a potential therapeutic target for solid tumors vasculatures.
Access options
Subscribe to Journal
Get full journal access for 1 year
$119.00
only $9.92 per issue
All prices are NET prices.
VAT will be added later in the checkout.
Tax calculation will be finalised during checkout.
Buy article
Get time limited or full article access on ReadCube.
$32.00
All prices are NET prices.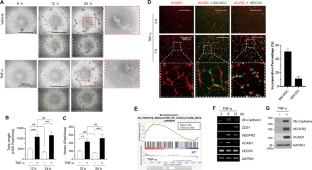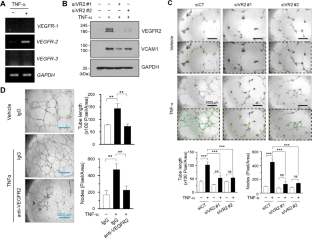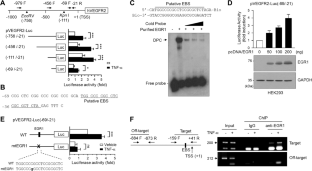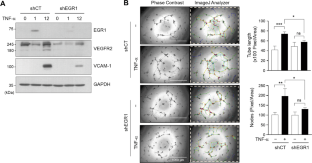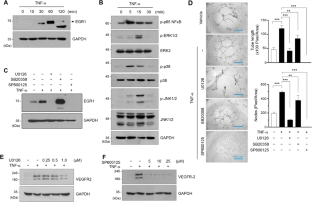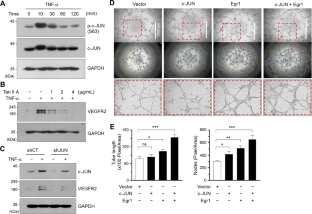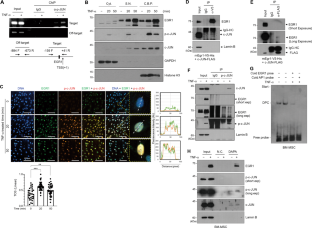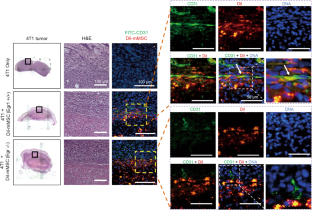 Data availability
The data sets generated during the current study are available from the corresponding author upon reasonable request. The microarray data have been deposited in NCBI Gene Expression Omnibus (Accession number: GSE214834).
References
Forster JC, Harriss-phillips WM, Douglass MJ, Bezak E. A review of the development of tumor vasculature and its effects on the tumor microenvironment. Hypoxia. 2017;5:21–32.

Teleanu RI, Chircov C, Grumezescu AM, Teleanu DM. Tumor angiogenesis and anti-angiogenic strategies for cancer treatment. J Clin Med. 2020;9:84.

Ruoslahti E. Specialization of tumour vasculature. Nat Rev Cancer. 2002;2:83–90.

Lugano R, Ramachandran M, Dimberg A. Tumor angiogenesis: causes, consequences, challenges and opportunities. Cell Mol Life Sci. 2020;77:1745–70.

Rohde E, Malischnik C, Thaler D, Maierhofer T, Linkesch W, Lanzer G, et al. Blood monocytes mimic endothelial progenitor cells. Stem Cells. 2006;24:357–67.

Coukos G, Benencia F, Buckanovich RJ, Conejo-Garcia JR. The role of dendritic cell precursors in tumour vasculogenesis. Br J Cancer. 2005;92:1182–7.

Pittenger MF, Discher DE, Péault BM, Phinney DG, Hare JM, Caplan AI. Mesenchymal stem cell perspective: cell biology to clinical progress. NPJ Regen Med. 2019;4:22.

Satija NK, Singh VK, Verma YK, Gupta P, Sharma S, Afrin F, et al. Mesenchymal stem cell-based therapy: a new paradigm in regenerative medicine. J Cell Mol Med. 2009;13:4385–402.

Torsvik A, Bjerkvig R. Mesenchymal stem cell signaling in cancer progression. Cancer Treat Rev. 2013;39:180–8.

Hsu HS, Lin JH, Hsu TW, Su K, Wang CW, Yang KY, et al. Mesenchymal stem cells enhance lung cancer initiation through activation of IL-6/JAK2/STAT3 pathway. Lung Cancer. 2012;75:167–77.

Tsai KS, Yang SH, Lei YP, Tsai CC, Chen HW, Hsu CY, et al. Mesenchymal stem cells promote formation of colorectal tumors in mice. Gastroenterology. 2011;141:1046–56.

Mishra PJ, Mishra PJ, Humeniuk R, Medina DJ, Alexe G, Mesirov JP, et al. Carcinoma-associated fibroblast-like differentiation of human mesenchymal stem cells. Cancer Res. 2008;68:4331–9.

Yang KQ, Liu Y, Huang QH, Mo N, Zhang QY, Meng QG, et al. Bone marrow-derived mesenchymal stem cells induced by inflammatory cytokines produce angiogenetic factors and promote prostate cancer growth. BMC Cancer. 2017;17:1–10.

Yuan L, Sakamoto N, Song G, Sato M. High-level shear stress stimulates endothelial differentiation and VEGF secretion by human mesenchymal stem cells. Cell Mol Bioeng. 2013;6:220–9.

Lozito TP, Kuo CK, Taboas JM, Tuan RS. Human mesenchymal stem cells express vascular cell phenotypes upon interaction with endothelial cell matrix. J Cell Biochem. 2009;107:714–22.

Oswald J, Boxberger S, Jørgensen B, Bornhaeuser M, Ehninger G, Werner C. Mesenchymal stem cells can be differentiated into endothelial cells in vitro. Stem Cells. 2004;22:377–84.

Batlle R, Andrés E, Gonzalez L, Llonch E, Igea A, Gutierrez-Prat N, et al. Regulation of tumor angiogenesis and mesenchymal–endothelial transition by p38α through TGF-β and JNK signaling. Nat Commun. 2019;10:1–18.

Balkwill F. Tumour necrosis factor and cancer. Nat Rev Cancer. 2009;9:361–71.

Sethi G, Sung B, Aggarwal BB. TNF: a master switch for inflammation to cancer. Front Biosci. 2008;13:5094–107.

Kwon YW, Heo SC, Jeong GO, Yoon JW, Mo WM, Lee MJ, et al. Tumor necrosis factor-α-activated mesenchymal stem cells promote endothelial progenitor cell homing and angiogenesis. Biochim Biophys Acta Mol Basis Dis. 2013;1832:2136–44.

Huang H, Zhao N, Xu X, Xu Y, Li S, Zhang J, et al. Dose-specific effects of tumor necrosis factor alpha on osteogenic differentiation of mesenchymal stem cells. Cell Prolif. 2011;44:420–7.

Tetzlaff F, Fischer A. Human endothelial cell spheroid-based sprouting angiogenesis assay in collagen. Bio Protoc. 2018;8:e2995.

Xie Z, Bailey A, Kuleshov MV, Clarke DJB, Evangelista JE, Jenkins SL, et al. Gene set knowledge discovery with enrichr. Curr Protoc. 2021;1:e90.

Mootha VK, Lindgren CM, Eriksson K-F, Subramanian A, Sihag S, Lehar J, et al. PGC-1α-responsive genes involved in oxidative phosphorylation are coordinately downregulated in human diabetes. Nat Genet. 2003;34:267–73.

Subramanian A, Tamayo P, Mootha VK, Mukherjee S, Ebert BL, Gillette MA, et al. Gene set enrichment analysis: a knowledge-based approach for interpreting genome-wide expression profiles. Proc Natl Acad Sci USA. 2005;102:15545–50.

Stauffer W, Sheng H, Lim HN. EzColocalization: an ImageJ plugin for visualizing and measuring colocalization in cells and organisms. Sci Rep. 2018;8:15764.

Herrmann C, Avgousti D, Weitzman M. Differential salt fractionation of nuclei to analyze chromatin-associated proteins from cultured mammalian cells. Bio Protoc. 2017;7:1–13.

Yeo H, Ahn SS, Lee YH, Shin SY. Regulation of pro-opiomelanocortin (POMC) gene transcription by interleukin-31 via early growth response 1 (EGR-1) in HaCaT keratinocytes. Mol Biol Rep. 2020;47:5953–62.

Lee SL, Wang Y, Milbrandt J. Unimpaired macrophage differentiation and activation in mice lacking the zinc finger transcription factor NGFI-A (EGR1). Mol Cell Biol. 1996;16:4566–72.

Huang S, Xu L, Sun Y, Wu T, Wang K, Li G. An improved protocol for isolation and culture of mesenchymal stem cells from mouse bone marrow. J Orthop Transl. 2015;3:26–33.

Bouïs D, Hospers GAP, Meijer C, Molema G, Mulder NH. Endothelium in vitro: a review of human vascular endothelial cell lines for blood vessel-related research. Angiogenesis. 2001;4:91–102.

Janeczek Portalska K, Leferink A, Groen N, Fernandes H, Moroni L, van Blitterswijk C, et al. Endothelial differentiation of mesenchymal stromal cells. PLoS One. 2012;7:e46842.

Grimbacher B, Aicher WK, Peter HH, Eibel H. TNF-α induces the transcription factor Egr-1, pro-inflammatory cytokines and cell proliferation in human skin fibroblasts and synovial lining cells. Rheumatol Int. 1998;17:185–92.

Son SW, Min BW, Lim Y, Lee YH, Shin SY. Regulatory mechanism of TNFα autoregulation in HaCaT cells: The role of the transcription factor EGR-1. Biochem Biophys Res Commun. 2008;374:777–82.

Chaudhary LR, Cheng SL, Avioli LV. Induction of early growth response-1 gene by interleukin-1β and tumor necrosis factor-α in normal human bone marrow stromal and osteoblastic cells: regulation by a protein kinase C inhibitor. Mol Cell Biochem. 1996;156:69–77.

Wang B, Guo H, Yu H, Chen Y, Xu H, Zhao G. The role of the transcription factor EGR1 in cancer. Front Oncol. 2021;11:1–10.

Kim JH, Jung E, Choi J, Min DY, Lee YH, Shin SY. Leptin is a direct transcriptional target of EGR1 in human breast cancer cells. Mol Biol Rep. 2019;46:317–24.

Ip YT, Davis RJ. Signal transduction by the c-Jun N-terminal kinase (JNK) - From inflammation to development. Curr Opin Cell Biol. 1998;10:205–19.

Vleugel MM, Greijer AE, Bos R, van der Wall E, van Diest PJ. c-Jun activation is associated with proliferation and angiogenesis in invasive breast cancer. Hum Pathol. 2006;37:668–74.

Ma J, Zhang L, Han W, Shen T, Ma C, Liu Y, et al. Activation of JNK/c-Jun is required for the proliferation, survival, and angiogenesis induced by EET in pulmonary artery endothelial cells. J Lipid Res. 2012;53:1093–105.

Lee SP, Jun G, Yoon EJ, Park S, Yang CH. Inhibitory effect of methyl caffeate on Fos-Jun-DNA complex formation and suppression of cancer cell growth. Bull Korean Chem Soc. 2001;22:1131–5.

Nakashima A, Ota A, Sabban EL. Interactions between Egr1 and AP1 factors in regulation of tyrosine hydroxylase transcription. Brain Res Mol Brain Res. 2003;112:61–9.

Goel HL, Mercurio AM. VEGF targets the tumour cell. Nat Rev Cancer. 2013;13:871–82.

Beckermann BM, Kallifatidis G, Groth A, Frommhold D, Apel A, Mattern J, et al. VEGF expression by mesenchymal stem cells contributes to angiogenesis in pancreatic carcinoma. Br J Cancer. 2008;99:622–31.

Marcelo KL, Goldie LC, Hirschi KK. Regulation of endothelial cell differentiation and specification. Circ Res. 2013;112:1272–87.

Al-Lamki RS, Mayadas TN. TNF receptors: signaling pathways and contribution to renal dysfunction. Kidney Int. 2015;87:281–96.

Guo D, Dunbar JD, Yang CH, Pfeffer LM, Donner DB. Induction of Jak/STAT signaling by activation of the type 1 TNF receptor. J Immunol. 1998;160:2742–50.

Gashler A, Sukhatme VP. Early Growth Response Protein 1 (Egr-1): Prototype of a Zinc-finger family of transcription factors. Prog Nucleic Acid Res Mol Biol. 1995;50:191–224.

Li L, Ameri AH, Wang S, Jansson KH, Casey OM, Yang Q, et al. EGR1 regulates angiogenic and osteoclastogenic factors in prostate cancer and promotes metastasis. Oncogene. 2019;38:6241–55.

Wu SY, Rupaimoole R, Shen F, Pradeep S, Pecot CV, Ivan C, et al. A miR-192-EGR1-HOXB9 regulatory network controls the angiogenic switch in cancer. Nat Commun. 2016;7:1–14.

Seong Y, Moon J, Kim J. Egr1 mediated the neuronal differentiation induced by extremely low-frequency electromagnetic fields. Life Sci. 2014;102:16–27.

Guerquin MJ, Charvet B, Nourissat G, Havis E, Ronsin O, Bonnin MA, et al. Transcription factor EGR1 directs tendon differentiation and promotes tendon repair. J Clin Invest. 2013;123:3564–76.

Hess J, Angel P, Schorpp-Kistner M. AP-1 subunits: Quarrel and harmony among siblings. J Cell Sci. 2004;117:5965–73.

Vinson C, Myakishev M, Acharya A, Mir AA, Moll JR, Bonovich M. Classification of Human B-ZIP proteins based on dimerization properties. Mol Cell Biol. 2002;22:6321–35.

Hamik A, Wang B, Jain MK. Transcriptional regulators of angiogenesis. Arterioscler Thromb Vasc Biol. 2006;26:1936–47.

Morgunova E, Taipale J. Structural perspective of cooperative transcription factor binding. Curr Opin Struct Biol. 2017;47:1–8.

Chen L, Glover JN, Hogan PG, Rao A, Harrison SC. Structure of the DNA-binding domains from NFAT, Fos and Jun bound specifically to DNA. Nature. 1998;392:42–8.

Wei X, Guo J, Li Q, Jia Q, Jing Q, Li Y, et al. Bach1 regulates self-renewal and impedes mesendodermal differentiation of human embryonic stem cells. Sci Adv. 2019;5:eaau7887.

Belew MS, Bhatia S, Keyvani Chahi A, Rentas S, Draper JS, Hope KJ. PLAG1 and USF2 co-regulate expression of Musashi-2 in human hematopoietic stem and progenitor cells. Stem Cell Rep. 2018;10:1384–97.

Hernandez N. TBP, a universal eukaryotic transcription factor? Genes Dev. 1993;7:1291–308.

Franklin CC, McCulloch AV, Kraft AS. In vitro association between the Jun protein family and the general transcription factors, TBP and TFIIB. Biochem J. 1995;305:967–74.

Wang B, Chen J, Santiago FS, Janes M, Kavurma MM, Chong BH, et al. Phosphorylation and acetylation of histone H3 and autoregulation by early growth response 1 mediate interleukin 1β induction of early growth response 1 transcription. Arterioscler Thromb Vasc Biol. 2010;30:536–45.

Silverman ES, Du J, Williams AJ, Wadgaonkar R, Drazen JM, Collins T. cAMP-response-element-binding-protein-binding protein (CBP) and p300 are transcriptional co-activators of early growth response factor-1 (Egr-1). Biochem J. 1998;336:183–9.

Kim BK, Im JY, Han G, Lee WJ, Won KJ, Chung KS, et al. P300 cooperates with c-Jun and PARP-1 at the p300 binding site to activate RhoB transcription in NSC126188-mediated apoptosis. Biochim Biophys Acta Gene Regul Mech. 2014;1839:364–73.

Liu L, Guan H, Li Y, Ying Z, Wu J, Zhu X, et al. Astrocyte elevated gene 1 interacts with acetyltransferase p300 and c-Jun to promote tumor aggressiveness. Mol Cell Biol. 2017;37:e00456–16.
Acknowledgements
This paper was supported by the KU Research Professor Program of Konkuk University.
Funding
This work was supported by the National Research Foundation of Korea (NRF) grant funded by the Ministry of Science and ICT (2018R1A2B2004653 (YHL) and 2020R1A2C1005845 (SYS).
Ethics declarations
Competing interests
The authors declare no competing interests.
Ethics statement
All animal experiments were approved by the Konkuk University Institutional Animal Care and Use Committee (IACUC) (approval number KU22041).
Additional information
Publisher's note Springer Nature remains neutral with regard to jurisdictional claims in published maps and institutional affiliations.
Edited by JP Medema
Supplementary information
Rights and permissions
Springer Nature or its licensor (e.g. a society or other partner) holds exclusive rights to this article under a publishing agreement with the author(s) or other rightsholder(s); author self-archiving of the accepted manuscript version of this article is solely governed by the terms of such publishing agreement and applicable law.
About this article
Cite this article
Jung, E., Ou, S., Ahn, S.S. et al. The JNK-EGR1 signaling axis promotes TNF-α-induced endothelial differentiation of human mesenchymal stem cells via VEGFR2 expression. Cell Death Differ (2022). https://doi.org/10.1038/s41418-022-01088-8
Received:

Revised:

Accepted:

Published:

DOI: https://doi.org/10.1038/s41418-022-01088-8