Abstract
NLRP3, the sensor protein of the NLRP3 inflammasome, plays central roles in innate immunity. Over-activation of NLRP3 inflammasome contributes to the pathogenesis of a variety of inflammatory diseases, while gain-of-function mutations of NLRP3 cause cryopyrin-associated periodic syndromes (CAPS). NLRP3 inhibitors, particularly those that inhibit inflammasome assembly and activation, are being intensively pursued, but alternative approaches for targeting NLRP3 would be highly desirable. During priming NLRP3 protein is synthesized on demand and becomes attached to the membranes of ER and mitochondria. Here, we show that fatty acid amide hydrolase (FAAH), the key integral membrane enzyme in the endocannabinoid system, unexpectedly served the critical membrane-anchoring and stabilizing role for NLRP3. The specific interaction between NLRP3 and FAAH, mediated by the NACHT and LRR domains of NLRP3 and the amidase signature sequence of FAAH, was essential for preventing CHIP- and NBR1-mediated selective autophagy of NLRP3. Heterozygous knockout of FAAH, resulting in ~50% reduction in both FAAH and NLRP3 expression, was sufficient to substantially inhibit the auto-inflammatory phenotypes of the NLRP3-R258W knock-in mice, while homozygous FAAH loss almost completely abrogates these phenotypes. Interestingly, select FAAH inhibitors, in particular URB597 and PF-04457845, disrupted NLRP3–FAAH interaction and induced autophagic NLRP3 degradation, leading to diminished inflammasome activation in mouse macrophage cells as well as in peripheral blood mononuclear cells isolated from CAPS patients. Our results unraveled a novel NLRP3-stabilizing mechanism and pinpointed NLRP3–FAAH interaction as a potential drug target for CAPS and other NLRP3-driven diseases.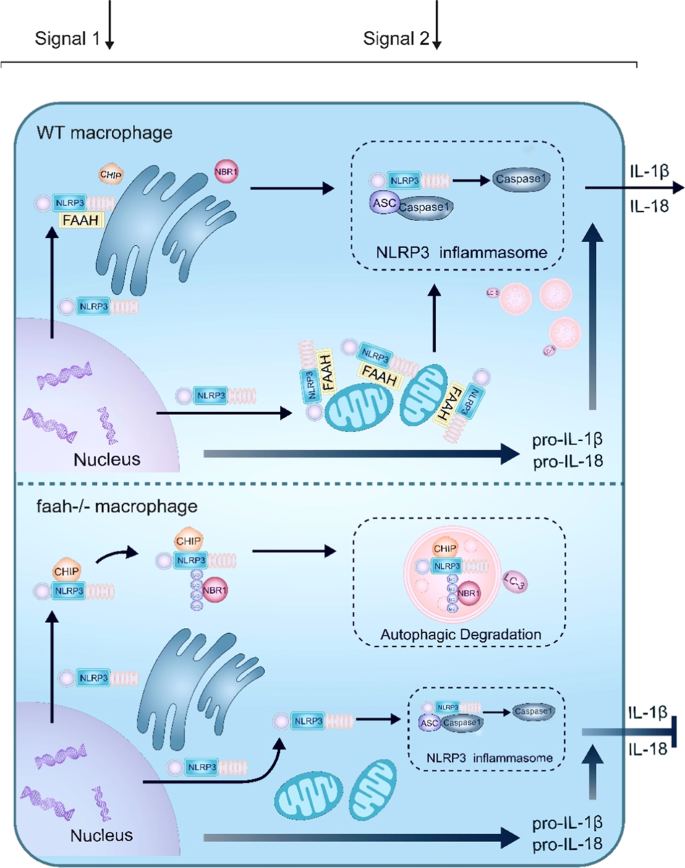 Access options
Subscribe to Journal
Get full journal access for 1 year
$119.00
only $9.92 per issue
All prices are NET prices.
VAT will be added later in the checkout.
Tax calculation will be finalised during checkout.
Buy article
Get time limited or full article access on ReadCube.
$32.00
All prices are NET prices.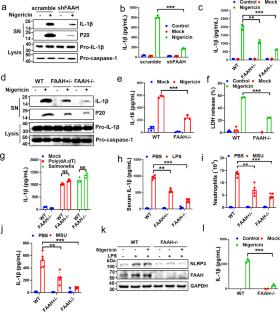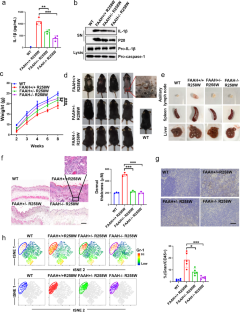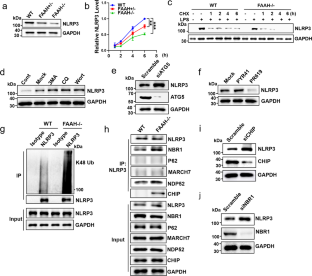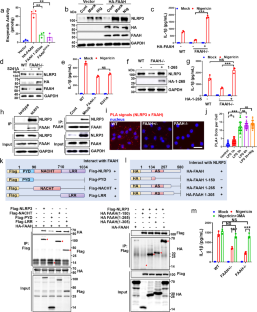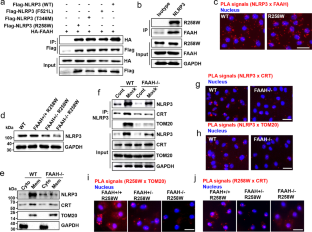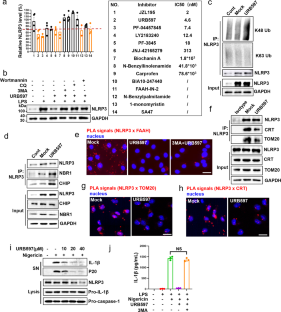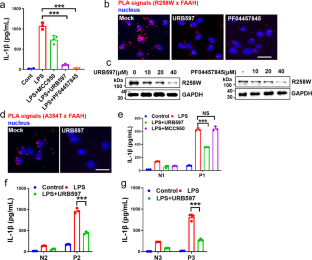 Data availability
All data are presented in the main text or Supplementary Materials. The expression plasmids reported in this paper are available upon request. The rest of the data supporting the present study are available from the corresponding author upon reasonable request.
References
Evavold CL, Kagan JC. Inflammasomes: threat-assessment organelles of the innate immune system. Immunity 2019;51:609–24.

Broz P, Dixit VM. Inflammasomes: mechanism of assembly, regulation and signaling. Nat Rev Immunol. 2016;16:407–20.

Lamkanf M, Dixit VM. Mechanisms and functions of inflammasomes. Cell 2014;157:1013–22.

Mangan MSJ, Olhava EJ, Roush WR, Seidel HM, Glick GD, Latz E. Targeting the NLRP3 inflammasome in inflammatory diseases. Nat Rev Drug Discov. 2018;17:588–606.

Duewell P, Kono H, Rayner KJ, Sirois CM, Vladimer G, Bauernfeind FG, et al. NLRP3 inflammasomes are required for atherogenesis and activated by cholesterol crystals. Nature 2010;464:1357–61.

Martinon F, Petrilli V, Mayor A, Tardivel A, Tschopp J. Gout-associated uric acid crystals activate the NALP3 inflammasome. Nature 2006;440:237–41.

Swanson KV, Deng M, Ting JP. The NLRP3 inflammasome: molecular activation and regulation to therapeutics. Nat Rev Immunol. 2019;19:477–89.

Agostini L, Martinon F, Burns K, McDermott MF, Hawkins PN, Tschopp J. NALP3 forms an IL-1beta-processing inflammasome with increased activity in Muckle-Wells autoinflammatory disorder. Immunity 2004;20:319–25.

Man SM, Karki R, Kanneganti TD. Molecular mechanisms and functions of pyroptosis, inflammatory caspases and inflammasomes in infectious diseases. Immunol Rev. 2017;277:61–75.

Booshehri LM, Hoffman HM. CAPS and NLRP3. J Clin Immunol. 2019;39:277–86.

Aganna E, Martinon F, Hawkins PN, Ross JB, Swan DC, Booth DR, et al. Association of mutations in the NALP3/CIAS1/PYPAF1 gene with a broad phenotype including recurrent fever, cold sensitivity, sensorineural deafness, and AA amyloidosis. Arthritis Rheum. 2002;46:2445–52.

Aksentijevich I, Nowak M, Mallah M, Chae JJ, Watford WT, Hofmann SR, et al. De novo CIAS1 mutations, cytokine activation, and evidence for genetic heterogeneity in patients with neonatal-onset multisystem inflammatory disease (NOMID): a new member of the expanding family of pyrin-associated autoinflammatory diseases. Arthritis Rheum. 2002;46:3340–8.

Neven B, Callebaut I, Prieur AM, Feldmann J, Bodemer C, Lepore L, et al. Molecular basis of the spectral expression of CIAS1 mutations associated with phagocytic cell-mediated autoinflammatory disorders CINCA/NOMID, MWS, and FCU. Blood 2004;103:2809–15.

Meng G, Zhang F, Fuss I, Kitani A, Strober W. A mutation in the Nlrp3 gene causing inflammasome hyperactivation potentiates Th17 cell-dominant immune responses. Immunity 2009;30:860–74.

Gritsenko A, Green JP, Brough D, Lopez-Castejon G. Mechanisms of NLRP3 priming in inflammaging and age-related diseases. Cytokine Growth Factor Rev. 2020;55:15–25.

Song H, Liu B, Huai W, Yu Z, Wang W, Zhao J, et al. The E3 ubiquitin ligase TRIM31 attenuates NLRP3 inflammasome activation by promoting proteasomal degradation of NLRP3. Nat Commun. 2016;7:13727.

Shi CS, Shenderov K, Huang NN, Kabat J, Abu-Asab M, Fitzgerald KA, et al. Activation of autophagy by inflammatory signals limits IL-1beta production by targeting ubiquitinated inflammasomes for destruction. Nat Immunol. 2012;13:255–63.

Yan Y, Jiang W, Liu L, Wang X, Ding C, Tian Z, et al. Dopamine controls systemic inflammation through inhibition of NLRP3 inflammasome. Cell 2015;160:62–73.

Song H, Zhao C, Yu Z, Li Q, Yan R, Qin Y, et al. UAF1 deubiquitinase complexes facilitate NLRP3 inflammasome activation by promoting NLRP3 expression. Nat Commun. 2020;11:6042.

Liu T, Wang L, Liang P, Wang X, Liu Y, Cai J, et al. USP19 suppresses inflammation and promotes M2-like macrophage polarization by manipulating NLRP3 function via autophagy. Cell Mol Immunol. 2021;18:2431–42.

Zhou R, Yazdi AS, Menu P, Tschopp J. A role for mitochondria in NLRP3 inflammasome activation. Nature 2011;469:221–5.

Elliott EI, Miller AN, Banoth B, Iyer SS, Stotland A, Weiss JP, et al. Cutting edge: mitochondrial assembly of the NLRP3 inflammasome complex is initiated at priming. J Immunol. 2018;200:3047–52.

Hamilton C, Anand PK. Right place, right time: localization and assembly of the NLRP3 inflammasome. F1000Research. 2019; 8: F1000 Faculty Rev-676.

Subramanian N, Natarajan K, Clatworthy MR, Wang Z, Germain RN. The adaptor MAVS promotes NLRP3 mitochondrial localization and inflammasome activation. Cell 2013;153:348–61.

Iyer SS, He Q, Janczy JR, Elliott EI, Zhong Z, Olivier AK, et al. Mitochondrial cardiolipin is required for Nlrp3 inflammasome activation. Immunity 2013;39:311–23.

Ichinohe T, Yamazaki T, Koshiba T, Yanagi Y. Mitochondrial protein mitofusin 2 is required for NLRP3 inflammasome activation after RNA virus infection. Proc Natl Acad Sci USA. 2013;110:17963–8.

Wang W, Hu D, Wu C, Feng Y, Li A, Liu W, et al. STING promotes NLRP3 localization in ER and facilitates NLRP3 deubiquitination to activate the inflammasome upon HSV-1 infection. PLoS Pathog. 2020;16:e1008335.

McKinney MK, Cravatt BF. Structure and function of fatty acid amide hydrolase. Annu Rev Biochem. 2005;74:411–32.

Di Marzo V. New approaches and challenges to targeting the endocannabinoid system. Nat Rev Drug Disco. 2018;17:623–39.

Van Egmond N, Straub VM, van der Stelt M. Targeting endocannabinoid signaling: FAAH and MAG Lipase inhibitors. Annu Rev Pharm Toxicol. 2021;61:441–63.

Wang ZY, Wang PQ, Hillard CJ, Bjorling DE. Attenuation of cystitis and pain sensation in mice lacking fatty acid amide hydrolase. J Mol Neurosci. 2015;55:968–76.

Sałaga M, Mokrowiecka A, Zakrzewski PK, Cygankiewicz A, Leishman E, Sobczak M, et al. Experimental colitis in mice is attenuated by changes in the levels of endocannabinoid metabolites induced by selective inhibition of fatty acid amide hydrolase (FAAH). J Crohns Colitis. 2014;8:998–1009.

Eljaschewitsch E, Witting A, Mawrin C, Lee T, Schmidt PM, Wolf S, et al. The endocannabinoid anandamide protects neurons during CNS inflammation by induction of MKP-1 in microglial cells. Neuron 2006;49:67–79.

Su SH, Wu YF, Lin Q, Wang DP, Hai J. URB597 protects against NLRP3 inflammasome activation by inhibiting autophagy dysfunction in a rat model of chronic cerebral hypoperfusion. J Neuroinflammation. 2019;16:260.

Li G, Xia M, Abais JM, Boini K, Li PL, Ritter JK. Protective action of anandamide and its COX-2 metabolite against l-Homocysteine-induced NLRP3 inflammasome activation and injury in podocytes. J Pharm Exp Ther. 2016;358:61–70.

Cravatt BF, Demarest K, Patricelli MP, Bracey MH, Giang DK, Martin BR, et al. Supersensitivity to anandamide and enhanced endogenous cannabinoid signaling in mice lacking fatty acid amide hydrolase. Proc Natl Acad Sci USA. 2001;98:9371.

Wang H, Xie H, Guo Y, Zhang H, Takahashi T, Kingsley PJ, et al. Fatty acid amide hydrolase deficiency limits early pregnancy events. J Clin Investig. 2006;116:2122–31.

Gatica D, Lahiri V, Klionsky DJ. Cargo recognition and degradation by selective autophagy. Nat Cell Biol. 2018;20:233–42.

Patricelli MP, Cravatt BF. Clarifying the catalytic roles of conserved residues in the amidase signature family. J Biol Chem. 2000;275:19177–84.

Tripathi RKP. A perspective review on fatty acid amide hydrolase (FAAH) inhibitors as potential therapeutic agents. Eur J Med Chem. 2020;188:111953.

Fazio D, Criscuolo E, Piccoli A, Barboni B, Fezza F, Maccarrone M, et al. Advances in the discovery of fatty acid amide hydrolase inhibitors: what does the future hold. Expert Opin Drug Discov. 2020;15:765–78.

Vande Walle L, Stowe IB, Šácha P, Lee BL, Demon D, Fossoul A, et al. MCC950/CRID3 potently targets the NACHT domain of wild-type NLRP3 but not disease-associated mutants for inflammasome inhibition. PLoS Biol. 2019;17:e3000354.

Cravatt BF, Saghatelian A, Hawkins EG, Clement AB, Bracey MH, Lichtman AH. Functional disassociation of the central and peripheral fatty acid amide signaling systems. Proc Natl Acad Sci USA. 2004;101:10821–6.

Dainese E, Oddi S, Simonetti M, Sabatucci A, Angelucci CB, Ballone A, et al. The endocannabinoid hydrolase FAAH is an allosteric enzyme. Sci Rep. 2020;10:2292.

Mehto S, Jena KK, Nath P, Chauhan S, Kolapalli SP, Das SK, et al. The Crohn's disease risk factor IRGM limits NLRP3 inflammasome activation by impeding its assembly and by mediating its selective autophagy. Mol Cell. 2019;73:429–45.e7.
Acknowledgements
We thank Dr. Warren Strober for sharing the Nlrp3R258W mouse line and Prof. Zhexiong Lian for assistance on mice studies.
Funding
This work was supported by National Natural Science Foundation of China (82150118, 32171375, 32071398, T2222014), Key-Area Research and Development Program of Guangdong Province (2020B0101030006, 2020B1515120096, 2022B0202010002), the Program for Guangdong Introducing Innovative and Entrepreneurial Teams (2017ZT07S054), and the Natural Science Foundation for Distinguished Young Scholars of Guangdong Province (2018B030306035).
Ethics declarations
Competing interests
The authors declare no competing interests.
Ethics approval
All mice were housed in a specific pathogen-free facility in the Laboratory Animal Center of South China University of Technology. The experiments using patient-derived PBMCs have complied with all relevant ethical regulations with the informed consent from the patients. The experiment was ethically approved by the Department of Rheumatology and Immunology, Beijing Children's Hospital of Capital Medical University.
Additional information
Publisher's note Springer Nature remains neutral with regard to jurisdictional claims in published maps and institutional affiliations.
Edited by C. Borner
Supplementary information
Rights and permissions
Springer Nature or its licensor holds exclusive rights to this article under a publishing agreement with the author(s) or other rightsholder(s); author self-archiving of the accepted manuscript version of this article is solely governed by the terms of such publishing agreement and applicable law.
About this article
Cite this article
Zhu, Y., Zhang, H., Mao, H. et al. FAAH served a key membrane-anchoring and stabilizing role for NLRP3 protein independently of the endocannabinoid system. Cell Death Differ (2022). https://doi.org/10.1038/s41418-022-01054-4
Received:

Revised:

Accepted:

Published:

DOI: https://doi.org/10.1038/s41418-022-01054-4