Abstract
Colorectal cancer (CRC) is the third leading cause of cancer-related deaths in the US. Understanding the mechanisms of CRC progression is essential to improve treatment. Mitochondria is the powerhouse for healthy cells. However, in tumor cells, less energy is produced by the mitochondria and metabolic reprogramming is an early hallmark of cancer. The metabolic differences between normal and cancer cells are being interrogated to uncover new therapeutic approaches. Mitochondria targeting PTEN-induced kinase 1 (PINK1) is a key regulator of mitophagy, the selective elimination of damaged mitochondria by autophagy. Defective mitophagy is increasingly associated with various diseases including CRC. However, a significant gap exists in our understanding of how PINK1-dependent mitophagy participates in the metabolic regulation of CRC. By mining Oncomine, we found that PINK1 expression was downregulated in human CRC tissues compared to normal colons. Moreover, disruption of PINK1 increased colon tumorigenesis in two colitis-associated CRC mouse models, suggesting that PINK1 functions as a tumor suppressor in CRC. PINK1 overexpression in murine colon tumor cells promoted mitophagy, decreased glycolysis and increased mitochondrial respiration potentially via activation of p53 signaling pathways. In contrast, PINK1 deletion decreased apoptosis, increased glycolysis, and reduced mitochondrial respiration and p53 signaling. Interestingly, PINK1 overexpression in vivo increased apoptotic cell death and suppressed colon tumor xenograft growth. Metabolomic analysis revealed that acetyl-CoA was significantly reduced in tumors with PINK1 overexpression, which was partly due to activation of the HIF-1α-pyruvate dehydrogenase (PDH) kinase 1 (PDHK1)-PDHE1α axis. Strikingly, treating mice with acetate increased acetyl-CoA levels and rescued PINK1-suppressed tumor growth. Importantly, PINK1 disruption simultaneously increased xenografted tumor growth and acetyl-CoA production. In conclusion, mitophagy protein PINK1 suppresses colon tumor growth by metabolic reprogramming and reducing acetyl-CoA production.
Access options
Subscribe to Journal
Get full journal access for 1 year
$399.00
only $33.25 per issue
All prices are NET prices.
VAT will be added later in the checkout.
Tax calculation will be finalised during checkout.
Rent or Buy article
Get time limited or full article access on ReadCube.
from$8.99
All prices are NET prices.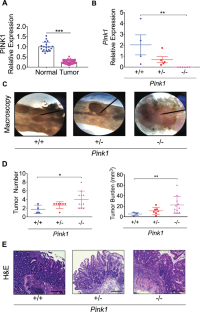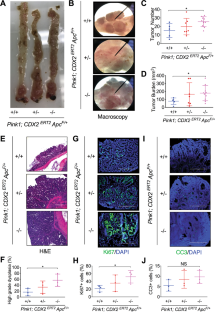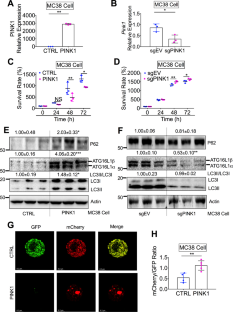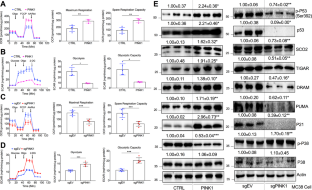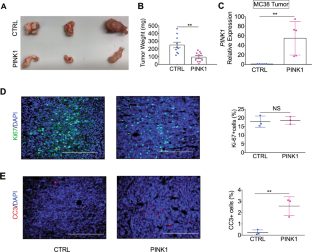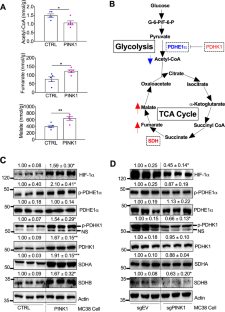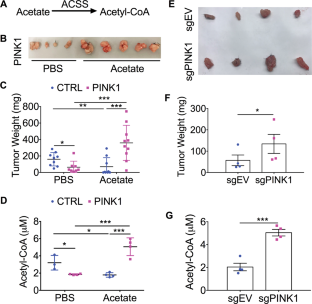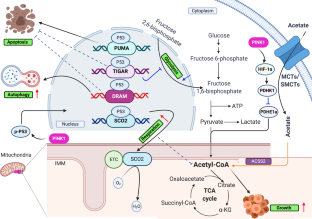 References
1.

Siegel RL, Miller KD, Jemal A. Cancer statistics, 2020. CA Cancer J Clin. 2020;70:7–30.

2.

Xue X, Bredell BX, Anderson ER, Martin A, Mays C, Nagao-Kitamoto H, et al. Quantitative proteomics identifies STEAP4 as a critical regulator of mitochondrial dysfunction linking inflammation and colon cancer. Proc Natl Acad Sci USA. 2017;114:E9608–E9617.

3.

Liberti MV, Locasale JW. The Warburg effect: how does it benefit cancer cells? Trends Biochem Sci. 2016;41:211–8.

4.

Ward PS, Thompson CB. Metabolic reprogramming: a cancer hallmark even warburg did not anticipate. Cancer Cell. 2012;21:297–308.

5.

Spinelli JB, Haigis MC. The multifaceted contributions of mitochondria to cellular metabolism. Nat Cell Biol. 2018;20:745–54.

6.

Ahn CS, Metallo CM. Mitochondria as biosynthetic factories for cancer proliferation. Cancer Metab. 2015;3:1.

7.

Dang CV, Hamaker M, Sun P, Le A, Gao P. Therapeutic targeting of cancer cell metabolism. J Mol Med. 2011;89:205–12.

8.

Kaldma A, Klepinin A, Chekulayev V, Mado K, Shevchuk I, Timohhina N, et al. An in situ study of bioenergetic properties of human colorectal cancer: the regulation of mitochondrial respiration and distribution of flux control among the components of ATP synthasome. Int J Biochem Cell Biol. 2014;55:171–86.

9.

Satoh K, Yachida S, Sugimoto M, Oshima M, Nakagawa T, Akamoto S, et al. Global metabolic reprogramming of colorectal cancer occurs at adenoma stage and is induced by MYC. Proc Natl Acad Sci USA. 2017;114:E7697–E7706.

10.

Shirihai OS, Song M, Dorn GW 2nd. How mitochondrial dynamism orchestrates mitophagy. Circ Res. 2015;116:1835–49.

11.

Wang K, Klionsky DJ. Mitochondria removal by autophagy. Autophagy. 2011;7:297–300.

12.

Um J-H, Yun J. Emerging role of mitophagy in human diseases and physiology. BMB Rep. 2017;50:299–307.

13.

Ziegler PK, Bollrath J, Pallangyo CK, Matsutani T, Canli Ö, De Oliveira T, et al. Mitophagy in intestinal epithelial. Cells Triggers Adapt Immun Tumorigenesis Cell. 2018;174:88–101.e16.

14.

Dagda RK, Cherra SJ 3rd, Kulich SM, Tandon A, Park D, Chu CT. Loss of PINK1 function promotes mitophagy through effects on oxidative stress and mitochondrial fission. J Biol Chem. 2009;284:13843–55.

15.

Li C, Zhang Y, Cheng X, Yuan H, Zhu S, Liu J, et al. PINK1 and PARK2 suppress pancreatic tumorigenesis through control of mitochondrial iron-mediated immunometabolism. Dev Cell. 2018;46:441–455.e8.

16.

Requejo-Aguilar R, Lopez-Fabuel I, Fernandez E, Martins LM, Almeida A, Bolaños JP. PINK1 deficiency sustains cell proliferation by reprogramming glucose metabolism through HIF1. Nat Commun. 2014;5:4514.

17.

Xue X, Ramakrishnan SK, Weisz K, Triner D, Xie L, Attili D, et al. Iron uptake via DMT1 integrates cell cycle with JAK-STAT3 signaling to promote colorectal tumorigenesis. Cell Metab. 2016;24:447–61.

18.

Halestrap AP, Price NT. The proton-linked monocarboxylate transporter (MCT) family: structure, function and regulation. Biochem J. 1999;343(Pt 2):281–99.

19.

Ganapathy V, Thangaraju M, Gopal E, Martin PM, Itagaki S, Miyauchi S, et al. Sodium-coupled monocarboxylate transporters in normal tissues and in cancer. AAPS J. 2008;10:193–9.

20.

Arduini A, Zammit V. Acetate transport into mitochondria does not require a carnitine shuttle mechanism. Magn Reson Med. 2017;77:11.

21.

Rivière L, Moreau P, Allmann S, Hahn M, Biran M, Plazolles N, et al. Acetate produced in the mitochondrion is the essential precursor for lipid biosynthesis in procyclic trypanosomes. Proc Natl Acad Sci USA. 2009;106:12694–9.

22.

Kim H, Yin K, Falcon DM, Xue X. The interaction of Hemin and Sestrin2 modulates oxidative stress and colon tumor growth. Toxicol Appl Pharm. 2019;374:77–85.

23.

Rojansky R, Cha M-Y, Chan DC. Elimination of paternal mitochondria in mouse embryos occurs through autophagic degradation dependent on PARKIN and MUL1. Elife. 2016;5:e17896.

24.

Rhodes DR, Yu J, Shanker K, Deshpande N, Varambally R, Ghosh D, et al. ONCOMINE: a cancer microarray database and integrated data-mining platform. Neoplasia. 2004;6:1–6.

25.

Pan Q, Lou X, Zhang J, Zhu Y, Li F, Shan Q, et al. Genomic variants in mouse model induced by azoxymethane and dextran sodium sulfate improperly mimic human colorectal cancer. Sci Rep. 2017;7:25.

26.

Green DR, Chipuk JE. p53 and metabolism: inside the TIGAR. Cell. 2006;126:30–32.

27.

Bensaad K, Tsuruta A, Selak MA, Vidal MNC, Nakano K, Bartrons R, et al. TIGAR, a p53-inducible regulator of glycolysis and apoptosis. Cell. 2006;126:107–20.

28.

Matoba S, Kang J-G, Patino WD, Wragg A, Boehm M, Gavrilova O, et al. p53 regulates mitochondrial Respiration. Science. 2006;312:1650–3.

29.

Crighton D, Wilkinson S, O'Prey J, Syed N, Smith P, Harrison PR, et al. DRAM, a p53-induced modulator of autophagy, is critical for apoptosis. Cell. 2006;126:121–34.

30.

Liu K, Lee J, Kim JY, Wang L, Tian Y, Chan ST, et al. Mitophagy controls the activities of tumor suppressor p53 to regulate hepatic cancer stem cells. Mol Cell. 2017;68:281–292.e5.

31.

Kim J, Tchernyshyov I, Semenza GL, Dang CV. HIF-1-mediated expression of pyruvate dehydrogenase kinase: a metabolic switch required for cellular adaptation to hypoxia. Cell Metab. 2006;3:177–85.

32.

Comerford SA, Huang Z, Du X, Wang Y, Cai L, Witkiewicz AK, et al. Acetate dependence of tumors. Cell. 2014;159:1591–602.

33.

Frost G, Sleeth ML, Sahuri-Arisoylu M, Lizarbe B, Cerdan S, Brody L, et al. The short-chain fatty acid acetate reduces appetite via a central homeostatic mechanism. Nat Commun. 2014;5:3611.

34.

Shubitowski TB, Poll BG, Natarajan N, Pluznick JL. Short-chain fatty acid delivery: assessing exogenous administration of the microbiome metabolite acetate in mice. Physiol Rep. 2019;7:e14005–e14005.

35.

Agnihotri S, Golbourn B, Huang X, Remke M, Younger S, Cairns RA, et al. PINK1 is a negative regulator of growth and the warburg effect in glioblastoma. Cancer Res. 2016;76:4708–19.

36.

Hitosugi T, Fan J, Chung T-W, Lythgoe K, Wang X, Xie J, et al. Tyrosine phosphorylation of mitochondrial pyruvate dehydrogenase kinase 1 is important for cancer metabolism. Mol Cell. 2011;44:864–77.

37.

Sp N, Kang DY, Kim DH, Lee HG, Park Y-M, Kim IH, et al. Methylsulfonylmethane inhibits cortisol-induced stress through p53-mediated SDHA/HPRT1 expression in racehorse skeletal muscle cells: A primary step against exercise stress. Exp Ther Med. 2020;19:214–22.

38.

Cheung EC, Athineos D, Lee P, Ridgway RA, Lambie W, Nixon C, et al. TIGAR is required for efficient intestinal regeneration and tumorigenesis. Dev Cell. 2013;25:463–77.

39.

Gartel AL, Tyner AL. The role of the cyclin-dependent kinase inhibitor p21 in apoptosis. Mol Cancer Ther. 2002;1:639–49.

40.

Weber JD, Zambetti GP. Renewing the debate over the p53 apoptotic response. Cell Death Differ. 2003;10:409–12.

41.

Cai L, Sutter BM, Li B, Tu BP. Acetyl-CoA induces cell growth and proliferation by promoting the acetylation of histones at growth genes. Mol Cell. 2011;42:426–37.

42.

Stine RR, Sakers AP, TeSlaa T, Kissig M, Stine ZE, Kwon CW, et al. PRDM16 maintains homeostasis of the intestinal epithelium by controlling region-specific metabolism. Cell Stem Cell. 2019;25:830–845.e8.

43.

Chen L, Vasoya RP, Toke NH, Parthasarathy A, Luo S, Chiles E, et al. HNF4 regulates fatty acid oxidation and is required for renewal of intestinal stem cells in mice. Gastroenterology. 2020;158:985–999.e9.

44.

Schug ZT, Peck B, Jones DT, Zhang Q, Grosskurth S, Alam IS, et al. Acetyl-CoA synthetase 2 promotes acetate utilization and maintains cancer cell growth under metabolic stress. Cancer Cell. 2015;27:57–71.

45.

Bae JM, Kim JH, Oh HJ, Park HE, Lee TH, Cho N-Y, et al. Downregulation of acetyl-CoA synthetase 2 is a metabolic hallmark of tumor progression and aggressiveness in colorectal carcinoma. Mod Pathol. 2017;30:267–77.

46.

Louis P, Hold GL, Flint HJ. The gut microbiota, bacterial metabolites and colorectal cancer. Nat Rev Microbiol. 2014;12:661–72.

47.

Weaver GA, Krause JA, Miller TL, Wolin MJ. Short chain fatty acid distributions of enema samples from a sigmoidoscopy population: an association of high acetate and low butyrate ratios with adenomatous polyps and colon cancer. Gut. 1988;29:1539–43.

48.

Walker AW, Duncan SH, McWilliam Leitch EC, Child MW, Flint HJ. pH and peptide supply can radically alter bacterial populations and short-chain fatty acid ratios within microbial communities from the human colon. Appl Environ Microbiol. 2005;71:3692–3700.

49.

Youle RJ. Mitochondria—striking a balance between host and endosymbiont. Science. 2019;365:eaaw9855.

50.

Zhang Y, Sauler M, Shinn AS, Gong H, Haslip M, Shan P, et al. Endothelial PINK1 mediates the protective effects of NLRP3 deficiency during lethal oxidant injury. J Immunol. 2014;192:5296–304.

51.

Kang R, Zeng L, Xie Y, Yan Z, Zhou B, Cao L, et al. A novel PINK1- and PARK2-dependent protective neuroimmune pathway in lethal sepsis. Autophagy. 2016;12:2374–85.

52.

Mouton-Liger F, Rosazza T, Sepulveda-Diaz J, Ieang A, Hassoun S-M, Claire E, et al. Parkin deficiency modulates NLRP3 inflammasome activation by attenuating an A20-dependent negative feedback loop. Glia. 2018;66:1736–51.

53.

Sliter DA, Martinez J, Hao L, Chen X, Sun N, Fischer TD, et al. Parkin and PINK1 mitigate STING-induced inflammation. Nature. 2018;561:258–62.
Acknowledgements
This research was supported in part by the National Institutes of Health (P20 GM130422, K01DK114390), a Research Scholar Grant from the American Cancer Society (RSG-18-050-01-NEC), a Research Pilot Project Grant from University of New Mexico Environmental Health Signature Program and Superfund (P42 ES025589), a Shared Resources Pilot Project Award and a Research Program Support Pilot Project Award from UNM comprehensive cancer center (P30CA118100), a new investigator award from the Dedicated Health Research Funds at the University of New Mexico School of Medicine, and a Core Utilization Voucher Program award and a Metabolomic Studies Voucher Award from the Autophagy, Inflammation and Metabolism (AIM) Center of Biomedical Research Excellence (P20GM121176). We thank Dr. Jim Liu for providing us access to the SpectraMax M2 Microplate Reader, Dr. Laurie Hudson for providing us access to the microtome, Dr. Michael Paffett from the UNMCC Fluorescence Microscopy Core facility for helping with confocal imaging, Dr. Sharina P Desai from Scientific Cores off AIM center for helping with ImageStream analysis, and Dr. Jesse L Denson for proofreading the manuscript.
Ethics declarations
Conflict of interest
The authors declare no competing interests.
Additional information
Publisher's note Springer Nature remains neutral with regard to jurisdictional claims in published maps and institutional affiliations.
Edited by M. Oren
Supplementary information
About this article
Cite this article
Yin, K., Lee, J., Liu, Z. et al. Mitophagy protein PINK1 suppresses colon tumor growth by metabolic reprogramming via p53 activation and reducing acetyl-CoA production. Cell Death Differ (2021). https://doi.org/10.1038/s41418-021-00760-9
Received:

Revised:

Accepted:

Published: