Abstract
Leptomeningeal metastasis is a fatal complication of breast cancer which results when cancer cells seed in the meninges. Currently there is no cure, limiting survival to less than four months. Treatment options are palliative. We studied a replication conditional Herpes simplex virus 1 (HSV1) in this regard and present the therapeutic efficacy of oncolytic HSV1 on different stages of breast cancer leptomeningeal metastases growth, namely the lag, intermediate, and exponential phases. These phases characterized in a murine model represent the early, intermediate, and late stages of leptomeningeal disease in patients. In this model, virus was introduced into the ventricular system by stereotactic surgery, the same path cancer cells were introduced to create leptomeningeal metastases. Tumor growth was measured with Gd-MRI and virus replication was assessed by FHBG-PET and Fluc bioluminescence. Imaging results were correlated with H&E and HSV-TK immunohistochemical staining. A remarkable growth inhibition was observed when the lag phase was targeted which was associated with multiple virus replication cycles. The onset of debilitating symptoms was delayed, and survival was lengthened by nearly 2 weeks. A growth inhibition similar to the lag phase was observed when the intermediate phase was targeted, associated with robust virus replication. The regression of existing tumor led to a reversal of neurological symptoms, extending survival by nearly one week. A modest response was observed when the lag phase was targeted lengthening survival by 3 days. Oncolytic HSV1 presents a novel treatment option for breast cancer leptomeningeal metastases with potential for targeting different disease stages where virus replication and tumor response can be monitored with molecular imaging techniques that are in the clinic.
Access options
Subscribe to this journal
Receive 12 print issues and online access
$259.00 per year
only $21.58 per issue
Rent or buy this article
Get just this article for as long as you need it
$39.95
Prices may be subject to local taxes which are calculated during checkout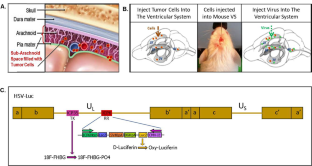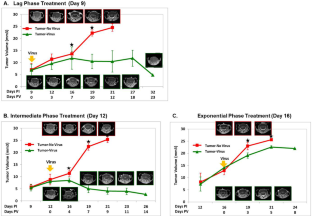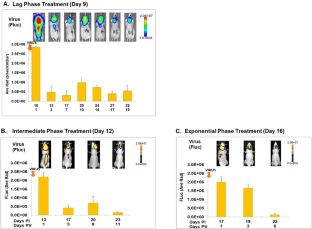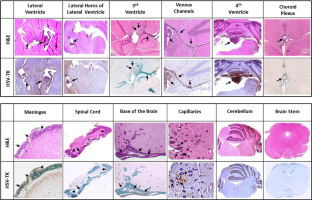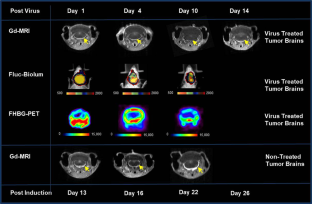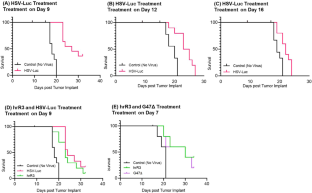 Data availability
The data generated and analyzed during this study can be found within the published article and its supplementary files.
References
Chamberlain MC. Leptomeningeal metastasis. Curr Opin Oncol. 2010;22:627–35.

Chamberlain MC. Leptomeningeal metastases in the MRI era. Neurology. 2011;76:200.

Grewal J, Saria MG, Kesari S. Novel approaches to treating leptomeningeal metastases. J Neurooncol. 2012;106:225–34.

American Cancer Society. Cancer Facts & Figures 2022.

Nieblas-Bedolla E, Zuccato J, Kluger H, Zadeh G, Brastianos PK. Central nervous system metastases. Hematol Oncol Clin North Am. 2022;36:161–88.

Watanabe M, Tanaka R, Takeda N. Correlation of MRI and clinical features in meningeal carcinomatosis. Neuroradiology. 1993;35:512–5.

Kesari S, Batchelor TT. Leptomeningeal metastases. Neurol Clin. 2003;21:25–66.

Franzoi MA, Hortobagyi GN. Leptomeningeal carcinomatosis in patients with breast cancer. Crit Rev Oncol Hematol. 2019;135:85–94.

Brower JV, Saha S, Rosenberg SA, Hullett CR, Ian Robins H. Management of leptomeningeal metastases: prognostic factors and associated outcomes. J Clin Neurosci. 2016;27:130–7.

Le Rhun E, Taillibert S, Chamberlain MC. Neoplastic meningitis due to lung, breast, and melanoma metastases. Cancer Control. 2017;24:22–32.

Crozier JA, Cornell LF, Rawal B, Perez EA. Breast cancer brain metastases: molecular subtype, treatment and survival. Breast Dis. 2016;36:133–41.

Niwińska A, Rudnicka H, Murawska M. Breast cancer leptomeningeal metastasis: propensity of breast cancer subtypes for leptomeninges and the analysis of factors influencing survival. Med Oncol. 2013;30:408.

Kak M, Nanda R, Ramsdale EE, Lukas RV. Treatment of leptomeningeal carcinomatosis: current challenges and future opportunities. J Clin Neurosci. 2015;22:632–7.

Lee SS, Ahn JH, Kim MK, Sym SJ, Gong G, Ahn SD, et al. Brain metastases in breast cancer: prognostic factors and management. Breast Cancer Res Treat. 2008;111:523–30.

Bonneau C, Paintaud G, Trédan O, Dubot C, Desvignes C, Dieras V, et al. Phase I feasibility study for intrathecal administration of trastuzumab in patients with HER2 positive breast carcinomatous meningitis. Eur J Cancer. 2018;95:75–84.

Venur VA, Chukwueke UN, Lee EQ. Advances in Management of Brain and Leptomeningeal Metastases. Curr Neurol Neurosci Rep. 2020;20:26.

Thakkar JP, Kumthekar P, Dixit KS, Stupp R, Lukas RV. Leptomeningeal metastasis from solid tumors. J Neurol Sci. 2020;411:116706.

Harstad L, Hess KR, Groves MD. Prognostic factors and outcomes in patients with leptomeningeal melanomatosis. Neuro Oncol. 2008;10:1010–18.

Kuruppu D, Tanabe KK. Viral oncolysis by herpes simplex virus and other viruses. Cancer Biol Ther. 2005;4:524–31.

Chiocca EA, Rabkin SD. Oncolytic viruses and their application to cancer immunotherapy. Cancer Immunol Res. 2014;2:295–300.

Fukuhara H, Ino Y, Todo T. Oncolytic virus therapy: a new era of cancer treatment at dawn. Cancer Sci. 2016;107:1373–9.

Lemos de Matos A, Franco LS, McFadden G. Oncolytic viruses and the immune system: the dynamic duo. Mol Ther Methods Clin Dev. 2020;17:349–58.

Yoon SS, Carroll NM, Chiocca EA, Tanabe KK. Cancer gene therapy using a replication-competent herpes simplex virus type 1 vector. Ann Surg. 1998;228:366–74.

Nakamura H, Kasuya H, Mullen JT, Yoon SS, Pawlik TM, Chandrasekhar S, et al. Regulation of herpes simplex virus gamma(1)34.5 expression and oncolysis of diffuse liver metastases by Myb34.5. J Clin Invest. 2002;109:871–82.

Kuruppu D, Tanabe KK. HSV-1 as a novel therapy for breast cancer meningeal metastases. Cancer Gene Ther. 2015;22:506–8.

Kuruppu D, Bhere D, Farrar CT, Shah K, Brownell AL, Tanabe KK. A model of breast cancer meningeal metastases: characterization with in vivo molecular imaging. Cancer Gene Ther. 2019;26:145–56.

Paxinos F. The Mouse Brain In Stereotaxic Coordinates. 2008. p. 72–105. Academic Press.

Kuruppu D, Brownell AL, Shah K, Mahmood U, Tanabe KK. Molecular imaging with bioluminescence and PET reveals viral oncolysis kinetics and tumor viability. Cancer Res. 2014;74:4111–21.

Kuruppu D, Brownell AL, Zhu A, Yu M, Wang X, Kulu Y, et al. Positron emission tomography of herpes simplex virus 1 oncolysis. Cancer Res. 2007;67:3295–300.

Nigim F, Esaki S, Hood M, Lelic N, James MF, Ramesh V, et al. A new patient-derived orthotopic malignant meningioma model treated with oncolytic herpes simplex virus. Neuro Oncol. 2016;18:1278–87.

Cody JJ, Scaturro P, Cantor AB, Yancey Gillespie G, Parker JN, Markert JM. Preclinical evaluation of oncolytic δγ(1)34.5 herpes simplex virus expressing interleukin-12 for therapy of breast cancer brain metastases. Int J Breast Cancer. 2012;2012:628697.

Sahin TT, Kasuya H, Nomura N, Shikano T, Yamamura K, Gewen T, et al. Impact of novel oncolytic virus HF10 on cellular components of the tumor microenviroment in patients with recurrent breast cancer. Cancer Gene Ther. 2012;19:229–37.

Gholami S, Chen CH, Gao S, Lou E, Fujisawa S, Carson J, et al. Role of MAPK in oncolytic herpes viral therapy in triple-negative breast cancer. Cancer Gene Ther. 2014;21:283–9.

Yang WQ, Senger D, Muzik H, Shi ZQ, Johnson D, Brasher PM, et al. Reovirus prolongs survival and reduces the frequency of spinal and leptomeningeal metastases from medulloblastoma. Cancer Res. 2003;63:3162–72.

Yang WQ, Senger DL, Lun XQ, Muzik H, Shi ZQ, Dyck RH, et al. Reovirus as an experimental therapeutic for brain and leptomeningeal metastases from breast cancer. Gene Ther. 2004;11:1579–89.

Delhaas EM, Huygen F. Complications associated with intrathecal drug delivery systems. BJA Educ. 2020;20:51–57.

Driesse MJ, Esandi MC, Kros JM, Avezaat CJ, Vecht C, Zurcher C, et al. Intra-CSF administered recombinant adenovirus causes an immune response-mediated toxicity. Gene Ther. 2000;7:1401–9.

Kuruppu D, Dorfman JD, Tanabe KK. HSV-1 viral oncolysis and molecular imaging with PET. Curr Cancer Drug Targets. 2007;7:175–80.

Groves MD. Leptomeningeal disease. Neurosurg Clin N Am. 2011;22:67–78. vii

Kokkoris CP. Leptomeningeal carcinomatosis. How does cancer reach the pia-arachnoid? Cancer. 1983;51:154–60.

Chamberlain MC. Neoplastic meningitis. Handb Clin Neurol. 2012;105:757–66.

Fowler MJ, Cotter JD, Knight BE, Sevick-Muraca EM, Sandberg DI, Sirianni RW. Intrathecal drug delivery in the era of nanomedicine. Adv Drug Deliv Rev. 2020;165-166:77–95.

Bernardi RJ, Bomgaars L, Fox E, Balis FM, Egorin MJ, Lagattuta TF, et al. Phase I clinical trial of intrathecal gemcitabine in patients with neoplastic meningitis. Cancer Chemother Pharmacol. 2008;62:355–61.

Salabert AS, Vaysse L, Beaurain M, Alonso M, Arribarat G, Lotterie JA, et al. Imaging grafted cells with [18F]FHBG using an optimized HSV1-TK mammalian expression vector in a brain injury rodent model. PLoS ONE. 2017;12:e0184630.

Pourchet A, Fuhrmann SR, Pilones KA, Demaria S, Frey AB, Mulvey M, et al. CD8(+) T-cell immune evasion enables oncolytic virus immunotherapy. EBioMedicine. 2016;5:59–67.

Zeng J, Li X, Sander M, Zhang H, Yan G, Lin Y. Oncolytic viro-immunotherapy: an emerging option in the treatment of gliomas. Front Immunol. 2021;12:721830.

Jin S, Wang Q, Wu H, Pang D, Xu S. Oncolytic viruses for triple negative breast cancer and beyond. Biomark Res. 2021;9:71.
Acknowledgements
Department of Defense Idea Award: Award No: W81XWH-11-1-0388 (DK). NIH R21 NCI Omnibus Award: Award No:1R21CA186054-01 (DK). ESCCO-MGH Breast Cancer Research Fund (DK).
Ethics declarations
Competing interests
D.B. owns equity and is consultant at AMASA Therapeutics Inc., a biotechnology company for cell-based therapeutics for cancer. The other authors declare no conflicting interests.
Ethical approval
Experiments were conducted under Institutional Animal Care and Use Committee (IACUC) for Massachusetts General Hospital (MGH) guidelines. Animal procedures were performed at an AAALAC-accredited facility and animals were cared for in accordance with the Guide for the Care and Use of Laboratory Animals. All research protocols were approved by the IACUC".
Additional information
Publisher's note Springer Nature remains neutral with regard to jurisdictional claims in published maps and institutional affiliations.
Supplementary information
Rights and permissions
Springer Nature or its licensor (e.g. a society or other partner) holds exclusive rights to this article under a publishing agreement with the author(s) or other rightsholder(s); author self-archiving of the accepted manuscript version of this article is solely governed by the terms of such publishing agreement and applicable law.
About this article
Cite this article
Kuruppu, D., Bhere, D., Farrar, C.T. et al. Oncolytic HSV1 targets different growth phases of breast cancer leptomeningeal metastases. Cancer Gene Ther (2023). https://doi.org/10.1038/s41417-023-00588-0
Received:

Revised:

Accepted:

Published:

DOI: https://doi.org/10.1038/s41417-023-00588-0