Abstract
Acquired resistance to epidermal growth factor receptor tyrosine kinase inhibitors (EGFR-TKIs), such as gefitinib, has dramatically impaired the clinical outcomes in non-small cell lung cancer (NSCLC) patients, but the mechanisms are still unclear in substantial cases. In our previous study, we demonstrated that a novel long non-coding RNA (lncRNA), lnc-ABCA12-8, was overexpressed in gefitinib-resistant NSCLC cells, but the exact function is unknown. In this study, we confirmed that lnc-ABCA12-8 was significantly upregulated both in NSCLC cell lines and the plasma samples of NSCLC patients with acquired resistance to gefitinib. Downregulation of lnc-ABCA12-8 could reverse gefitinib resistance both in vitro and in vivo. Mechanistically, lnc-ABCA12-8 interacted with alternative splicing factor/splicing factor 2 (ASF/SF2), promoted the binding of ASF/SF2 to the IIICS exon of fibronectin 1 (FN1) gene and enhanced the IIICS region inclusion during fibronectin 1 (FN1) alternative splicing, resulting in the upregulation of entire IIICS region, and enhanced cell proliferation, migration, invasion, and adhesion. Taken together, our study suggest that lnc-ABCA12-8 is involved in the acquired resistance to gefitinib, and may be a novel biomarker and therapeutic target for monitoring and overcoming gefitinib resistance in NSCLC.
This is a preview of subscription content
Access options
Subscribe to Journal
Get full journal access for 1 year
$119.00
only $9.92 per issue
All prices are NET prices.
VAT will be added later in the checkout.
Tax calculation will be finalised during checkout.
Buy article
Get time limited or full article access on ReadCube.
$32.00
All prices are NET prices.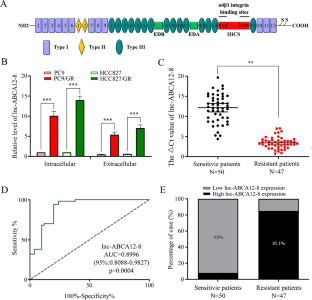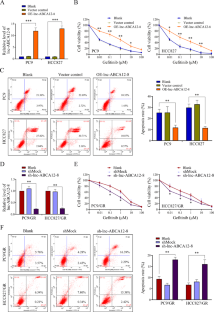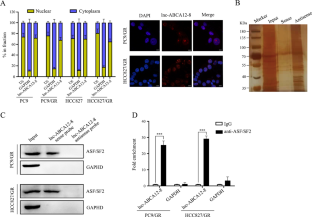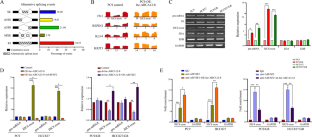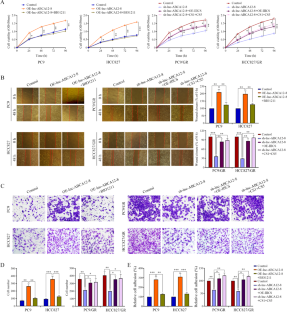 Data availability
The data that support the findings of this study are available on request from the corresponding author.
References
Herbst RS, Morgensztern D, Boshoff C. The biology and management of non-small cell lung cancer. Nature. 2018;553:446–54.

Gao J, Li HR, Jin C, Jiang JH, Ding JY. Strategies to overcome acquired resistance to EGFR TKI in the treatment of non-small cell lung cancer. Clin Transl Oncol. 2019;21:1287–301.

Huang L, Fu L. Mechanisms of resistance to EGFR tyrosine kinase inhibitors. Acta Pharm Sin B. 2015;5:390–401.

Chi Y, Wang D, Wang J, Yu W, Yang J. Long non-coding RNA in the pathogenesis of cancers. Cells. 2019;8:1015.

Osielska MA, Jagodziński PP. Long non-coding RNA as potential biomarkers in non-small-cell lung cancer: What do we know so far? Biomed Pharmacother. 2018;101:322–33.

Xu T, Yan S, Wang M, Jiang L, Ma P, Lu B, et al. LncRNA UCA1 induces acquired resistance to gefitinib by epigenetically silencing CDKN1A expression in non-small-cell lung cancer. Front Oncol. 2020;10:656.

Chen X, Wang Z, Tong F, Dong X, Wu G, Zhang R. lncRNA UCA1 promotes gefitinib resistance as a ceRNA to target FOSL2 by sponging miR-143 in non-small cell lung cancer. Mol Ther Nucleic Acids. 2020;19:643–53.

Chen Z, Chen Q, Cheng Z, Gu J, Feng W, Lei T, et al. Long non-coding RNA CASC9 promotes gefitinib resistance in NSCLC by epigenetic repression of DUSP1. Cell Death Dis. 2020;11:858.

Jin X, Liu X, Zhang Z, Guan Y. lncRNA CCAT1 Acts as a MicroRNA-218 Sponge to Increase Gefitinib Resistance in NSCLC by Targeting HOXA1. Mol Ther Nucleic Acids. 2020;19:1266–75.

Yang T, Li H, Chen T, Ren H, Shi P, Chen M. LncRNA MALAT1 depressed chemo-sensitivity of NSCLC cells through directly functioning on miR-197-3p/p120 catenin axis. Mol Cells. 2019;42:270–83.

Shi J, Huang Y, Wen C, He S, Wu L, Zhou H. Genome-wide identification and characterization of long non-coding RNAs involved in acquired resistance to gefitinib in non-small-cell lung cancer. Comput Biol Chem. 2020;87:107288.

Pankov R, Yamada KM. Fibronectin at a glance. J Cell Sci. 2002;115:3861–3.

Santas AJ, Peterson JA, Halbleib JL, Craig SE, Humphries MJ, Peters DM. Alternative splicing of the IIICS domain in fibronectin governs the role of the heparin II domain in fibrillogenesis and cell spreading. J Biol Chem. 2002;277:13650–8.

Wang J, Li R, Li M, Wang C. Fibronectin and colorectal cancer: signaling pathways and clinical implications. J Recept Signal Transduct Res. 2021;41:313–20.

White ES, Muro AF. Fibronectin splice variants: understanding their multiple roles in health and disease using engineered mouse models. IUBMB Life. 2011;63:538–46.

Oyama F, Hirohashi S, Sakamoto M, Titani K, Sekiguchi K. Coordinate oncodevelopmental modulation of alternative splicing of fibronectin pre-messenger RNA at ED-A, ED-B, and CS1 regions in human liver tumors. Cancer Res. 1993;53:2005–11.

Hershberger RP, Culp LA. Cell-type-specific expression of alternatively spliced human fibronectin IIICS mRNAs. Mol Cell Biol. 1990;10:662–71.

Saiki I, Murata J, Makabe T, Matsumoto Y, Ohdate Y, Kawase Y, et al. Inhibition of lung metastasis by synthetic and recombinant fragments of human fibronectin with functional domains. Jpn J Cancer Res. 1990;81:1003–11.

Kamarajan P, Garcia-Pardo A, D'Silva NJ, Kapila YL. The CS1 segment of fibronectin is involved in human OSCC pathogenesis by mediating OSCC cell spreading, migration, and invasion. BMC Cancer. 2010;10:330.

Sarkissian M, Winne A, Lafyatis R. The mammalian homolog of suppressor-of-white-apricot regulates alternative mRNA splicing of CD45 exon 4 and fibronectin IIICS. J Biol Chem. 1996;271:31106–14.

Zhao H, Huang Y, Shi J, Dai Y, Wu L, Zhou H. ABCC10 plays a significant role in the transport of gefitinib and contributes to acquired resistance to gefitinib in NSCLC. Front Pharm. 2018;9:1312.

Livak KJ, Schmittgen TD. Analysis of relative gene expression data using real-time quantitative PCR and the 2(-Delta Delta C(T)) method. Methods 2001;25:402–8.

Patel RK, Jain M. NGS QC Toolkit: a toolkit for quality control of next generation sequencing data. PLoS ONE. 2012;7:e30619.

Trapnell C, Roberts A, Goff L, Pertea G, Kim D, Kelley DR, et al. Differential gene and transcript expression analysis of RNA-seq experiments with TopHat and Cufflinks. Nat Protoc. 2012;7:562–78.

Anders S, Pyl PT, Huber W. HTSeq-a Python framework to work with high-throughput sequencing data. Bioinformatics 2015;31:166–9.

Florea L, Song L, Salzberg SL. Thousands of exon skipping events differentiate among splicing patterns in sixteen human tissues. F1000Res. 2013;2:188.

Castagnino A, Castro-Castro A, Irondelle M, Guichard A, Lodillinsky C, Fuhrmann L, et al. Coronin 1C promotes triple-negative breast cancer invasiveness through regulation of MT1-MMP traffic and invadopodia function. Oncogene 2018;37:6425–41.

Statello L, Guo CJ, Chen LL, Huarte M. Gene regulation by long non-coding RNAs and its biological functions. Nat Rev Mol Cell Biol. 2021;22:96–118.

Guo CJ, Xu G, Chen LL. Mechanisms of long noncoding RNA nuclear retention. Trends Biochem Sci. 2020;45:947–60.

Pio R, Montuenga LM. Alternative splicing in lung cancer. J Thorac Oncol. 2009;4:674–8.

Wagner C, Bürger A, Radsak M, Blum S, Hug F, Hänsch GM. Fibronectin synthesis by activated T lymphocytes: up-regulation of a surface-associated isoform with signalling function. Immunology 2000;99:532–9.

Kocher O, Kennedy SP, Madri JA. Alternative splicing of endothelial cell fibronectin mRNA in the IIICS region. Functional significance. Am J Pathol. 1990;137:1509–24.

Humphries MJ, Komoriya A, Akiyama SK, Olden K, Yamada KM. Identification of two distinct regions of the type III connecting segment of human plasma fibronectin that promote cell type-specific adhesion. J Biol Chem. 1987;262:6886–92.

Mould AP, Komoriya A, Yamada KM, Humphries MJ. The CS5 peptide is a second site in the IIICS region of fibronectin recognized by the integrin alpha 4 beta 1. Inhibition of alpha 4 beta 1 function by RGD peptide homologues. J Biol Chem. 1991;266:3579–85.

Lin KC, Ateeq HS, Hsiung SH, Chong LT, Zimmerman CN, Castro A, et al. Selective, tight-binding inhibitors of integrin alpha4beta1 that inhibit allergic airway responses. J Med Chem. 1999;42:920–34.

Yang C, Zhang J, Ding M, Xu K, Li L, Mao L, et al. Ki67 targeted strategies for cancer therapy. Clin Transl Oncol. 2018;20:570–5.

Satelli A, Li S. Vimentin in cancer and its potential as a molecular target for cancer therapy. Cell Mol Life Sci. 2011;68:3033–46.

Bradley T, Cook ME, Blanchette M. SR proteins control a complex network of RNA-processing events. RNA 2015;21:75–92.

Das S, Krainer AR. Emerging functions of SRSF1, splicing factor and oncoprotein, in RNA metabolism and cancer. Mol Cancer Res. 2014;12:1195–204.

Coomer AO, Black F, Greystoke A, Munkley J, Elliott DJ. Alternative splicing in lung cancer. Biochim Biophys Acta Gene Regul Mech. 2019;1862:194388.

Ritzenthaler JD, Han S, Roman J. Stimulation of lung carcinoma cell growth by fibronectin-integrin signalling. Mol Biosyst. 2008;4:1160–9.

Qin S, Zhang B, Xiao G, Sun X, Li G, Huang G, et al. Fibronectin protects lung cancer cells against docetaxel-induced apoptosis by promoting Src and caspase-8 phosphorylation. Tumour Biol. 2016;37:13509–20.

Gao W, Liu Y, Qin R, Liu D, Feng Q. Silence of fibronectin 1 increases cisplatin sensitivity of non-small cell lung cancer cell line. Biochem Biophys Res Commun. 2016;476:35–41.

Khan ZA, Caurtero J, Barbin YP, Chan BM, Uniyal S, Chakrabarti S. ED-B fibronectin in non-small cell lung carcinoma. Exp Lung Res. 2005;31:701–11.

Wieckowski S, Hemmerle T, Prince SS, Schlienger BD, Hillinger S, Neri D, et al. Therapeutic efficacy of the F8-IL2 immunocytokine in a metastatic mouse model of lung adenocarcinoma. Lung Cancer. 2015;88:9–15.
Funding
This work was supported by the Natural Science Foundation of China (No. 82073938), Chongqing Municipal Education Commission (No. KJQN201900424), Program for Youth Innovation in Future Medicine, Chongqing Medical University (No.W0093), the Natural Science Foundation of Chongqing (No. cstc2020jcyj-msxmX0246), Scientific and Technological Research Program of and Scientific and Technological Research Program of Yuzhong District, Chongqing (No. 20200102).
Ethics declarations
Competing interests
The authors declare no competing interests.
Additional information
Publisher's note Springer Nature remains neutral with regard to jurisdictional claims in published maps and institutional affiliations.
Supplementary information
About this article
Cite this article
He, S., Shi, J., Zhou, H. et al. Lnc-ABCA12-8 confers acquired resistance to gefitinib in non-small cell lung cancer by regulating the alternative splicing of fibronectin 1 in the IIICS region. Cancer Gene Ther (2022). https://doi.org/10.1038/s41417-022-00483-0
Received:

Revised:

Accepted:

Published:

DOI: https://doi.org/10.1038/s41417-022-00483-0