Abstract
CD95 (Fas) is a complex integral protein that can be expressed in many cells. It induces apoptosis when interacted with its ligand CD95L (FasL). However, cancer cells are resistant to CD95-induced apoptosis because of the changes in death domain (DD) of CD95 (procaspase-8 and c-Flip). In this study, magnetic nanoparticles and lipid-based gene transfection methods were performed to provide active Fas expression in breast cancer cells. Plasmid DNA (pDNA), which can express both human Fas and GFP, was transfected to MCF-7 breast cancer cells. Expression of c-FLIP and caspase-8 and effect of monoclonal antibody FasL for apoptosis stimulation were investigated. Also transfection success of methods and effects on surface protein were compared. Western blot results indicated that MCF-7 cells do not express caspase-8 but express large amount of c-FLIPL. Both lipid-based and magnetic nanoparticle-mediated gene transfection methods successfully applied. Caspase-8 apoptosis pathway was activated on transfected cells. Magnetic nanoparticle-mediated gene transfer is a successful non-viral method for transfection, and it does not affect the expression of other cell proteins, such as beta actin and lamin-B1. The raised c-FLIPL concentration in cytosol inhibits apoptosis. However, transfection of CD95-GFP-tagged pDNA significantly increases apoptosis by activating caspase-8 pathway. FasL interaction indicated a slight increase of apoptosis in the transfected cells. The method and pDNA applied in this study have potentials to be used in gene therapy for breast cancer.
Your institute does not have access to this article
Relevant articles
Open Access articles citing this article.
Shreelaxmi Gavas

,

Sameer Quazi

&

Tomasz M. Karpiński

Nanoscale Research Letters Open Access 05 December 2021

Simzar Hosseinzadeh

,

Hojjatollah Nazari

…

Shadie Hatamie

Journal of Materials Science: Materials in Medicine Open Access 28 August 2021
Access options
Subscribe to Journal
Get full journal access for 1 year
$119.00
only $9.92 per issue
All prices are NET prices.
VAT will be added later in the checkout.
Tax calculation will be finalised during checkout.
Buy article
Get time limited or full article access on ReadCube.
$32.00
All prices are NET prices.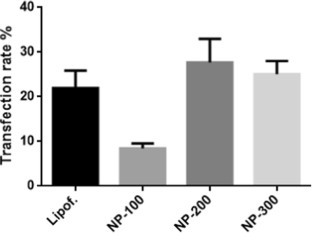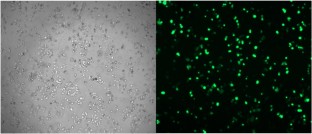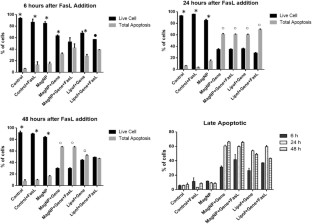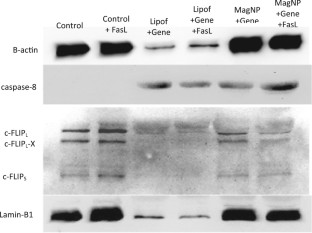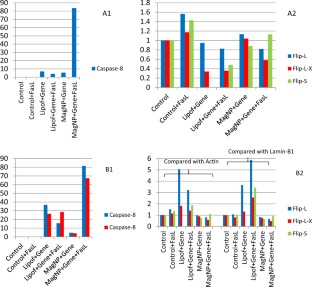 References
Lavrik IN, Mock T, Golks A, Hoffmann JC, Baumann S, Krammer PH. CD95 stimulation results in the formation of a novel death effector domain protein-containing complex. J Biol Chem. 2008;283:26401–8.

Le Gallo M, Legembre P. CD95 stimulation with CD95L and DISC analysis. Methods Mol Biol. 2017;1557:11–18.

Lavrik IN, Krammer PH. Regulation of CD95/Fas signaling at the DISC. Cell Death Differ. 2012;19:36–41.

Krammer PH, Arnold R, Lavrik IN. Life and death in peripheral T cells. Nat Rev Immunol. 2007;7:532–42.

Lavrik IN. Systems biology of death receptor networks: live and let die. Cell Death Dis. 2014;5:e1259.

Schwab M. Encyclopedia of cancer. 3 ed. Berlin, Heidelberg: Springer-Verlag; 2011.

Matsuda I, Matsuo K, Matsushita Y, Haruna Y, Niwa M, Kataoka T. The C-terminal domain of the long form of cellular FLICE-inhibitory protein (c-FLIPL) inhibits the interaction of the caspase 8 prodomain with the receptor-interacting protein 1 (RIP1) death domain and regulates caspase 8-dependent nuclear factor kappaB (NF-kappaB) activation. J Biol Chem. 2014;289:3876–87.

Chang DW, Xing Z, Pan Y, Algeciras-Schimnich A, Barnhart BC, Yaish-Ohad S, et al. c-FLIP(L) is a dual function regulator for caspase-8 activation and CD95-mediated apoptosis. EMBO J. 2002;21:3704–14.

Scaffidi C, Medema JP, Krammer PH, Peter ME. FLICE is predominantly expressed as two functionally active isoforms, caspase-8/a and caspase-8/b. J Biol Chem. 1997;272:26953–8.

Peter ME, Hadji A, Murmann AE, Brockway S, Putzbach W, Pattanayak A, et al. The role of CD95 and CD95 ligand in cancer. Cell Death Differ. 2015;22:885–6.

Algeciras-Schimnich A, Pietras EM, Barnhart BC, Legembre P, Vijayan S, Holbeck SL, et al. Two CD95 tumor classes with different sensitivities to antitumor drugs. Proc Natl Acad Sci USA. 2003;100:11445–50.

Chen L, Park SM, Tumanov AV, Hau A, Sawada K, Feig C, et al. CD95 promotes tumour growth. Nature. 2010;465:492–6.

Hadji A, Ceppi P, Murmann AE, Brockway S, Pattanayak A, Bhinder B, et al. Death induced by CD95 or CD95 ligand elimination. Cell Rep. 2014;7:208–22.

Barnhart BC, Legembre P, Pietras E, Bubici C, Franzoso G, Peter ME. CD95 ligand induces motility and invasiveness of apoptosis-resistant tumor cells. EMBO J. 2004;23:3175–85.

McCrudden CM, McCarthy HO. Current status of gene therapy for breast cancer: progress and challenges. Appl Clin Genet. 2014;7:209–20.

Plank C, Zelphati O, Mykhaylyk O. Magnetically enhanced nucleic acid delivery. Ten years of magnetofection-progress and prospects. Adv Drug Deliv Rev. 2011;63:1300–31.

Keane MM, Ettenberg SA, Lowrey GA, Russell EK, Lipkowitz S. Fas expression and function in normal and malignant breast cell lines. Cancer Res. 1996;56:4791–8.

Budd RC, Yeh WC, Tschopp J. cFLIP regulation of lymphocyte activation and development. Nat Rev Immunol. 2006;6:196–204.

Dumont P, Ingrassia L, Rouzeau S, Ribaucour F, Thomas S, Roland I, et al. The Amaryllidaceae isocarbostyril narciclasine induces apoptosis by activation of the death receptor and/or mitochondrial pathways in cancer cells but not in normal fibroblasts. Neoplasia. 2007;9:766–76.
Ethics declarations
Conflict of interest
The authors declare that they have no conflict of interest.
Electronic supplementary material
About this article
Cite this article
Basoglu, H., Goncu, B. & Akbas, F. Magnetic nanoparticle-mediated gene therapy to induce Fas apoptosis pathway in breast cancer. Cancer Gene Ther 25, 141–147 (2018). https://doi.org/10.1038/s41417-018-0017-2
Received:

Revised:

Accepted:

Published:

Issue Date:

DOI: https://doi.org/10.1038/s41417-018-0017-2
Further reading
Shreelaxmi Gavas
Sameer Quazi
Tomasz M. Karpiński

Nanoscale Research Letters (2021)

Simzar Hosseinzadeh
Hojjatollah Nazari
Shadie Hatamie

Journal of Materials Science: Materials in Medicine (2021)