Abstract
Background
Lymph node (LN) harvesting is associated with outcomes in colonic cancer. We sought to interrogate whether a distinctive immune milieu of the primary tumour is associated with LN yield.
Methods
A total of 926 treatment-naive patients with colorectal adenocarcinoma with more than 12 LNs (LN-high) were compared with patients with 12 or fewer LNs (LN-low). We performed immunohistochemistry and quantification on tissue microarrays for HLA class I/II proteins, beta-2-microglobulin (B2MG), CD8, CD163, LAG3, PD-L1, FoxP3, and BRAF V600E.
Results
The LN-high group was comprised of younger patients, longer resections, larger tumours, right-sided location, and tumours with deficient mismatch repair (dMMR). The tumour microenvironment showed higher CD8+ cells infiltration and B2MG expression on tumour cells in the LN-high group compared to the LN-low group. The estimated mean disease-specific survival was higher in the LN-high group than LN-low group. On multivariate analysis for prognosis, LN yield, CD8+ cells, extramural venous invasion, perineural invasion, and AJCC stage were independent prognostic factors.
Conclusion
Our findings corroborate that higher LN yield is associated with a survival benefit. LN yield is associated with an immune high microenvironment, suggesting that tumour immune milieu influences the LN yield.
Access options
Subscribe to this journal
Receive 24 print issues and online access
$259.00 per year
only $10.79 per issue
Rent or buy this article
Prices vary by article type
from$1.95
to$39.95
Prices may be subject to local taxes which are calculated during checkout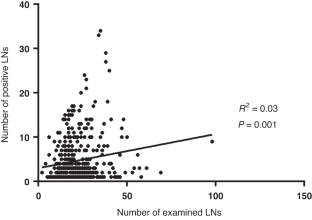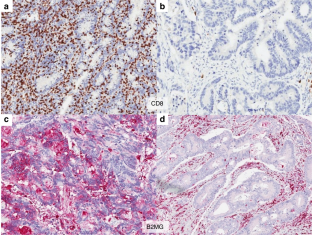 Data availability
The data that support the findings of this study are not openly available to maintain patient confidentiality, but de-identified data are available from the corresponding author upon reasonable request.
References
Fielding LP, Arsenault PA, Chapuis PH, Dent O, Gathright B, Hardcastle JD, et al. Clinicopathological staging for colorectal cancer: an International Documentation System (IDS) and an International Comprehensive Anatomical Terminology (ICAT). J Gastroenterol Hepatol. 1991;6:325–44.

Scott KW, Grace RH. Detection of lymph node metastases in colorectal carcinoma before and after fat clearance. Br J Surg. 1989;76:1165–7.

Minhas JS, Igali L. Lymph node correlations and thresholds in colorectal cancer specimens. Int J Surg Pathol. 2011;19:462–8.

Nelson H, Petrelli N, Carlin A, Couture J, Fleshman J, Guillem J, et al. Guidelines 2000 for colon and rectal cancer surgery. J Natl Cancer Inst. 2001;93:583–96.

Cianchi F, Palomba A, Boddi V, Messerini L, Pucciani F, Perigli G, et al. Lymph node recovery from colorectal tumor specimens: recommendation for a minimum number of lymph nodes to be examined. World J Surg. 2002;26:384–9.

Cserni G, Vinh-Hung V, Burzykowski T. Is there a minimum number of lymph nodes that should be histologically assessed for a reliable nodal staging of T3N0M0 colorectal carcinomas? J Surg Oncol. 2002;81:63–9.

Goldstein NS. Lymph node recoveries from 2427 pT3 colorectal resection specimens spanning 45 years: recommendations for a minimum number of recovered lymph nodes based on predictive probabilities. Am J Surg Pathol. 2002;26:179–89.

Trepanier M, Erkan A, Kouyoumdjian A, Nassif G, Albert M, Monson J, et al. Examining the relationship between lymph node harvest and survival in patients undergoing colectomy for colon adenocarcinoma. Surgery. 2019;166:639–47.

Sarli L, Bader G, Iusco D, Salvemini C, Mauro DD, Mazzeo A, et al. Number of lymph nodes examined and prognosis of TNM stage II colorectal cancer. Eur J Cancer. 2005;41:272–9.

Chang GJ, Rodriguez-Bigas MA, Skibber JM, Moyer VA. Lymph node evaluation and survival after curative resection of colon cancer: systematic review. J Natl Cancer Inst. 2007;99:433–41.

Johnson PM, Porter GA, Ricciardi R, Baxter NN. Increasing negative lymph node count is independently associated with improved long-term survival in stage IIIB and IIIC colon cancer. J Clin Oncol. 2006;24:3570–5.

Tekkis PP, Smith JJ, Heriot AG, Darzi AW, Thompson MR, Stamatakis JD, et al. A national study on lymph node retrieval in resectional surgery for colorectal cancer. Dis Colon Rectum. 2006;49:1673–83.

Stocchi L, Fazio VW, Lavery I, Hammel J. Individual surgeon, pathologist, and other factors affecting lymph node harvest in stage II colon carcinoma. is a minimum of 12 examined lymph nodes sufficient? Ann Surg Oncol. 2011;18:405–12.

Nathan H, Shore AD, Anders RA, Wick EC, Gearhart SL, Pawlik TM. Variation in lymph node assessment after colon cancer resection: patient, surgeon, pathologist, or hospital? J Gastrointest Surg. 2011;15:471–9.

Wood P, Peirce C, Mulsow J. Non-surgical factors influencing lymph node yield in colon cancer. World J Gastrointest Oncol. 2016;8:466–73.

Baxter NN, Ricciardi R, Simunovic M, Urbach DR, Virnig BA. An evaluation of the relationship between lymph node number and staging in pT3 colon cancer using population-based data. Dis Colon Rectum. 2010;53:65–70.

Chou JF, Row D, Gonen M, Liu YH, Schrag D, Weiser MR. Clinical and pathologic factors that predict lymph node yield from surgical specimens in colorectal cancer: a population-based study. Cancer. 2010;116:2560–70.

Nash GM, Row D, Weiss A, Shia J, Guillem JG, Paty PB, et al. A predictive model for lymph node yield in colon cancer resection specimens. Ann Surg. 2011;253:318–22.

Samdani T, Schultheis M, Stadler Z, Shia J, Fancher T, Misholy J, et al. Lymph node yield after colectomy for cancer: is absence of mismatch repair a factor? Dis Colon Rectum. 2015;58:288–93.

Kim YW, Jan KM, Jung DH, Cho MY, Kim NK. Histological inflammatory cell infiltration is associated with the number of lymph nodes retrieved in colorectal cancer. Anticancer Res. 2013;33:5143–50.

Markl B, Schaller T, Kokot Y, Endhardt K, Kretsinger H, Hirschbuhl K, et al. Lymph node size as a simple prognostic factor in node negative colon cancer and an alternative thesis to stage migration. Am J Surg. 2016;212:775–80.

Belt EJ, te Velde EA, Krijgsman O, Brosens RP, Tijssen M, van Essen HF, et al. High lymph node yield is related to microsatellite instability in colon cancer. Ann Surg Oncol. 2012;19:1222–30.

Lal N, Chan DKH, Ng ME, Vermeulen L, Buczacki SJA. Primary tumour immune response and lymph node yields in colon cancer. Br J Cancer. 2022;126:1178–85.

Neyaz A, Pankaj A, Crabbe A, Rickelt S, Leijssen L, Dinaux A, et al. Correlation of clinical, pathologic, and genetic parameters with intratumoral immune milieu in mucinous adenocarcinoma of the colon. Mod Pathol. 2022;35:1723–31.

Willaert W, Mareel M, Van De Putte D, Van Nieuwenhove Y, Pattyn P, Ceelen W. Lymphatic spread, nodal count and the extent of lymphadenectomy in cancer of the colon. Cancer Treat Rev. 2014;40:405–13.

Del Paggio JC, Nanji S, Wei X, MacDonald PH, Booth CM. Lymph node evaluation for colon cancer in routine clinical practice: a population-based study. Curr Oncol. 2017;24:e35–43.

Douaiher J, Hussain T, Langenfeld SJ. Predictors of adequate lymph node harvest during colectomy for colon cancer. Am J Surg. 2019;218:113–8.

Johnson PM, Malatjalian D, Porter GA. Adequacy of nodal harvest in colorectal cancer: a consecutive cohort study. J Gastrointest Surg. 2002;6:883–88. discussion 9-90

Simoes P, Fernandes G, Costeira B, Machete M, Baptista C, NS D, et al. Lymph node yield in the pathological staging of resected nonmetastatic colon cancer: the more the better? Surg Oncol. 2022;43:101806.

Soreide K, Nedrebo BS, Soreide JA, Slewa A, Korner H. Lymph node harvest in colon cancer: influence of microsatellite instability and proximal tumor location. World J Surg. 2009;33:2695–703.

Wright FC, Law CH, Last L, Khalifa M, Arnaout A, Naseer Z, et al. Lymph node retrieval and assessment in stage II colorectal cancer: a population-based study. Ann Surg Oncol. 2003;10:903–9.

Nedrebo BS, Soreide K, Nesbakken A, Eriksen MT, Soreide JA, Korner H, et al. Risk factors associated with poor lymph node harvest after colon cancer surgery in a national cohort. Colorectal Dis. 2013;15:e301–8.

West NP, Hohenberger W, Weber K, Perrakis A, Finan PJ, Quirke P. Complete mesocolic excision with central vascular ligation produces an oncologically superior specimen compared with standard surgery for carcinoma of the colon. J Clin Oncol. 2010;28:272–8.

Goldstein NS, Sanford W, Coffey M, Layfield LJ. Lymph node recovery from colorectal resection specimens removed for adenocarcinoma. Trends over time and a recommendation for a minimum number of lymph nodes to be recovered. Am J Clin Pathol. 1996;106:209–16.

Lorenzon L, La Torre M, Ziparo V, Montebelli F, Mercantini P, Balducci G, et al. Evidence based medicine and surgical approaches for colon cancer: evidences, benefits and limitations of the laparoscopic vs open resection. World J Gastroenterol. 2014;20:3680–92.

Hong D, Tabet J, Anvari M. Laparoscopic vs. open resection for colorectal adenocarcinoma. Dis Colon Rectum. 2001;44:10–8; discussion 8–9.

Kwak JM, Kim SH, Kim J, Son DN, Baek SJ, Cho JS. Robotic vs laparoscopic resection of rectal cancer: short-term outcomes of a case-control study. Dis Colon Rectum. 2011;54:151–6.

Eveno C, Nemeth J, Soliman H, Praz F, de The H, Valleur P, et al. Association between a high number of isolated lymph nodes in T1 to T4 N0M0 colorectal cancer and the microsatellite instability phenotype. Arch Surg. 2010;145:12–7.

Pages F, Kirilovsky A, Mlecnik B, Asslaber M, Tosolini M, Bindea G, et al. In situ cytotoxic and memory T cells predict outcome in patients with early-stage colorectal cancer. J Clin Oncol. 2009;27:5944–51.

Popat S, Hubner R, Houlston RS. Systematic review of microsatellite instability and colorectal cancer prognosis. J Clin Oncol. 2005;23:609–18.

Galon J, Costes A, Sanchez-Cabo F, Kirilovsky A, Mlecnik B, Lagorce-Pages C, et al. Type, density, and location of immune cells within human colorectal tumors predict clinical outcome. Science. 2006;313:1960–4.

Galon J, Fridman WH, Pages F. The adaptive immunologic microenvironment in colorectal cancer: a novel perspective. Cancer Res. 2007;67:1883–6.

Kloor M, Becker C, Benner A, Woerner SM, Gebert J, Ferrone S, et al. Immunoselective pressure and human leukocyte antigen class I antigen machinery defects in microsatellite unstable colorectal cancers. Cancer Res. 2005;65:6418–24.

Kloor M, Michel S, Buckowitz B, Ruschoff J, Buttner R, Holinski-Feder E, et al. Beta2-microglobulin mutations in microsatellite unstable colorectal tumors. Int J Cancer. 2007;121:454–8.

Dierssen JW, de Miranda NF, Ferrone S, van Puijenbroek M, Cornelisse CJ, Fleuren GJ, et al. HNPCC versus sporadic microsatellite-unstable colon cancers follow different routes toward loss of HLA class I expression. BMC Cancer. 2007;7:33.

Tikidzhieva A, Benner A, Michel S, Formentini A, Link KH, Dippold W, et al. Microsatellite instability and beta2-microglobulin mutations as prognostic markers in colon cancer: results of the FOGT-4 trial. Br J Cancer. 2012;106:1239–45.

Grasso CS, Giannakis M, Wells DK, Hamada T, Mu XJ, Quist M, et al. Genetic mechanisms of immune evasion in colorectal cancer. Cancer Discov. 2018;8:730–49.

McGranahan N, Rosenthal R, Hiley CT, Rowan AJ, Watkins TBK, Wilson GA, et al. Allele-specific HLA loss and immune escape in lung cancer evolution. Cell. 2017;171:1259.e11–71.

Foo CC, Ku C, Wei R, Yip J, Tsang J, Chan TY, et al. How does lymph node yield affect survival outcomes of stage I and II colon cancer? World J Surg Oncol. 2020;18:22.

Baxter NN, Kennedy EB, Bergsland E, Berlin J, George TJ, Gill S, et al. Adjuvant therapy for stage II colon cancer: ASCO guideline update. J Clin Oncol. 2022;40:892–910.

Le DT, Uram JN, Wang H, Bartlett BR, Kemberling H, Eyring AD, et al. PD-1 blockade in tumors with mismatch-repair deficiency. N Engl J Med. 2015;372:2509–20.

Overman MJ, McDermott R, Leach JL, Lonardi S, Lenz HJ, Morse MA, et al. Nivolumab in patients with metastatic DNA mismatch repair-deficient or microsatellite instability-high colorectal cancer (CheckMate 142): an open-label, multicentre, phase 2 study. Lancet Oncol. 2017;18:1182–91.

Eroglu Z, Zaretsky JM, Hu-Lieskovan S, Kim DW, Algazi A, Johnson DB, et al. High response rate to PD-1 blockade in desmoplastic melanomas. Nature. 2018;553:347–50.

Parsons HM, Tuttle TM, Kuntz KM, Begun JW, McGovern PM, Virnig BA. Association between lymph node evaluation for colon cancer and node positivity over the past 20 years. JAMA. 2011;306:1089–97.

Bui L, Rempel E, Reeson D, Simunovic M. Lymph node counts, rates of positive lymph nodes, and patient survival for colon cancer surgery in Ontario, Canada: a population-based study. J Surg Oncol. 2006;93:439–45.

Moller P, Momburg F, Koretz K, Moldenhauer G, Herfarth C, Otto HF, et al. Influence of major histocompatibility complex class I and II antigens on survival in colorectal carcinoma. Cancer Res. 1991;51:729–36.

Benevolo M, Mottolese M, Piperno G, Sperduti I, Cione A, Sibilio L, et al. HLA-A, -B, -C expression in colon carcinoma mimics that of the normal colonic mucosa and is prognostically relevant. Am J Surg Pathol. 2007;31:76–84.

Na HY, Park Y, Nam SK, Lee KS, Oh HK, Kim DW, et al. Expression of human leukocyte antigen class I and beta2-microglobulin in colorectal cancer and its prognostic impact. Cancer Sci. 2021;112:91–100.
Acknowledgements
VD is partially funded by NIH grant.
Ethics declarations
Competing interests
The authors declare no competing interests.
Ethics approval and consent to participate
The analyses of the cohort were conducted in adherence of the Declaration of Helsinki. The study was approved by the hospital institutional review board (IRB; MGB no. 2017P61).
Additional information
Publisher's note Springer Nature remains neutral with regard to jurisdictional claims in published maps and institutional affiliations.
Rights and permissions
Springer Nature or its licensor (e.g. a society or other partner) holds exclusive rights to this article under a publishing agreement with the author(s) or other rightsholder(s); author self-archiving of the accepted manuscript version of this article is solely governed by the terms of such publishing agreement and applicable law.
About this article
Cite this article
Lee, S.H., Pankaj, A., Neyaz, A. et al. Immune microenvironment and lymph node yield in colorectal cancer. Br J Cancer 129, 917–924 (2023). https://doi.org/10.1038/s41416-023-02372-1
Received:

Revised:

Accepted:

Published:

Issue Date:

DOI: https://doi.org/10.1038/s41416-023-02372-1