Abstract
Background
Gastric cancer (GC) patients who experience recurrence within the first year following surgery (early recurrence [ER]) exhibit worse prognosis. Herein, we established a microRNA-based liquid biopsy assay to predict ER in GC patients.
Methods
A comprehensive biomarker discovery was performed by analysing miRNA expression profiling in 271 primary GC tumours. Thereafter, the expression of these biomarkers was validated in 290 GC cases, which included 218 tissues and 72 pre-treatment sera, from two independent institutions.
Results
A panel of 8 miRNAs was identified during the initial biomarker discovery, and this panel could robustly predict ER in a tissue-based clinical cohort (area under the curve [AUC]: 0.81). Furthermore, a model combining the miRNA panel, microsatellite instability (MSI) status and tumour size exhibited superior predictive performance (AUC: 0.86), and was defined as a Prediction of Early Recurrence in GC (PERGC) signature, which was successfully validated in another independent cohort (AUC: 0.82). Finally, the PERGC signature was translated into a liquid biopsy assay (AUC: 0.81), and a multivariate regression analysis revealed this signature to be an independent predictor for ER (odds ratio: 11.20).
Conclusion
We successfully established a miRNA-based liquid biopsy signature that robustly predicts the risk of ER in GC patients.
Access options
Subscribe to this journal
Receive 24 print issues and online access
$259.00 per year
only $10.79 per issue
Rent or buy this article
Get just this article for as long as you need it
$39.95
Prices may be subject to local taxes which are calculated during checkout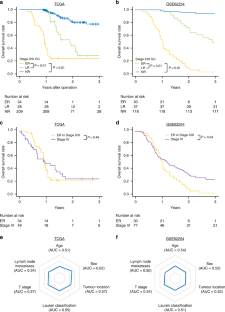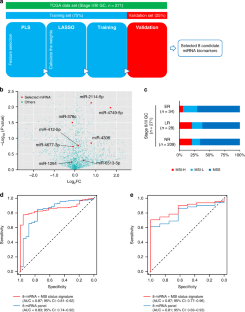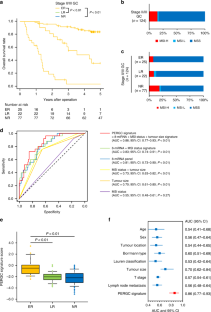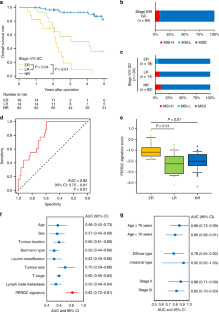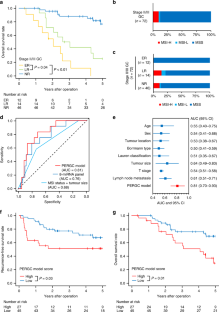 Data availability
The data sets analysed during the current study are available from the corresponding author on reasonable request.
References
Sung H, Ferlay J, Siegel RL, Laversanne M, Soerjomataram I, Jemal A, et al. Global Cancer Statistics 2020: GLOBOCAN estimates of incidence and mortality worldwide for 36 cancers in 185 countries. CA Cancer J Clin. 2021;71:209–49.

Arnold M, Abnet CC, Neale RE, Vignat J, Giovannucci EL, McGlynn KA, et al. Global burden of 5 major types of gastrointestinal cancer. Gastroenterology 2020;159:335.e15–49.e15.

Alnoor M, Boys JA, Worrell SG, Oh DS, Hagen JA, DeMeester SR. Timing and pattern of recurrence after gastrectomy for adenocarcinoma. Am Surg. 2015;81:1057–60.

Spolverato G, Ejaz A, Kim Y, Squires MH, Poultsides GA, Fields RC, et al. Rates and patterns of recurrence after curative intent resection for gastric cancer: a United States multi-institutional analysis. J Am Coll Surg. 2014;219:664–75.

Sasako M, Sakuramoto S, Katai H, Kinoshita T, Furukawa H, Yamaguchi T, et al. Five-year outcomes of a randomized phase III trial comparing adjuvant chemotherapy with S-1 versus surgery alone in stage II or III gastric cancer. J Clin Oncol. 2011;29:4387–93.

Yoshida K, Kodera Y, Kochi M, Ichikawa W, Kakeji Y, Sano T, et al. Addition of docetaxel to oral fluoropyrimidine improves efficacy in patients with stage III gastric cancer: interim analysis of JACCRO GC-07, a randomized controlled trial. J Clin Oncol. 2019;37:1296–304.

Noh SH, Park SR, Yang HK, Chung HC, Chung IJ, Kim SW, et al. Adjuvant capecitabine plus oxaliplatin for gastric cancer after D2 gastrectomy (CLASSIC): 5-year follow-up of an open-label, randomised phase 3 trial. Lancet Oncol. 2014;15:1389–96.

Di Costanzo F, Gasperoni S, Manzione L, Bisagni G, Labianca R, Bravi S, et al. Adjuvant chemotherapy in completely resected gastric cancer: a randomized phase III trial conducted by GOIRC. J Natl Cancer Inst. 2008;100:388–98.

Katai H, Ishikawa T, Akazawa K, Isobe Y, Miyashiro I, Oda I, et al. Five-year survival analysis of surgically resected gastric cancer cases in Japan: a retrospective analysis of more than 100,000 patients from the nationwide registry of the Japanese Gastric Cancer Association (2001-2007). Gastric Cancer. 2018;21:144–54.

Chiang CY, Huang KH, Fang WL, Wu CW, Chen JH, Lo SS, et al. Factors associated with recurrence within 2 years after curative surgery for gastric adenocarcinoma. World J Surg. 2011;35:2472–8.

Kang WM, Meng QB, Yu JC, Ma ZQ, Li ZT. Factors associated with early recurrence after curative surgery for gastric cancer. World J Gastroenterol. 2015;21:5934–40.

Fujitani K, Yang HK, Mizusawa J, Kim YW, Terashima M, Han SU, et al. Gastrectomy plus chemotherapy versus chemotherapy alone for advanced gastric cancer with a single non-curable factor (REGATTA): a phase 3, randomised controlled trial. Lancet Oncol. 2016;17:309–18.

Van Cutsem E, Sagaert X, Topal B, Haustermans K, Prenen H. Gastric cancer. Lancet. 2016;388:2654–64.

Bickenbach KA, Gonen M, Strong V, Brennan MF, Coit DG. Association of positive transection margins with gastric cancer survival and local recurrence. Ann Surg Oncol. 2013;20:2663–8.

Marrelli D, De Stefano A, de Manzoni G, Morgagni P, Di Leo A, Roviello F. Prediction of recurrence after radical surgery for gastric cancer: a scoring system obtained from a prospective multicenter study. Ann Surg. 2005;241:247–55.

Lee KW, Lee SS, Hwang JE, Jang HJ, Lee HS, Oh SC, et al. Development and validation of a six-gene recurrence risk score assay for gastric cancer. Clin Cancer Res. 2016;22:6228–35.

Motoori M, Takemasa I, Yano M, Saito S, Miyata H, Takiguchi S, et al. Prediction of recurrence in advanced gastric cancer patients after curative resection by gene expression profiling. Int J Cancer. 2005;114:963–8.

Yan Z, Xiong Y, Xu W, Li M, Cheng Y, Chen F, et al. Identification of recurrence-related genes by integrating microRNA and gene expression profiling of gastric cancer. Int J Oncol. 2012;41:2166–74.

Liu X, Zhang X, Zhang Z, Chang J, Wang Z, Wu Z, et al. Plasma microRNA-based signatures to predict 3-year postoperative recurrence risk for stage II and III gastric cancer. Int J Cancer. 2017;141:2093–102.

Yang Y, Qu A, Zhao R, Hua M, Zhang X, Dong Z, et al. Genome-wide identification of a novel miRNA-based signature to predict recurrence in patients with gastric cancer. Mol Oncol. 2018;12:2072–84.

Zhang Y, Li J, Yu J, Liu H, Shen Z, Ye G, et al. Circular RNAs signature predicts the early recurrence of stage III gastric cancer after radical surgery. Oncotarget. 2017;8:22936–43.

Imaoka H, Toiyama Y, Okigami M, Yasuda H, Saigusa S, Ohi M, et al. Circulating microRNA-203 predicts metastases, early recurrence, and poor prognosis in human gastric cancer. Gastric Cancer. 2016;19:744–53.

Goel A. Somatostatin methylation as a biomarker for gastric cancer: ready for "prime time" or for further validation? Dig Dis Sci. 2011;56:1–3.

Okugawa Y, Toiyama Y, Hur K, Toden S, Saigusa S, Tanaka K, et al. Metastasis-associated long non-coding RNA drives gastric cancer development and promotes peritoneal metastasis. Carcinogenesis. 2014;35:2731–9.

Toiyama Y, Okugawa Y, Goel A. DNA methylation and microRNA biomarkers for noninvasive detection of gastric and colorectal cancer. Biochem Biophys Res Commun. 2014;455:43–57.

Lee IS, Lee H, Hur H, Kanda M, Yook JH, Kim BS, et al. Transcriptomic profiling identifies a risk stratification signature for predicting peritoneal recurrence and micrometastasis in gastric cancer. Clin Cancer Res. 2021;27:2292–300.

Lee IS, Sahu D, Hur H, Yook JH, Kim BS, Goel A. Discovery and validation of an expression signature for recurrence prediction in high-risk diffuse-type gastric cancer. Gastric Cancer. 2021;24:655–65.

Woo Y, Behrendt CE, Yang A, Hahn M, Goel A, Li H, et al. Tumor epigenetic signature and survival in resected gastric cancer patients. J Am Coll Surg. 2021;232:483.e1–91.e1.

Roy S, Kanda M, Nomura S, Zhu Z, Toiyama Y, Taketomi A, et al. Diagnostic efficacy of circular RNAs as noninvasive, liquid biopsy biomarkers for early detection of gastric cancer. Mol Cancer. 2022;21:42.

Lee IS, Zhu Z, Lee J, Park JO, Wu X, Ong T, et al. A liquid biopsy signature predicts treatment response to fluoropyrimidine plus platinum therapy in patients with metastatic or unresectable gastric cancer: implications for precision oncology. Mol Cancer. 2022;21:9.

Shimura T, Kandimalla R, Okugawa Y, Ohi M, Toiyama Y, He C, et al. Novel evidence for m(6)A methylation regulators as prognostic biomarkers and FTO as a potential therapeutic target in gastric cancer. Br J Cancer. 2022;126:228–37.

Aurello P, Petrucciani N, Antolino L, Giulitti D, D'Angelo F, Ramacciato G. Follow-up after curative resection for gastric cancer: Is it time to tailor it? World J Gastroenterol. 2017;23:3379–87.

Diniz TP, da Costa WL Jr, Gomes CC, de Jesus VHF, Felismino TC, Torres SM, et al. Symptomatic recurrence and survival outcomes after curative treatment of gastric cancer: does intensive follow-up evaluation improve survival? Ann Surg Oncol. 2022;29:274–84.

Lu TX, Rothenberg ME. MicroRNA. J Allergy Clin Immunol. 2018;141:1202–7.

Peng Y, Croce CM. The role of MicroRNAs in human cancer. Signal Transduct Target Ther. 2016;1:15004.

Mitchell PS, Parkin RK, Kroh EM, Fritz BR, Wyman SK, Pogosova-Agadjanyan EL, et al. Circulating microRNAs as stable blood-based markers for cancer detection. Proc Natl Acad Sci USA. 2008;105:10513–8.

Shigeyasu K, Nagasaka T, Mori Y, Yokomichi N, Kawai T, Fuji T, et al. Clinical significance of MLH1 methylation and CpG island methylator phenotype as prognostic markers in patients with gastric cancer. PLoS ONE. 2015;10:e0130409.

Shigeyasu K, Toden S, Zumwalt TJ, Okugawa Y, Goel A. Emerging role of microRNAs as liquid biopsy biomarkers in gastrointestinal cancers. Clin Cancer Res. 2017;23:2391–9.

Jung G, Hernandez-Illan E, Moreira L, Balaguer F, Goel A. Epigenetics of colorectal cancer: biomarker and therapeutic potential. Nat Rev Gastroenterol Hepatol. 2020;17:111–30.

Kim JW, Cho SY, Chae J, Kim JW, Kim TY, Lee KW, et al. Adjuvant chemotherapy in microsatellite instability-high gastric cancer. Cancer Res Treat. 2020;52:1178–87.

Pietrantonio F, Miceli R, Raimondi A, Kim YW, Kang WK, Langley RE, et al. Individual patient data meta-analysis of the value of microsatellite instability as a biomarker in gastric cancer. J Clin Oncol. 2019;37:3392–400.

Cristescu R, Lee J, Nebozhyn M, Kim KM, Ting JC, Wong SS, et al. Molecular analysis of gastric cancer identifies subtypes associated with distinct clinical outcomes. Nat Med. 2015;21:449–56.

Kuhn M. Building predictive models in R using the caret package. J Stat Softw. 2008;28:1–26.

Mevik BH, Wehrens R. The pls package: principal component and partial least squares regression in R. J Stat Softw. 2007;18:1–23.

Friedman J, Hastie T, Tibshirani R. Regularization paths for generalized linear models via coordinate descent. J Stat Softw. 2010;33:1–22.

Japanese gastric cancer treatment guidelines 2014 (ver. 4). Gastric Cancer. 2017;20:1–19.

Sakuramoto S, Sasako M, Yamaguchi T, Kinoshita T, Fujii M, Nashimoto A, et al. Adjuvant chemotherapy for gastric cancer with S-1, an oral fluoropyrimidine. N Engl J Med. 2007;357:1810–20.

Nishiwada S, Sho M, Banwait JK, Yamamura K, Akahori T, Nakamura K, et al. A microRNA signature identifies pancreatic ductal adenocarcinoma patients at risk for lymph node metastases. Gastroenterology 2020;159:562–74.

Goel A, Nagasaka T, Hamelin R, Boland CR. An optimized pentaplex PCR for detecting DNA mismatch repair-deficient colorectal cancers. PLoS ONE. 2010;5:e9393.

Ashktorab H, Smoot DT, Farzanmehr H, Fidelia-Lambert M, Momen B, Hylind L, et al. Clinicopathological features and microsatellite instability (MSI) in colorectal cancers from African Americans. Int J Cancer. 2005;116:914–9.

Kanda Y. Investigation of the freely available easy-to-use software 'EZR' for medical statistics. Bone Marrow Transplant. 2013;48:452–8.

Youden WJ. Index for rating diagnostic tests. Cancer. 1950;3:32–5.

D'Angelica M, Gonen M, Brennan MF, Turnbull AD, Bains M, Karpeh MS. Patterns of initial recurrence in completely resected gastric adenocarcinoma. Ann Surg. 2004;240:808–16.

Ito S, Ohashi Y, Sasako M. Survival after recurrence in patients with gastric cancer who receive S-1 adjuvant chemotherapy: exploratory analysis of the ACTS-GC trial. BMC Cancer. 2018;18:449.

Chen Y, Wang X. miRDB: an online database for prediction of functional microRNA targets. Nucleic Acids Res. 2020;48:D127–31.

Liu W, Wang X. Prediction of functional microRNA targets by integrative modeling of microRNA binding and target expression data. Genome Biol. 2019;20:18.

Sherman BT, Hao M, Qiu J, Jiao X, Baseler MW, Lane HC, et al. DAVID: a web server for functional enrichment analysis and functional annotation of gene lists (2021 update). Nucleic Acids Res. 2022;50:W216–21.

Al-Batran SE, Homann N, Pauligk C, Goetze TO, Meiler J, Kasper S, et al. Perioperative chemotherapy with fluorouracil plus leucovorin, oxaliplatin, and docetaxel versus fluorouracil or capecitabine plus cisplatin and epirubicin for locally advanced, resectable gastric or gastro-oesophageal junction adenocarcinoma (FLOT4): a randomised, phase 2/3 trial. Lancet. 2019;393:1948–57.

Ychou M, Boige V, Pignon JP, Conroy T, Bouché O, Lebreton G, et al. Perioperative chemotherapy compared with surgery alone for resectable gastroesophageal adenocarcinoma: an FNCLCC and FFCD multicenter phase III trial. J Clin Oncol. 2011;29:1715–21.
Acknowledgements
The authors thank Dr. Kota Nakamura, Dr. Katsuki Miyazaki, Dr. Silei Sui, Dr. Caiming Xu, Dr. Hiroyuki Hanayama, Dr. Milad Moloudizargari and Dr. Nour-Lynn Mouallem for their thoughtful discussions and advice during the course of this project.
Funding
This work was supported by the CA072851, CA181572, and CA187956 grants from the National Cancer Institute, National Institutes of Health, and a generous pilot grant from the Stupid Strong Foundation.
Ethics declarations
Competing interests
The authors declare no competing interests.
Ethics approval and consent to participate
A written informed consent was obtained from all patients who enrolled at the present study. The study was conducted in compliance with the Declaration of Helsinki and was approved by the Institutional Review Boards of all participating institutions.
Additional information
Publisher's note Springer Nature remains neutral with regard to jurisdictional claims in published maps and institutional affiliations.
Supplementary information
Rights and permissions
Springer Nature or its licensor (e.g. a society or other partner) holds exclusive rights to this article under a publishing agreement with the author(s) or other rightsholder(s); author self-archiving of the accepted manuscript version of this article is solely governed by the terms of such publishing agreement and applicable law.
About this article
Cite this article
Okuno, K., Watanabe, S., Roy, S. et al. A liquid biopsy signature for predicting early recurrence in patients with gastric cancer. Br J Cancer 128, 1105–1116 (2023). https://doi.org/10.1038/s41416-022-02138-1
Received:

Revised:

Accepted:

Published:

Issue Date:

DOI: https://doi.org/10.1038/s41416-022-02138-1