Abstract
Background
The von Hippel–Lindau disease is an autosomal dominant syndrome associated with tumour formation in various tissues, such as retina, central nervous system, kidney, and adrenal glands. VHL gene deletion or mutations support the development of various cancers. Unclassified VHL variants also referred as "of unknown significance" result from gene mutations that have an unknown or unclear effect on protein functions. The P81S mutation has been linked to low penetrance Type 1 disease but its pathogenic function was not clearly determined.
Methods
We established a stable cell line expressing the pVHL213 (c.241C>T, P81S) mutant. Using biochemical and physiological approaches, we herein analysed pVHL folding, stability and function in the context of this VHL single missense mutation.
Results
The P81S mutation mostly affects the non-canonical function of the pVHL protein. The cells expressing the pVHL213P81S acquire invasive properties in relation with modified architecture network.
Conclusion
We demonstrated the pathogenic role of this mutation in tumour development in vhl patients and confirm a medical follow up of family carrying the c.241C>T, P81S.
Access options
Subscribe to Journal
Get full journal access for 1 year
$119.00
only $4.96 per issue
All prices are NET prices.
VAT will be added later in the checkout.
Tax calculation will be finalised during checkout.
Buy article
Get time limited or full article access on ReadCube.
$32.00
All prices are NET prices.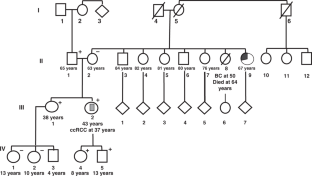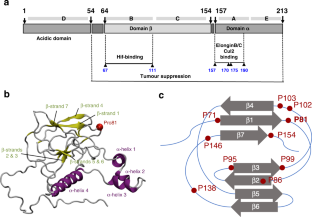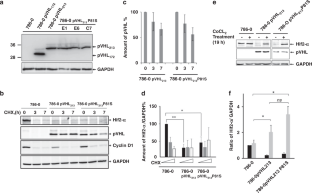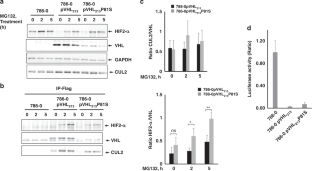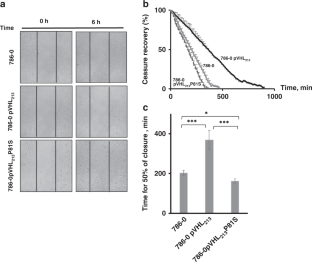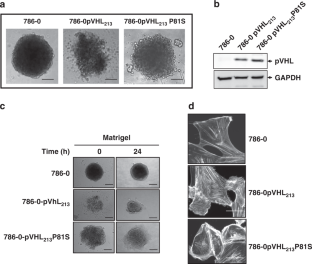 Data availability
The data that support the findings of this article are available upon request from the corresponding author.
References
Lewis MD, Roberts BJ. Role of the C-terminal α-helical domain of the von Hippel–Lindau protein in its E3 ubiquitin ligase activity. Oncogene. 2004;23:2315–23.

Maranchie JK, Vasselli JR, Riss J, Bonifacino JS, Linehan WM, Klausner RD. The contribution of VHL substrate binding and HIF1-α to the phenotype of VHL loss in renal cell carcinoma. Cancer Cell. 2002;1:247–55.

Nordstrom-O'Brien M, van der Luijt RB, van Rooijen E, van den Ouweland AM, Majoor-Krakauer DF, Lolkema MP, et al. Genetic analysis of von Hippel-Lindau disease. Hum Mutat. 2010;31:521–37.

Zbar B, Kishida T, Chen F, Schmidt L, Maher ER, Richards FM, et al. Germline mutations in the Von Hippel-Lindau disease (VHL) gene in families from North America, Europe, and Japan. Hum Mutat. 1996;8:348–57.

Lenglet M, Robriquet F, Schwarz K, Camps C, Couturier A, Hoogewijs D, et al. Identification of a new VHL exon and complex splicing alterations in familial erythrocytosis or von Hippel-Lindau disease. Blood. 2018;132:469–83.

Leonardi E, Murgia A, Tosatto SCE. Adding structural information to the von Hippel-Lindau (VHL) tumor suppressor interaction network. FEBS Lett. 2009;583:3704–10.

Minervini G, Quaglia F, Tabaro F, Tosatto SCE. Genotype-phenotype relations of the von Hippel-Lindau tumor suppressor inferred from a large-scale analysis of disease mutations and interactors. PLoS Comput Biol. 2019;15:e1006478.

Ivan M, Kaelin WG. The von Hippel–Lindau tumor suppressor protein. Curr Opin Genet Dev. 2001;11:27–34.

Hes FJ. Cryptic von Hippel-Lindau disease: germline mutations in patients with haemangioblastoma only. J Med Genet. 2000;37:939–43.

Alosi D, Bisgaard M, Hemmingsen S, Krogh L, Mikkelsen H, Binderup M. Management of gene variants of unknown significance: analysis method and risk assessment of the VHL mutation p.P81S (c.241C>T). Curr Genomics. 2016;18:93–103.

Knauth K, Cartwright E, Freund S, Bycroft M, Buchberger A. VHL mutations linked to Type 2C von Hippel-Lindau disease cause extensive structural perturbations in pVHL. J Biol Chem. 2009;284:10514–22.

DeSimone MC, Rathmell WK, Threadgill DW. Pleiotropic effects of the trichloroethylene-associated P81S VHL mutation on metabolism, apoptosis, and ATM-mediated DNA damage response. J Natl Cancer Inst. 2013;105:1355–64.

Weirich G, Klein B, Wöhl T, Engelhardt D, Brauch H. VHL2C phenotype in a German von Hippel-Lindau family with concurrent VHL germline mutations P81S and L188V. J Clin Endocrinol Metab. 2002;87:5241–6.

Hascoet P, Chesnel F, Jouan F, Goff CL, Couturier A, Darrigrand E, et al. The pVHL172 isoform is not a tumor suppressor and up-regulates a subset of pro-tumorigenic genes including TGFB1 and MMP13. Oncotarget. 2017;8:75989–6002.

Chesnel F, Hascoet P, Gagne JP, Couturier A, Jouan F, Poirier GG, et al. The von Hippel-Lindau tumour suppressor gene: uncovering the expression of the pVHL172 isoform. Br J Cancer. 2015;113:336–44.

Gordan JD, Simon MC. Hypoxia-inducible factors: central regulators of the tumor phenotype. Curr Opin Genet Dev. 2007;17:71–7.

Gallou C, Chauveau D, Richard S, Joly D, Giraud S, Olschwang S, et al. Genotype-phenotype correlation in von Hippel-Lindau families with renal lesions. Hum Mutat. 2004;24:215–24.

Gnarra JR, Tory K, Weng Y, Schmidt L, Wei MH, Li H, et al. Mutations of the VHL tumour suppressor gene in renal carcinoma. Nat Genet. 1994;7:85–90.

Brauch H, Weirich G, Klein B, Rabstein S, Bolt HM, Brüning T. VHL mutations in renal cell cancer: does occupational exposure to trichloroethylene make a difference? Toxicol Lett. 2004;151:301–10.

Stebbins CE. Structure of the VHL-ElonginC-ElonginB complex: implications for VHL tumor suppressor function. Science. 1999;284:455–61.

Nguyen HC, Yang H, Fribourgh JL, Wolfe LS, Xiong Y. Insights into Cullin-RING E3 ubiquitin ligase recruitment: structure of the VHL-EloBC-Cul2 complex. Structure. 2015;23:441–9.

Minervini G, Pennuto M, Tosatto SCE. The pVHL neglected functions, a tale of hypoxia-dependent and -independent regulations in cancer. Open Biol. 2020;10:200109.

Grosfeld A, Stolze IP, Cockman ME, Pugh CW, Edelmann M, Kessler B, et al. Interaction of hydroxylated collagen IV with the von Hippel-Lindau tumor suppressor. J Biol Chem. 2007;282:13264–9.

Peruzzi B, Athauda G, Bottaro DP. The von Hippel–Lindau tumor suppressor gene product represses oncogenic beta-catenin signaling in renal carcinoma cells. Proc Natl Acad Sci USA. 2006;103:14531–6.

Gao S, Liu L, Li Z, Pang Y, Shi J, Zhu F. Seven novel genes related to cell proliferation and migration of VHL-mutated pheochromocytoma,. Front Endocrinol. 2021;12:598656.

Chen F, Kishida T, Yao M, Hustad T, Glavac D, Dean M, et al. Germline mutations in the von Hippel-Lindau disease tumor suppressor gene: correlations with phenotype. Hum Mutat. 1995;5:66–75.

Ong KR, Woodward ER, Killick P, Lim C, Macdonald F, Maher ER. Genotype-phenotype correlations in von Hippel-Lindau disease. Hum Mutat. 2007;28:143–9.

Esteban MA, Tran MGB, Harten SK, Hill P, Castellanos MC, Chandra A, et al. Regulation of E-cadherin expression by VHL and hypoxia-inducible factor. Cancer Res. 2006;66:3567–75.

Martin B, Chesnel F, Delcros JG, Jouan F, Couturier A, Dugay F, et al. Identification of pVHL as a novel substrate for Aurora-A in clear cell renal cell carcinoma (ccRCC). PLoS ONE. 2013;8:e67071.

Baux D, Van Goethem C, Ardouin O, Guignard T, Bergougnoux A, Koenig M, et al. MobiDetails: online DNA variants interpretation. Eur J Hum Genet. 2021;29:356–60.

Wiel L, Baakman C, Gilissen D, Veltman JA, Vriend G, Gilissen C. Pathogenicity analysis of genetic variants through aggregation of homologous human protein domains. Hum Mutat. 2019;40:1030–8.
Acknowledgements
We thank the IGDR for all facilities. We would like to acknowledge S. Dreano (IGDR) for his contribution in plasmid sequencing. We acknowledge the ImPAcCell and MRic microscopy platforms at the SFR BIOSIT (CNRS UMS3480 Rennes). We thank L. Schmitt for his contribution to the experiments perfromed for the revison of the manuscript.
Funding
We thank the LNCC for financial support of this study.
Ethics declarations
Competing interests
The authors declare no competing interests.
Ethics approval and consent to participate
Not applicable.
Additional information
Publisher's note Springer Nature remains neutral with regard to jurisdictional claims in published maps and institutional affiliations.
Supplementary information
Rights and permissions
Springer Nature or its licensor holds exclusive rights to this article under a publishing agreement with the author(s) or other rightsholder(s); author self-archiving of the accepted manuscript version of this article is solely governed by the terms of such publishing agreement and applicable law.
About this article
Cite this article
Chesnel, F., Jullion, E., Delalande, O. et al. Mutation of the proline P81 into a serine modifies the tumour suppressor function of the von Hippel–Lindau gene in the ccRCC. Br J Cancer 127, 1954–1962 (2022). https://doi.org/10.1038/s41416-022-01985-2
Received:

Revised:

Accepted:

Published:

Issue Date:

DOI: https://doi.org/10.1038/s41416-022-01985-2