Abstract
Background
Malignant pleural mesothelioma (MPM) is a lung pleural cancer with very poor disease outcome. With limited curative MPM treatment available, it is vital to study prognostic biomarkers to categorise different patient risk groups.
Methods
We defined gene signatures to separately characterise intrinsic and extrinsic features, and investigated their interactions in MPM tumour samples. Specifically, we calculated gene signature scores to capture the downstream pathways of major mutated driver genes (BAP1, NF2, SETD2 and TP53) as tumour-intrinsic features. Similarly, we inferred the infiltration levels for major immune cells in the tumour microenvironment to characterise tumour-extrinsic features. Lastly, we integrated these features with clinical factors to predict prognosis in MPM.
Results
The gene signature scores were more prognostic than the corresponding genomic mutations, mRNA and protein expression. High immune infiltration levels were associated with prolonged survival. The integrative model indicated that tumour features provided independent prognostic values than clinical factors and were complementary with each other in survival prediction.
Conclusions
By using an integrative model that combines intrinsic and extrinsic features, we can more correctly predict the clinical outcomes of patients with MPM.
Access options
Subscribe to Journal
Get full journal access for 1 year
$119.00
only $4.96 per issue
All prices are NET prices.
VAT will be added later in the checkout.
Tax calculation will be finalised during checkout.
Buy article
Get time limited or full article access on ReadCube.
$32.00
All prices are NET prices.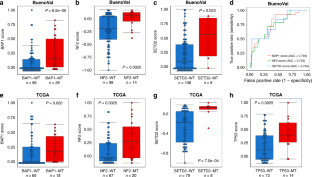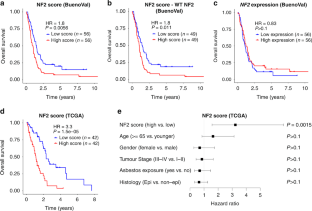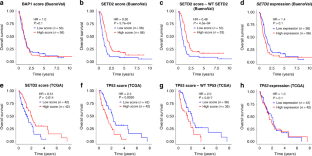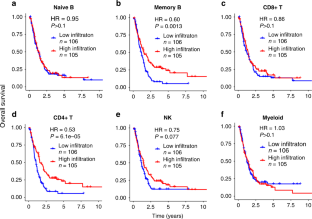 Data availability
All datasets were previously published. The Methods section details how the data can be accessed.
Code availability
The code used in this study is available from the corresponding author upon request.
References
Christensen BC, Godleski JJ, Roelofs CR, Longacker JL, Bueno R, Sugarbaker DJ, et al. Asbestos burden predicts survival in pleural mesothelioma. Environ Health Perspect. 2008;116:723–6.

Bibby AC, Tsim S, Kanellakis N, Ball H, Talbot DC, Blyth KG, et al. Malignant pleural mesothelioma: an update on investigation, diagnosis and treatment. Eur Respir Rev. 2016;25:472–86.

Brims F. Epidemiology and clinical aspects of malignant pleural mesothelioma. Cancers. 2021;13:4194.

Quetel L, Meiller C, Assié JB, Blum Y, Imbeaud S, Montagne F, et al. Genetic alterations of malignant pleural mesothelioma: association with tumor heterogeneity and overall survival. Mol Oncol. 2020;14:1207–23.

Marjanovic ND, Weinberg RA, Chaffer CL. Cell plasticity and heterogeneity in cancer. Clin Chem. 2013;59:168–79.

Bueno R, Stawiski EW, Goldstein LD, Durinck S, De Rienzo A, Modrusan Z, et al. Comprehensive genomic analysis of malignant pleural mesothelioma identifies recurrent mutations, gene fusions and splicing alterations. Nat Genet. 2016;48:407–16.

Hmeljak J, Sanchez-Vega F, Hoadley KA, Shih J, Stewart C, Heiman D, et al. Integrative molecular characterization of malignant pleural mesothelioma. Cancer Discov. 2018;8:1548–65.

Markowitz P, Patel M, Groisberg R, Aisner J, Jabbour SK, De S, et al. Genomic characterization of malignant pleural mesothelioma and associated clinical outcomes. Cancer Treat Res Commun. 2020;25:100232.

Sato T, Sekido Y. NF2/Merlin inactivation and potential therapeutic targets in mesothelioma. Int J Mol Sci. 2018;19:988.

Olivier M, Hollstein M, Hainaut P. TP53 mutations in human cancers: origins, consequences, and clinical use. Cold Spring Harb Perspect Biol. 2010;2:a001008.

Muller PAJ, Vousden KH. Mutant p53 in cancer: new functions and therapeutic opportunities. Cancer Cell. 2014;25:304–17.

Donehower LA, Soussi T, Korkut A, Liu Y, Schultz A, Cardenas M, et al. Integrated analysis of TP53 gene and pathway alterations in The Cancer Genome Atlas. Cell Rep. 2019;28:1370–84.

Binnewies M, Roberts EW, Kersten K, Chan V, Fearon DF, Merad M, et al. Understanding the tumor immune microenvironment (TIME) for effective therapy. Nat Med. 2018;24:541–50.

Lei X, Lei Y, Li J-K, Du W-X, Li R-G, Yang J, et al. Immune cells within the tumor microenvironment: Biological functions and roles in cancer immunotherapy. Cancer Lett. 2020;470:126–33.

Zhang C, Liu S, Wang X, Liu H, Zhou X, Liu H. COL1A1 is a potential prognostic biomarker and correlated with immune infiltration in mesothelioma. Biomed Res Int. 2021;2021:5320941.

Newman AM, Liu CL, Green MR, Gentles AJ, Feng W, Xu Y, et al. Robust enumeration of cell subsets from tissue expression profiles. Nat Methods. 2015;12:453–7.

Ujiie H, Kadota K, Nitadori J-I, Aerts JG, Woo KM, Sima CS, et al. The tumoral and stromal immune microenvironment in malignant pleural mesothelioma: a comprehensive analysis reveals prognostic immune markers. Oncoimmunology. 2015;4:e1009285.

Pasello G, Zago G, Lunardi F, Urso L, Kern I, Vlacic G, et al. Malignant pleural mesothelioma immune microenvironment and checkpoint expression: correlation with clinical-pathological features and intratumor heterogeneity over time. Ann Oncol J Eur Soc Med Oncol. 2018;29:1258–65.

Yamada N, Oizumi S, Kikuchi E, Shinagawa N, Konishi-Sakakibara J, Ishimine A, et al. CD8+ tumor-infiltrating lymphocytes predict favorable prognosis in malignant pleural mesothelioma after resection. Cancer Immunol Immunother. 2010;59:1543–9.

Salaroglio IC, Kopecka J, Napoli F, Pradotto M, Maletta F, Costardi L, et al. Potential diagnostic and prognostic role of microenvironment in malignant pleural mesothelioma. J Thorac Oncol. 2019;14:1458–71.

Kim D, Paggi JM, Park C, Bennett C, Salzberg SL. Graph-based genome alignment and genotyping with HISAT2 and HISAT-genotype. Nat Biotechnol. 2019;37:907–15.

Li H, Handsaker B, Wysoker A, Fennell T, Ruan J, Homer N, et al. The sequence Alignment/Map format and SAMtools. Bioinformatics. 2009;25:2078–9.

Anders S, Pyl PT, Huber W. HTSeq-a Python framework to work with high-throughput sequencing data. Bioinformatics. 2015;31:166–9.

Lee H-S, Jang H-J, Choi JM, Zhang J, de Rosen VL, Wheeler TM, et al. Comprehensive immunoproteogenomic analyses of malignant pleural mesothelioma. JCI Insight. 2018;3:e98575.

Zhao Y, Varn FS, Cai G, Xiao F, Amos CI, Cheng C. A P53-deficiency gene signature predicts recurrence risk of patients with early-stage lung adenocarcinoma. Cancer Epidemiol Biomark Prev. 2018;27:86–95.

Jojic V, Shay T, Sylvia K, Zuk O, Sun X, Kang J, et al. Identification of transcriptional regulators in the mouse immune system. Nat Immunol. 2013;14:633–43.

Varn FS, Schaafsma E, Wang Y, Cheng C. Genomic characterization of six virus-associated cancers identifies changes in the tumor immune microenvironment and altered genetic programs. Cancer Res. 2018;78:6413–23.

Varn FS, Tafe LJ, Amos CI, Cheng C. Computational immune profiling in lung adenocarcinoma reveals reproducible prognostic associations with implications for immunotherapy. Oncoimmunology. 2018;7:e1431084.

Varn FS, Wang Y, Mullins DW, Fiering S, Cheng C. Systematic Pan-cancer analysis reveals immune cell interactions in the tumor microenvironment. Cancer Res. 2017;77:1271–82.

Varn FS, Andrews EH, Mullins DW, Cheng C. Integrative analysis of breast cancer reveals prognostic haematopoietic activity and patient-specific immune response profiles. Nat Commun. 2016;7:10248.

Liberzon A, Subramanian A, Pinchback R, Thorvaldsdóttir H, Tamayo P, Mesirov JP. Molecular signatures database (MSigDB) 3.0. Bioinformatics. 2011;27:1739–40.

Subramanian A, Tamayo P, Mootha VK, Mukherjee S, Ebert BL, Gillette MA, et al. Gene set enrichment analysis: a knowledge-based approach for interpreting genome-wide expression profiles. Proc Natl Acad Sci USA. 2005;102:15545–50.

Beltrami S, Kim R, Gordon J. Neurofibromatosis type 2 protein, NF2: an uncoventional cell cycle regulator. Anticancer Res. 2013;33:1–11.

Yang H, Hall SRR, Sun B, Zhao L, Gao Y, Schmid RA, et al. NF2 and canonical Hippo-YAP pathway define distinct tumor subsets characterized by different immune deficiency and treatment implications in human pleural mesothelioma. Cancer. 2021 Mar 29;13:1561.

Attanoos RL, Churg A, Galateau-Salle F, Gibbs AR, Roggli VL. Malignant mesothelioma and its non-asbestos causes. Arch Pathol Lab Med. 2018;142:753–60.

Öjlert ÅK, Halvorsen AR, Nebdal D, Lund-Iversen M, Solberg S, Brustugun OT, et al. The immune microenvironment in non-small cell lung cancer is predictive of prognosis after surgery. Mol Oncol. 2019;13:1166–79.

Inaguma S, Lasota J, Czapiewski P, Langfort R, Rys J, Szpor J, et al. CD70 expression correlates with a worse prognosis in malignant pleural mesothelioma patients via immune evasion and enhanced invasiveness. J Pathol. 2020;250:205–16.

Inamura K, Takazawa Y, Inoue Y, Yokouchi Y, Kobayashi M, Saiura A, et al. Tumor B7-H3 (CD276) expression and survival in pancreatic cancer. J Clin Med. 2018 Jul 10;7:172.

Zhang C, Hao X. Prognostic significance of CD276 in non-small cell lung cancer. Open Med (Wars, Pol). 2019;14:805–12.

Cai W-Y, Dong Z-N, Fu X-T, Lin L-Y, Wang L, Ye G-D, et al. Identification of a tumor microenvironment-relevant gene set-based prognostic signature and related therapy targets in gastric cancer. Theranostics. 2020;10:8633–47.

Hou Z, Pan Y, Fei Q, Lin Y, Zhou Y, Liu Y, et al. Prognostic significance and therapeutic potential of the immune checkpoint VISTA in pancreatic cancer. J Cancer Res Clin Oncol. 2021;147:517–31.

Zong L, Zhou Y, Zhang M, Chen J, Xiang Y. VISTA expression is associated with a favorable prognosis in patients with high-grade serous ovarian cancer. Cancer Immunol Immunother. 2020;69:33–42.

Marcq E, Siozopoulou V, De Waele J, van Audenaerde J, Zwaenepoel K, Santermans E, et al. Prognostic and predictive aspects of the tumor immune microenvironment and immune checkpoints in malignant pleural mesothelioma. Oncoimmunology. 6:e1261241.

Napoli F, Listì A, Zambelli V, Witel G, Bironzo P, Papotti M, et al. Pathological characterization of tumor immune microenvironment (TIME) in malignant pleural mesothelioma. Cancers. 2021;13:2564.

Alley EW, Lopez J, Santoro A, Morosky A, Saraf S, Piperdi B, et al. Clinical safety and activity of pembrolizumab in patients with malignant pleural mesothelioma (KEYNOTE-028): preliminary results from a non-randomised, open-label, phase 1b trial. Lancet Oncol. 2017;18:623–30.

Gray SG, Mutti L. Immunotherapy for mesothelioma: a critical review of current clinical trials and future perspectives. Transl lung cancer Res. 2020;9:S100–19.

Zhou J-G, Zhong H, Zhang J, Jin S-H, Roudi R, Ma H. Development and validation of a prognostic signature for malignant pleural mesothelioma. Front Oncol. 2019;9:78.

Bai Y, Wang X, Hou J, Geng L, Liang X, Ruan Z, et al. Identification of a five-gene signature for predicting survival in malignant pleural mesothelioma patients. Front Genet. 2020;11:899.

Kirschner MB, Cheng YY, Armstrong NJ, Lin RCY, Kao SC, Linton A, et al. MiR-score: a novel 6-microRNA signature that predicts survival outcomes in patients with malignant pleural mesothelioma. Mol Oncol. 2015;9:715–26.
Acknowledgements
We thank the Cheng Lab members for helpful discussions and suggestions.
Funding
This work was supported by the Cancer Prevention and Research Institute of Texas (CPRIT) (RR180061 to CC, RR170048 to CA, RP200443 to HL) and the National Cancer Institute of the National Institutes of Health (1R37CA248478-01A1 to BB). CC and CA are CPRIT Scholars in Cancer Research.
Ethics declarations
Competing interests
The authors declare no competing interests.
Ethics approval and consent to participate
Not applicable.
Consent to publish
Not applicable.
Additional information
Publisher's note Springer Nature remains neutral with regard to jurisdictional claims in published maps and institutional affiliations.
Supplementary information
Rights and permissions
Springer Nature or its licensor holds exclusive rights to this article under a publishing agreement with the author(s) or other rightsholder(s); author self-archiving of the accepted manuscript version of this article is solely governed by the terms of such publishing agreement and applicable law.
About this article
Cite this article
Nguyen, T.T., Lee, HS., Burt, B.M. et al. A combination of intrinsic and extrinsic features improves prognostic prediction in malignant pleural mesothelioma. Br J Cancer 127, 1691–1700 (2022). https://doi.org/10.1038/s41416-022-01950-z
Received:

Revised:

Accepted:

Published:

Issue Date:

DOI: https://doi.org/10.1038/s41416-022-01950-z