Abstract
Ductal carcinoma in situ (DCIS) is a non-obligate precursor of invasive carcinoma. Multiple studies have shown that DCIS lesions typically possess a driver mutation associated with cancer development. Mutation in the TP53 tumour suppressor gene is present in 15–30% of pure DCIS lesions and in ~30% of invasive breast cancers. Mutations in TP53 are significantly associated with high-grade DCIS, the most likely form of DCIS to progress to invasive carcinoma. In this review, we summarise published evidence on the prevalence of mutant TP53 in DCIS (including all DCIS subtypes), discuss the availability of mouse models for the study of DCIS and highlight the need for functional studies of the role of TP53 in the development of DCIS and progression from DCIS to invasive disease.
Your institute does not have access to this article
Access options
Subscribe to Journal
Get full journal access for 1 year
$119.00
only $4.96 per issue
All prices are NET prices.
VAT will be added later in the checkout.
Tax calculation will be finalised during checkout.
Buy article
Get time limited or full article access on ReadCube.
$32.00
All prices are NET prices.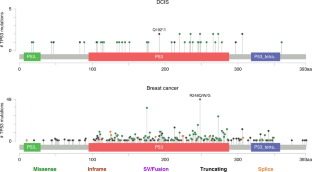 Funding
This work was supported by the NIH/NCI under award number F31CA246917, the Cancer Prevention Research Institute of Texas under award number RP180313 and Cancer Research UK and KWF Kankerbestrijding (ref. C38317/A24043).
Ethics declarations
Competing interests
The authors declare no competing interests.
Additional information
Publisher's note Springer Nature remains neutral with regard to jurisdictional claims in published maps and institutional affiliations.
About this article
Cite this article
Morrissey, R.L., Thompson, A.M. & Lozano, G. Is loss of p53 a driver of ductal carcinoma in situ progression?. Br J Cancer (2022). https://doi.org/10.1038/s41416-022-01885-5
Received:

Revised:

Accepted:

Published:

DOI: https://doi.org/10.1038/s41416-022-01885-5