Abstract
Background
The spatial distribution of tumour-infiltrating lymphocytes (TILs) is a novel descriptor characterising the tumour immune microenvironment (TIME). The aim of our study was to assess whether a specific TIME of surgically resected thymic carcinoma (TC) can predict tumour invasiveness, recurrence or survival.
Methods
Digital microscopy was performed on 39 TCs immunohistochemically stained to investigate the activation of the immune checkpoint pathway (PD-L1/PD-1), along with density and spatial distribution of TILs phenotypes (CD3+, CD4+, CD8+, FOXP3+, CD56+). The impact of PD-L1 and TIL density considering the intratumoural (iTILs) and stromal (sTILs) distribution on pathological characteristics and clinical outcomes were analysed.
Results
In early TC stages, we observed a higher total density of CD3+ (p = 0.05) and CD8+ (p = 0.02) TILs. PD-L1 was expressed in 71.8% of TCs. In advanced TC stages, we observed a lower density of CD3+ (p = 0.04) and CD8+ (p = 0.01) iTILs compared to early stages. Serum concentrations of PD-L1 were significantly higher in TCs compared to healthy controls: 134.43 ± 18.51 vs. 82.01 ± 6.34 pg/ml (p = 0.001), respectively. High densities of stromal CD4+ TILs (54 vs. 32%, p = 0.043) and CD8+ TILs (65 vs. 17%, p = 0.048) were associated with improved freedom from recurrence (FFR) and cause-specific survival (CSS). High density of FoxP3+ TILs were associated with improved FFR (p = 0.03) and CSS (p = 0.003).
Discussion
Mapping TIL subpopulations complement the armamentarium for prognostication of TC outcomes. The improved outcome in patients with high density of TILs supports the use of immune checkpoint inhibitors in TC patients.
Your institute does not have access to this article
Access options
Subscribe to Journal
Get full journal access for 1 year
$119.00
only $4.96 per issue
All prices are NET prices.
VAT will be added later in the checkout.
Tax calculation will be finalised during checkout.
Buy article
Get time limited or full article access on ReadCube.
$32.00
All prices are NET prices.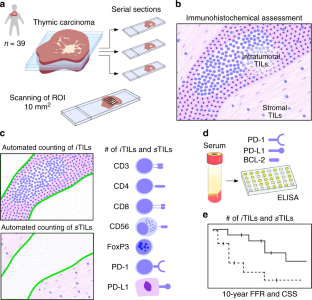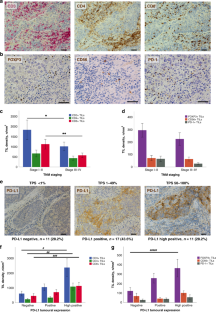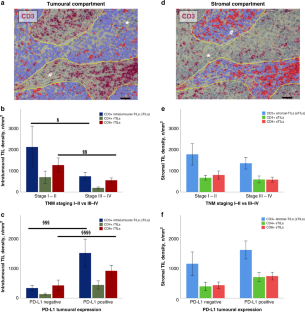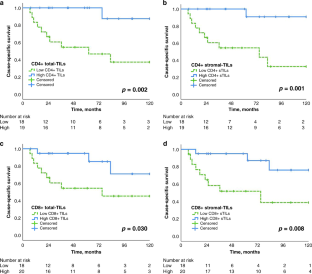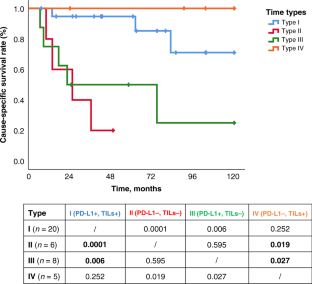 Data availability
All data generated or analysed during this study are included in this published article and its Supplementary Information files. The original data are with the first author available on demand.
Acknowledgements
Thanks to Professor Federico Quaini (University Hospital of Parma, Department of Haematology and Bone Marrow Transplantation) for the scientific support. The authors wish to thank Andrea Alvarez-Hernandez for providing excellent immunohistochemistry technical assistance.
Funding
This work was supported by the research laboratories ARGE Moser and ARGE Ankersmit (APOSEC Project); FOLAB Chirurgie – Department of Surgery, Medical University Vienna.
Ethics declarations
Competing interests
The authors declare no competing interests.
Ethics approval and consent to participate
Written informed consent was provided by all patients. Tumour tissue specimens were collected by the Thoracic Surgery Unit of University Hospital of Vienna, Austria. The collection and study of these tissues were approved by the Institutional Ethics Committee of the Medical University of Vienna (EC#1053/2016) and conformed to the ethical guidelines of the Declaration of Helsinki.
Additional information
Publisher's note Springer Nature remains neutral with regard to jurisdictional claims in published maps and institutional affiliations.
Supplementary information
About this article
Cite this article
Bocchialini, G., Schiefer, AI., Müllauer, L. et al. Tumour immune microenvironment in resected thymic carcinomas as a predictor of clinical outcome. Br J Cancer (2022). https://doi.org/10.1038/s41416-022-01875-7
Received:

Revised:

Accepted:

Published:

DOI: https://doi.org/10.1038/s41416-022-01875-7