Summary
There is currently a strong development of therapeutic combinations with checkpoint inhibitors (CPIs). The most promising combinations with CPIs concern anti-angiogenic agents and BRAF/MEK inhibitors. The timing of the initiation of the combination should be particularly well investigated for chemotherapy. Combinations between CPIs raise questions about risk/benefit ratio and overall clinical activity.
Your institute does not have access to this article
Access options
Subscribe to Journal
Get full journal access for 1 year
$119.00
only $4.96 per issue
All prices are NET prices.
VAT will be added later in the checkout.
Tax calculation will be finalised during checkout.
Buy article
Get time limited or full article access on ReadCube.
$32.00
All prices are NET prices.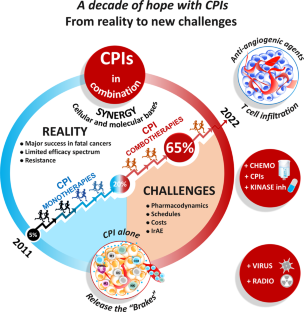 Acknowledgements
We would like to thank the UCA Office of International Scientific Visibility for comments on the English version of the manuscript.
Funding
Funding is acknowledged from the French Government (Agence Nationale de Recherche, ANR) through the 'Investments for the Future' LABEX SIGNALIFE (ANR-11-LABX-0028-01 and IDEX UCAJedi ANR-15-IDEX-01) and [AD-ME project R19162DD]; CANC'AIR Genexposomic project, Canceropole PACA; DREAL PACA, ARS PACA, Région Sud, INSERM cancer; INCA Plan Cancer; Children Medical Safety Research Institute (CMSRI, Vaccinophagy project R17033DJA).
Ethics declarations
Competing interests
PB and BM declare no financial ties with any organisation that might have an interest in the submitted work over the previous 3 years and no other relationships or activities that could appear to have influenced the submitted work. GM has received honoraria from MERCK, Bristol Myers Squibb (BMS) for lectures specifically on the covered subject. PH has received honoraria from AstraZeneca, BMS, MSD, Lilly, Bayer, Pfizer, ThermoFisher, Roche, Illumina, Novartis, Biocartis, Janssen and Abbvie for lectures, consulting fees and membership on their advisory board.
Ethics approval and consent to participate
Not applicable for this comment.
Additional information
Publisher's note Springer Nature remains neutral with regard to jurisdictional claims in published maps and institutional affiliations.
About this article
Cite this article
Brest, P., Refae, S., Mograbi, B. et al. Checkpoint inhibitors in a marriage: consented or arranged?. Br J Cancer 126, 1834–1836 (2022). https://doi.org/10.1038/s41416-022-01820-8
Received:

Revised:

Accepted:

Published:

Issue Date:

DOI: https://doi.org/10.1038/s41416-022-01820-8